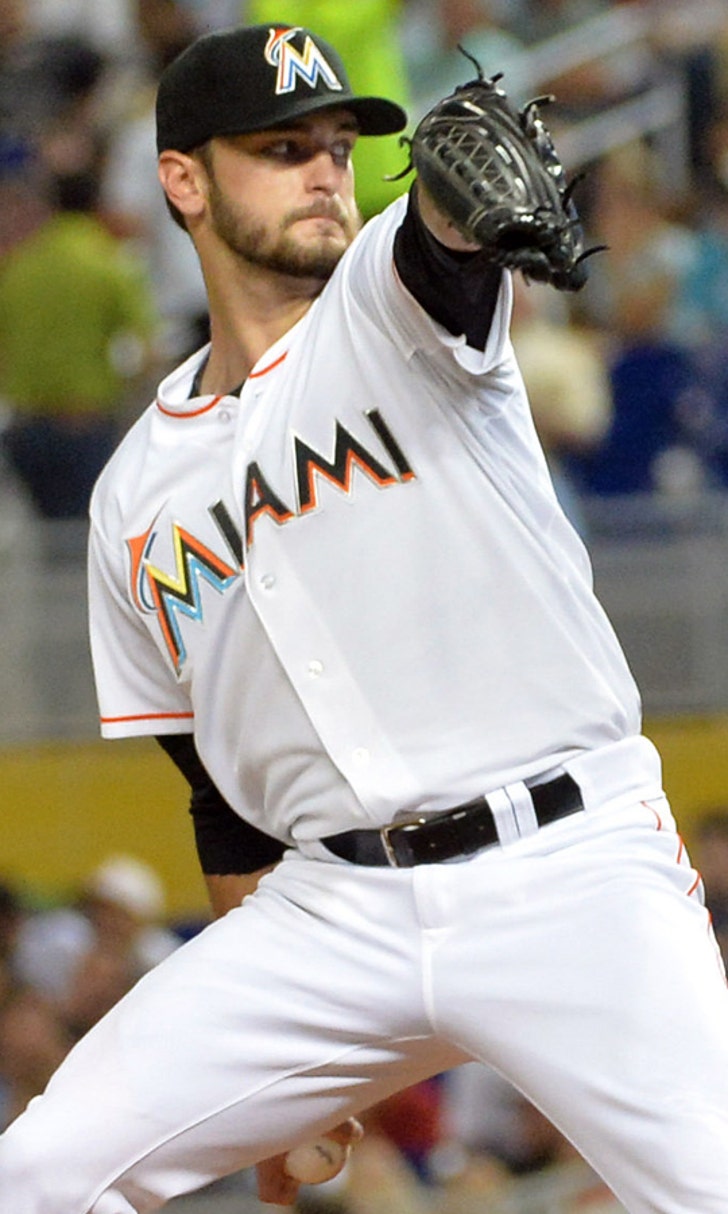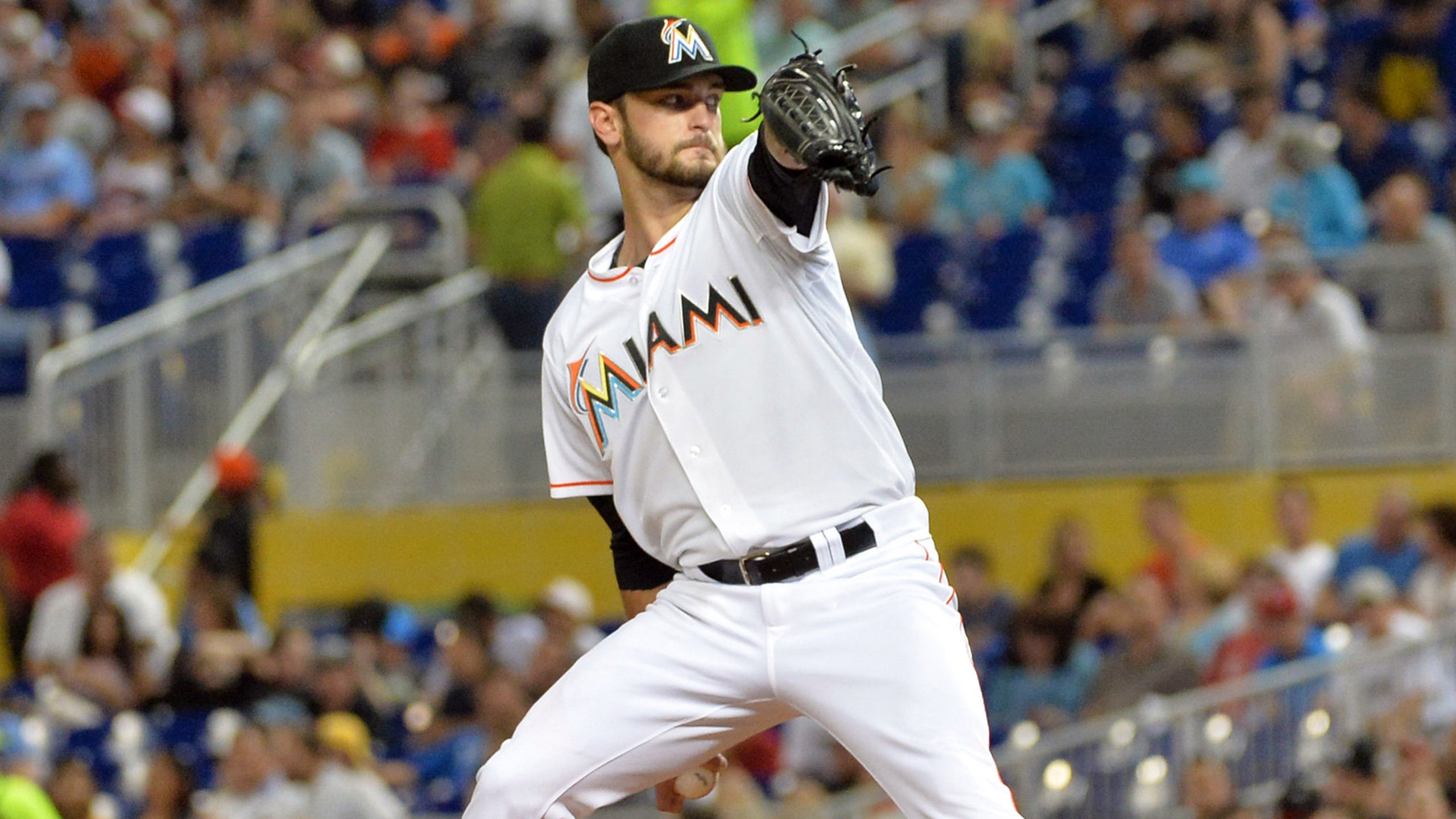 After quiet offseason, Cosart ready for first full season with Marlins
BY foxsports • February 10, 2015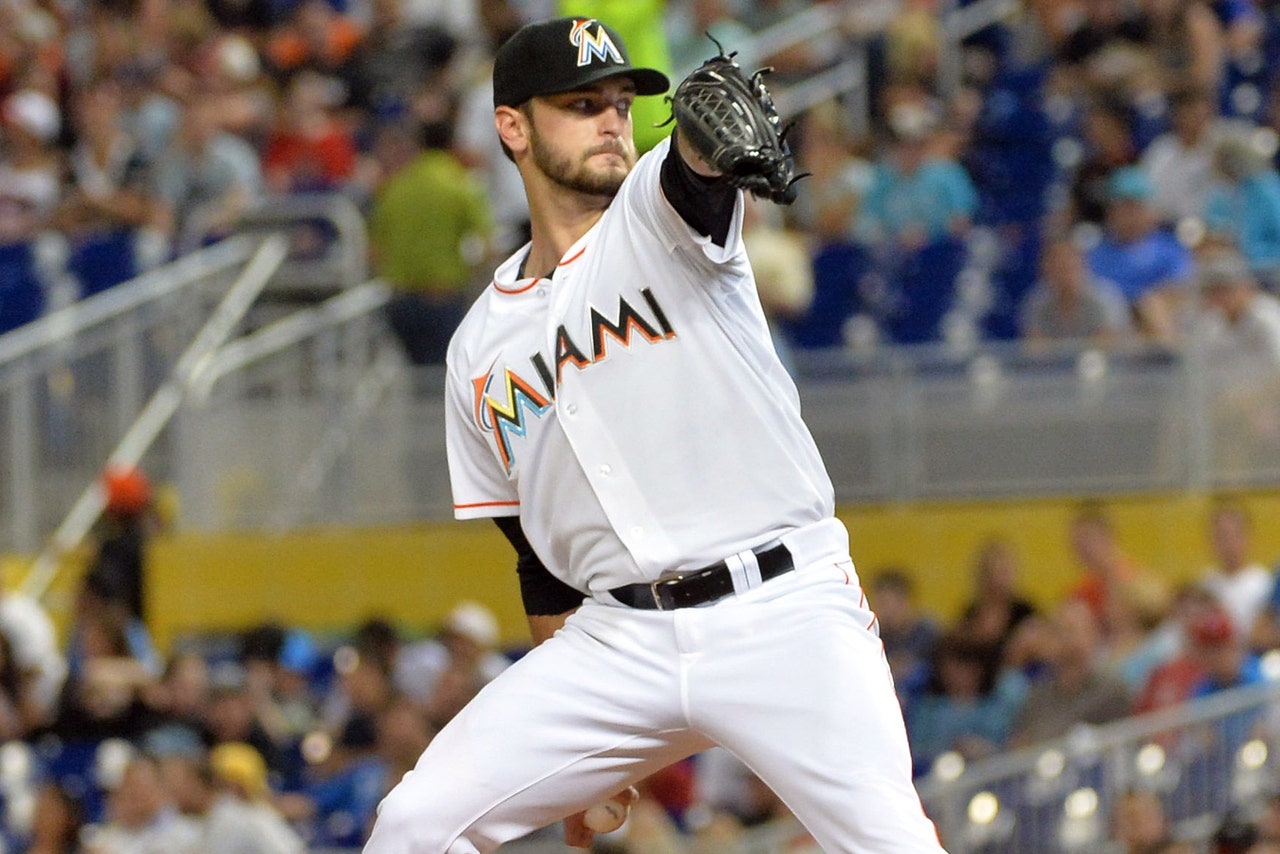 For the first time since becoming a professional baseball player, Miami Marlins right-hander Jarred Cosart didn't travel over the offseason.
After being traded from the hometown Houston Astros to the Marlins last August, 2014 quickly became a transition year for Cosart in his first full big-league season.
Aside from his stint in the Philadelphia Phillies organization, Cosart played relatively close to home in the minors at Double-A Corpus Christi, a 2.5-hour drive, and Oklahoma City, a six-hour drive. He admits to being a bit homesick upon arrival in South Florida.
"I didn't really want to do too much," Cosart said of the winter. "I just wanted to spend it at home. I think a lot of that had to do with being away from the family the whole time. I got used to being in the comfort of my own area. I didn't live at home when I was here (in Houston), but I was used to having everyone close. It was really convenient. I realized how much more you miss them whenever you're away."
Cosart, who turns 25 in May, did catch a Texas Tech football game where friend Kliff Kingsbury coaches the Red Raiders. He has also played rounds of golf.
But after two weeks off, Cosart returned to the weight room -- where he goes five days a week for 1.5 hours -- to prepare for the 2015 season.
On Mondays, it's for the lower body. Tuesdays, upper body. Wednesdays are off. Thursdays through Saturdays are lower, upper and total workouts, respectively. On upper-body days and Sundays, he also does a sprint program. Every day, he tries to run two miles --€" one in the morning, one in the evening.
"That's something I've added this year," Cosart said. "In the past I've focused on the weight program and -- not that I lacked in the conditioning -- but I upped that this year and tried to make it so I'm in the best shape possible from the start."
Part of that reasoning likely ties into a trend that occurred during his time with the Marlins.
Over consecutive starts on Aug. 30 and Sept. 5, Cosart couldn't close out the eighth inning. On Sept. 20, it was the seventh. He would get visibly frustrated hitting some sort of physical and mental wall. It looked as though he would run out of gas.
When he arrives in Miami later this week, Cosart will come up with a plan for the upcoming season with strength and conditioning coach Ty Hill. He hopes to maintain a routine that keeps him strong each start over the course of seven months.
"I definitely feel like this year I'm the most prepared I've ever been, and I think you have to say that every year," Cosart said.
Cosart has been playing catch since mid-December and has thrown four to five bullpen sessions. Both Jarrod Saltalamacchia and Jeff Mathis have been in touch with him to discuss mental and physical preparation.
Over the offseason, Cosart has worked on a different changeup and tweaks to his delivery. He has taken time to analyze his 2014 season so he can get a feel for how to tackle 2015.
During his fourth start, Cosart surrendered seven runs on three hits and four walks over just a third of an inning against the Oakland Athletics. From that point on, it became an uphill battle to lower his ERA (7.36).
"I try to sit back and reflect on the season in general, as a whole," Cosart said. "I broke it down more in depth the farther along the offseason got as far as what to improve on the most next year.
"I lay everything out. Luckily with the Internet and all the programs we have you can break down your stats month by month, week by week. However you want to do it. The biggest thing for me last year is I started out really slow for my own liking. I finished really strong. I don't know whether that was conditioning. Obviously you want to get stronger as the season goes on, but I don't want to start out as slow as I did last year. I had a couple starts that really hurt."
When Cosart joined the Marlins after the trade deadline, he wanted to quietly go about his business as a new addition to a club in the postseason hunt. He went 4-4 with a 2.39 ERA in 10 starts after posting a 9-7 record and 4.41 ERA in 20 starts for the Astros.
Come Feb. 20 when pitchers and catchers report for spring training, Cosart will embark on what he considers his true start with the organization.
He will train at the Roger Dean Stadium complex in Jupiter, Florida, for the first time. He doesn't have to quickly arrange travel plans from Houston to Miami. He knows his teammates. He can't wait to learn from the new ones, like right-hander Mat Latos.
"Having the luxury of playing at home but then at the same time them telling me I was going to be an Astro forever -- that added a lot of fuel to the fire when I got traded," Cosart said. "It was a big burden off my chest being traded from home. There were a lot of ticket requests, pressure. I don't think I realized it until I had that reflection period over the offseason. Definitely got past that and for the most part aside from the last start in Washington that I still lose sleep over (eight walks in five innings), I did everything I wanted to do when I got to Miami.
"Just a fresh start getting to see the guys again in a couple weeks. A fresh start and my first full spring training with a new team. I couldn't be more excited to get going."
You can follow Christina De Nicola on Twitter @CDeNicola13 or email her at cdenicola13@gmail.com.
---