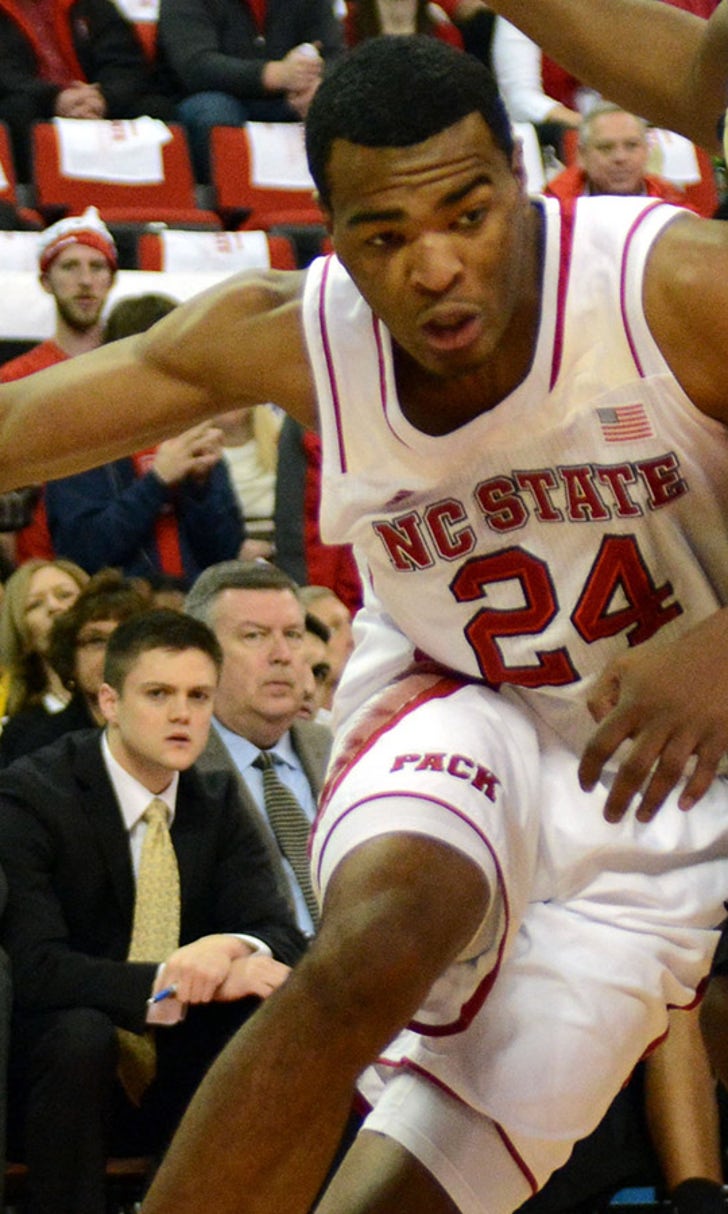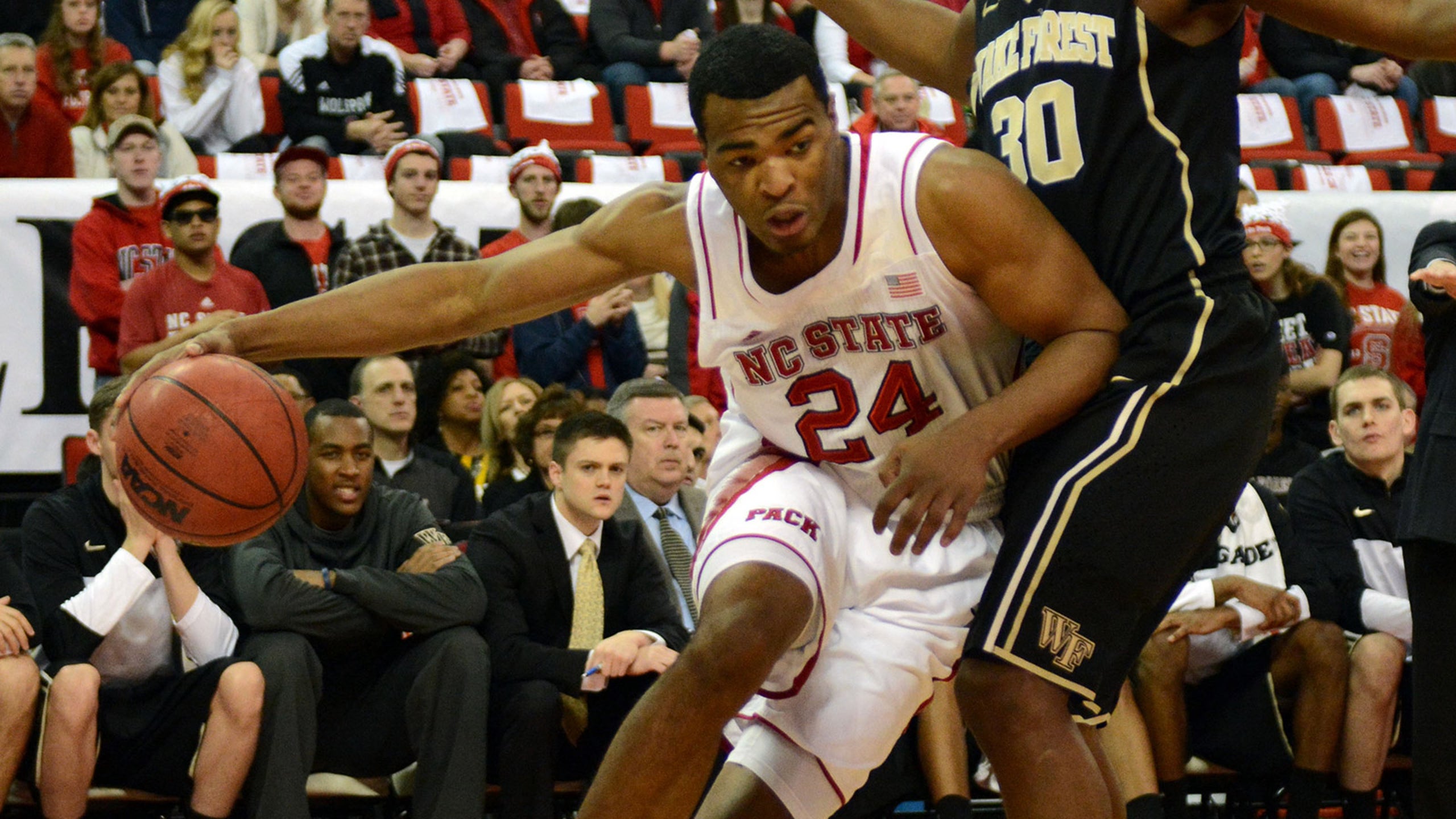 ACC Roundup: Wolfpack's Warren makes statement
BY foxsports • February 17, 2014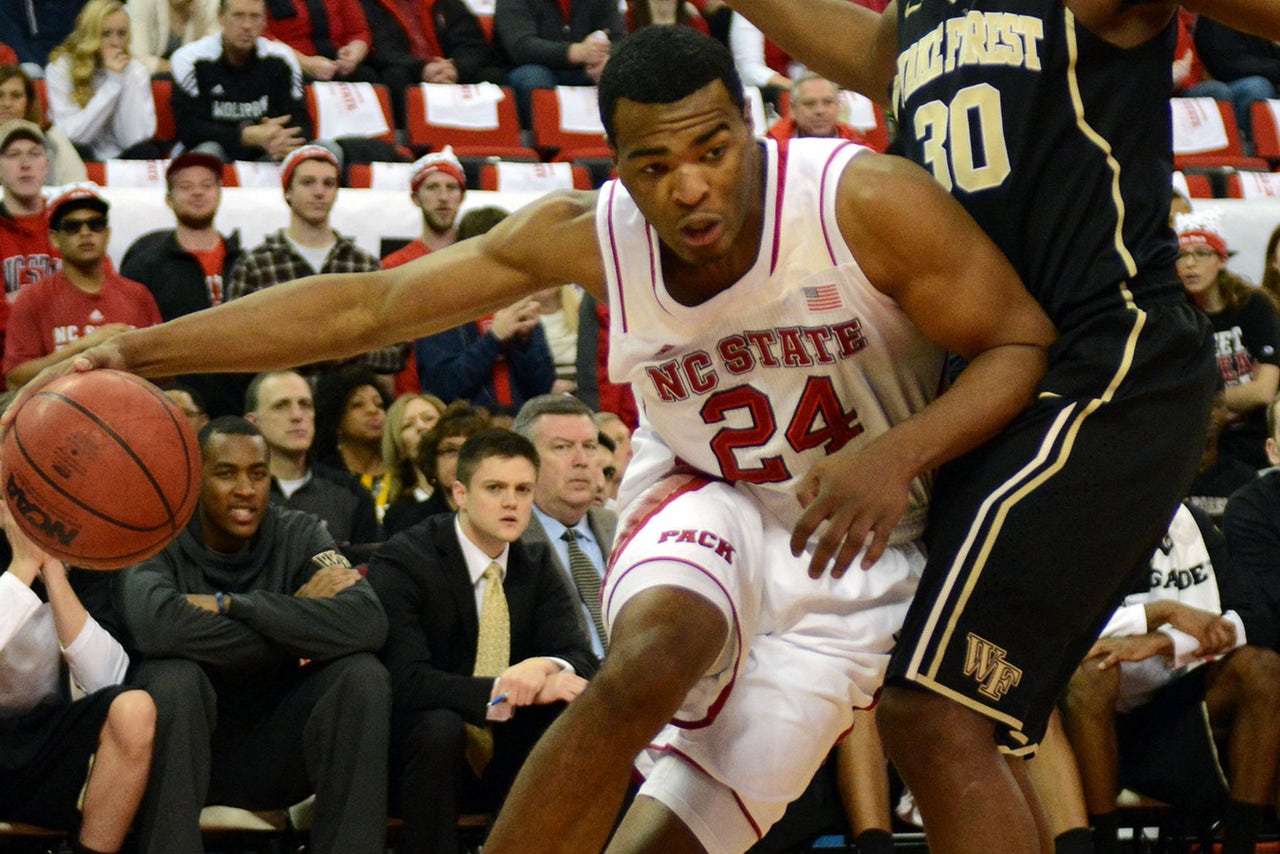 If you like big-time late-game shots or dunks, this was the week of ACCtion for you!
Tyler Ennis of Syracuse did what he usually does best and tore Pitt's still-beating heart of out of its chest on Monday with this game-winning three-pointer. Like you do. And Marcus Georges-Hunt added to the reel on Thursday with a game-winning four-point play to knock off Boston College.
Then we had Maryland's Nick Faust slamming this one home on a rebound at Duke. We had North Carolina's J.P. Tokoto -- always good for a highlight reel dunk or two -- went for a tomahawk jam in transition against Pitt, as Pitt's Cameron Wright did the smart thing and got the heck out of the way. No need to be a hero, kid.
Oh, and then there were actual games and results and things. So let's get to those!
T.J. Warren, N.C. State
The sophomore averaged 28.5 points on 54.2 percent shooting last week in two games, a win over Wake Forest and a narrow loss at Syracuse. And he added 7.0 rebounds, 1.5 assists and 2.0 steals in 36.5 minutes. Yeah. He manages to sneak around defenders and get to the hoop, which is what appeared to happen late in the Syracuse game. With N.C. State up by 1 with 15 seconds left after drawing an offensive foul on Tyler Ennis, Kyle Washington found Warren streaking down court alone for a lay-up -- except Trevor Cooney wrapped him up in a foul before the shot, and Syracuse wasn't in the bonus yet. There was controversy as to whether that was the right call -- you be the judge -- but either way, Warren -- who was needlessly snubbed in the list of Naismith Award finalists -- has proven he belongs in that group.
K.J. McDaniels, Clemson
Think there are only a few viable candidates for ACC Player of the Year? K.J. McDaniels would like for you to think again. Arguably the best defender in the league already, he's become more of a dominant scorer this year as well and averaged 27 points last week on 51 percent shooting. That's not to mention his 9.0 rebounds, 2.5 assists, 2.0 steals and 4.0 blocks in 41.0 minutes a game. And he did this to Virginia.
Jabari Parker, Duke
His shooting percentage slipped a bit, and it was just one game, but Parker led the offensively-challenged Blue Devils with 23 points in the win over Maryland on Saturday, and he did hit 9-of-10 free throws (though just 6-of-16 shots). One of his shots, however, was a big one. And it was also the only two-point basket he hit in the second half. Emphatic.
James Michael McAdoo, North Carolina
His energy and passion have been on full display during UNC's six-game winning streak, and that was the case again on Saturday in the win over Pitt as McAdoo was dominant, scoring 24 points on 11-of-18 shooting to go with 12 rebounds. He fouled out in 37 minutes, but he hit big shot after big shot whenever the Tar Heels needed a bucket. He's always had a knack for getting steals and ensuing fast break baskets, but this one was particularly impressive.
Ian Miller/Aaron Thomas, Florida State
Florida State went 1-1 last week -- including a disappointing loss to Miami -- but these two did their part. Miller, who had missed a few games with an injury, averaged 19 points on 13-of-22 shooting in 37.5 minutes a game while the always-steady Thomas added 17.5 points on 13-of-29 shooting to go with 8.0 rebounds, 2.0 assists and 3.0 steals.
This list is, of course, with respect to both Joe Harris (UVa) who averaged 17.5 points and shot 8-of-16 from three in two Virginia wins last week, and Eric Atkins (Notre Dame) who averaged 16 points, 5.0 assists and 2.0 steals in two Notre Dame wins last week. Oh, and he played 90 minutes in two games. That's like a three-game total for most. And while Boston College continues to be terrible, Olivier Hanlan isn't -- he averaged 19.5 points on just under 50 percent shooting in two games last week.
The Wolfpack found itself a member of an ever-growing club of teams that "almost" beat Syracuse. But with the way this team was struggling against zone defenses as recently as a few weeks ago, who would have thought it could have gone up to Syracuse, after its flight got delayed so much the game time had to be pushed up to 7:00, and perform as well as it did? Moral victories count just like a loss, of course. But it says a lot about how far the Wolfpack has come that it not only blew out Wake Forest in a revenge game on Tuesday, but it also hung with the No. 1 team in the country and arguably should have won that game.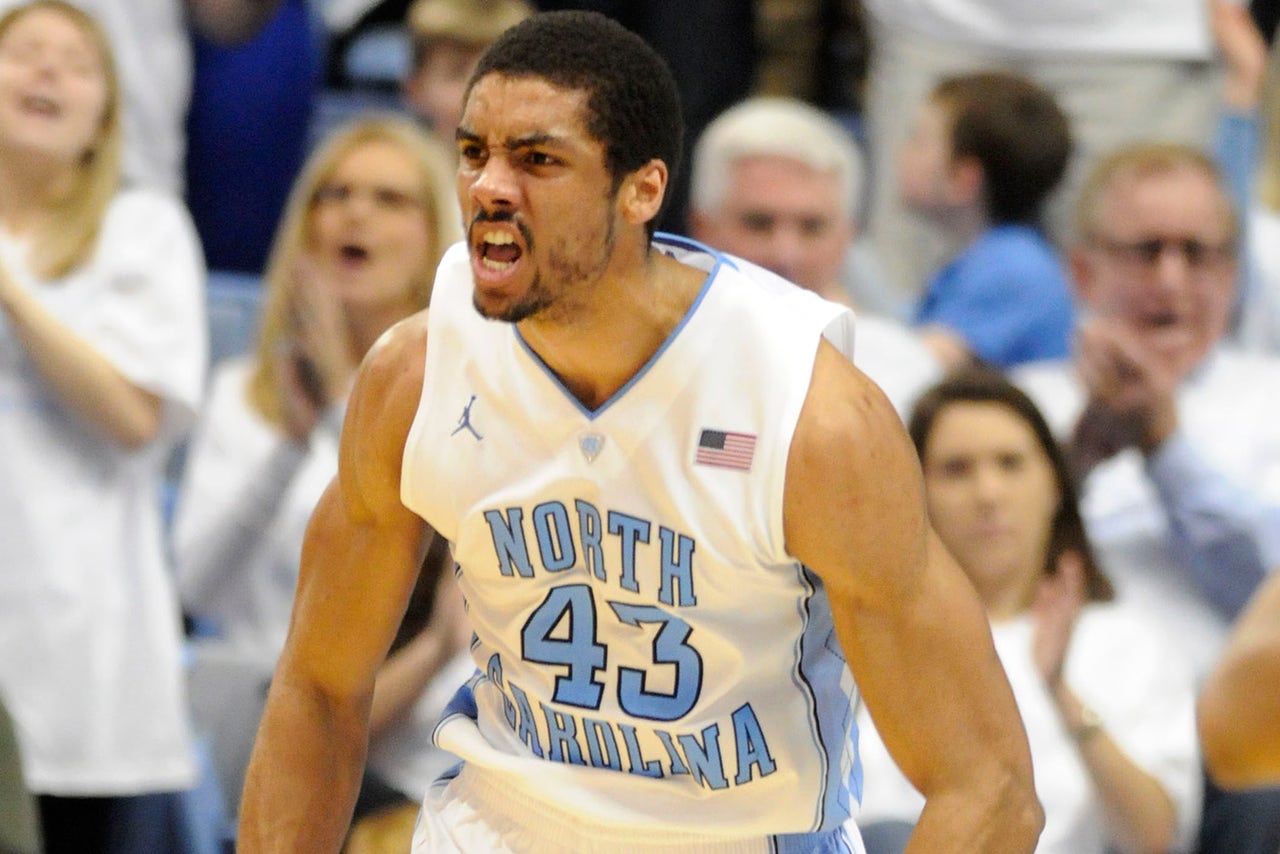 James Michael McAdoo and the Tar Heels largely set the tone in their 75-71 win over then-No. 25 Pitt.

North Carolina, 75-71 over No. 25 Pittsburgh. The Tar Heels were facing a desperate Pitt team that had just been the victim of Syracuse's late-game heroics earlier in the week, and UNC had to bounce back mentally from having the Duke game postponed. Pitt, as is its custom, didn't make anything easy. But UNC fought, played good defense, and played the game mostly at its own tempo. The Tar Heels were good in the halfcourt as well, showing patience against Pitt's pesky zone. That's now six in a row for UNC with a tough week ahead, but this inexperienced group is developing a bit of a thicker skin, it would seem.
The Tigers were on the proverbial NCAA tournament bubble as it was. A double-overtime loss at Notre Dame and a close loss at home to Virginia later, and the Tigers have little to no margin for error left. Those aren't the reason Clemson was so #goacc last week. No, it's because McDaniels' teammates allowed him to score 44.3 percent of the team's points, hit over half their three-pointers, get nearly a third of their rebounds and all of their blocked shots. By himself. Yep, while he averaged 27 points on 19-of-37 shooting (5-of-11 from three), his teammates combined to shoot 23-of-75 fem the field and 4-of-30 from three, averaging 34 points between them. He's just one person. They are like 8-9 other, totally separate people. He can't do it by himself.
The sophomore forward has to be a positive force for the Deacs to have success, so it's probably not a coincident that they went 0-2 this week with him averaging 7.5 points on 6-of-18 shooting (a ghastly 1-of-7 from the foul line) in 27.5 minutes a game, adding 4.5 rebounds, 2.5 fouls and 2.0 turnovers. When he wasn't a non-factor, he was a detriment to the team. A pretty bad week for him.
Adonis Filer (Clemson) narrowly missed winning this award yet again - in the "get K.J. some help" category, he had a total of four points in the two games last week on 0-of-12 shooting. Yep. And in two close losses for Maryland to good teams, it might have helped if Evan Smotrycz had made more than 5-of-22 shots.
It was a tough weekend for Tobacco Road-area guards, too. UNC's Nate Britt -- a freshman point guard -- did have three assists and one turnover in 18 minutes, but he somehow managed to take nine shots. Probably a few too many, since he made just one. But his older teammate Leslie McDonald wasn't much better, shooting 1-of-8 from the field (1-of-6 from three) and adding three fouls in 28 minutes, struggling to guard Pitt's Lamar Patterson while his primary defender was in foul trouble.
Duke's Quinn Cook was visibly upset on the bench as the junior played just 14 minutes against Maryland and was 1-of-4 shooting with no assists and three turnovers. And N.C. State's Dez Lee had a costly turnover late against Syracuse, but in two games, the slasher had just seven points on 1-of-4 shooting to go with five fouls and four turnovers. '
---