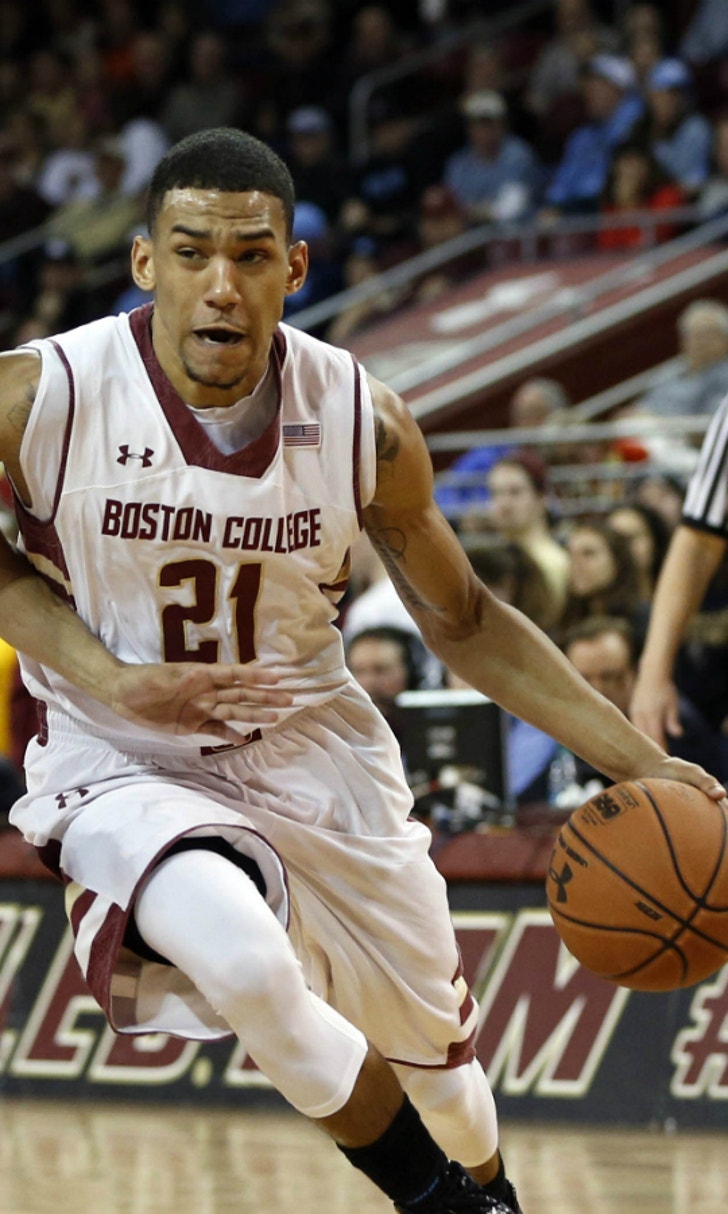 ACC Roundup: Mid-tier teams look to make a move in top-heavy league
BY foxsports • February 9, 2015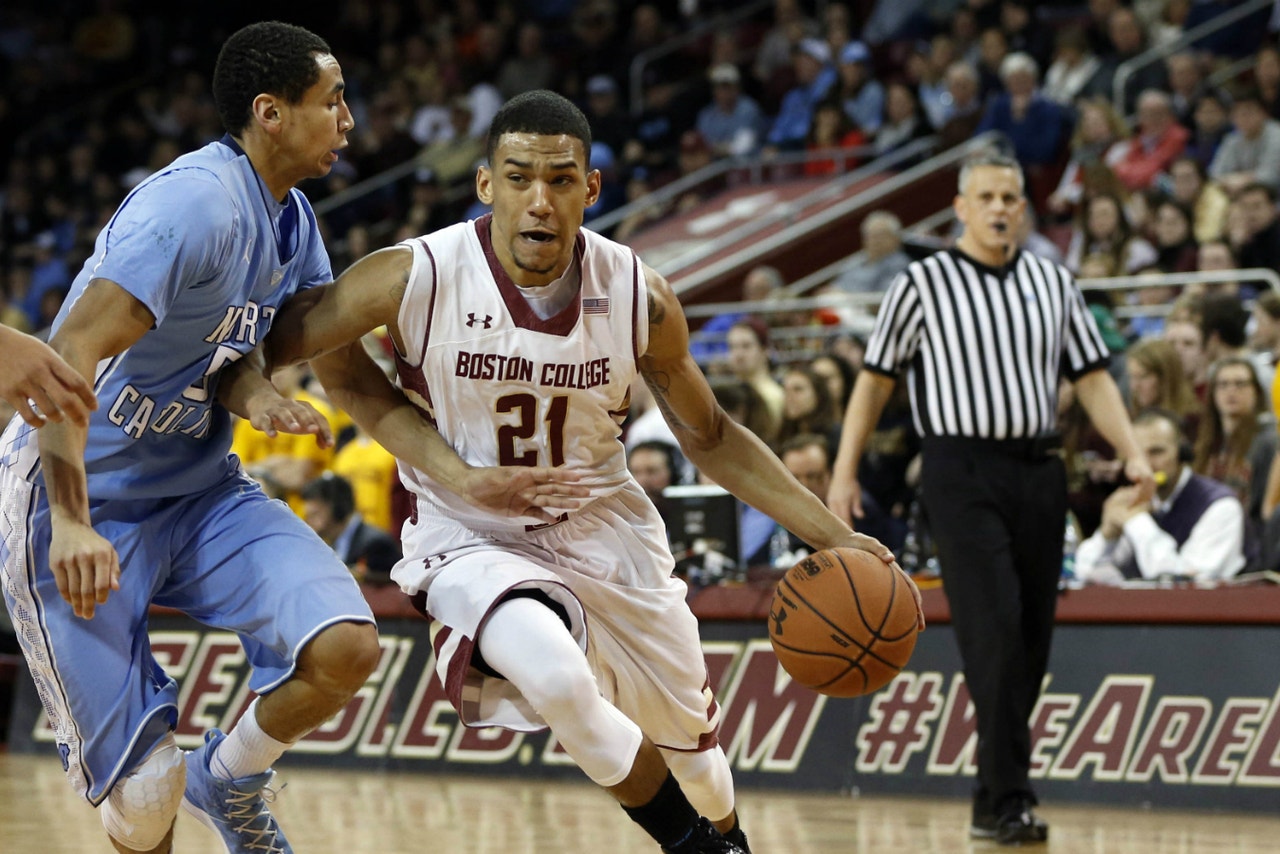 Even though the top-10 matchups last weekend were a bit anti-climactic -- Virginia held on against Louisville in a defensive battle, while Duke slaughtered Notre Dame -- the ACC remains the dominant league in terms of being top-heavy, with five of its 15 teams ranked in the top 12 nationally.
The real concern moving forward will be if any of these so-called bubble or "fringe" teams can find a way to break into the NCAA Tournament at-large pool. It likely won't happen if they keep losing to each other -- looking at you, Clemson and Miami -- but we'll learn a lot more about some of these teams and how good their chances are after this week.
Olivier Hanlan, Boston College: Yes, his team lost two games. But it wasn't Hanlan's fault. The junior guard averaged 29 points on 21 of 36 shooting and played all 40 minutes in both games. He scored 30 in a losing effort against North Carolina and 28 in a loss to Notre Dame, and though he didn't rack up any other stats of note, Boston College certainly needs all the points it can get.
Jamel Artis, Pittsburgh: The sophomore forward did play in two games -- both wins -- last week, and he scored a total of 52 points (26 per) on 18 of 31 shooting. He was 4 of 9 from 3-point range and added averages of eight rebounds, 3.5 assists, three steals and 0.5 blocks in 39 minutes a game. Pretty impressive, and Artis is really breaking out here as of late.
Terry Rozier, Louisville: He didn't shoot that efficiently, and it nearly bumped him off the list (13 of 33) but he averaged 19 points in two games last week (a win at Miami and a five-point loss at Virginia), adding 5.5 rebounds, 2.5 assists and two steals. He shoots a lot, but he has to, and more often than not, he makes plays.
Justise Winslow, Duke: When his team needed him to show up, boy, did he ever. The freshman is back to his early-season form, and in two wins last week over Georgia Tech and No. 10 Notre Dame, he averaged 17 points on 11 of 17 shooting, adding 10.5 rebounds, 3.5 assists, a steal and two blocks in 33.5 minutes per game. I mean ... wow. What shoulder/rib injuries?
Perhaps the best part for Winslow is he took just three 3-pointers last week; Duke really needs him to attack the basket.
Rakeem Christmas/Michael Gbinije, Syracuse: These two carried the Orange last week, and though Syracuse split its two games, it was no fault of theirs - Christmas averaged 19 points on 14 of 25 shooting to go with averages of 12 rebounds, 1.5 assists, two steals and 5.5 blocks, while Gbinije added 20.5 points on 14 of 24 shooting and three rebounds, five assists and four steals. Syracuse just has no depth right now and needs all it can get out of everyone on its roster, and these two are giving it.
-- Winslow and Okafor have been covered, but Duke freshman point guard Tyus Jones averaged 10.5 points and had 12 assists to four turnovers last week in two games.
-- FSU's Xavier Rathan-Mayes averaged 13.5 points, four rebounds and 6.5 assists in two games for the Seminoles. And speaking of freshmen point guards, Georgia Tech's Travis Jorgenson shot 6 of 11 in two games last week and had nine assists to four turnovers, looking much more confident than he did earlier in the season. 
-- Virginia Tech's Jalen Hudson averaged 12.5 points on 10 of 15 shooting, while teammate Justin Bibbs continues to return to form after his concussion and averaged 11 points in just 25 minutes.
There were only three teams that went 2-0 this week: Duke, Virginia and Pittsburgh.
We obviously already see Duke and Virginia, and know that they're good. But could Pitt actually be good? The win over Notre Dame felt like a fluke at the time; Pitt was coming off of three straight losses -- including one at Virginia Tech, the worst team in the ACC -- and sat at 3-5 in league play and 13-8 overall. Now they're 16-8 and have won three in a row (Syracuse being the most recent). This stretch coming up will be brutal (at No. 9 Louisville, No. 12 North Carolina, at No. 2 Virginia, at Syracuse), which won't be easy.
We'll learn a lot about the possibly-improved Panthers in the next week or so.
No. 4 Duke over No. 10 Notre Dame, 90-60: This wasn't just a win. It was a demolition. As Notre Dame head coach Mike Brey quipped after the game, he had to make sure it didn't count for multiple losses.
Duke shot over 81 percent in the first half and averaged nearly a point and a half per possession for the game, shooting over 61 percent from two and 60 percent from the outside. It was like they were playing a video game offensively. But their defense -- and their defensive effort -- was perhaps more impressive, as Quinn Cook & Co. held Jerian Grant to seven points on 3 of 10 shooting and flustered him most of the afternoon. Notre Dame shot 44.1 percent from 2 and 35.3 percent from three, and turned it over more than usual, to.
All in all, a thorough beating by Duke, and an impressive one.
You had to have it, NC State. It was at Wake Forest, sure, and that can be a tricky place to play. But NC State had kept its NCAA Tournament at-large hopes alive with a win at Georgia Tech, and needed to win the winnable games before its upcoming stretch.
Instead, NC State found itself down 51-30 at half and clawed back to nearly scratch out another win, but couldn't get over the hump. Now, NC State finds itself staring at a four-game stretch that includes games at No. 9 Louisville and No. 13 North Carolina, not to mention No. 2 Virginia at home, and it absolutely has to have one or more of those. That's assuming they can win the winnable ones remaining, which has certainly shown itself not to be a given.
On Jan. 17, NC State was 4-2 in the league and had a marquee win over Duke to its credit, and it had played Virginia and North Carolina competitively. Since then, they've lost four of five with the one win coming in overtime at Georgia Tech and the losses have come to teams ranked Nos. 62, 17, 85 and 115 in KenPom's rankings. Hopefully for the Wolfpack's sake, the time off did them some good because they're going to need all they've got for this stretch run.
Rod Hall, Clemson: This could go to any number of Clemson's regular rotation players, but as the Tigers split two games, Hall shot 4 of 19 from the field and averaged just four points. He did have five rebounds, six assists and four steals in those two games, but he also committed three fouls and four turnovers. And he missed his only free-throw attempt. Oh, and he was 4 of 15 from inside the 3-point line. That's just not going to work for Clemson's starting point guard.
No. 10 Notre Dame (21-4, 9-3) at Clemson (14-9, 6-5), Tues., 7 p.m.
Notre Dame doesn't have a ton of time to dust itself off after that humiliating loss Saturday in Durham. Clemson is going to be licking its wounds as well after seeing its four-game ACC win streak come to a close. And Clemson can be a sneaky-tough place to play.
The Irish are almost certainly in the NCAA Tournament barring a complete collapse, which seems unfathomable, but boy do they really need to make sure their bad non-conference slate doesn't hurt them come seeding time. And Clemson still has at-large life, but needs a big-time win.
Pittsburgh (16-8, 5-5) at No. 9 Louisville (19-4, 7-3), Wed., 8 p.m.
As mentioned, Pittsburgh is playing quite well and Louisville, for the most part, is too -- or at least they're getting the job done. A five-point loss at Virginia is nothing to be ashamed of. But Pitt has made some improvements since these two teams played last, and Pitt now finds itself with some faint hope of an NCAA bid. Pitt will need this win, but Louisville can keep itself in prime position to potentially win the regular season if beats the teams it should beat.
No. 2 Virginia (21-1, 9-1) at NC State (14-10, 5-6), Wed., 8 p.m.
NC State doesn't have many more chances to get the kinds of wins that will get the NCAA Tournament committee's attention. Right now, all they've got is Duke and a very solid out of conference slate. But they've also got bad losses to contend with (Clemson, Wake Forest). Virginia will be playing its first game without arguably its best player, guard Justin Anderson, who'll miss the next 4-6 weeks with a broken finger. NC State has played well against big-time teams at home; can it pull out another performance when Virginia's in a bit of a vulnerable state?
No. 12 North Carolina (18-6, 9-3) at Pittsburgh (16-8, 5-5), Sat., Noon
The Tar Heels have yet to lose to a team ranked lower than 27th in Pomeroy's rankings (Iowa is the "worst" loss, by Ken Pom standards), and they've got good wins over Ohio State and Louisville. But they haven't played fantastic, even against the so-called bottom-tier teams, and Pitt is on the rise at the moment.
North Carolina will have a week off to get some players healthy and heal up a bit and the Tar Heels have to hope that time makes a positive difference on offense and defense, because that's a tough place to play and a hot team to face.
NC State (14-10, 5-6) at No. 9 Louisville (19-4, 7-3), Sat., 4 p.m.
Basically everything that applies to both teams that's already been written can go here as well.
NC State needs this for its NCAA Tournament hopes, while this will be the third-highest ranked opponent per KenPom that Louisville will face the rest of the way (and all three will be at home). The ACC regular-season title is right there for Louisville (with some help from Virginia and Duke, of course) if it can close out strong. NC State has to have this, and particularly if the Wolfpack comes in without having beaten Virginia, they're going to need it that much worse.
No. 4 Duke (20-3, 7-3) at Syracuse (15-8, 6-4), Sat., 6 p.m.
This game won't be anywhere near as exciting as it was a year ago, but it's still Jim Boeheim versus Mike Krzyzewski, two old friends going at it, and it's still going to be an electric atmosphere. Syracuse has already declared itself ineligible for the postseason, and so games like this one ARE their postseason. Syracuse has little to no depth, obviously, but the players they do have -- particularly Rakeem Christmas and Michael Gbinije, a Duke transfer -- are playing very well. With all of their emotions on the line, can the Orange pull off the upset, or will Duke just keep rolling?
---