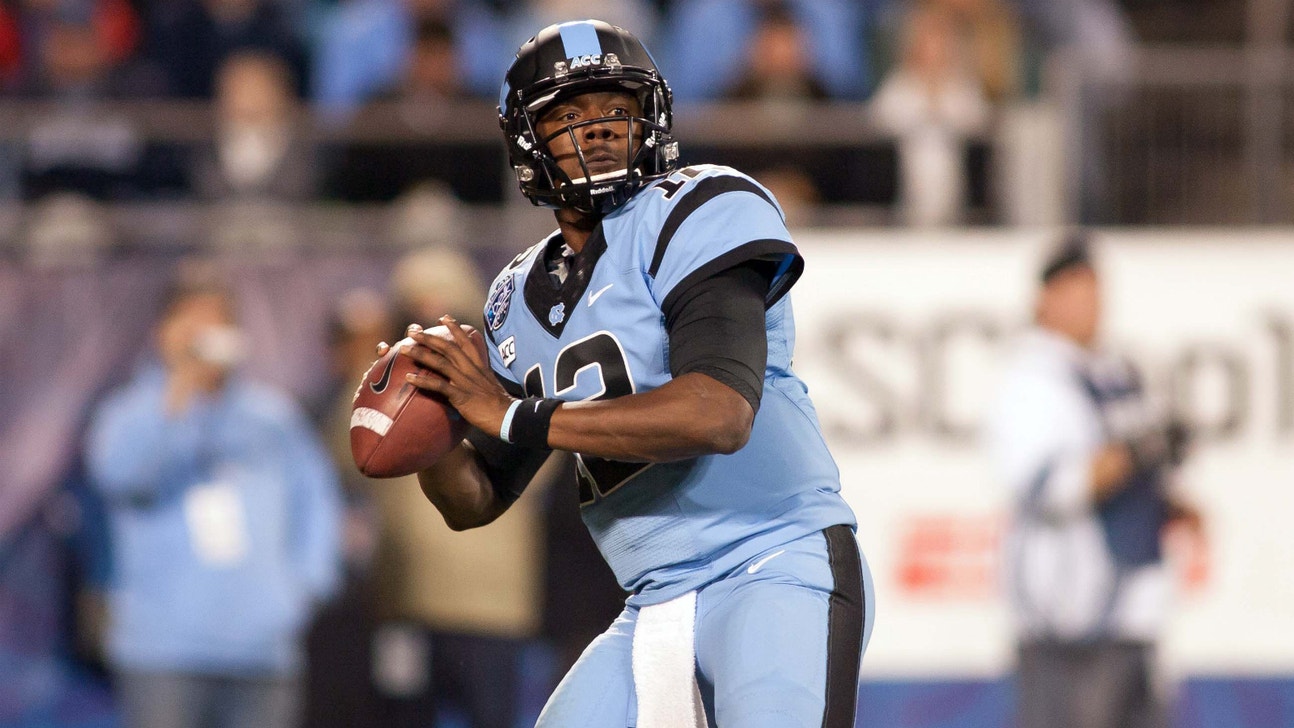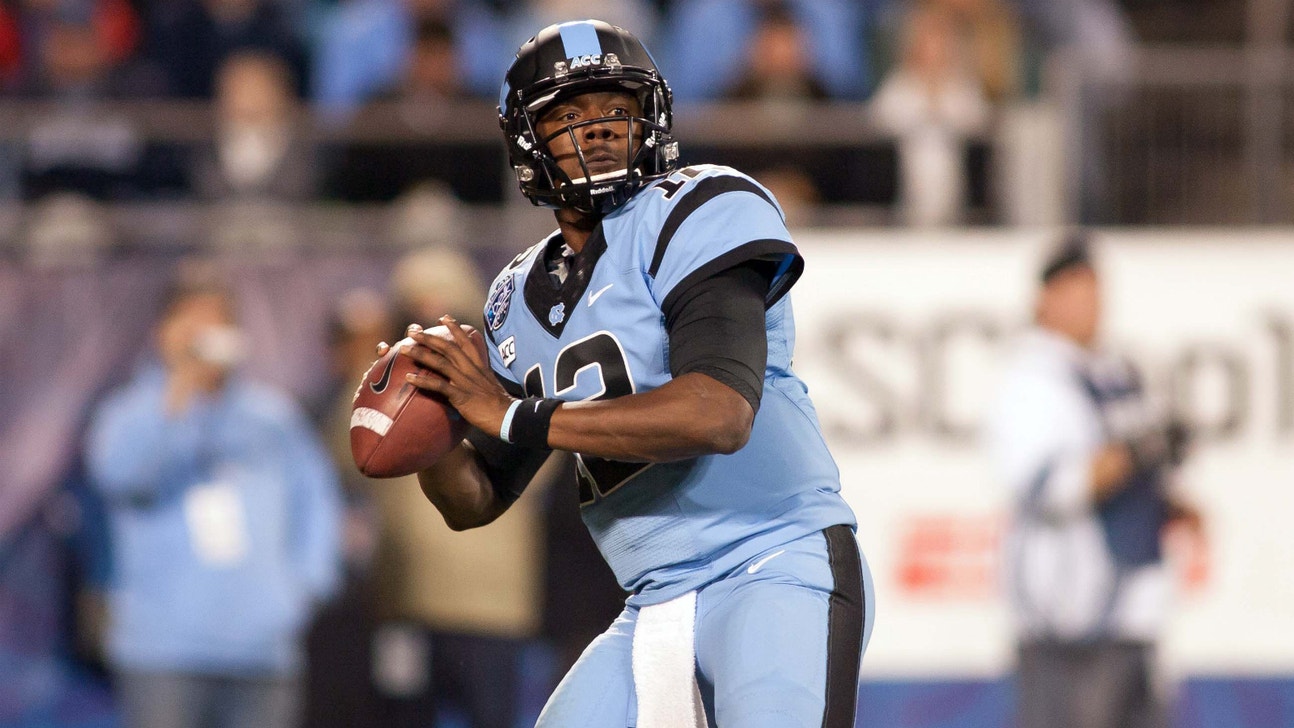 ACC Countdown: No. 5 North Carolina
Published
Aug. 6, 2014 5:00 p.m. ET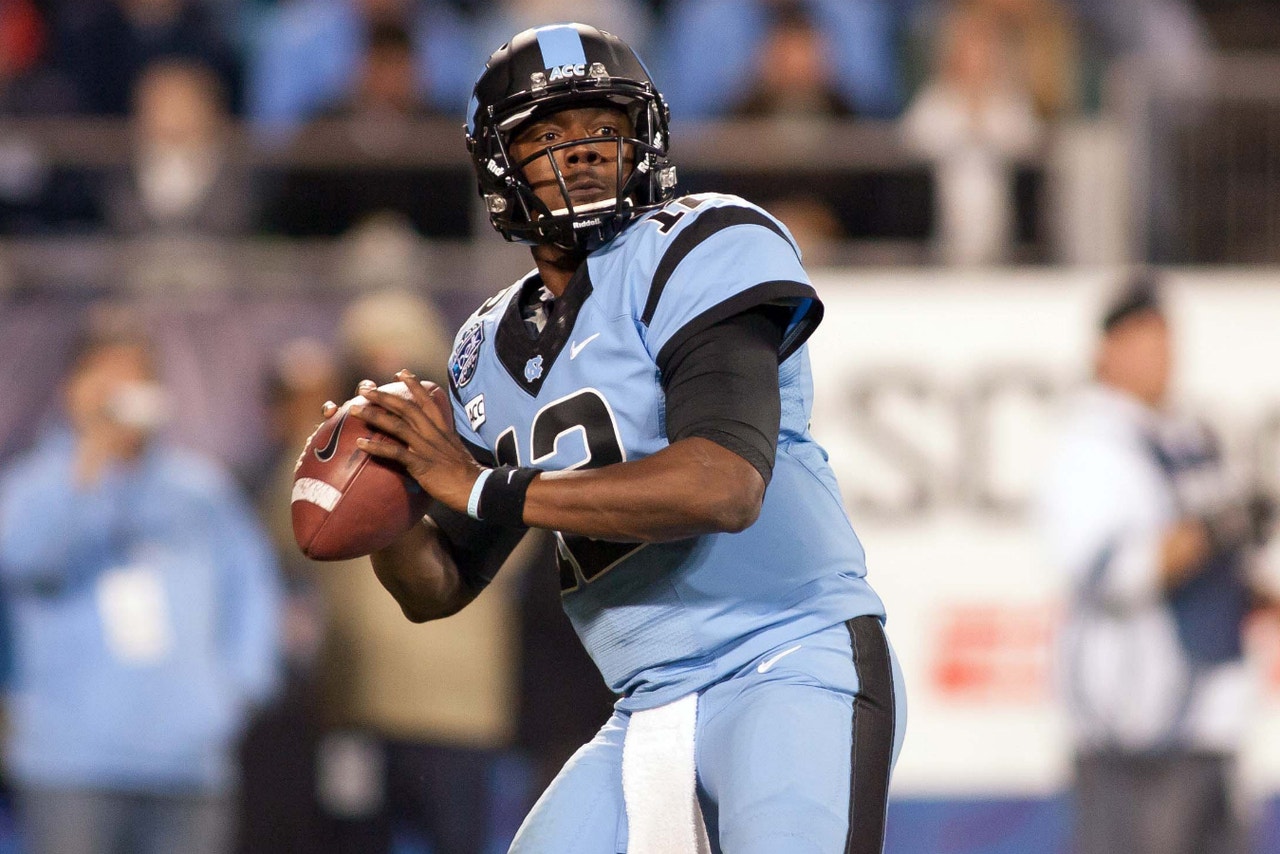 North Carolina started last season dreadfully, losing five of its first six games with the only win coming against Middle Tennessee State. But the Tar Heels rebounded nicely against a much friendlier back half of the schedule and won five of its final six.
In 2014, can the Tar Heels prove that the end of last year wasn't a fluke? Will they be able to answer the questions concerning their talent level on defense and a lack of experience on the offensive line? If they can, even with a very tough schedule, they could contend for the Coastal Division crown.
The Tar Heels return plenty of players at the skill positions. And by "plenty," I mean, "most." The starting quarterback who took over for an injured Bryn Renner last year is back in Marquise Williams, along with four of UNC's five leading rushers and three of the top five receivers, led by Quinshad Davis (second on the team in receiving a year ago) and Ryan Switzer (third, but the speedy sophomore tied the NCAA single-season record for punt-return touchdowns and was electric for the Tar Heels once he got going).
Add in sophomore running back T.J. Logan (UNC's second-leading rusher) and complementary backs Khris Francis and Romar Morris, and it seems almost unfair that UNC adds uber-talented Elijah Hood to the mix as a freshman.
Really, a lot of UNC's young offensive stars got going as the season went along and if they can carry that over, UNC's offense should be not only fine but even better. Same goes for the defense -- or, more specifically, the secondary. The only remaining veteran in that group is senior Tim Scott, but three juniors (Malik Simmons, Darien Rankin and Sam Smiley) will log significant playing time, and sophomores Dominique Green, Brian Walker and Desmond Lawrence showed enough flashes to excite the coaches a year ago. Add in talented freshman M.J. Stewart at another corner spot and UNC returns a lot of exciting players with upside on the back end of its 4-2-5 defense. At linebacker, two seniors who played big roles both return in Jeff Schoettmer and Travis Hughes.
Of the names people know, only Renner (who missed the final five games last year with a season-ending injury) and tight end Eric Ebron, who led the Tar Heels in receiving last year before becoming a first-round draft pick, are gone.
Ebron in particular is the kind of weapon that's almost impossible to replace, but the young receivers progressed last year and should fill his statistical void quite nicely. Jack Tabb will be a senior starter at tight end, and though he won't provide the production Ebron did, the offense will likely readjust and won't miss a beat.
As for Renner, Williams proved more than capable fill-in, leading UNC to wins in five of its final six games. However, the real question is if he'll keep his job or if redshirt freshman Mitch Trubisky will take it. The two are splitting time with the first team right now, and it remains to be seen who wins that job. We'll likely see some of both this season, but one would have to think it's still Williams' job to lose. At least for right now.
The catch there, of course, is that UNC's offensive line has to come together in a hurry. That unit lost just two starters, but they were two very good ones in left tackle James Hurst (who broke his leg in UNC's bowl game win and unfortunately went undrafted as a result) and center Russell Bodine, who was a late-round draft pick. The line wasn't that great even with those two on it a year ago, and now an unproven group will have to replace them. The team feels good about sophomore Lucas Crowley at center and sophomore John Ferranto has earned accolades for his work at left tackle, but again, UNC will need that line to be better than it was last year.
The defensive line was good at times in 2013, but not great -- and it lost its two best players as well in Kareem Martin at end and Tim Jackson at tackle. Now, UNC is going to have to fill those voids with unproven commodities. Martin had 21.5 tackles for loss -- more than the returners on the line have combined -- and 11.5 sacks. Norkeithus Otis returns at Bandit (UNC's hybrid defensive end/linebacker in the 4-2-5), and he's by far the best returner on defense with 14 tackles for loss last year. He'll need help to replace Martin's production, though.
The secondary has plenty of pieces back, as discussed previously, but it did lose two very good players in cornerback Jabari Price and safety Tre Boston. Price was as steady as they come, and Boston -- while erratic at times -- was a playmaker. Others in the young secondary are going to have to step up and fill that role, and based on all reports heading into this season (not to mention the way the young defensive backs ended last year), that shouldn't be an issue.
Early last season, UNC's offense sputtered far too often against the meatier portion of its schedule, moving the ball at times but only sporadically and very rarely mounting anything resembling a consistent rushing attack. When Renner and Williams started splitting time in games, the situation improved but only because of the added dimension Williams' mobility brought to the table.
The Tar Heels eclipsed the 100-yard rushing mark just twice in its first five games, and didn't crack 134 yards until the eighth game of the year. After that, UNC had some very good games on the ground, but even then the numbers were sometimes deceiving. And 17 of the 21 sacks UNC allowed were also in the first seven games, as were 47 of the 75 tackles for loss. 
Now that line is down two of its best players in Hurst and Bodine with a brand-new left tackle protecting the quarterback's blind side. UNC needs more from that group with the collection of skill players it has, particularly against elite defenses like Virginia Tech or Clemson.
The players will tell you it's a success only if the Tar Heels can break that glass ceiling that is an eight-win threshold. The program hasn't won more than eight games since 1997 when it went 11-1 in Mack Brown's final season before he went to Texas. Oh, it's come close. It had the talent to do it in the Butch Davis years. But it never could quite avoid losing those games it shouldn't. Now, it seems UNC still loses a game or two like that, but also can't consistently hang with good teams, either.
Under Fedora, of UNC's six losses to teams with at least eight wins, only two have been by more than 10 points (at South Carolina and home against East Carolina last year). Three of those -- Louisville in 2012, and Miami and Duke last year -- were decided by fewer than seven points. A 4-7 record against teams with eight or more wins isn't bad, but the 10-4 record against teams with seven wins or less is not ideal, either. UNC needs to turn more of those toss-up games into wins if it wants to "break through."
So that will be the key for the Tar Heels -- finishing games it has a chance to win, regardless of the caliber of opponent, and not shooting themselves in the foot (so to speak) with careless mental mistakes in close games. In theory, if the Tar Heels do that, it will be a very successful season indeed.
Oct. 18, Georgia Tech. This is far from the sexiest game on UNC's schedule, and it's not even close to its most difficult. But UNC has not beaten Georgia Tech since 2008. The Tar Heels don't have a losing streak that long against any other Coastal Division team.
Home game, road game, it hasn't mattered. Bye week to prepare for Paul Johnson's offense, no bye week, it hasn't mattered. And in terms of UNC's schedule, this is the type of game it has to win if it wants to go from good to great. The Georgia Tech game this year falls a week after a trip to Notre Dame, and UNC will also be finishing up a four-game stretch of at ECU, at Clemson, Virginia Tech at home and then the trip to South Bend -- all without a week off. At best, UNC is 5-1 after that stretch and at worst, it's 2-4.
The thing is, this season, there's no place on the schedule to rebuild any lost confidence (should UNC be 2-4 at that point) like there was last year. And if UNC is 4-2 or 5-1, that's where the wheels could come off -- finding a way to lose winnable games. If UNC wants to take that next step as a program under Larry Fedora, it has to break through and win a game like this one. Every year under Fedora so far, the Tar Heels have lost at least one game that they either shouldn't lose on paper (at Wake Forest in 2012) or that they had in their grasp and let slip away (Miami last year). Getting to that 9-10 win threshold means winning games like this one.
Last year's schedule was front-loaded, meaning UNC took its lumps early (with a 1-5 start) and its young roster gained confidence as the season went along, getting a bit of a streak going against somewhat lesser opponents. But this year's slate has the difficult games more spread out, sprinkled in among the others, with very few so-called "easy" games, save perhaps the first two home games against Liberty and San Diego State. There are three very likely wins on the schedule (those two plus Virginia), and two very likely losses (at Clemson and at Notre Dame).
That leaves seven games that could potentially go either way. Three of those are on the road (at East Carolina, at Miami and at Duke). That leaves very little margin for error for the Tar Heels, and it's unreasonable to expect them not to lose at least one of those, and maybe more.
In theory, UNC could finish 8-4 and 6-2 in the ACC, since the trip to Notre Dame is a non-conference game. But that would mean losing only to Clemson and maybe one other slip-up, say at Duke or at Miami. Considering how tough of a grind the schedule can be and just how young the Tar Heels are, it doesn't seem likely that there won't be at least one other loss in there somewhere.
---