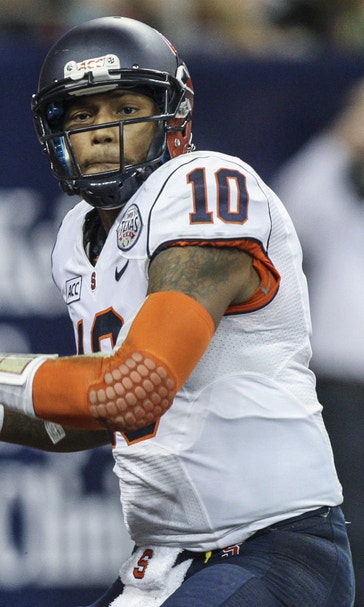 ACC Countdown: No. 10 Syracuse
BY foxsports • July 2, 2014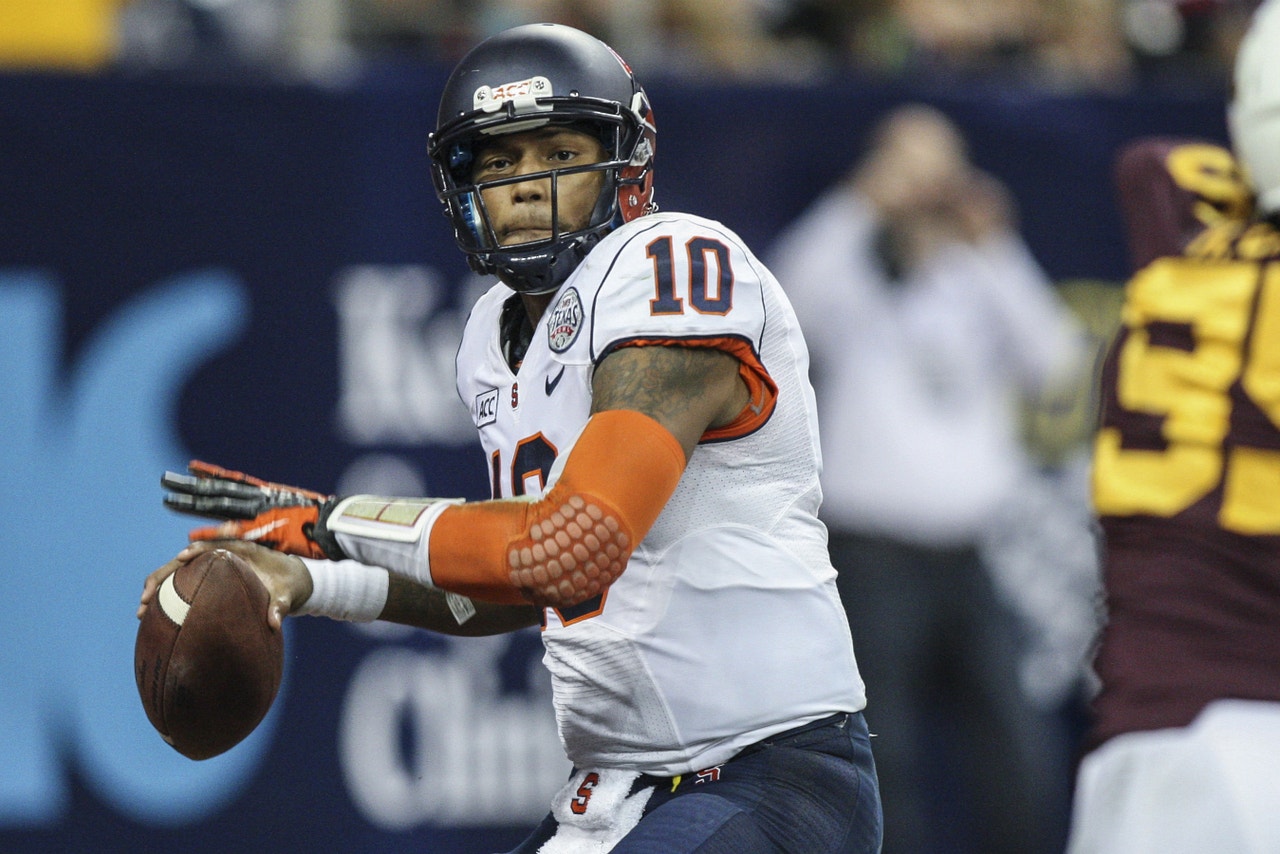 It wasn't always pretty last season, but Syracuse and hard-nosed first-year head coach Scott Shafer found a way to get it done, finishing 7-6 and making a bowl game for the second straight season. It will be a struggle to do it for a third year, but nothing was easy about last season, either. Can he get it done yet again this season, and can Syracuse show the kind of progress fans will want to see on both sides of the ball, even against a very tough schedule?
A lot -- 15 starters (eight on offense, seven on defense), and none bigger than junior quarterback Terrel Hunt. Not many ACC teams have their starting quarterback returning, or even a viable option at that position. And Hunt will be protected by an offensive line that was pretty good last year and returns four of five starters. Most of the starting wide receivers are back, led by Hunt's favorite target Ashton Broyld, a junior. The passing game had some nice moments towards the end of last season, and a year of experience -- not to mention an off-season of work together -- certainly can't hurt.
Three of Syracuse's best defensive players from a year ago are back as well, as two of the three starting linebackers return (Cam Lynch/Dyshawn Davis, who will both be seniors). All told, Syracuse lost just two of its front seven -- three of the four starters on the defensive line are back as well, and all three will be seniors -- Robert Welsh and Micah Robinson at the defensive end spots and Eric Crume at nose tackle.
Also back is junior Durell Eskridge, who's one of the best safeties in the ACC. Rising senior and returning starter Brandon Reddish cornerback is back, too, as are plenty of experienced backups. A lot of Syracuse's younger players were thrown into the mix early and often last year because of injuries, so stepping up to the role of full-time starter won't be such a jarring transition. But again, considering how inconsistent Syracuse's secondary was last season, that's not necessarily a good thing -- unless this group can settle in a bit coming into this season. Eskridge can't do it all himself.
It's worth watching Brisly Estime as well. The sophomore H-back/wide receiver was Syracuse's fourth-leading receiver last year (averaging 9.2 yards per catch on 28 catches), and he came on as a punt returner towards the end of the year as well, averaging 31.5 yards on four returns, including a 70-yarder in Syracuse's bowl win over Minnesota. Safety Ritchy Desir handled those duties mostly, but he had fewer yards than Estime (111 to Estime's 126) in 23 more returns. It'll be interesting to see who emerges for Syracuse in the return game, but Estime certainly showed what he's capable of and the Orange will be trying to get the ball in his hands any way possible.
The only departing member of Syracuse's offensive line is still a pretty big void to fill -- center Macky MacPherson, who started 38 games in his Syracuse career. But right now, it looks like junior Rob Trudo (who started at right guard last year) will slide over to center to replace him. Two likely starters on that line (right tackle Ivan Foy and right guard Nick Robinson, both juniors and returning starters) were out for the spring, both both are expected to be back and fine. That's certainly big news for a Syracuse team that showed it could run the ball very effectively at times last season.
Speaking of running the ball, tailback Jerome Smith -- last year's leading rusher with 914 yards -- decided to forego his final year of eligibility and enter the NFL draft. Hunt showed he can run the ball, finishing the season with 500 yards on the ground and seven touchdowns, but obviously Syracuse doesn't want its quarterback being the leading rusher this season. So senior Prince Tyson-Gulley (456 yards) and redshirt sophomores George Morris III (334) and Devante McFarlane (292, on just 48 carries) will have to fill the void. Behind that line, with what those three showed last year? The Orange should be fine when it comes to the ground game.
On defense, Syracuse returns most of its front seven -- but two of its biggest losses were two of its team leaders in defensive tackle Jay Bromley and linebacker Marquis Spruill. And that leadership is almost as important as the 29 combined tackle for loss and 15.5 sacks between them that are now gone. (But not quite.) Does Syracuse have those kinds of playmakers on this year's defense? That remains to be seen, but someone is going to have to step in and fill the void left by both of them on and off the field.
Eskridge and Lynch are pretty good candidates, though, as they were the No. 1 and No. 2 leading tacklers last year, respectively. On the field only, Marquez Hodge or Luke Arciniega will take Spruill's spot at middle linebacker, while Ryan Sloan is projected to start in Bromley's place at nose tackle. Sloan is a redshirt sophomore who played in just five games all of last season, so it will likely have to be a group effort along the defensive line. Of course, the three returning starters combined had seven sacks (Bromley had 10 on his own), so it will be interesting to see who, if any, can break out.
The passing game. There's plenty that can and does go wrong when the passing game fails to get going, and it's not always limited to being all the wide receivers' fault or all the quarterback's fault. But any way you slice it, Hunt really struggled once ACC play hit. In the first six ACC games, he completed just 68-of-138 passes (52.3 percent) for 553 yards (92.2 per game), throwing no touchdowns to seven interceptions. Now, Syracuse won a few of those, thanks to both Hunt's rushing ability and Jerome Smith's, but it wasn't pretty. In the last three games of the season, though, Hunt surpassed his six-game total and had 617 yards through the air, completing 66-of-100 passes for three touchdowns to just one pick. Is that the Hunt we'll see, or will it be the other? Or some of both?
One thing is for sure -- it will help when he has a reliable weapon, and one who seemed to emerge at the end of the year was Broyld, who had 16 catches for 113 yards in those final three games. Alvin Cornelius had a nice end to the year as well, catching nine passes for 134 yards and a touchdown in the last two regular-season games. Tight end Josh Parris emerged as a reliable target, too. The point is that Hunt needs all of them that he can get. During that six-game drought, only one player had more than three catches in a game, and that was Estime, who did it twice.
The point is, basically, that someone needs to be a steady option throughout the year. And Hunt needs to be steady, too. If the way the season ended is what we should expect out of Syracuse's passing game going forward, then there's a lot of reason for optimism. But if it turns out that was just a flash in the pan, then the Syracuse offense is going to struggle just as much as it did last year, particularly without a workhorse, every-down back like Smith. There's reason for hope, but reason for caution, too.
Syracuse can get to a bowl game again. Sustained success is not something the program has known for awhile, and while the schedule is very tough, another bowl berth wouldn't be out of the question by any stretch. If Syracuse were still the same old Syracuse, a middling-to-bad program for much of the last 20 years until Doug Marrone (and now Shafer) came to town, just being competitive against this kind of a schedule would be enough. But Syracuse showed last year that it can be the type of team that beats who it is supposed to beat (although it's sometimes a struggle) and loses who it is supposed to lose to (although sometimes in blowout fashion). That's half the battle in college football these days. If it does that this season, then it's going to be a bowl team again.
Nov. 1, NC State. When the Wolfpack come to town on that date, Syracuse will have just ended one of the more brutal stretches imaginable on a schedule -- Maryland at home, Notre Dame on a neutral site (in East Rutherford), Louisville at home, Florida State at home, at Wake Forest and at Clemson. Taking out the Wake Forest game, that's likely at least four losses, and maybe more. Assuming Syracuse wins its first two games (Villanova at home and at Central Michigan), the Orange could be entering the home stretch of the season starting with that NC State game needing two or more wins in its final four games to make another bowl. And so the NC State game becomes must-win.
NC State is going to be in transition this year, but it will have a bye the week before the Syracuse game, the bye coming after a brutal stretch of its own. Syracuse, though, won't be coming off a bye. In fact, the Orange will be on its eighth straight week of football with one more to go the next week (Duke at home) before getting a bye. A tired, maybe beaten down Syracuse team coming off of the Clemson game hosting a young NC State team that got a week off to get rested and make some improvements? That could be a dangerous game, but it's one that Syracuse will absolutely have to have if it wants to make another bowl game.
I think the Orange start the season a bit slowly from their third game (against Maryland) on, as that six-game stretch is just too brutal. But there's a real chance there to turn it around towards the end of the year, and why not? It's basically what Syracuse did a year ago. The key will be if Syracuse can win the games it's supposed to win again this time, and if it can add a few more for good measure. The margin for error is pretty thin, but I think Syracuse finds a way to get it done as the schedule softens up significantly towards season's end (comparatively speaking, anyway) with NC State and Duke at home, a bye, then at Pittsburgh and at Boston College. None of those will be easy, but they're winnable on paper and maybe even in reality.
---