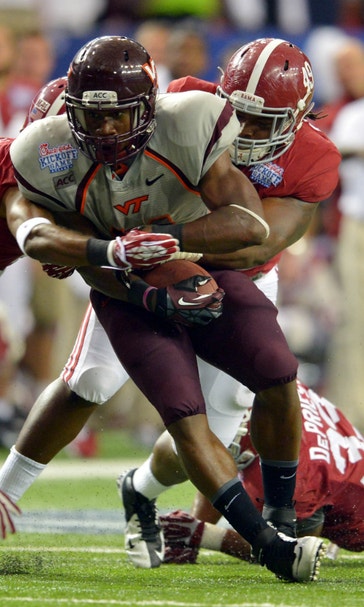 ACC Breakout Players: Offense
BY foxsports • July 11, 2014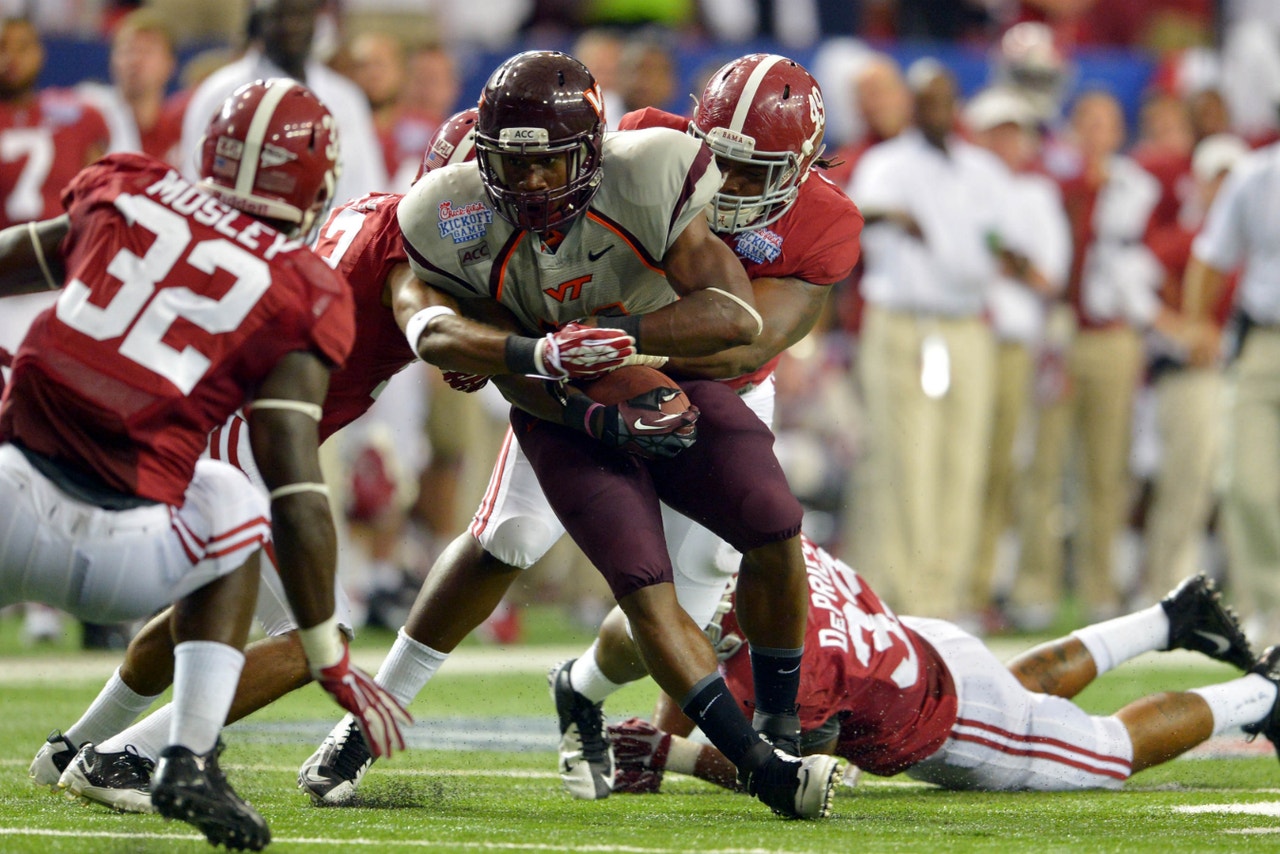 Every year, a player who's been good, but not great, or perhaps one that's not known by the public, comes out of nowhere to forge a great season.

There are a lot of candidates in the ACC on both sides of the ball, but with brand-new quarterbacks at the helm for many schools, they're going to need some help from surrounding players on offense.
COASTAL DIVISION
Duke: Max McCaffrey, WR
If the last name is familiar, yes, the junior is the oldest son of former Broncos wide receiver Ed McCaffrey.
In 2012, Duke had Conner Vernon and Jamison Crowder on the roster, so catches (and playing time) were hard to come by for McCaffrey.
As a sophomore, he finished as Duke's fourth-leading receiver (26 catches, 282 yards, four TDs). Bloodlines can be overrated, but in McCaffrey's case, he seems to have the natural instincts and feel for the position that his father did -- football intelligence, combined with a strong work ethic, have made him a favorite of the Duke coaches.
It's time to have a big season.
Georgia Tech: DeAndre Smelter, WR
Smelter came to Georgia Tech on a baseball scholarship, and this past season (his junior year) was his first year of college football.
He still managed to lead all wide receivers in catches (21) and touchdowns (four). Georgia Tech was spoiled in terms of elite wide receivers from 2004-11, in a remarkable stretch that spanned Calvin Johnson, Demaryius Thomas and Stephen Hill.
Only Thomas and Hill played in Paul Johnson's offense, though, and both had breakout junior seasons. It's been since 2011 that Tech has had an elite receiver -- and it needs one.
This will be Smelter's senior year, but if he's a quick learner, he could be in for a big season. 
Miami: Ereck Flowers, OT
Yes, an offensive lineman. His teammates -- including the now-graduated Brandon Linder, Seantrel Henderson and even his current teammate Jon Feliciano -- have always gotten more attention than Flowers, the youngest of that group last year.
But the rising junior is a beast, as well, and he's about to be a leader of a good Miami offensive line that lost two key pieces. At 6-6, 325, the massive and powerful Flowers seamlessly switched to left tackle last season, becoming one of three offensive linemen to start all 13 games for Miami.
It was a Miami offense that averaged over 420 yards a game, and he protected quarterback Stephen Morris's blind side. He's have to do the same with this year's starting quarterback and either he or Feliciano (or both) will be among the best linemen in the league.
North Carolina: Elijah Hood, RB
UNC already has a crowded backfield, what with last year's breakout star T.J. Logan returning for his sophomore campaign, along with Khris Francis and Romar Morris.
But Hood is a five-star prospect and was an early enrollee in the spring.
The No. 2 ranked player in the state, Hood has lived up to the billing so far, according to his teammates.
He'll probably be too good to keep off the field for long, the same way Logan was a year ago.
Hood had just 15 yards in the spring game, but that doesn't mean very much at this stage of his career, and the work in the spring should put him way ahead of the curve.
Pittsburgh: OG Matt Rotheram
The rising senior was an honorable mention All-ACC pick a year ago, so he's clearly on the radar at least a little bit.
But Pitt's offensive line could take a huge step forward on the back of the improvement of guys like Rotheram, who will pave the way for sophomore tailback James Conner and company.
Rotheram (6-6, 340) is a beast on the interior, and like the rest of this Pitt offensive lin, figures to just keep getting better. Rotheram is not a household name yet -- not that offensive linemen usually are -- but that could change, and arguably should if his play last year was any indication.
Virginia: RB Taquan Mizzell
Mike London might be struggling to get traction as Virginia's head coach, but the man can recruit a little. That showed when he landed Mizzell, who became the first five-star to enroll at Virginia since Eugene Monroe in 2005.
He didn't play a ton but ended the year with 184 yards on 45 carries (4.1 per rush) and one touchdown.
Of equal importance, he caught 29 passes for 164 yards an a score. Virginia needs dependable receivers, even if it's out of the backfield.
Senior Kevin Parks will still get the bulk of the work, but Mizzell -- who also returned kicks last year -- will be able to impact games with his speed.
Virginia Tech: RB Trey Edmunds
All things considered, Edmunds was having a pretty good freshman year ... before breaking his leg in the regular-season finale against Virginia.
Edmunds led the team in rushing with 675 yards (and 10 touchdowns), averaging just 4.1 yards a carry. But he showed flashes of what made him one of the state's best running backs coming out of high school.
Edmunds missed the spring rehabbing that broken leg, and the Hokies will be breaking in a new quarterback. But the offensive line should be better, and Edmunds, a year older and wiser, should be ready to come into his own.
ATLANTIC DIVISION
Boston College: RB Myles Willis
Is Willis Andre Williams? No, but who is?
The freshman didn't get a lot of action behind Williams a year ago -- 60 carries, 346 yards (5.8 per) and four touchdowns -- but he did return kicks and caught a few passes (five for 60 yards, one TD).
As a kick returner, Wills showed great speed and quickness. He won't have to handle the workload virtually alone, like Williams did a year ago, but if Boston College's offensive line can pick up where it left off, the Eagles should still have a strong ground game.
That'll lead to plenty of quality carries for Willis.
Clemson: RB Wayne Gallman
The redshirt freshman, by some accounts, was the best running back on the team last year in practice. Practice and games are two different animals, of course, but offensive coordinator Chad Morris is extremely high on Gallman.
Even with senior Roderick McDowell in the backfield, Clemson's running game still didn't live up to preseason expectations in 2013, and a lot fell on QB Tajh Boyd's shoulders.
Boyd is gone, and if Gallman is as advertised, he could help carry the load as Cole Stoudt takes over at quarterback and give Clemson yet another game-changer on offense.
Florida State: RB Ryan Green
There weren't many carries to go around in FSU's loaded backfield last season. But now James Wilder, Jr. and Devonta Freeman are gone, leaving just Williams and FSU's fourth back, Green.
As a freshman last season, Green finished with 33 carries for 163 yards and a touchdown. He got most of his action in the second half of blowouts, particularly 110 yards on 11 carries against Idaho and Nevada.
But he's perhaps the fastest back on FSU's roster; and while he's not as big as Williams, he will provide a nice change of pace.
Running behind a solid Florida State O-line, this could be Green's time to flourish.
Louisville: TE Gerald Christian
After transferring from Florida after the 2011 season and sitting out 2012, Christian (6-3, 244) had a very nice season a year ago, finishing with 426 yards and four touchdowns.
Last year's leading receiver Damian Copeland is gone, and even though DeVante Parker and Eli Rogers remain, Christian is the third-leading receiver coming back (also the third-most targeted), averaging 11.8 yards per target last season, highest among everyone on the roster with at least 20 catches.
Plus, his 15.2 yards per catch ranked second among those with at least 20 catches.
Simply put, Christian is athletic, dynamic and can make plays -- the kind of weapon Bobby Petrino has, historically speaking, found ways to utilize.
NC State: WR Bo Hines
It's hard to put too much stock into spring game statistics. But that's not all that Hines, a freshman and early enrollee in the spring, has brought to the table so far.
Head coach Dave Doeren raved about his spring, saying he was the most consistent wide receiver on the team.
NC State is young, but it has wide receivers that are more experienced than Hines. It didn't matter, though, as Hines and new quarterback Jacoby Brissett (who could have a breakout year) seem to have a rapport.
Hines had 10 catches for 132 yards in the spring game and that, combined with Doeren's praise for the freshman, seems to indicate Hines is primed for big things -- could be this year, could be in the future, but Doeren insists Hines has a chance to start.
Syracuse: WR Brisly Estime
His breakout really became towards the end of last season.
As a freshman, in Syracuse's first seven games, he had eight catches for 73 yards. In the final six games of the season, though -- only four of which he accumulated any statistics -- he had 20 catches for 184 yards and a score, including a breakout game against Wake Forest (nine catches 62 yards and a touchdown).
The speedy Estime also started returning punts, including a 70-yarder in Syracuse's bowl win against Minnesota.
The Orange are going to need as many dynamic weapons as they can find on offense, and they're going to find ways to get the ball in his hands.
Wake Forest: WR Jared Crump
Someone has to step up and be the next Michael Campanaro, right? Well, not exactly -- replacing one of the best receivers in Wake Forest history will be much easier said than done.
But Crump, a redshirt sophomore who caught 16 passes for 176 yards and a score last year, might just be a good start. In Wake's spring game, he was the leading receiver with six catches for 85 yards, accounting for over 44 percent of all the Gold Team's receiving yardage and nearly a third of both teams' combined yards.
His six catches were a little over a third of the Gold Team's total, too. Wake's quarterback situation is going to be shaky at best, but if a reliable receiver can emerge out of the bunch for whoever the quarterback ends up being, that can only help .
---