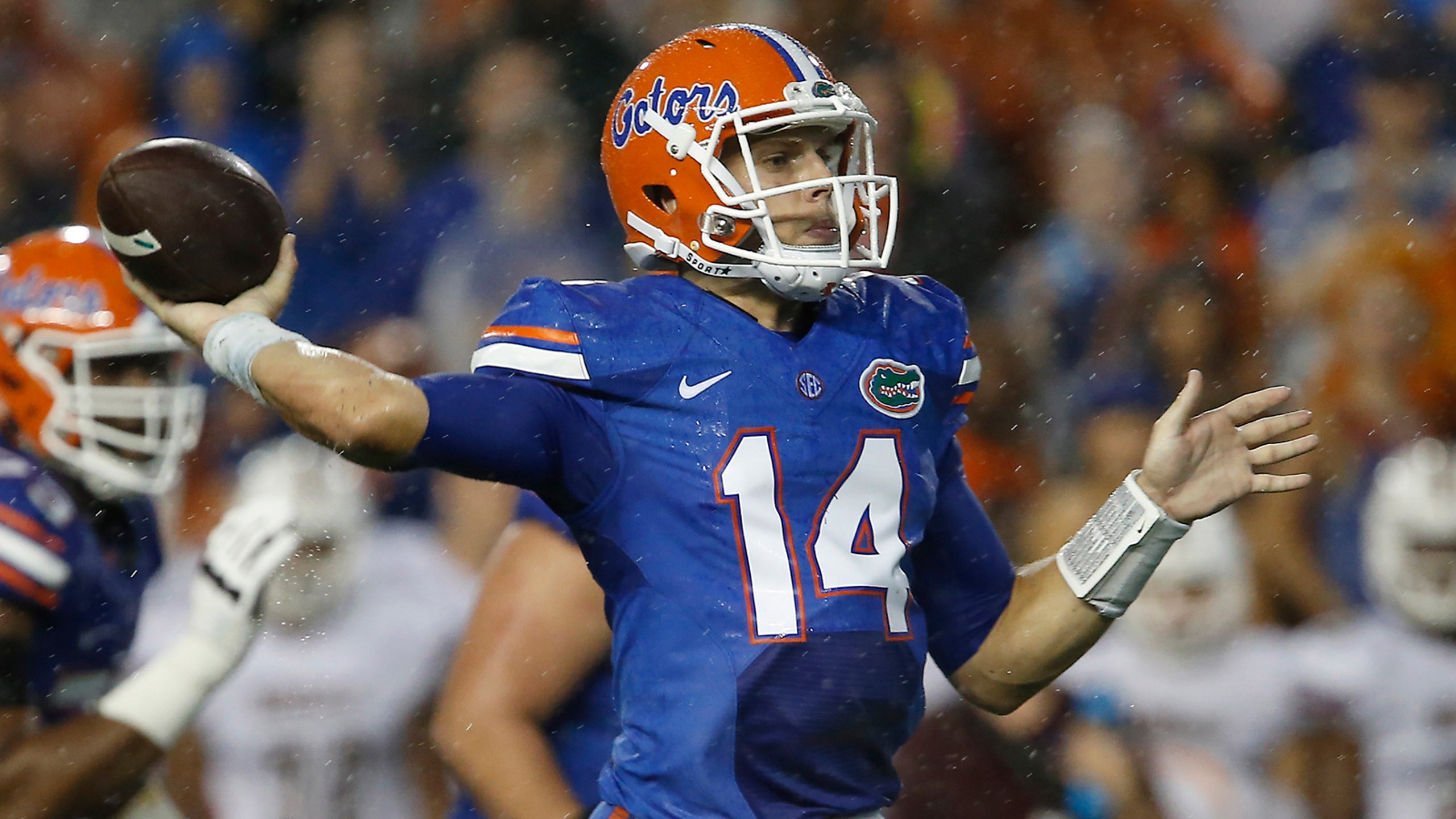 A victory and no turnovers, Luke Del Rio's first start a success
BY foxsports • September 6, 2016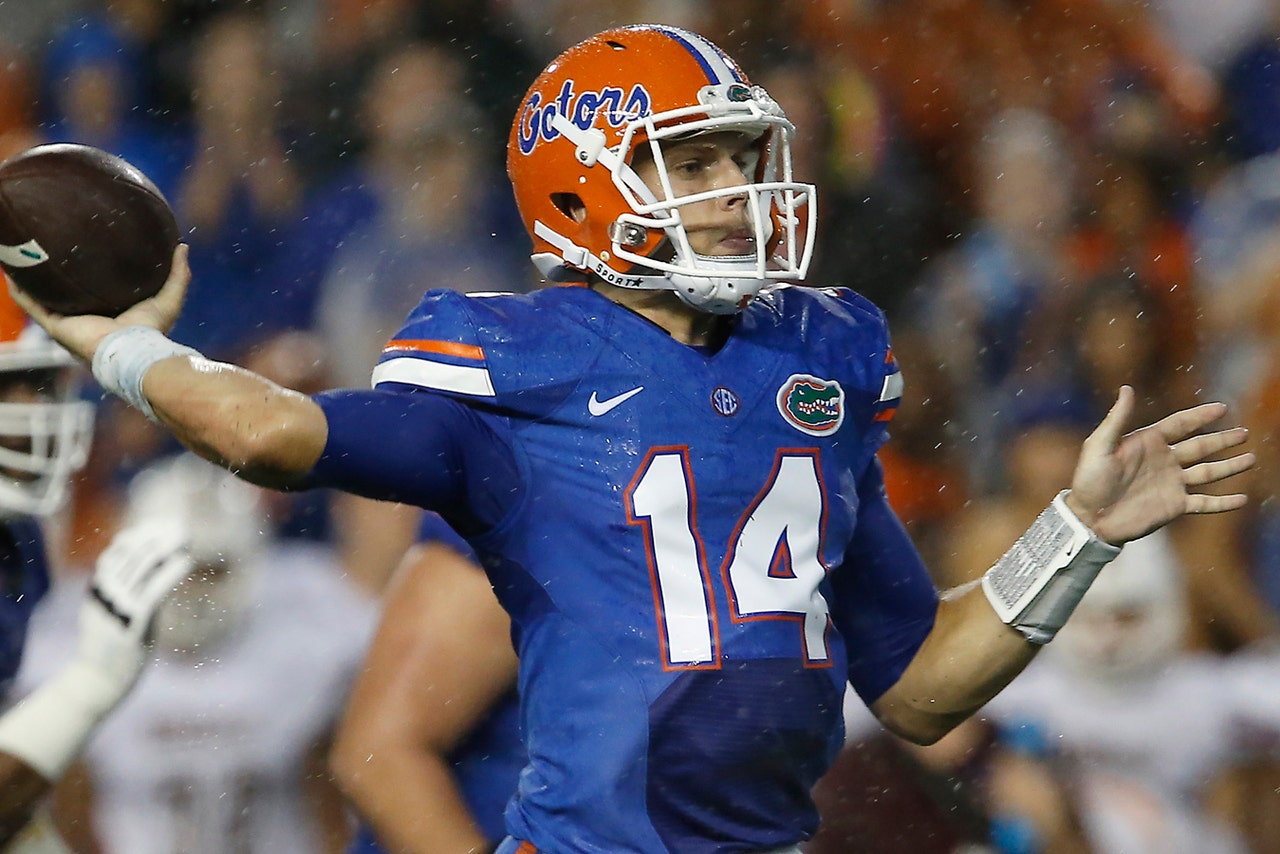 GAINESVILLE, Fla. (AP) -- Florida quarterback Luke Del Rio spent an entire week working on his first play as a starter.
It went smoothly in practice every time, resulting in a touchdown to speedster Antonio Callaway down the middle of the field. It was supposed to have the same outcome against UMass in the season opener Saturday.
There was one problem, though: Del Rio forgot to account for the adrenaline rush that comes with taking his first meaningful snap in front of 90,000 screaming fans eager for an offensive resurgence.
"I was really juiced up. I was excited, absolutely," he said. "That was probably the furthest I've ever thrown a football. I threw it and was like, `Oh my God; that is way too far.' I didn't think I could overthrow him, but I did."
By several yards, too. It was one of about a half-dozen passes that Del Rio would like to have back. But his first collegiate start was a success for two reasons: He didn't have a turnover, and the Gators won.
Del Rio completed 29 of 44 passes for 256 yards and two touchdowns. The Gators moved the ball decently, but bogged down near the red zone and ended up kicking three field goals and scoring just 24 points against a defense that allowed more than 50 three times in 2015.
The less-than-ideal performance dropped the Gators out of The Associated Press poll released Tuesday. Florida opened the season at No. 25.
The now-unranked Gators (1-0) begin Southeastern Conference play against Kentucky (0-1) on Saturday. It should provide Del Rio and Florida a better indicator of where they are offensively.
"I thought we did a good job of keeping the tempo up and pushing the pace of the game, not letting the defense dictate to us," Del Rio said. "We just need to finish in the end zone. We need to score touchdowns to win games."
Del Rio was sacked once and knocked down several more times. But coach Jim McElwain said he doesn't envision any changes to the offensive line, which has four returning starters from a unit that allowed a nation-leading 45 sacks in 2015. He expects the line to play better against the Wildcats.
"We've got to clean that piece up and make sure we keep the chief clean," McElwain said. "You know, we've got to make sure we secure the pocket. ... With a pretty clean pocket, he's going to get his feet set and get it to where it needs to go."
It didn't really matter to Del Rio, who waited three years for his first collegiate start.
The son of Oakland Raiders coach Jack Del Rio began as a walk-on at Alabama in 2013. He never played a down and left the Tide after one year in hopes of finding a better opportunity. He landed at Oregon State and then transferred again after coach Mike Riley resigned to take over at Nebraska.
He sat out last season under NCAA transfer rules, but spent the entire year learning Florida's offense and figuring out what McElwain wants -- which is simply to get the ball to open receivers and not make too many mistakes.
Going into this season, Del Rio had thrown just 18 passes -- all in mop-up duty in 2014.
He surpassed that in a little more than a quarter Saturday.
Bigger tests are ahead, and Del Rio surely will get another chance at completing that long pass to Callaway.
"A couple times he maybe cut it loose a little quick, had maybe a little more time, but he was a little anxious," McElwain said. "But I think overall now it's just the progression of how you go about your daily work, and I know he'll do that. There was never a sense of panic. The guy got them together, we moved it, we stalled ourselves. Now we've got to produce more points when we're down in the red area."
---
---