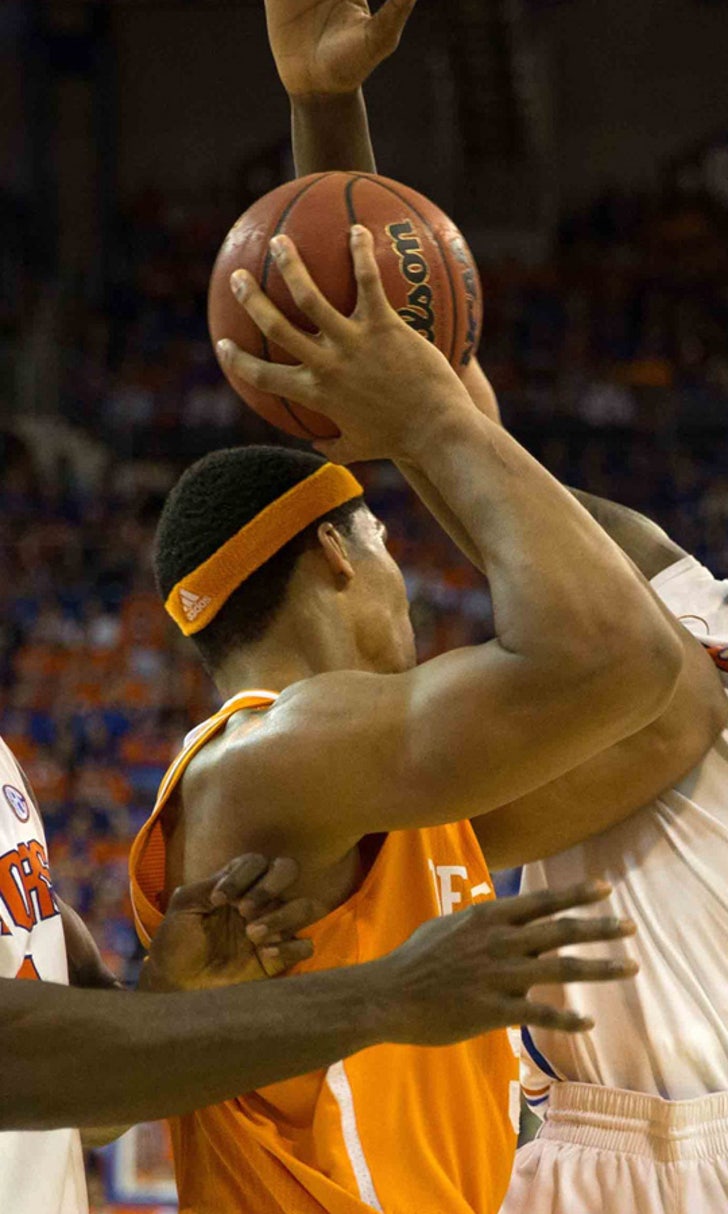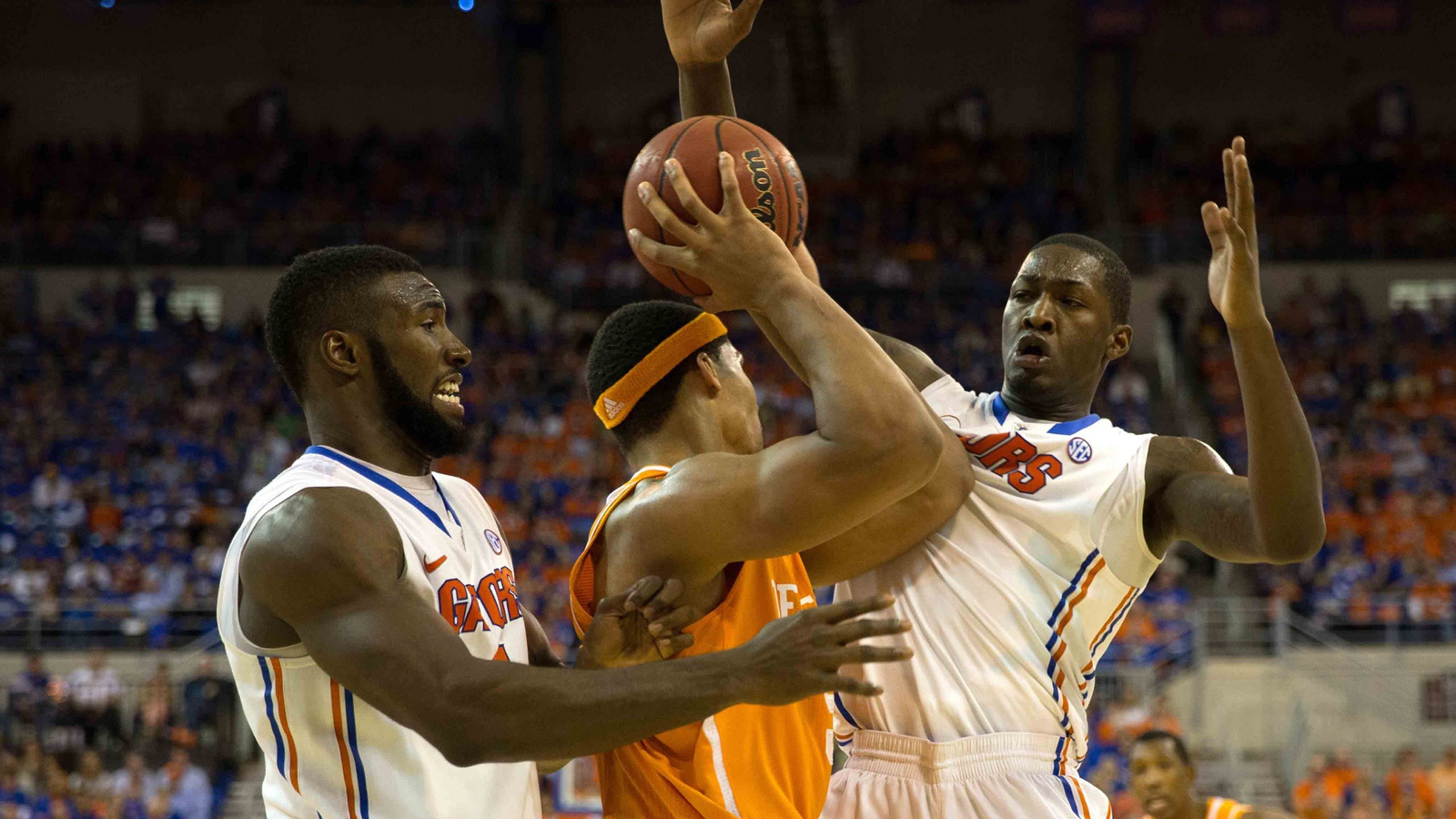 A top-10 team playing desperate? It works for Florida vs. Vols
BY foxsports • January 25, 2014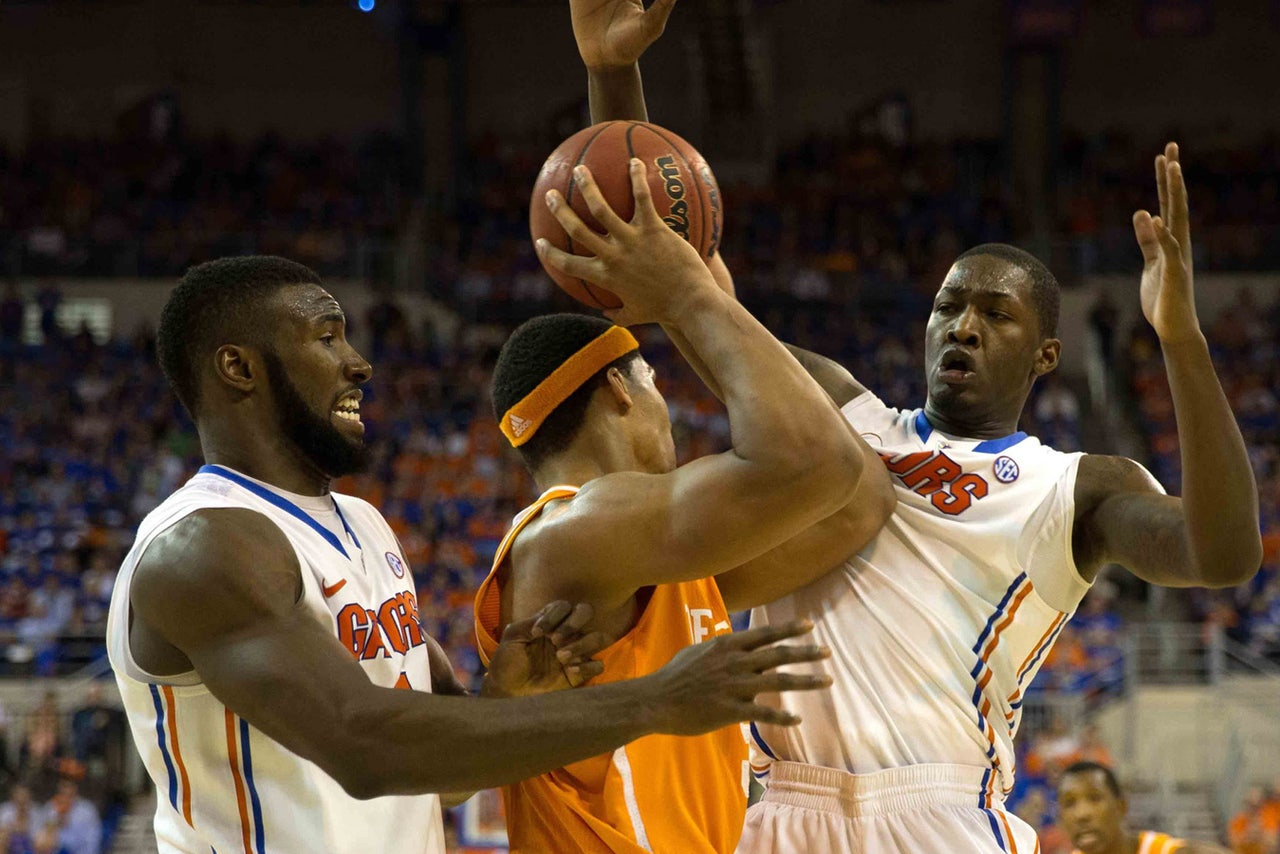 GAINESVILLE, Fla. -- Billy Donovan loves to put themes to his Florida basketball teams and with nemesis and Southeastern Conference rival Tennessee coming to town, the UF coach figured it was time to turn to GOD.
No, not that one. In this case, GOD was an acronym for the ''Gift of Desperation.'' Donovan didn'€™t think his team had it in back-to-back road wins at Auburn and Alabama but would need it for the physical confrontation that awaited them against the Volunteers.
''Every possession had to be a championship possession,'' senior center Patric Young said.
The sixth-ranked Gators had a March-like gleam in their eyes Saturday, especially in a second half when they ravaged the Volunteers with pressure defense and efficient offense -- in the halfcourt and up and down the floor -- en route to a 67-41 wipeout win before the sold-out O'€™Connell Center crowd of 12,475.
Sophomore guard Michael Frazier led four teammates into double-figure scoring, but it was the dragnet the Gators (17-2, 6-0) threw out on the defensive end that fueled the team's 11th straight victory and best all-around performance of the season.
UF walled the Vols (12-7, 3-3) into 26.8 percent from the floor and just 1-for-19 from the 3-point line (5.3 percent). Tennessee came into the game averaging 74.8 points per game, with guard Jordan McRae ranked third in the SEC at 19.2 points per game. With senior guard Scottie Wilbekin in his jersey, McRae was held to five points on 1-for-15 from the floor.
Wilbekin looked pretty desperate and his teammates rallied around him with equal extreme behavior. Whether it was Will Yeguete diving for a loose ball, Dorian Finney-Smith sailing into the UF bench for a save that led to a key Frazier 3-pointer, or Young bodying and battling Tennessee's fridge-like front-court players, the Gators played like the season -- not just sole possession of first place in the SEC -- was in the balance.
''I think you've got to try and create these situations and try to be desperate, and you have to try to be desperate each possession,'' Donovan said. ''That's what we'€™re talking about; loose balls, hustle plays, getting where you're supposed to be; it's being on time on a post trap; it's when the ball goes up, it's bobbled around, you dive for it head first. It's a level of a desperation.''
This part he wanted to emphasize.
''It's a gift to be desperate,'' he added.
Wilbekin scored 13 points, senior forward Casey Prather had 12 and Young added 10 to go with five rebounds. The Gators shot 48 percent overall, off-setting Tennessee'€™s 40-35 edge in the rebounding column, courtesy of its twin 6-foot-8, 260-pound post players Jarnell Stokes (16 points, 10 rebounds) and Jeronne Maymon (8 points, 7 rebounds).
The rest of the Vols combined to make five of 39 shots, with only seven points from Tennessee's starting backcourt of McCrae and Antonio Barton.
''I thought Florida did a great job of defending,'' said Tennessee coach Cuonzo Martin, who lost for the first time in four meetings against the Gators. ''They sped us up with the press."
Not until the second half, really. The Gators led 26-19 at the break, following an offensively challenged first half when the Vols stayed in the game with second-chance points on the block, as the lead changed hands seven times. UF, though, opened the second half with a 21-5 run, highlighted by a couple treys from Frazier and a slam from Yeguete, to blow the game open and completely discombobulate UT.
''We kept guarding and we hit a couple shots in a row and strung together some runs,'' Wilbekin said. ''That's how you build big leads.''
The Vols got to the point where they just wanted to score ... and couldn'™t. With just over 11 minutes to go, they had just nine field goals. The Florida lead swelled to as large as 35, when Finney-Smith hit a 3-pointer with 2:40 to go, and Tennessee was well on its way to its lowest scoring output of the season.
The Gators look good in their desperation wear.
The result was far different than the last three meetings, when the Vols were the aggressors and the ones playing on edge, as the UF staff was all too happy to remind the players in the hours leading up to the tip.
''They'd been throwing it in our face, how the last three games they had out-toughed us, been more physical -- and I can't lie, they were,'' Young said. ''They'd punched us and we didn't respond the couple of years. But today, we were ready for whatever they threw at us. Today, we threw the punch and they couldn't take it.''
Added Donovan: ''It was encouraging to see our guys with that kind of focus.''
Desperate time. Desperate team. Desperate measures.
Wonder what next week's theme will be.
---