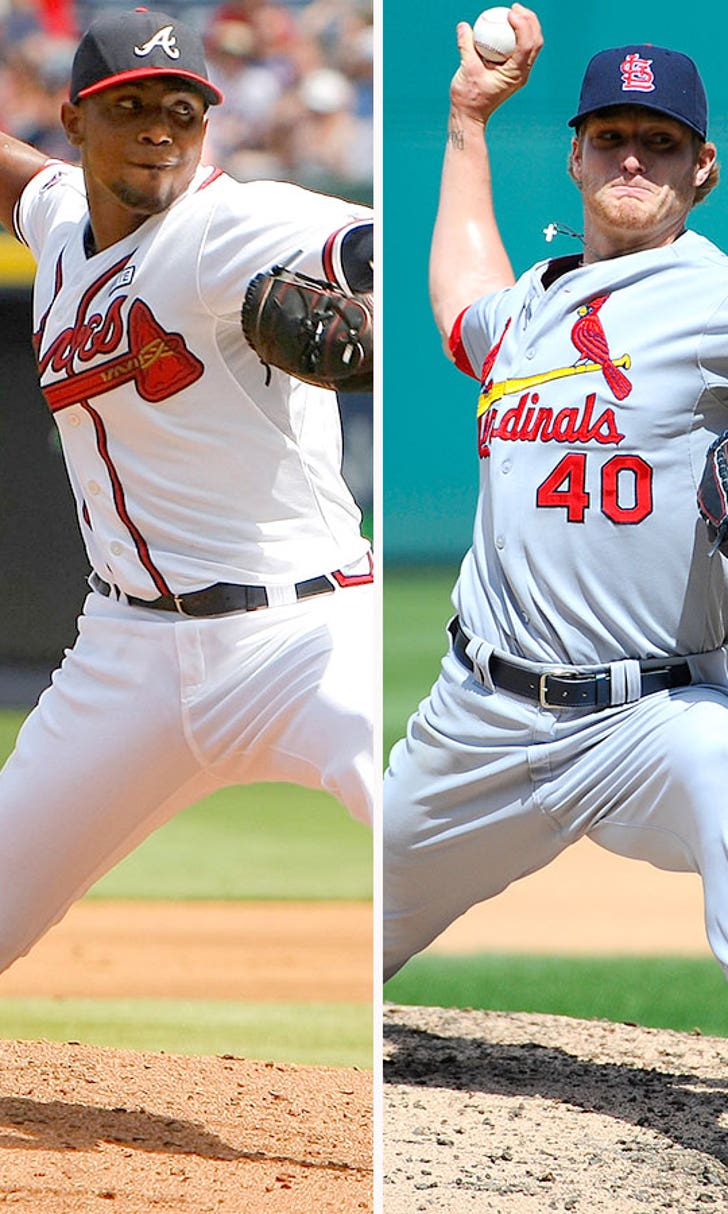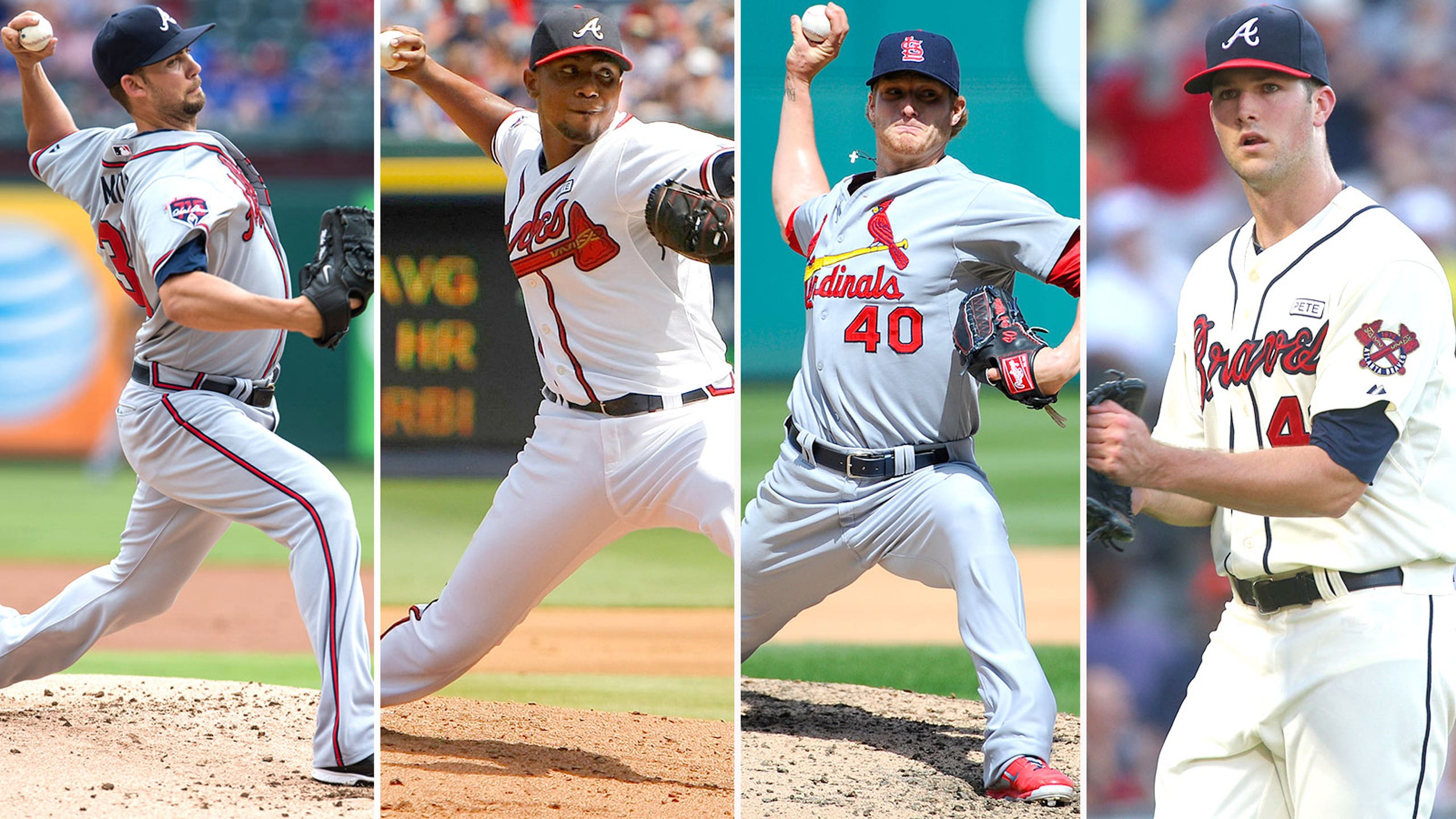 A pre-spring training look at the Braves' rotation options
BY foxsports • February 2, 2015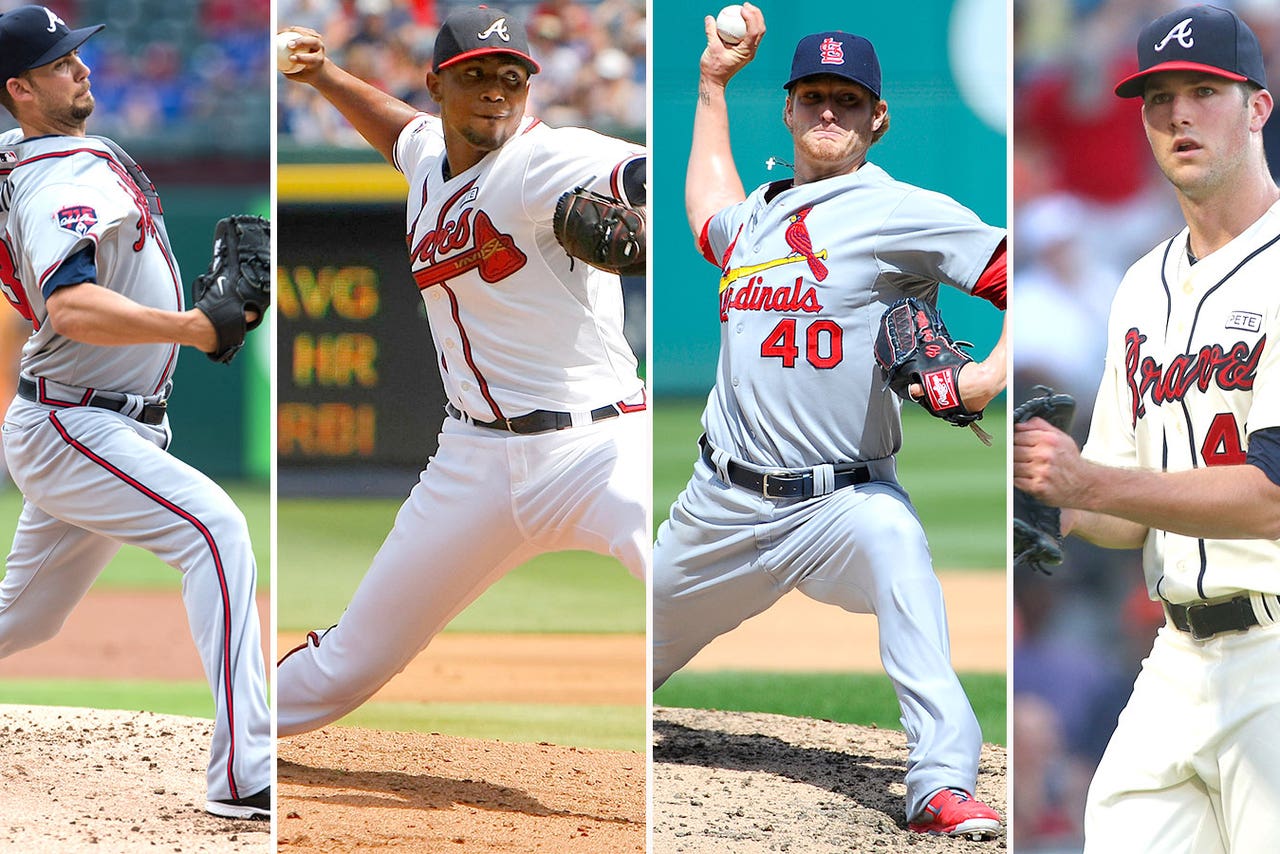 ATLANTA -- There are only three guarantees in life: Death, taxes and sales of the Atlanta Braves' gameday programs going through the roof this season.
How else would fans keep track of all the new faces/personalities comprising the club's 2015 roster? (Outside of clicking daily on FOXSportsSouth.com, of course.)
Yes, the Braves have undergone substantial changes since the end of last season, parting with Jason Heyward (to the Cardinals), Justin Upton (Padres), Evan Gattis (Astros), David Carpenter (Yankees), Jordan Walden (Cardinals), Anthony Varvaro (Red Sox), Chasen Shreve (Yankees) and David Hale (Rockies), among others.
And frankly, there's no way to avoid the hottest of hot-button issues heading into spring training.
But amidst this period of adjustment, there's still something to bank on for the season ahead:
Righty Julio Teheran and lefty Alex Wood will stealthily co-anchor a Braves starting rotation that might rank No. 2 in the National League East by season's end -- respectfully behind the Washington Nationals' all-conquering quintet of Stephen Strasburg, Max Scherzer, Jordan Zimmermann, Gio Gonzalez and Doug Fister.
(Poor, Tanner Roark ... all dressed up and nowhere to go after notching 15 wins, a 2.57 ERA and 138 strikeouts in his first full season as a Nationals starter.)
2) Charting his first 14 starts of last season, Teheran surrendered three or less runs 13 times.
3) In fact, of Teheran's last 60 starts (dating back to April 23, 2013), he has allowed three or fewer earned runs 75 percent of the time (48 outings).
4) For April through July last year, Teheran enjoyed at least one outing of eight-plus strikeouts per month.
5) Here are some observations from Teheran's 2013/14 numbers:
a) Last year, Teheran made a conscious effort to be more efficient, eschewing the need for at least one strikeout per inning ... and focusing on fewer walks and letting his fielders make more plays.
b) Teheran's 2014 innings count improved 17 percent from the previous year; as a result, his per-start average rose from 6 1/3 innings to 6 2/3 innings.
2) In his final 11 appearances last season -- all starts -- Wood didn't allow more than three earned runs at any time.
In fact, during that span, the southpaw notched four wins, a 1.92 ERA, 1.01 WHIP and more than one strikeout per inning.
That's elite-level stuff from a pitcher with less than 400 professional innings.
3) For the first time in his MLB career, Wood won't have to worry about relief stints -- at least none involving a regulation nine-inning game.
That should help the 24-year-old relax and focus on matching Teheran for the season -- strikeout-for-strikeout, inning-for-inning and walk-aversion for walk-aversion.
2) The Texas native had a few bouts with erratic numbers in the middle of last season. That aside, he still posted multiple streaks of seven consecutive outings of three or fewer runs allowed.
3) Here's something that's open for interpretation: Miller had only four starts of 100-plus pitches last year ... but for all six April outings, he tossed at least 90 balls.
4) Check out Miller's numbers from his final seven starts with the Cardinals: 5-2, 2.08 ERA, 0.91 WHIP, 32/9 K-BB and a .190 opponents' batting average.
Of equal relevance, during that span, Miller went three consecutive outings without yielding a single walk.
5) FOX Sports South's Knox Bardeen chronicled Miller last week ... and the one-time wunderkind prospect believes an improved slider will take him to a new level this season.
a) Minor recorded an out in the 8th inning just once last season (September loss to Philly).
b) He allowed five or more runs in at least one start for May through September.
c) The southpaw surrendered multiple homers seven times in the majors last year.
2) This time last year, Minor was riding high from his best statistical season (13-9, 3.21 ERA, 1.09 WHIP, 181 Ks). So, it may be proper to treat last year's rough experience as an anomaly to the lefty's overall body of work.
To wit ...
4) Minor's a good bet to start the Braves' home opener on April 10 (against the Mets).
However, this could be a make-or-break campaign for the lefty, in terms of crystallizing his long-term fate with Atlanta -- which lists five of its top 12 prospects as starting pitchers.
2) From 2005-12, Rodriguez posted eight straight seasons of nine-plus wins. And from 2008-12, the southpaw averaged 11.4 victories and a 3.48 ERA.
3) If healthy, Rodriguez might have first crack at the No. 5 slot out of spring camp -- for reasons we'll address later.
2) With the Yankees, Banuelos logged 26 starts in the minors last year ... and yielded three or fewer walks 25 times. His lone clunker: Giving up six walks -- but zero earned runs -- in his second Triple-A outing.
Think about it: The Braves may be in rhymes with tree-tilding mode for the next year or two ... meaning the club should have little motivation to launch a potential star's major-league clock right out of the chute.
In other words, if Foltynewicz -- the Braves' No. 2 prospect (MLB.com) and a key component to the Evan Gattis trade with Houston -- is the real deal ... then the No. 5 slot might not be economically feasible (long term) until after Memorial Day.
2) Foltynewicz (8.94 K/9 rate last season) registered three outings of double-digit strikeouts in 2014 (all in Triple-A ball).
On the other, it's hard to reconcile a non-wicked lefty who surrendered five more walks and eight more homers in 2014 -- compared to 2013 -- with 27.2 fewer innings of work.
2) With the Padres last year, Stults produced only one streak of five-plus outings of three or less runs allowed.
3) On the plus side, in his final five starts (all in September), Stults yielded just three total walks. And in his last two outings, the southpaw posted a superb ERA of 0.68.
4) Stults certainly has "workhorse" potential for a Braves staff that requires one more starter. However, the club might also have to tolerate prolonged bouts of inefficiency, before the lefty finds a groove.
a) Of his last four healthy seasons (2009, 2011-13), Wang has an alarming WHIP rate of 1.70.
b) During that span, Wang posted a "Hits Per 9 Innings" rate of 10-plus three times ... which won't cut it at any level of pro ball.
c) Even in his heyday (back-to-back 19-win campaigns for 2006/07), Wang's marks with strikeouts (below-average), WHIP (middling) and ERA (moderate) were, on the whole, slightly above league average.
2) Wang doesn't have much leverage for March, in terms of competing against Rodriguez, Foltynewicz and Banuelos.
If the Braves prefer a veteran for the No. 5 spot, Wandy likely gets the call. And if the club should favor a power arm with strikeout potential ... then Wang would rank far down that list.
Mind you, this isn't a repeat of the Aaron Harang situation from 2014, either.
At this time last year, the Braves were viewed as co-favorites to the NL East title (with the Nationals) and possible contenders for the World Series.
So, Harang (12-12, 3.57 ERA in 2014) was brought in to be an innings eater ... and mollify a top-notch defense with the occasional strikeout.
Strikeouts aren't Wang's game -- especially at this stage of his career. And it's hard to declare the Braves defense will be better in 2015 ... now that reigning Defensive Player of the Year Jason Heyward hangs his hat in St. Louis.
---