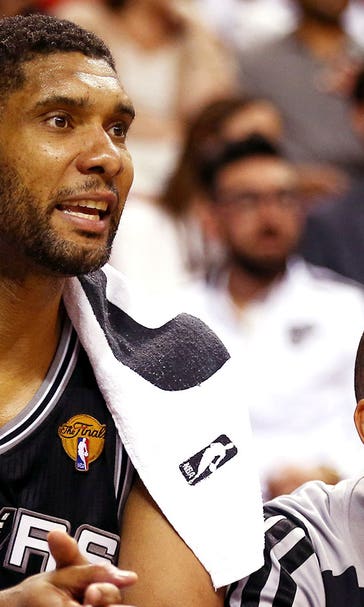 A look at the NBA's top 5 teams following LeBron's decision
BY foxsports • July 12, 2014
When LeBron James moves, so does the entire NBA.
That's just the way it goes in a league where one player can make such a major difference. As one league executive said when it was suggested the Indiana Pacers could beat the Miami Heat in the playoffs last season: "Maybe. But the Pacers don't have LeBron."
The Heat no longer have LeBron, either. He is now (again) property of the Cleveland Cavaliers, as James has returned to the team that drafted him.
So what's left of the NBA?
Well, despite all the buzz surrounding LeBron and his new team, we should not forget about the San Antonio Spurs. They are, after all, champions.
Nor does it appear we should completely write off the Heat just yet. Chris Bosh is returning, and from the sounds of things, Dwyane Wade may, too. Regardless of whether they may be slowing down, each is coming off four straight trips to the Finals. Experience counts for a lot in the NBA, and the Heat have it.
Still, this cannot be debated: When a four-time league MVP bolts one team for another, the world of pro basketball becomes a different place.
Here is a quick look at how the power structure in the NBA may have shifted, and who may be the top five teams, following LeBron's decision to return to Cleveland:
1. San Antonio Spurs
Until they give us reason to believe they actually age, it's difficult to pick anyone else. The Spurs never make any earth-shattering moves. They are a system team that just keeps doing the same thing over and over and over again.
Greg Poppovich will return as coach. Tim Duncan, Tony Parker and Manu Ginobili will return as the Spurs' Big 3. The other parts around them will return as guys who understand their roles and play them to near-perfection. Read: No reason to believe there's a new No. 1.
2. Indiana Pacers
They were one really good basketball psychology lesson away from reaching the Finals. Or perhaps the Pacers just need one of those job experts to come in and teach them the value of mental toughness and teamwork.
Whatever the case, the Pacers have the talent, starting with Paul George. But something wasn't clicking when it meant the most. While they still need to re-sign Lance Stephenson, the Pacers have the know-how and edginess to be the best .They just need to pull it together.
3. Cleveland Cavaliers
Adding LeBron to a roster of a bunch of young guys who haven't done anything may not sound like much -- but it is. James and new coach David Blatt are experts in ball movement and winning while being unselfish, and that will carry the likes of Kyrie Irving and others a long way.
The Cavs lost a lot of games and blew a lot of leads last season because they lacked an experienced "closer," or a guy who had been there before who knew how to win. They have that now. With Irving, Andrew Wiggins, Dion Waiters and Tristan Thompson, the Cavs were primed to be an exciting bunch that would take the next step. Add LeBron, and that process speeds up considerably.
4. Oklahoma City Thunder
For all the flak they took during their playoff run, reigning MVP Kevin Durant and Russell Westbrook were right there at the end. The Thunder need to shift some things around, and they're in the process of doing so, it seems. But even if the Thunder remain as is, there's a lot to be said for continuity. Especially when two of those guys are Westbrook and Durant.
5. Los Angeles Clippers
No one can reach his players like Doc Rivers, and when your players are Chris Paul, Blake Griffin and the guys who give you noteworthy depth, you'll always be a threat. That's the Clippers. We don't know for sure if they're championship material, but we can't say for certain that they're not. A lot will surely change around the league between now and when the season begins, but the Clippers seem mostly set. That may give them an advantage over those who are still figuring it out.
---