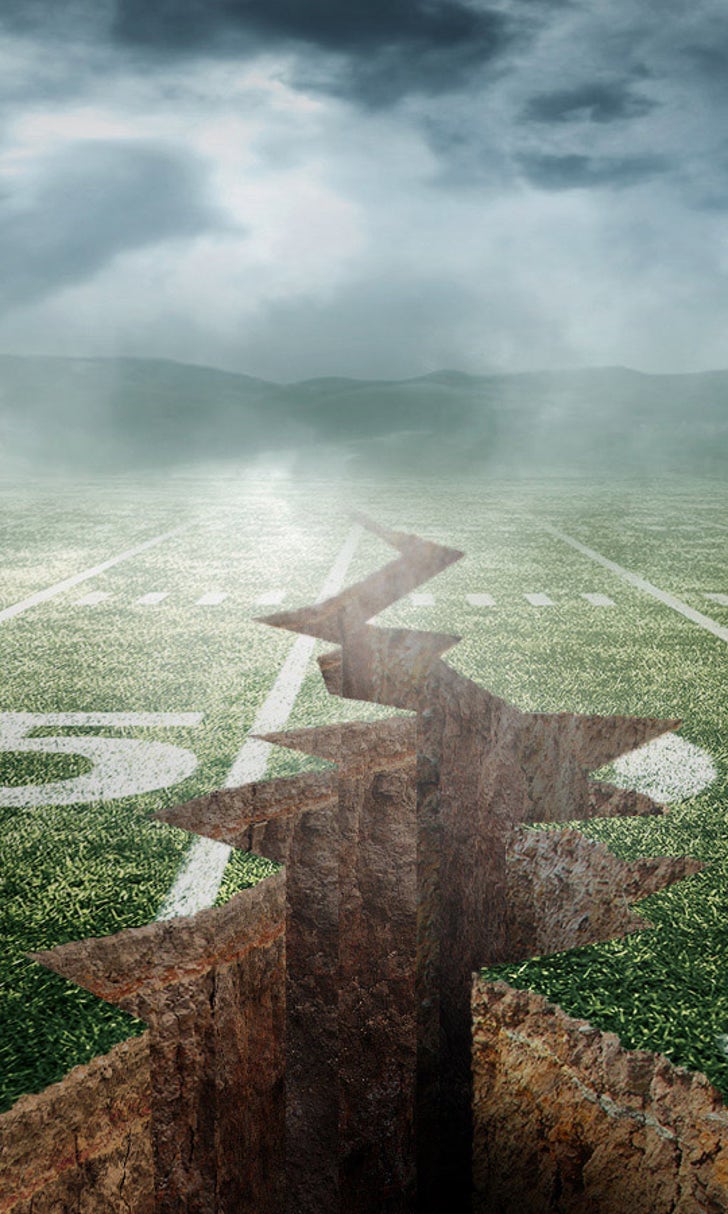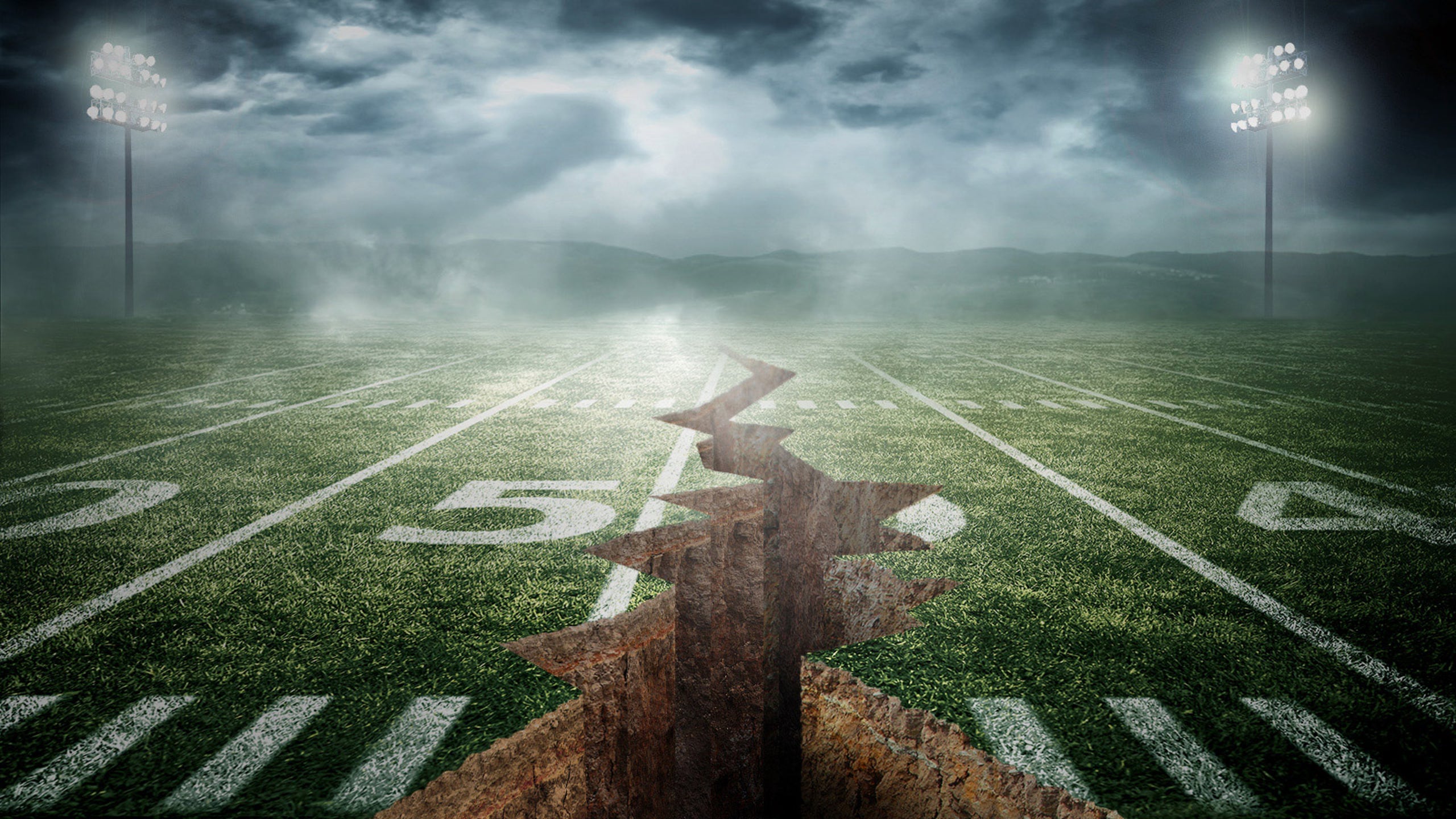 A high school football star's rape case is dividing an entire town
March 17, 2017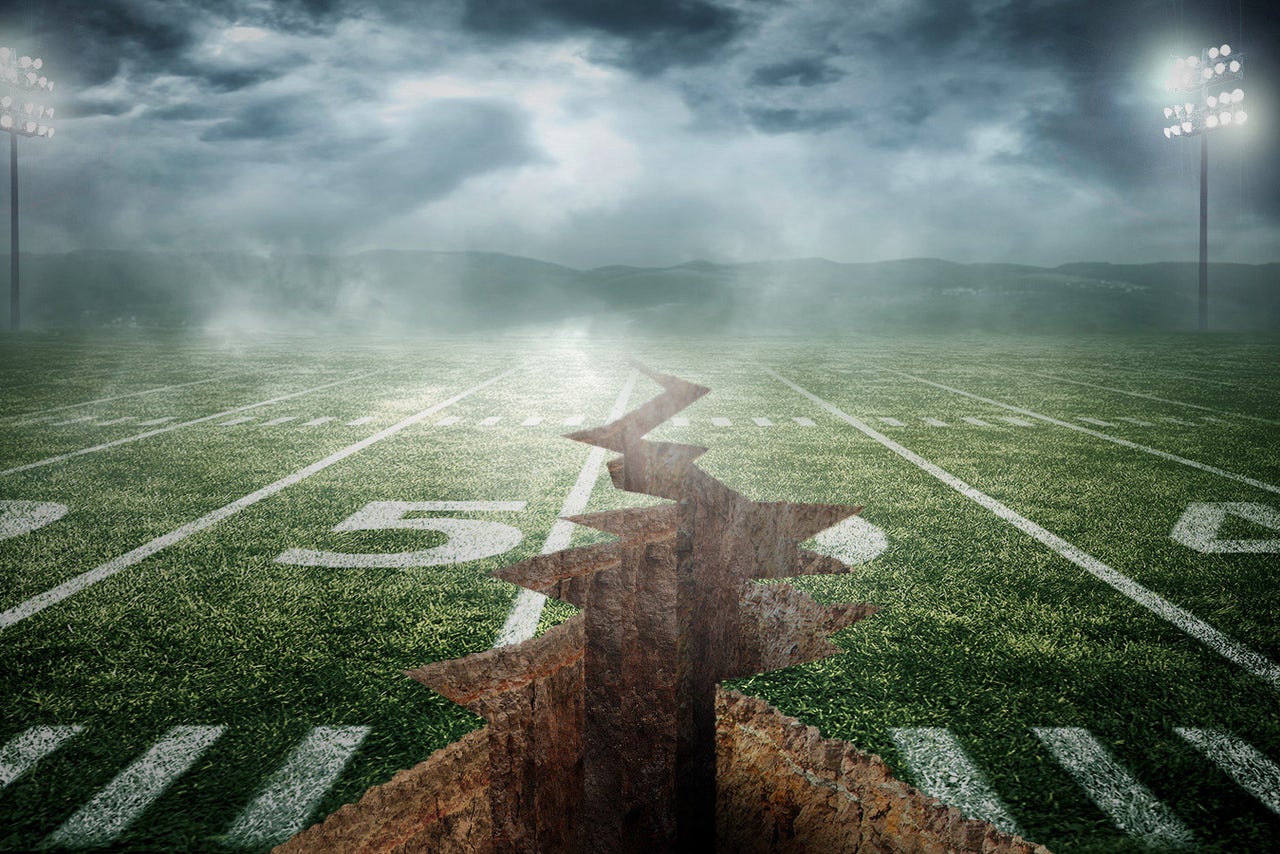 As the gavel pounds, silence waves through a small country courtroom. A dozen spectators stand in the corner while the rest of the gallery, buzzing moments earlier, is seated in near unison. During a Nov. 24, 2015 hearing, there's not a single empty seat in the Baldwin County courthouse. Cameron Harrison, charged with first-degree rape, sits quietly in front, his blond hair neatly parted. A local news camera films through a hallway window while a handful of journalists scribble notes.
One month earlier, 40 or so Spanish Fort High School students, including eight to 10 football players, attended an off-campus birthday party. Around 11 p.m., one of the guests, a 16-year-old junior named Jane*, was drunk from Smirnoff Ice and Fireball shots, according to witness statements. Struggling to maintain equilibrium, she was carried upstairs by a group of students to a bathroom where her best friend Amanda*, also a Spanish Fort junior, helped her. From there, she was led to an empty bedroom by Amanda and Harrison, an 18-year-old star tailback on the Spanish Fort football team. When Amanda left the bedroom, the door locked.
(Editor's note: All names marked with an asterisk have been changed.)
What happened in the next hour between Jane and Harrison has been fiercely debated. Five students have claimed they came into the bedroom during the alleged rape, but their stories are so varied that the town has struggled to untangle the truth.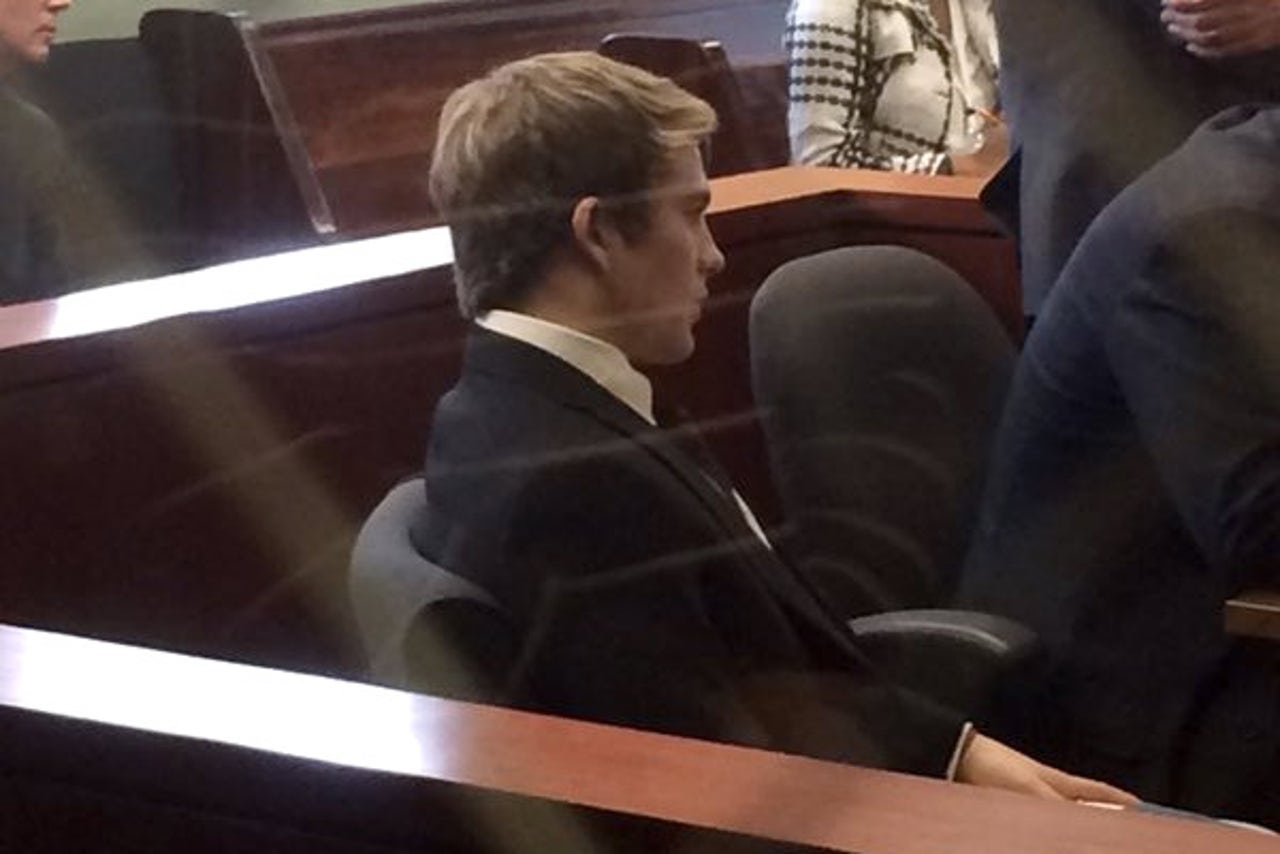 Cameron Harrison, at his hearing.

The following Monday when Jane returned to school, she had little recollection of the night but felt something wasn't right. When she met up with her friends, they openly wondered if she had been raped. Rumors at the high school spread quickly before filtering through the town and eventually arriving on Cpl. Jason Vannoy's desk at the nearby Daphne Police Department. He quickly took witness statements, then recovered an iPhone video from the party. During the same time there was also a supposed "confession" from Harrison to Jane's parents.
On Nov. 4 Harrison was arrested, then arraigned. After the initial hearing, in a televised interview on local TV, Baldwin County Assistant District Attorney Chalea Tisdale said, "You cannot rape an unconscious girl. ... There's a problem in our society with people feeling entitled to do whatever they wish." This, however, only seemed to mobilize Harrison's supporters. Two days later, during the first playoff game for the undefeated Spanish Fort team, students hung banners on the railing of the Toros' football stadium in a display of solidarity, including a large sign that incorporated Harrison's uniform number: Toros4ever. Other students painted "4" on their hands and held them up in unison, while the star quarterback and receiver wrote messages of support on their pads. The administration was alerted and pulled the signs down, but a Snapchat of the scene circulated among students and eventually found its way to Jane, who had stayed away from the game. An entire community, it seemed, was supporting an accused rapist.
Inside the courthouse, Judge Clark Stankoski would determine probable cause and pass the rape case to a grand jury, scheduled for February. Normally these hearings are simple affairs with a single witness and a handful of spectators, if that. But Harrison's supporters believed if the charges were dropped at the hearing he would be eligible to play the next game, the state semifinal against Benjamin Russell High School. Cpl. Vannoy, in front of a packed courthouse, was the first to take the stand.
The lead defense attorney, John Beck, presented him with the video taken by one of the other students, which seems to show the girl unresponsive and being carried up the stairs during the birthday party minutes before the alleged rape. Beck, a small-town lawyer with a greying goatee and patient Southern cadence, pressed Vannoy before pulling out a laptop with a program that extended the six-second video an extra frame. Beck pointed at the girl on the screen and insisted she was not unconscious. She was laughing and smiling, he said. Beck then presented a message from Jane to the accused that began, "You didn't rape me."
Supporters in the gallery, for a moment, felt vindicated. "Some kids were snickering and rolling their eyes," Cassie Fambro, a journalist with AL.com, said. The hearing lasted five hours, and over a dozen witnesses testified, including three football players. All except Vannoy were students at Spanish Fort High School.
As the hearing wound down, Amanda took the stand. Beck stood before her and asked about another key moment in the night leading to the alleged rape when Jane, Amanda and Harrison were in the bathroom together. Pointedly, Beck asked if they engaged in a three-way sex act. The courtroom shuddered -- of all the rumors going around, no one had heard this.
The witness looked out at her peers and her parents, then denied the accusation. Suddenly, reports say, Harrison's mother Karon exclaimed, "That lying bitch!"
*****
It's the day after Thanksgiving, and thousands of locals are walking up a steep 1/2-mile incline towards Toros' stadium for the state semifinal game. From the top of the bleachers, you can almost make out the trees that dot Blakeley State Park three miles away, site of the last major battle of the Civil War. In the decades after the fall of Spanish Fort and Robert E. Lee's subsequent surrender, Spanish Fort became a community without a community; a conglomeration of churches and disparate houses without a main street. In the 1990's some of the executives of Airbus or ThyssenKrupp, based across the bay in Mobile, began to move into Baldwin County, drawn to the area's safety and school district reputation.
As the money flowed through the region, Spanish Fort High School was built in 2005 and the upper crust of Alabama demanded a football team to reflect its growing social standing. Property taxes of the recently constructed McMansions helped fund a $5 million athletic facility, and the best football coach available was hired with the promise of an athletic director job and an extra $20,000 stipend, a source said.
"There's a lot of 'Friday Night Lights' down here," a parent of one of the younger players said. "Football here is like it is with an SEC school."
Three days before the state semifinal game, after the hearing, Harrison was sent back home on house arrest. When the game started there were no outward displays backing Harrison, but his supporters were everywhere, not just on the field. During the first quarter, a retired attorney who has no involvement in the current case said, "This rape trial is a bunch of crap." Students as well, one after another, were adamant Harrison was innocent -- he had to be. He represented the new community ideal -- privileged, God-fearing, hardworking and civic-oriented. He grew up in Spanish Fort and played football since his youth. He lived in Timber Creek, a wealthy gated community, worked as a server at a local restaurant and volunteered with other members of the football team. His guilt would be an indictment of the very foundation of the burgeoning town.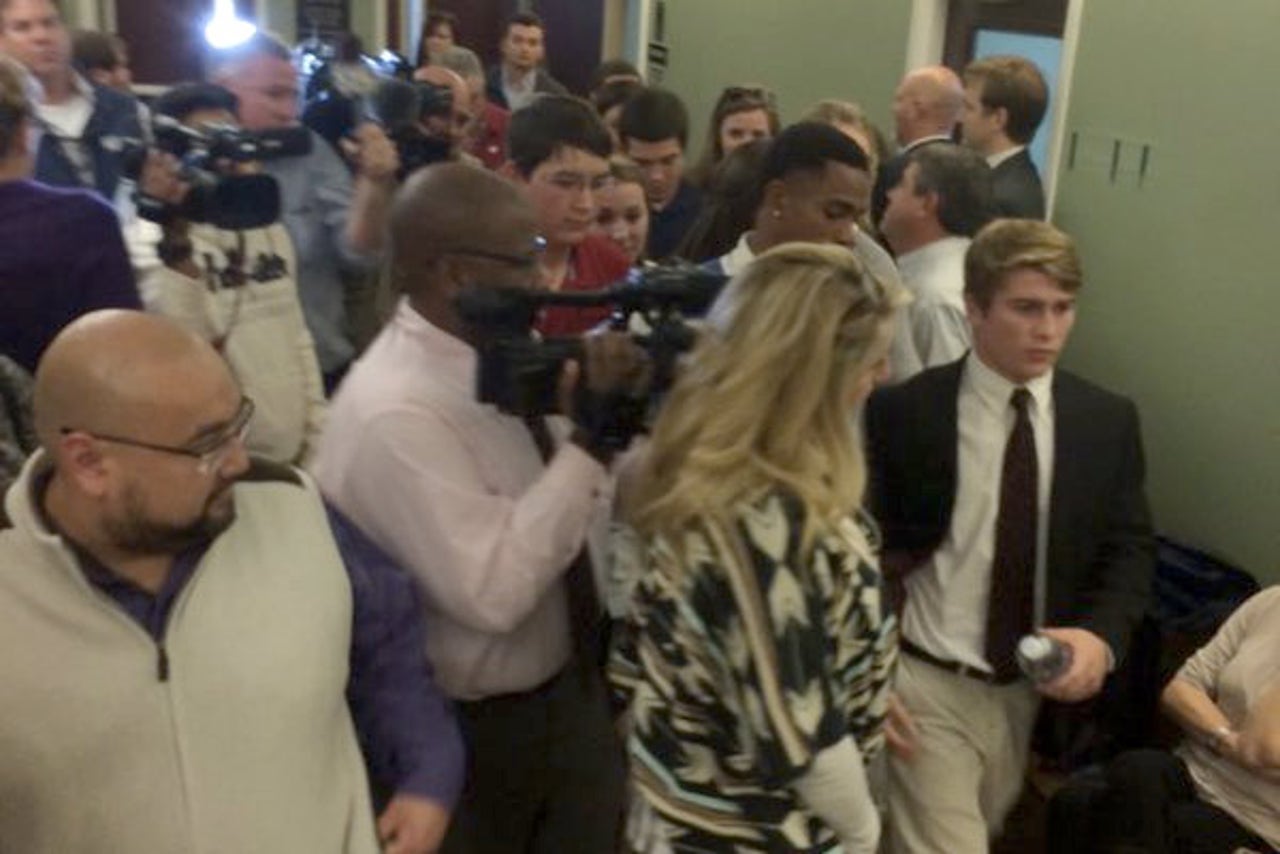 Cameron Harrison leaves the courthouse after his hearing.

"He's a great guy, he doesn't need to rape anyone," a recently graduated female said. Another senior, a female, added, "I don't believe any of it."
One of Harrison's friends, a senior who showed up to the game with his chest painted school colors and helped create a media barricade around Harrison as he left the hearing, was more even-keeled. "We want to support him, but we also respect the [girl]," he said. "There has been no controversy. The media has tried to make this an issue."
Shortly after the images of banners supporting Harrison at the Nov. 6 game were broadcast on local news, reaching as far as the New York Post, Eddie Tyler, superintendent of Baldwin County Public Schools, sent an email through the district's system explaining that if anyone attempted to bully or harass the girl, who was granted leave and was out of town for the semifinal game, they would be expelled. But more so, if the case was even mentioned on school premises, they'd be written up, according to multiple students. This was key, because after the arrest the girl continued to attend classes. She is, however, not native to Spanish Fort. Her family moved there less than two years earlier. Her supporters, then, are smaller in size and less vocal, but no less passionate.
In the top corner of the bleachers, a parent of one of the younger players looks over the game notes, her top lip quivering.
"They have him listed in the program. Why is his name there?" On the page, No. 4 was indeed still prominent on the game sheet, more than three weeks after his arrest. "It makes me so upset -- she goes to this school too, and lives in this community."
*****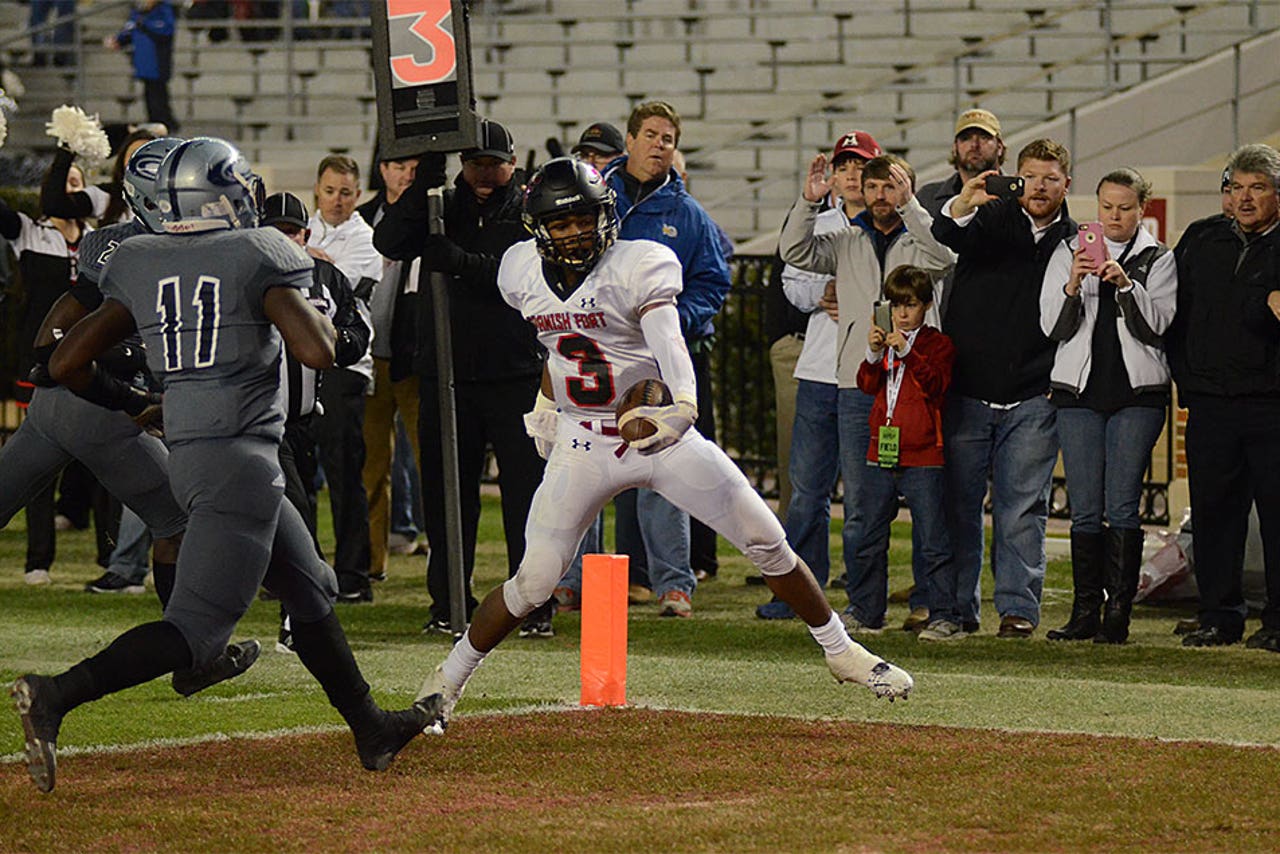 Javon Brown, a wide receiver on Spanish Fort's state championship team

On a Wednesday in late October, Cpl. Vannoy was on a field trip with his daughter in Pensacola, Fla., when he got a call from a local social worker: "There's a rape case coming your way tomorrow morning; you'll want to look into it." A 15-year veteran of the force, Vannoy grew up in nearby Fairhope, a vacation and retirement community where he played offensive line in high school. A big man with telephone poles for arms, he gained local prominence when he investigated the rape and murder of a 21-year-old bartender in 2010 -- a case that took nearly two years to complete, eventually ending in a conviction.
When Cpl. Vannoy returned to the Eastern Shore, Jane's mother, who was an acquaintance of the assistant district attorney, called Vannoy and agreed to escort her daughter to Care House, a haven for child sex abuse victims in Summerdale. Special Victims Forensic Specialist Robin Taylor interviewed her for over an hour, while Vannoy watched from behind a two-way glass mirror.
"When I found out it was a starter on the football team, I knew it would be media attention and the defense would have resources," he says of the Harrison case. "I had to interview as many people as I could."
But the process was increasingly fraught with issues. "I had a feeling the [students' statements] weren't going to line up 100," he says. "But I didn't know they would be so vastly different."
Two of the first people he spoke to were Rebecca*, Jane's close friend, and Gage Roberts, the birthday boy and resident of the house where the party was held. During the party, both were alerted that Jane was in a locked room with Harrison and went upstairs to bang on the door. Harrison opened it naked, while Jane, also naked, was either listless and mumbling incoherently on the bed or moaning and intermittently holding Harrison's hand, depending on whose version you believe. (Roberts referred to her as a "vegetable" in initial interviews, then later testified at the hearing he never said that despite the interview being recorded.) In testimony, Rebecca says she yelled at Harrison when she saw the unresponsive state of her friend, to which Harrison allegedly responded, "She wants this. She's fine."
"You've got three guys saying they heard the same thing but were there at different times," Vannoy says.
The defense team will claim the incident started with a threesome in the bathroom, Vannoy says, and continued in the bedroom without Amanda. They also point to testimony that Jane said she "wants to stay." Whether Jane was referring to staying in the room with Harrison or at the party isn't clear.
After the alleged incident, however, Cathy Roberts, the 58-year-old grandmother of Gage Roberts who was charged with an open house party violation, a class B misdemeanor, said through her lawyers that she walked in on Jane throwing up in the toilet. But Hayden Pittman, a football player, says he saw Jane holding her bra in the hallway and walking normally.
When the party was over, Rebecca left with Jane to go to Sonic, where an employee said in interviews she saw Jane crying in the passenger seat of Rebecca's car. But it was the video of Jane being carried up the stairs that was the key piece of evidence for Vannoy. "She's clearly incapacitated," he says.
*****
When word of Harrison's arrest first broke, Fambro, a third-year journalist at AL.com, rushed over to the Baldwin County courthouse. The case struck a nerve. "This is his entire future and something that can harm this young girl," she said. "It's life-defining stuff."
The emotion crescendoed at the hearing. She recalls a girl standing alone outside the courtroom. "She looked at me and said, 'What did they say?' I said the judge found probable cause, and she just sat down and started crying."
One of the fundamental issues with the case, Fambro says, is the teens' lack of knowledge of sexual assault. "They picture the back-alley violence you see in the movies," she says. "When they say Cameron didn't rape her, they're saying Cameron didn't back-alley violently rape her."
The following Monday after the alleged incident, Jane and her friends pulled out one of their district-issued laptops in home decoration class and Googled the definition of rape. When the teacher asked them what they were doing, one of the girls explained what happened at the party, says Vannoy. The teacher alerted the Department of Health Services, who alerted police. In Alabama, rape in the first degree is defined partly as a "male who engages in sexual intercourse with a female who is incapable of consent by reason of being physically helpless or mentally incapacitated."
Over the next few days, Jane and Harrison exchanged messages, including one from Jane that read: "I know you didn't rape me. But you took advantage of me." Meanwhile, as chatter spread around campus, Harrison was becoming increasingly wary. In a move to mitigate the damage, he arrived at Jane's house to speak to her parents directly. The conversation, however, didn't go over well. It was widely reported that outside the home he told her father, "I only did your daughter for five minutes." Jane's mother described it as an "arrogant" attempt at an apology, and the assistant district attorney describes it as a confession of guilt.
Harrison was soon arrested, and his $45,000 bond was paid for by Tim Cockrell, a local businessman and a supporter and sponsor of the Spanish Fort team. Some accused the district attorney's office of arresting Harrison too soon. In a televised interview, Paul Cater, a defense attorney in nearby Foley who is representing Cathy Roberts, said, "They could have arrested him for a misdemeanor, minor in consumption of alcohol ... and not charged him with rape. You can never un-ring a bell. This is going to haunt him, even if he's found not guilty."
Vannoy disputes this. "I wanted to give him the benefit of the doubt," he says. "But I talked to the (assistant district attorney), and there was an abundance of probable cause."
For their part, the DA's office, led by Hallie Dixon, has taken a hard stance against Harrison. But her office has been dogged by a series of clumsy incidents, including a state investigation into marijuana brownies that were passed around her office and accusations of retaliating against an employee who ended a sexual relationship with her.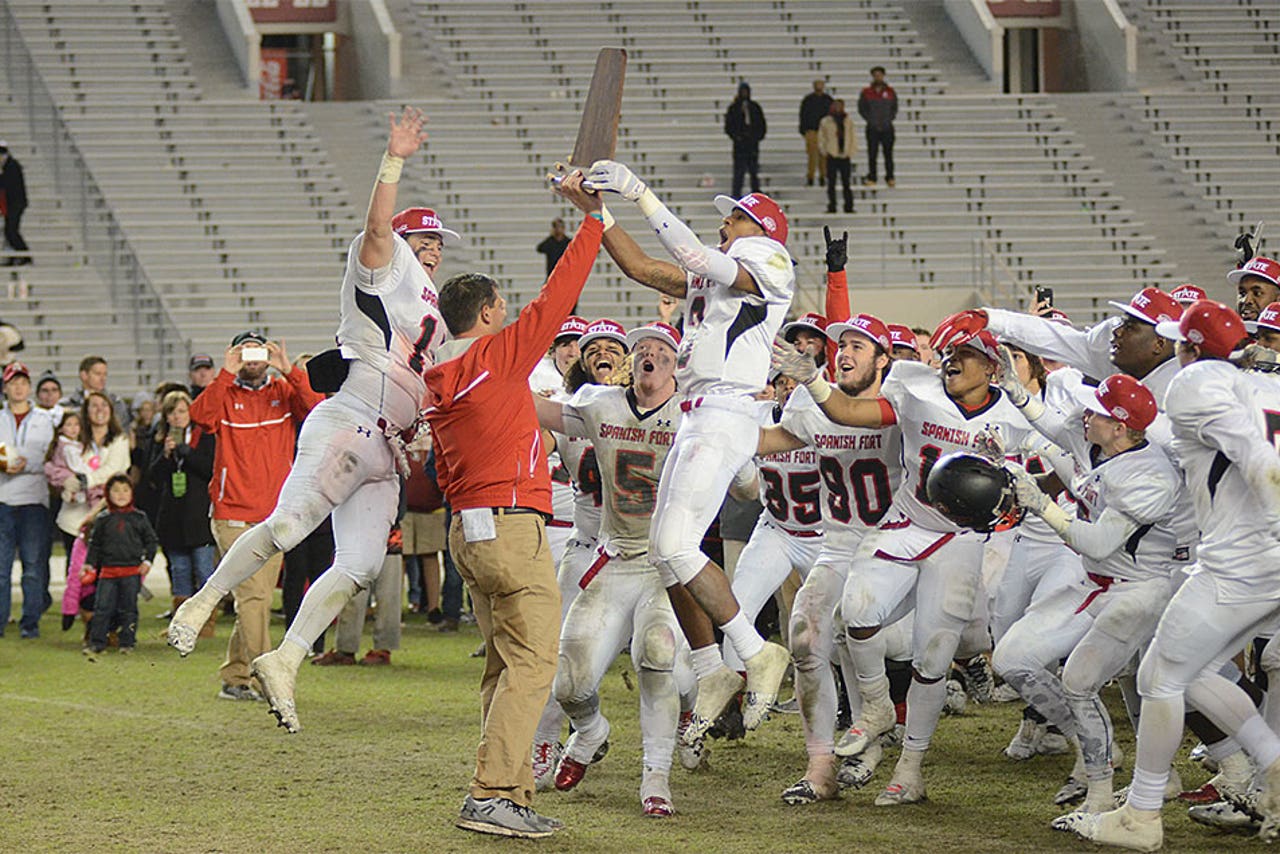 Spanish Fort celebrates its state championship.
*****
In the semifinal game against Benjamin Russell, Spanish Fort stormed back from a 27-10 halftime deficit to win 31-27 and advance to the state championship game. For the next seven days the town seemed to curl up into a shell.
Jerry Taylor is the lead pastor at City Hope Church, the largest on the Eastern Shore. He winces when the case is discussed and declines to speak further. Local radio station WBHY refuses to discuss it as well. "There's nothing to gain by talking about it," the program director says.
By the time the championship game comes around, winter has arrived in Tuscaloosa. In early December a couple thousand Spanish Fort fans brave the cold and cheer on the Toros as they storm out to a 24-7 lead against Clay-Chalkville, only to let the Cougars back in the game. Leading 31-28 with just over a minute to go, Spanish Fort is facing a fourth-and-3 near midfield of Bryant-Denny Stadium -- the colossal home of the collegiate Alabama Crimson Tide. Tyler Johnston, the Spanish Fort quarterback, keeps it and rumbles near the first-down marker. The referees measure and victory hangs in the balance. First down. The fans of Spanish Fort jump up and down, the players hug each other. Spanish Fort is state champion, and the town exhales. At the press conference, Johnston and Javon Brown sit with coach Ben Blackmon to answer questions. Neither Harrison's name nor the hearing are mentioned.
But as the celebration dies down, the town and school will have to come to terms with the impending trial. Over 160 years after the Civil War's last major battle was fought in nearby Blakeley State Park, a new war is coming to Spanish Fort.
Cpl. Vannoy, at his desk in Daphne, continues to investigate. The grand jury is scheduled for February, then the trial.
"It's going to be big," Vannoy says. "This town hasn't seen anything like this in years." 
Flinder Boyd is a former European professional basketball player turned writer. On Twitter he can be found @FlinderBoyd.
---