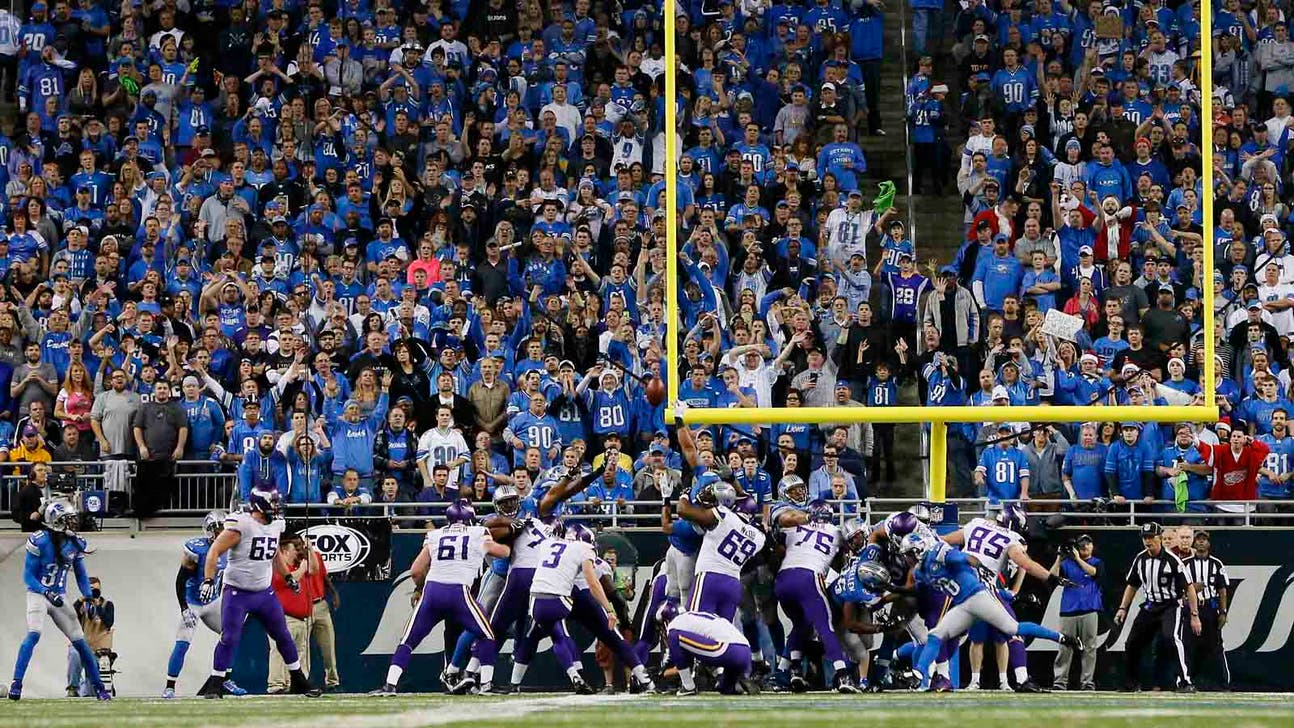 5 things we learned: Vikings at Lions
Published
Dec. 14, 2014 10:22 p.m. ET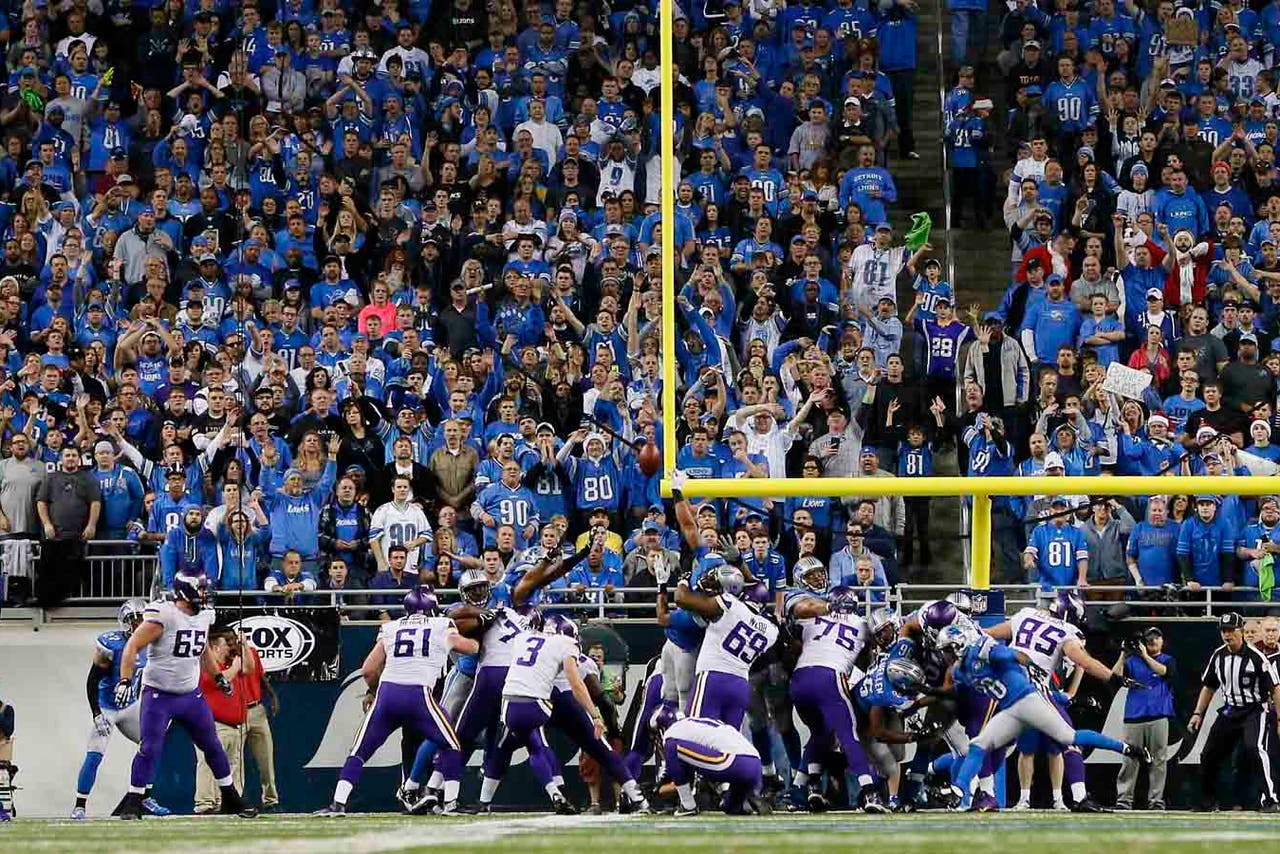 When Blair Walsh's desperate 68-yard field-goal attempt fell short, the Minnesota Vikings were left with a 16-14 loss after allowing the final 16 points to the Detroit Lions.
Minnesota had led throughout before Detroit's field goal with 3 minutes, 38 seconds remaining. The Vikings then had two chances to retake the lead before falling short and going to 6-8 this season.
Head coach Mike Zimmer praised his team's effort, but Minnesota had two turnovers leading to 10 points and missed two field-goal attempts.
Here are five takeaways from the Vikings' 16-14 loss:
The loss dropped Minnesota to 0-5 in the NFC North this year with one divisional game left in the season-finale at home against Chicago. Zimmer spoke during the week about how the Lions -- now the co-leader in the NFC North with Green Bay at 10-4 -- were at the level the Vikings aspire to reach.
Minnesota has shown it can compete at the level of the division's best teams but is still unable to win. Steps are being taken. The Vikings have looked much better against division teams in the second meeting of the year in Zimmer's first season as coach.
In the first meeting against Detroit, Minnesota lost a disjointed 17-3 game and couldn't get anything going offensively. Sunday, the Vikings outgained the Lions 360-233. The 360 yards -- buoyed by rookie quarterback Teddy Bridgewater's improvement from the first game -- is the third-most allowed by Detroit this season.
With Christian Ponder at quarterback, Minnesota lost 42-10 at Green Bay early this season. In the rematch, with Bridgewater settling in, the Vikings lost 24-21. More than results, improvement can be seen in the second meeting with teams.
Minnesota has targets within its own division -- it's 0-5 against the NFC North, 6-3 against other opponents. The Vikings now have to finish the job in getting over the hump in the division.
Blair Walsh had never missed two field-goal attempts in a single game until last week at TCF Bank Stadium. Walsh has now done so in back-to-back games. When he missed twice last week, Walsh had run his field-goal percentage to 78.7 percent in outdoor games. But he was still hitting 93 percent of his field-goal attempts indoors.
Walsh expressed his confidence during the week and said he had already turned the page from the two misses last week. Walsh said there was no common theme to the misses, which have seen him fall to 78.6 percent this season. A trip to Detroit also meant Walsh was going back inside.
But Walsh has been off this season and it continued Sunday. He missed a 53-yard field-goal attempt after Minnesota's first drive and is now 5 of 8 on attempts of 50 yards or more. Walsh was a sensation as a rookie in going 10 of 10 on field-goal attempts of 50 yards or more, really making a name for himself.
Walsh then had a short, 26-yard attempt blocked in the fourth quarter which could have almost sealed a victory. Walsh got the kick off, but Jason Jones pushed back J'Marcus Webb along the line and was able to get a hand on the kick.
It's hard to blame Walsh for the miss at the end of the game, a 68-yard attempt which would have set an NFL record. Zimmer said he opted for the field-goal attempt over the Hail Mary and said he thought the kick had a chance while it was in the air. But Walsh's attempt fell short, leaving him 0 for 3 Sunday, the worst game of his three-year career.
Something has been missing from the field-goal unit this season. A trip indoors didn't solve the issues Sunday.
The big difference in the first meeting with Detroit and Sunday's game was the play of Bridgewater and the offensive line. Bridgewater was sacked eight times and completed 23 passes for just 188 yards and three interceptions.
Bridgewater started Sunday's game completing 15 of his first 18 passes for 189 yards and a touchdown and was in control of the offense. He scrambled once for a first down. Then Bridgewater threw interceptions on back-to-back passes at the end of the first half.
Bridgewater's pass to Charles Johnson was a bit high and Johnson was tangled up with a defender and couldn't go up to get the ball. Bridgewater had a few throws that were high to receivers.
The second interception was thrown behind Greg Jennings. The Lions scored 10 points on the two turnovers and went into halftime with momentum despite a 14-10 deficit. Minnesota's defense had allowed just 89 yards in the first half. In a low-scoring game, the 10 points proved critical.
In the second half, Bridgewater found his rhythm again. He was 16 of 21 and passed for 126 yards in the second half. Before Walsh's 26-yard miss, Bridgewater completed a 15-yard pass on second-and-28 to Jarius Wright and then scrambled 16 yards for a first down.
Bridgewater finished with a career-high 75.6 completion percentage in the game, hitting 31 of his 41 passes for 315 yards, the second-most in a single game for the rookie. Bridgewater continues to take steps in his first season.
Leading into the game the questions existed whether Minnesota's emerging second-year cornerback Xavier Rhodes would follow Calvin Johnson around the field. Zimmer downplayed the possibility all week long, even though the matchups seemed to dictate the strategy.
Well, as soon as Johnson hit the field, Rhodes nearly followed him every step of the way. There were times Rhodes didn't match up directly with Johnson, and Rhodes often had help with Detroit's top receiver and one of the league's best. Safety Harrison Smith tracked Johnson along with Rhodes often.
More often than not, Rhodes moved around the formation to be with Johnson though. Throughout this season, even facing some of the league's best quarterbacks and receivers, Rhodes stuck on the right side of the Vikings' defense. Sunday he got his chance to matchup one-on-one with a particular receiver.
Johnson had 19 catches for 304 yards in the previous two games. He finished Sunday with four catches for 53 yards. After the game, Zimmer revealed he told Rhodes on Monday he would be matching up with Johnson. Rhodes showed his promise again and rewarded his coach's confidence.
During the week, Zimmer said running back Matt Asiata probably had too many carries last week and expressed interest again in getting Joe Banyard and Ben Tate involved more. Banyard and Tate offer a bit more speed than Asiata.
Asiata then provided a spark early and had some punishing runs in which he pushed defenders to reach first downs. Asiata had six carries for 23 yards in the first half, including a 2-yard touchdown run. He added three catches for 21 yards.
The early production and the authoritative running likely led the coaches to stick with Asiata as the lead back. He finished with 11 carries compared to two for Banyard and five for Tate. But Asiata's effectiveness wore off too. He finished with 36 yards rushing, adding 50 yards receiving.
Tate had five carries for eight yards. Banyard had two carries for two yards. He had no chance, getting hit immediately in the backfield on a run in the third quarter for minus-2 yards.
Follow Brian Hall on Twitter
---