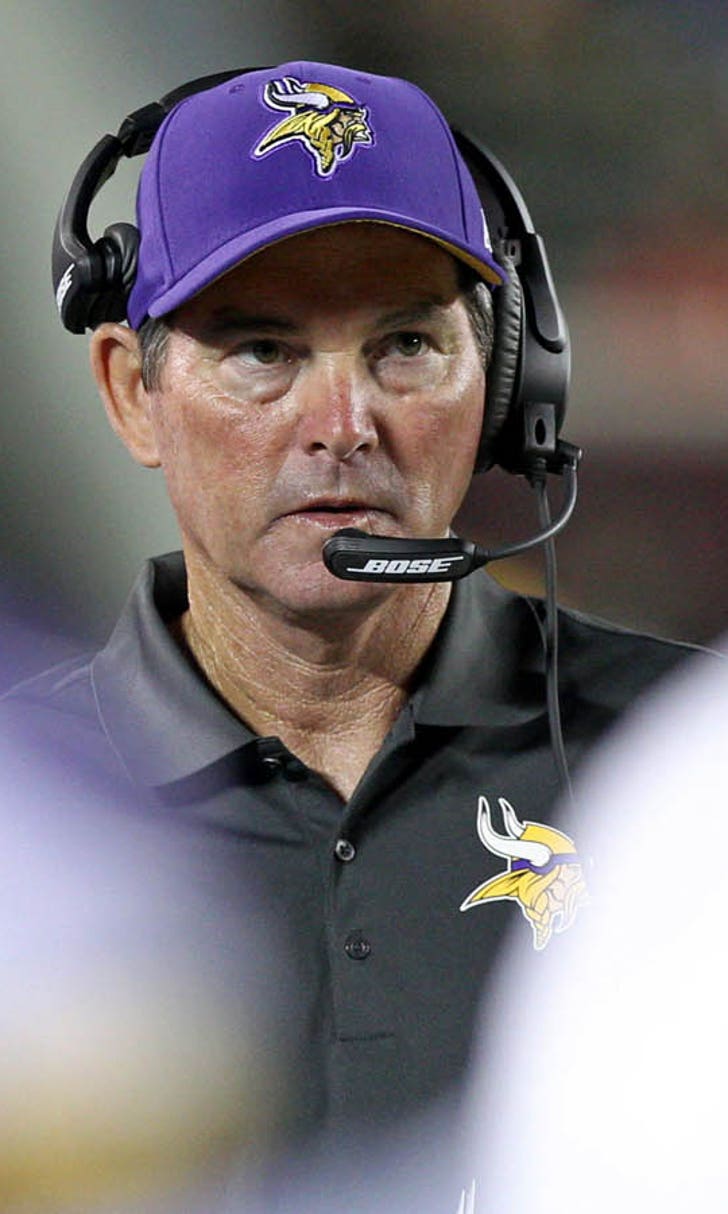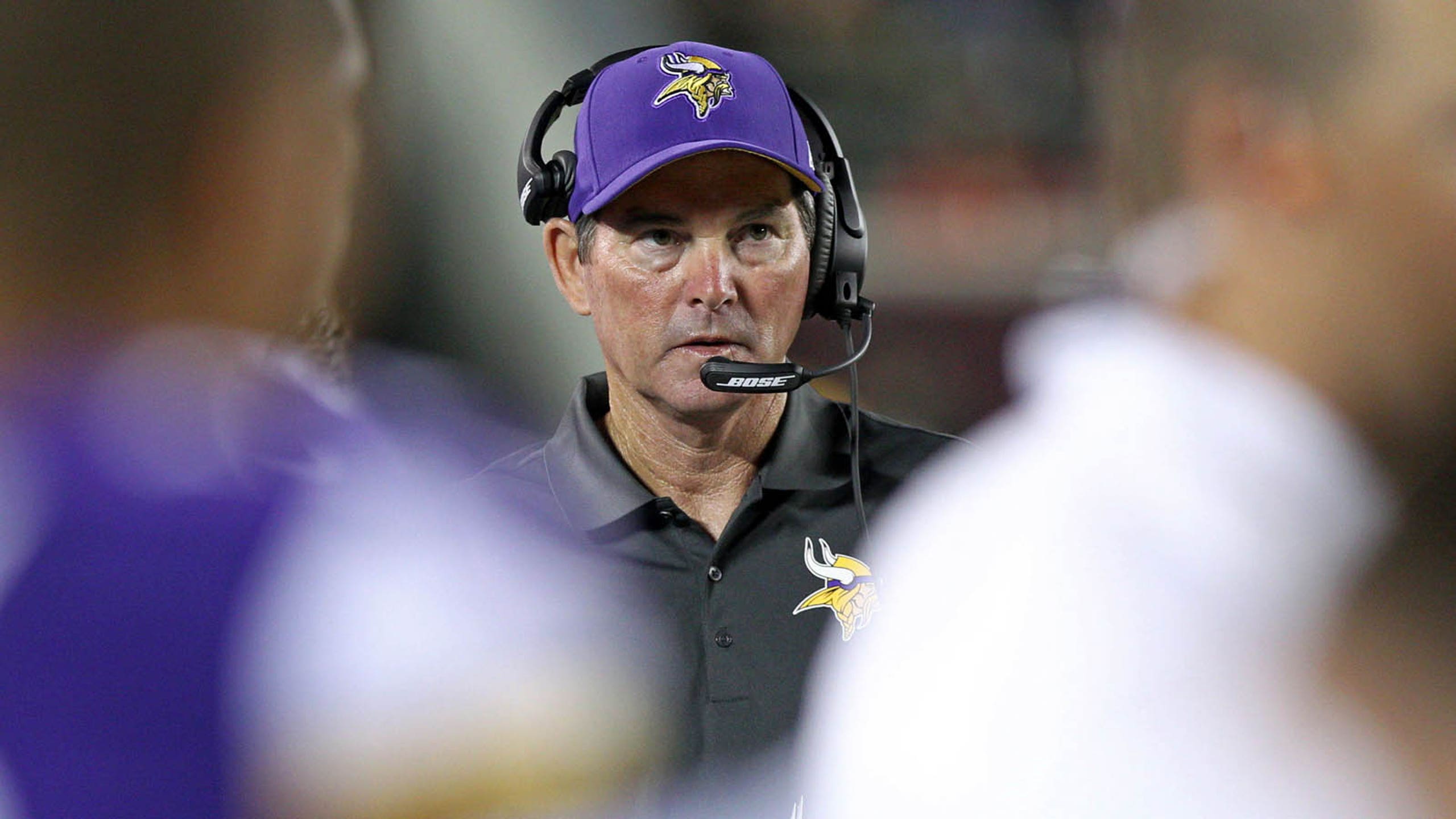 5 things to watch: Vikings at Bears
BY foxsports • November 15, 2014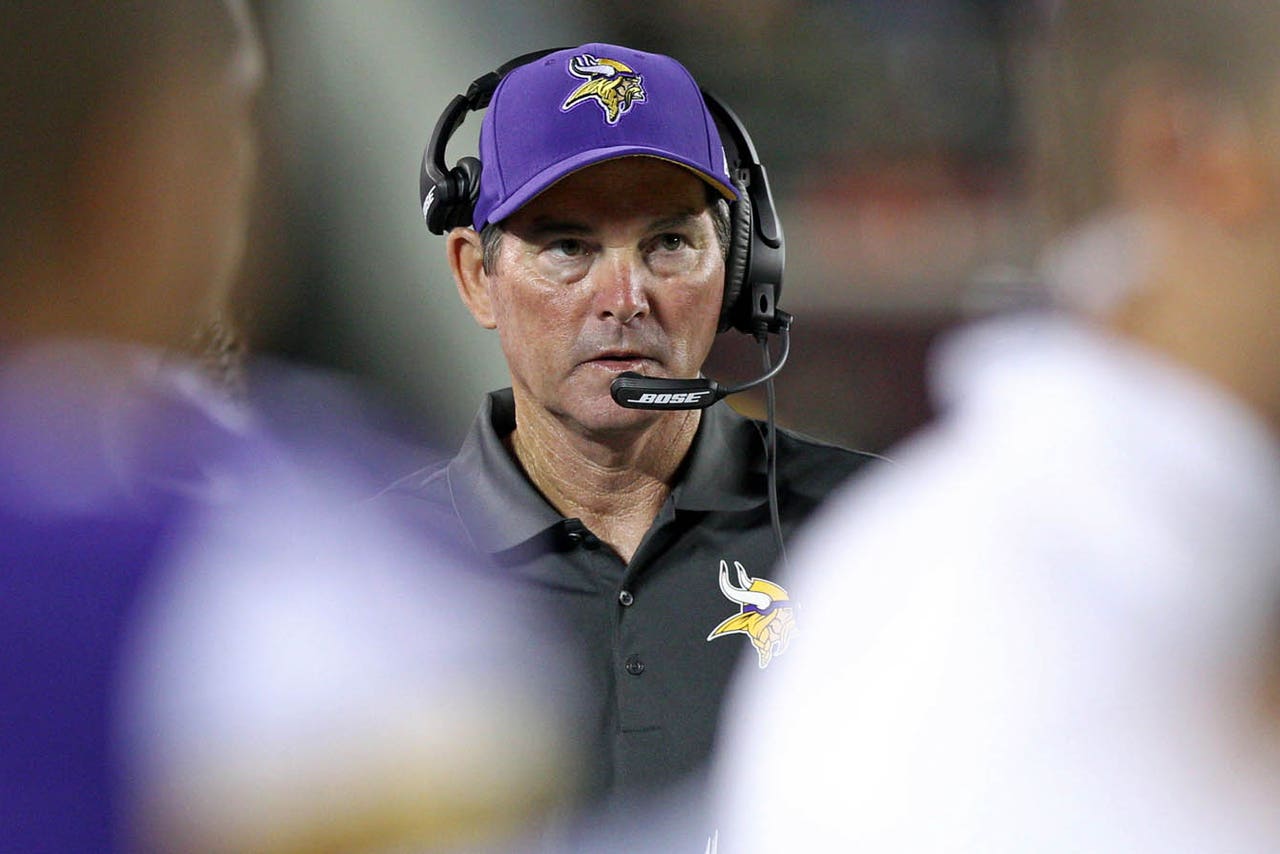 The rest is over. The Minnesota Vikings are refreshed and riding the momentum of two straight wins and a week off to relax and heal.
The Chicago Bears appear headed in the opposite direction. Losing five of its last six games, Chicago is dealing with a historically poor defense, questions about effort and questions about job security for the coaching staff.
The circumstances shape an important game for both teams on Sunday in Chicago. Minnesota (4-5) could draw to .500 and keep faint playoff hopes alive with a win.
The Bears might be fighting for more than a win, as jobs could be on the line.
Here are five things to keep an eye on during Sunday's game:
1. Overconfidence for the underdogs?
Vikings coach Mike Zimmer laughed off questions about his team being overconfident heading into Sunday at Soldier Field. Despite the situation for both teams, oddsmakers agree with Zimmer. Minnesota is the underdog on Sunday.
Zimmer didn't believe his team had reason to overlook anyone. The Vikings' four wins have come against teams with a combined 10-26 record. Minnesota should feel good about the progress it's made in the first year under Zimmer. Overlooking any team and being a favorite on the road is a level the Vikings haven't reached yet.
Of course, when the opponent lost 55-14 on national TV and looked apathetic in doing so, Minnesota can wonder what type of team it will face Sunday.
Chicago was coming off its bye and facing a division rival in the Green Bay Packers on Sunday night. The Bears were also coming off a thrashing by the New England Patriots. Yet, Chicago trailed 45-0 at one point. Former Vikings defensive end Jared Allen, in his first year with the Bears, said Soldier Field could turn into "complete anarchy" if Chicago falls behind early again.
Will the Bears be angry and look to take out frustration on the Vikings, or will disinterest define Chicago?
2. Everyone wants a win in Chicago
Another reason Minnesota could be the underdog? The Vikings have lost six straight games in Chicago. Minnesota's last win on the road against the Bears was in 2007. The only current Vikings on the roster for the last victory in Soldier Field are long snapper Cullen Loeffler, linebacker Chad Greenway and defensive end Brian Robison.
Loeffler, Greenway and Robison only have one win in Chicago. Minnesota has lost 12 of the last 13 in the Windy City.
Dueling losing streaks mark Sunday's game. The Bears have lost four straight games at Soldier Field dating back to last season. Chicago is 0-3 at home this year, losing to Buffalo, Green Bay and Miami. The home fans are starved for some kind of success.
A lead would be nice, too. In losing 27-14 at home to Miami, the Bears never held a lead. Same goes for the past two road games. Chicago hasn't held a lead since Week 6 at Atlanta.
3. Hey, close that door
Weather has been a hot (or cold, actually) topic this week. Zimmer wanted his team to practice outside this week to prepare for the possibility of cold weather in Chicago. Sunday's forecast calls for a slight chance of snow and high of 33 degrees, according to the National Weather Service.
In the Vikings' first year in a long time of home outdoor games, Zimmer wants his team to grow accustomed to the cold. Practices will be outside as much as safety allows. The team purchased a heating system for an outdoor field to allow Minnesota to continue practicing as temperatures drop. In past years, the Vikings would practice in their fieldhouse later in the season.
The heating system hasn't arrived yet and attempts to unthaw the outdoor field weren't ready in time, so Minnesota practiced in the fieldhouse on Friday with all of the doors open. Temperatures dropped to the 20s inside, allowing some simulation for Sunday.
Much of the current Vikings haven't played many cold-weather games. Rookie quarterback Teddy Bridgewater will be facing his first cold-weather game in the NFL. His grip on the football, with those gloves he's become known for, will be something to watch.
Interestingly, Sunday might not be the coldest game Bridgewater, from Florida, has played. While at Louisville, Bridgewater said he played a game at the University of Connecticut with temperatures in the 20s.
4. 50 would be nifty
If weather cooperates, Bridgewater might be able to replicate some of his college numbers. No defense has been in the giving mood quite like Chicago recently. The Bears became the first team since 1923 to allow 50 points in back-to-back games. New England and Green Bay combined for 106 points against Chicago the past two games.
Digging a bit deeper, quarterbacks Tom Brady and Aaron Rodgers had their way with the Bears. Brady was 30 of 35 for 354 yards and five touchdowns. Rodgers was 18 of 27 for 315 yards and six touchdowns. Rodgers completed 15 of his first 18 passes as the Packers built a 35-0 lead.
Bridgewater isn't in Brady or Rodgers' class. But Bridgewater also entered last week's bye off two strong games and showing some growth as a passer. Bridgewater led three second-half touchdown drives which each erased deficits and finished 26 of 42 for 268 yards and a touchdown. The win against the Redskins, who are ranked sixth in pass defense this year, was Bridgewater's best effort since a 317-yard debut against the Atlanta Falcons.
Chicago is allowing a league-high 30.8 points per game. The Bears' pass defense is ranked 28th in the league, giving up 268.6 yards per game. Allen hasn't provided much of a pass rush with 1.5 sacks and Chicago's 20 sacks as a team are tied for 18th in the NFL.
The Bears have generated one takeaway -- a fumble recovery -- in the past three games. Bridgewater has avoided turnovers in his three wins as a starter. Meanwhile, Bridgewater and the Vikings are expected to get back big tight end Kyle Rudolph, who has missed the past six games.
5. Jay and the giants
Chicago was supposed to be led by its offense. Yet, quarterback Jay Cutler and the offense deserve plenty of blame for the string of losses, as well. The biggest issue has been turnovers. The Bears have committed 18 turnovers this season. Only four teams (Jacksonville, Philadelphia, Oakland and Tampa Bay) have more.
Cutler seems more like "Same old Jay" than the thriving quarterback seen under new coach Marc Trestman last year. Cutler is tied for second in the NFL with 10 interceptions this season. There's no hiding that as Chicago's season has sunk, Cutler has slipped right along with it. He had eight touchdowns to two interceptions as the Bears were 2-1. The gunslinger was back over the five losses in six games with 10 touchdowns but also eight interceptions.
With Cutler back to his erratic ways, he hasn't been able to make use of his tall set of receivers Brandon Marshall, Alshon Jeffery and tight end Martellus Bennett, who all come in 6-foot-3 or taller. Marshall and Bennett have also dealt with injuries. Chicago is expected to get back receiver Marquess Wilson, who was expected to be the third receiver but has been out with an injury all season. Wilson is 6-4.
The size advantage is a concern for Minnesota, which has 5-9 Captain Munnerlyn and 5-10 Josh Robinson to go with 6-1 Xavier Rhodes at cornerback.
Chicago quarterbacks have also been sacked 24 times while the Bears enter Sunday's game with left guard Matt Slauson out for the season with a pectoral injury and right tackle Jordan Mills doubtful with a rib injury. The Vikings bring a pass rush that has generated 30 sacks.
Follow Brian Hall on Twitter
---