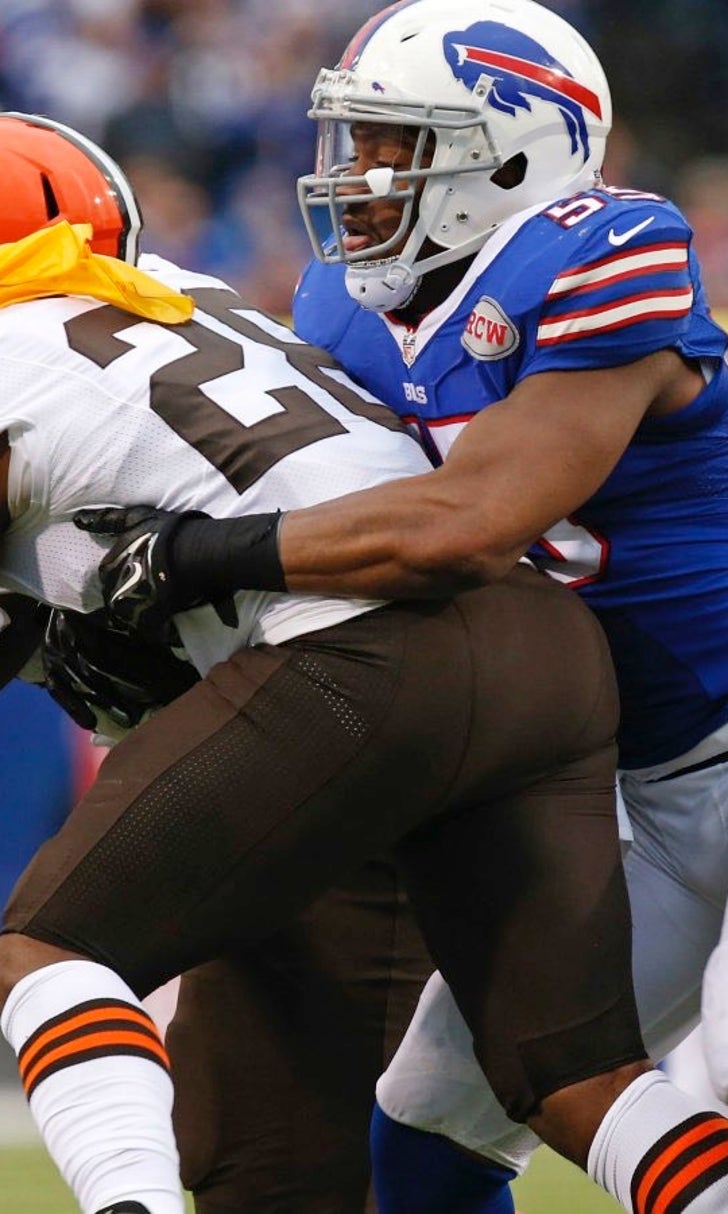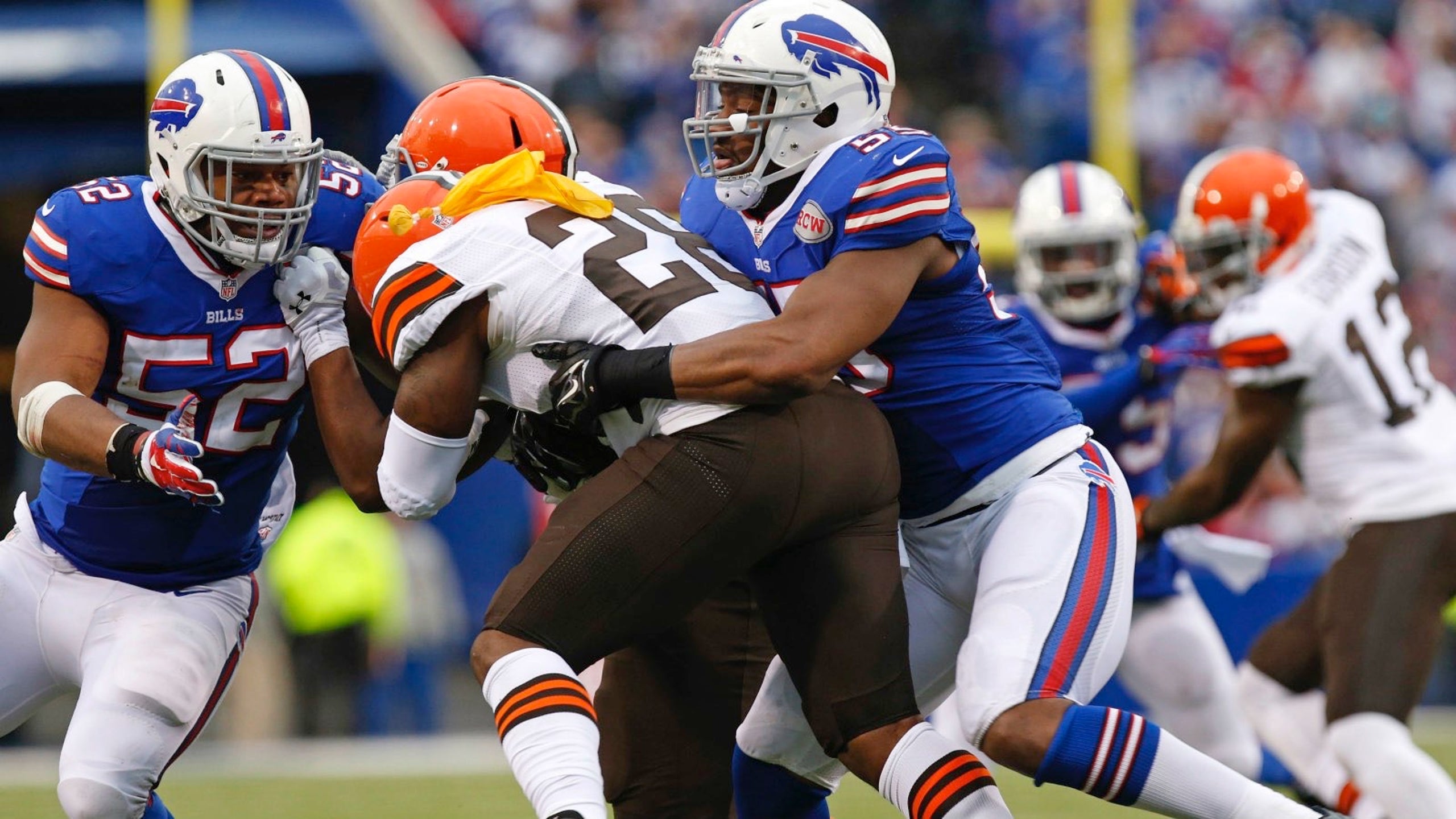 5 things to watch: Packers at Bills
BY foxsports • December 13, 2014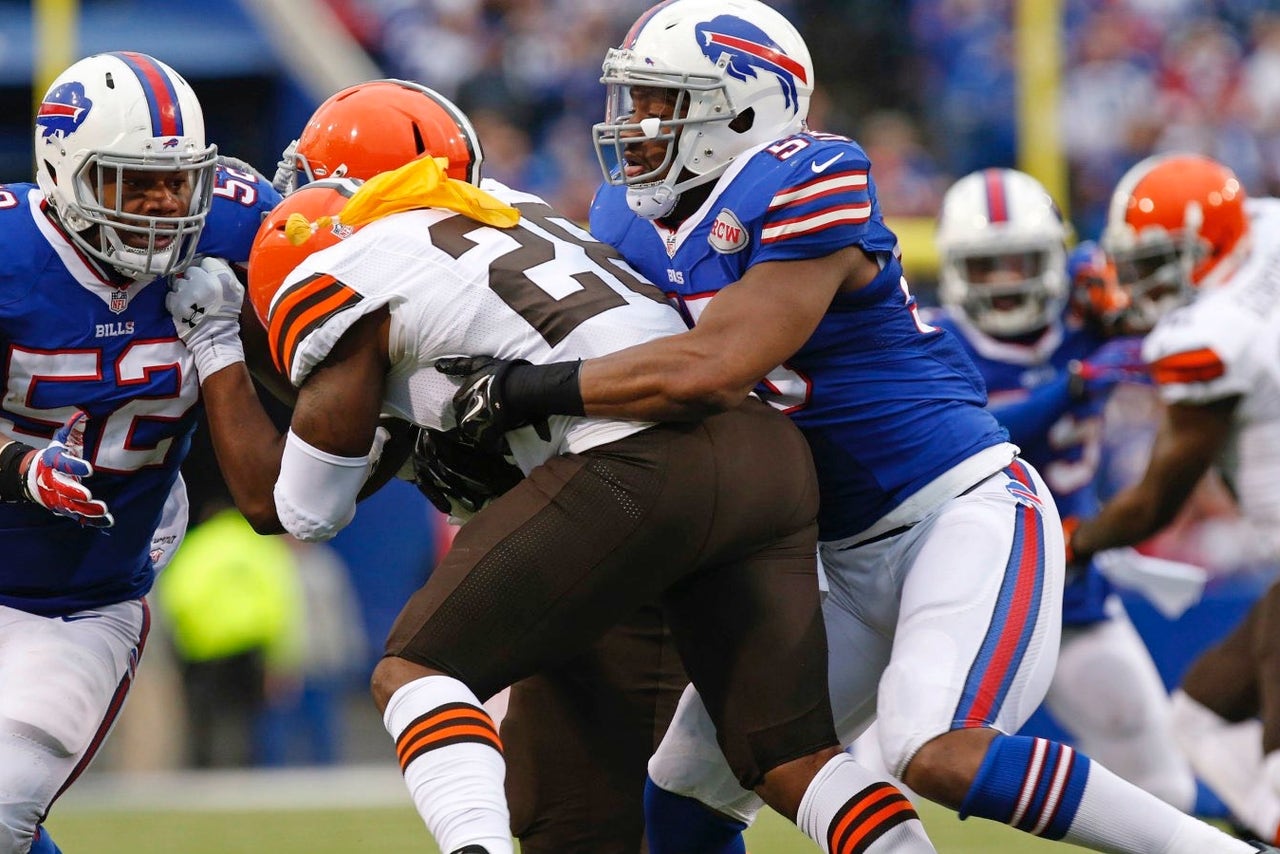 Five things to watch for in the Week 15 Sunday afternoon matchup when the Green Bay Packers (10-3) face the Buffalo Bills (7-6) at Ralph Wilson Stadium:
1. A great defense, on the road . . .
Stopping Green Bay's offense has been no easy task this season, with the Packers ranking first in the NFL in scoring (32.5 points per game). However, there are significant similarities between the two defenses that have been able to shut Green Bay down. Seattle held the Packers to just 16 points, while Detroit only allowed seven points. That's a Seahawks defense that currently ranks first in the NFL in yards allowed and third in points allowed. It's a Lions defense that ranks second in yards allowed and first in points allowed.
On Sunday, Green Bay will be facing a Buffalo defense that is ranked among the league's top-5 in every major statistical category. The Bills are fifth in yards allowed, fourth in points allowed, first in sacks, third in interceptions, fourth in fumbles recovered and second in takeaways. This is a Buffalo defense that is every bit as good as Seattle and Detroit, and that's a scary thought for the Packers offense.
If it was a game at Lambeau Field, perhaps Green Bay's advantage of being at home would help nullify the Bills' ability to dominate a game defensively. But, just like the Packers losses to the Seahawks and Lions, this is a road game. And it's been away from home that Green Bay's offense hasn't been nearly at the same level, averaging 22.5 points per game this season. At Lambeau Field, the Packers are averaging more than 41 points per game.
If Green Bay can find a way to score 30-plus points on the road against this Buffalo defense, it could help show the rest of the league that the Packers aren't just a great offense at home.
2. A challenge that will really test Green Bay's offensive line
Aaron Rodgers and Mike McCarthy believe this is the best Packers offensive line they've ever had in their time together. Rodgers has had many times this season in which he's had five-plus seconds to throw in the pocket. Far more often than not, Rodgers' protection upfront has kept him on his feet.
According to the data at ProFootballFocus, there is no team in the league that's offered better pass protection than Green Bay. There's even a fairly significant drop-off from the Packers at No. 1 to the Cleveland Browns' rating at No. 2. Though Green Bay has allowed 27 sacks, only 13 of them are charged to any of the Packers' five starting offensive linemen. The remaining sacks have either been charged to Rodgers, the now-released Derek Sherrod or the tight end duo of Andrew Quarless and Richard Rodgers.
Green Bay's offensive line is about to get its most challenging test yet Sunday, and it could prove definitively whether this Packers group is the team's best in a long time. Buffalo has 48 sacks, which is so good that it's 10 more sacks than the third-ranked Denver Broncos with 38.
The Bills have three terrific pass-rushers. Mario Williams has 12 sacks, Marcell Dareus has 10 and Jerry Hughes has 9.5. For comparison purposes, Green Bay is led in sacks by Clay Matthews with 5.5. Dareus presents a unique challenge in that he's getting pressure on quarterbacks from the defensive tackle spot. It will be on Corey Linsley, along with the guards Josh Sitton and T.J. Lang, to make sure Dareus isn't able to bust through the middle and disrupt Rodgers.
3. Eddie Lacy's hip, James Starks' homecoming and the workload between them
Eddie Lacy had to exit Monday night's game early due to a hip bruise. Working on a short week, Lacy has been a limited practice participant and is listed as probable. All things considered, this might not be the type of situation -- recovering from injury, short rest, great opposing run defense -- in which to hand Lacy the ball 20-plus times. With it being late in the regular season and the Packers needing Lacy healthy and ready for the playoffs in a few weeks, it's possible that McCarthy will decide to split the work in the backfield with James Starks.
The good news for Green Bay is that the running game shouldn't take too big of a step back if Starks is in for Lacy. Starks is fresh, making that very clear in his 10 carries for 75 yards Monday night against Atlanta. Starks ran hard, ran fast and showed why the Packers made sure to re-sign him this past offseason to continue complementing Lacy.
Starks might have an extra gear, too, as this is a homecoming for him. Born and raised in Niagara Falls and attending Buffalo in college, Starks will have lots of family and friends in the crowd to watch the game. It could be the perfect opportunity for McCarthy to see if Starks can shine while Lacy can rest a bit.
4. A new entrant to the 'stud list' of wide receivers for the Packers to face
Cornerbacks coach Joe Whitt has a "stud list." It features the names of all the wide receivers whom Green Bay will match up against that Whitt feels are studs. He said this week that the Packers have seen 18 receivers so far from his stud list, with only Brandon Marshall (112 yards) and Julio Jones (259 yards) getting the best of his group. Sorry, Jordan Matthews, but the Philadelphia Eagles rookie (107 yards in Week 11 against Green Bay) hasn't made Whitt's list yet.
A different rookie, Buffalo's Sammy Watkins, is on that list.
After surrendering a career day to Jones on Monday night, the Packers need a bounceback game against stud receiver Watkins. Like Jones was before the Falcons played Green Bay, Watkins is coming off a big game. Watkins had seven catches for 127 yards last weekend against Denver.
With two more receivers from Whitt's stud list waiting in Tampa Bay (Vincent Jackson and Mike Evans) for a Week 16 matchup, two more coming up Week 17 from Detroit (Calvin Johnson and Golden Tate), this is a chance for Sam Shields, Tramon Williams and Casey Hayward to shut down Watkins and put Jones' huge game from Monday night behind them. There won't be an option to call in Davon House off the bench if any of those three struggle, as he's been ruled out with a shoulder injury and awaits the results of further testing.
5. A.J. Hawk's role
In the past two games, A.J. Hawk has only been on the field when Green Bay has been in its 3-4 base defense. Against Atlanta, that meant only eight snaps for Hawk. That's a big change from the veteran linebacker who had played every snap in eight of the Packers' first 11 games this season and was a part of every defensive package.
Defensive coordinator Dom Capers emphasized that nothing is set in stone with Hawk's role, but he added that right now things are running smoothly with Clay Matthews and Sam Barrington in the nickel packages. Perhaps the role of dime linebacker is up for grabs, as it was assigned to Matthews in Week 12 and Brad Jones in Week 13. Jones didn't play very well in his opportunities, so Capers could go back to Matthews, or maybe to Hawk.
Hawk doesn't want to be a storyline and made it clear he doesn't want to be a distraction. But he also stated that he wants to play for as long as he can in the NFL, and while he'd much prefer it to be with Green Bay, he just wants to play. After saying that the Packers could give him the boot really any time the team wants (these aren't NBA guaranteed contracts after all), he didn't shy away from the possibility of finishing his career elsewhere. "I feel like I still can play, and if another team would give you a shot, how are you going to turn it down?," Hawk said.
Are we seeing the final few regular-season games of Hawk's career with Green Bay? Or could Capers have used these past two weeks to evaluate the rest of the linebacker group and now go back to giving Hawk more snaps? It will be noteworthy either way.
Follow Paul Imig on Twitter
---