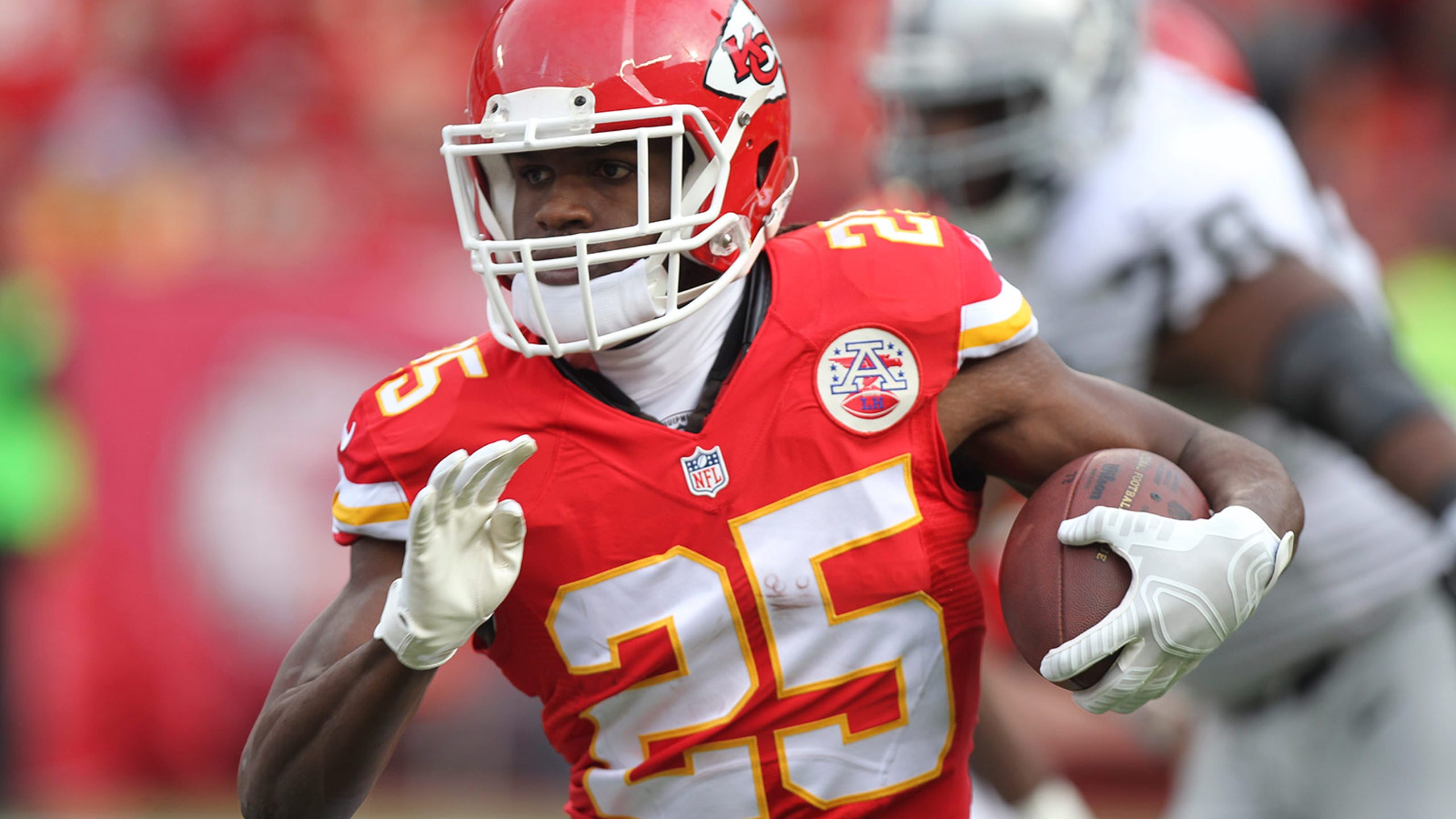 3 in the Kee: Jamaal Charles has Santa-like December productivity
BY foxsports • December 15, 2014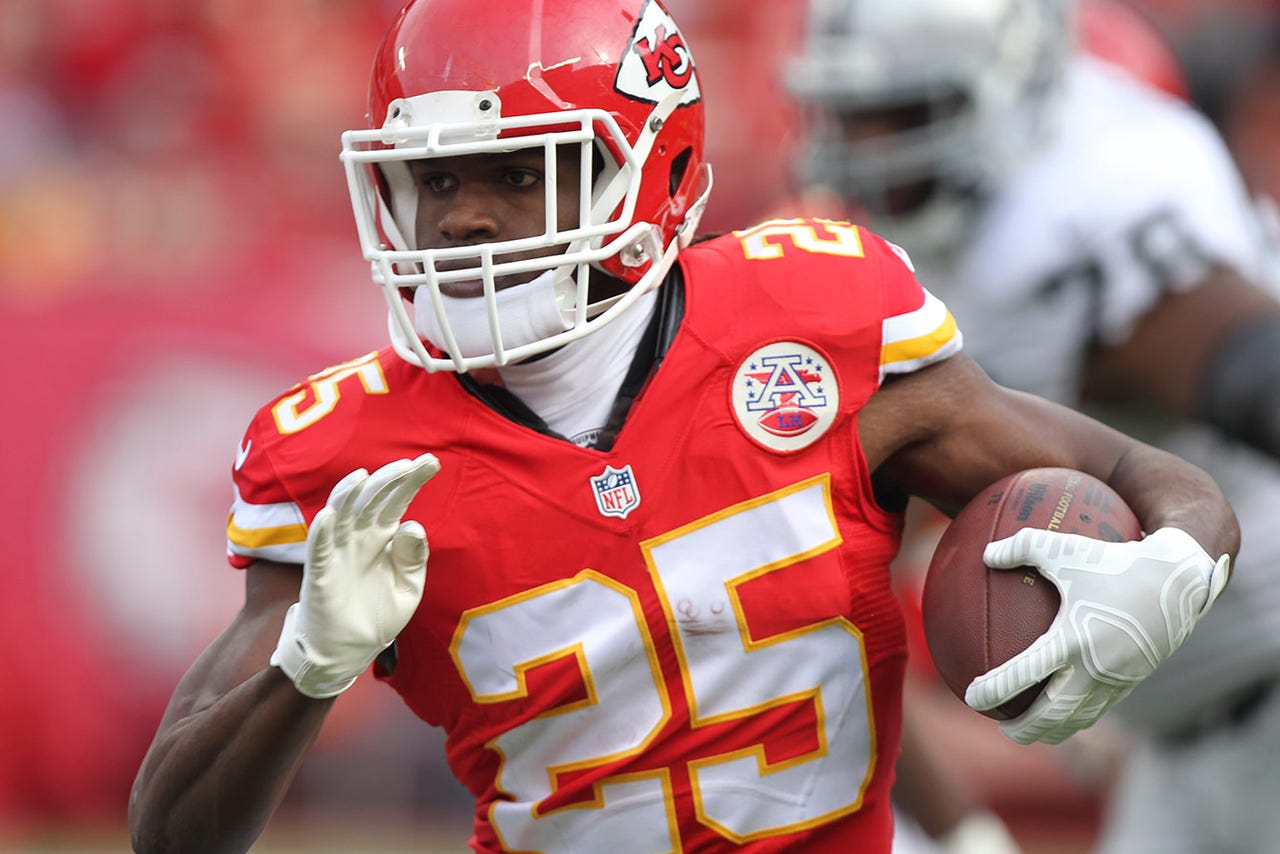 KANSAS CITY, Mo. -- His head hurts, his ankle's bothering him and he's a walking pincushion every time he steps onto the field. But the only dude more effective in red in December than Jamaal Charles lives at the North Pole.
Every fall, we worry about the production and relative health of the Kansas City Chiefs' tailback, and every fall that he has remained active, No. 25 has picked up steam over the final quarter of the regular season. For his career, December has actually been Charles' best month, averaging a personal-best 14.1 attempts and 6.02 yards per carry over 23 career games at the end of the calendar.
And despite a change of coaching staff and schemes, his splits over the past three falls haven't varied significantly, save for fewer carries and more catches:
2012
November: 18.8 attempts per game, 4.44 yards per carry; December: 18.0 attempts, 6.46 per carry.
2013
November: 15.7 attempts per game, 6.02 yards per carry; December: 14.8 attempts, 6.25 per carry.
2014
November: 16.8 attempts per game, 5.36 yards per attempt; December through Week 15: 11.0 carries per game, 6.5 per carry.
With the Chiefs scrambling to keep pace in the crowded AFC playoff picture, coach Andy Reid needs every hand on deck that can still hold a football. And some worry Charles won't see the finish line after another shot to the head last Sunday against the Raiders, requiring the concussion protocol, and more problems with the ankle, making him an easy target in pileups.
"I think I just need to get off it and ice it and heal it and get it back right, because it's still tender," Charles said after the contest.
And the head?
"Yeah, I'm feeling good," Charles replied. "I had to go through the protocol, concussion stuff. It was a big hit, but the doc said I was fine after."
Until you hear otherwise, No. 25 is making a list. And checking it twice.
THREE LINGERING QUESTIONS FROM CHIEFS 31, RAIDERS 13
:03 ... Did Jeff Linkenbach make that big of a difference at left guard in place of oft-maligned Mike McGlynn?
Didn't hurt. The Chiefs surrendered two sacks to Oakland (with McGlynn) in the first meeting between the two squads, but only one Sunday, to defensive tackle Ricky Lumpkin.
Linkenbach scored a minus 1.8 rating from ProFootballFocus.com, surrendering three quarterback hurries but no hits. McGlynn graded out at a minus 7.1 a week earlier at Arizona, where he was charged with four hurries and two sacks of quarterback Alex Smith.
And Smith can tell the difference, especially when it comes to having time to set up for those deep throws that his critics want more of.
"For sure," the signal-caller said Sunday. "Those moments when you can hold on to the ball a little bit longer to take a shot -- absolutely, yeah."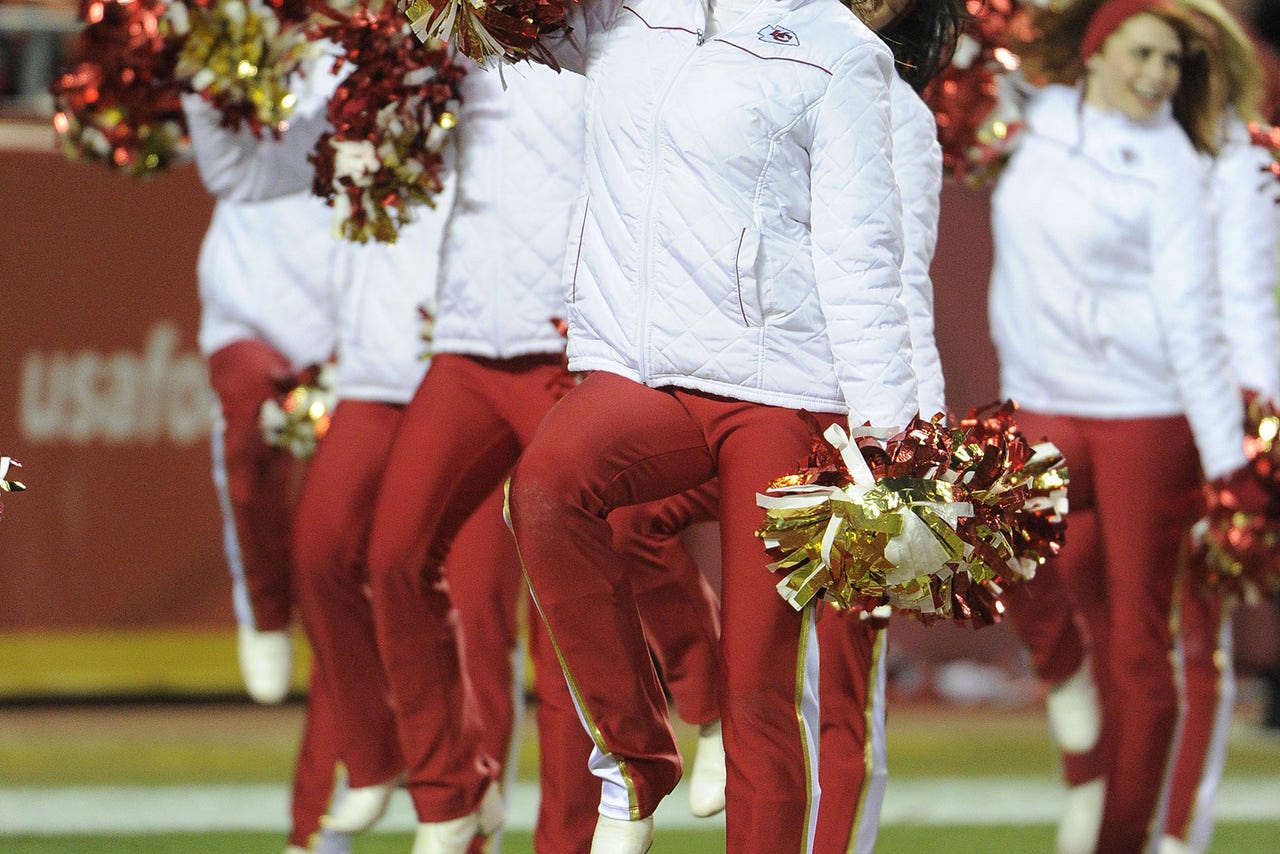 Flip through our photo album of Chiefs cheerleaders.
:02 ... After mixing and matching and all the injuries, does it turn out that Jason Avant and Albert Wilson are the answers at wideout to best complement Dwayne Bowe?
Maybe. Avant knows what Reid and Doug Pederson want from their time in Philadelphia, so the transition has been quicker than expected. The ex-Michigan standout walked in with the trust of the staff and is getting it from Smith, too. No. 81 isn't a burner in the Donnie Avery mold, but he has shown a willingness to block, act as a decoy and fight off a defender for position on a jump ball in the air. With a unit where expectations are low, he's walked off the street and looked, at times, like the best wideout on the roster.
Which, of course, doesn't say much for those still active on it, although Bowe has the ability to catch tough balls and run short and medium routes that move the chains, possession-style. And Wilson has the speed -- the rookie out of Georgia State ripped off a 4.38 40-yard dash at the combine -- to stretch the interior of the secondary coming out of an inside or slot position in the formation, as he did on a 48-yard rainbow from Smith against the Raiders, over the top. Until Knile Davis turned a 5-yard slant into a 70-yard score, Wilson's reception was the longest on the team this fall.
:01 ... How tough are the Chiefs' remaining two tests compared to the rest of the clubs scrambling for those final playoff berths?
Three of the four division winners in the AFC have already been decided -- New England has clinched the East, Denver the West and Indianapolis the South. They're still battling for seeding, as is whichever club that wins the AFC North among Cincinnati (9-4-1), Pittsburgh (9-5) and Baltimore (9-5).
To finish, the Bengals are home to Denver and at Pittsburgh (opponents' combined record: 20-8 as of early Monday). The Steelers are home to the Chiefs and Bengals (17-10-1); the Ravens are at Houston and home to Cleveland (14-14).
The Chiefs (8-6) are at Pittsburgh and home to the Chargers (17-11); the Chargers (8-6) are at San Francisco and at the Chiefs (15-13); Buffalo (8-6) is at Oakland and at New England (13-15); Houston (7-7) is home to Baltimore and Jacksonville (11-17); Miami (7-7) is home to the Vikings and Jets (9-19); Cleveland (7-7) is at Carolina and at Baltimore (14-13-1).
If the Chiefs wind up tied with Miami and Buffalo, they have the head-to-head advantage there. If they beat Pittsburgh, they'll get that leg up on the Steelers, too -- yet another reason why Sunday at Heinz Field is as big as they come.
You can follow Sean Keeler on Twitter at @SeanKeeler or email him at seanmkeeler@gmail.com.
---