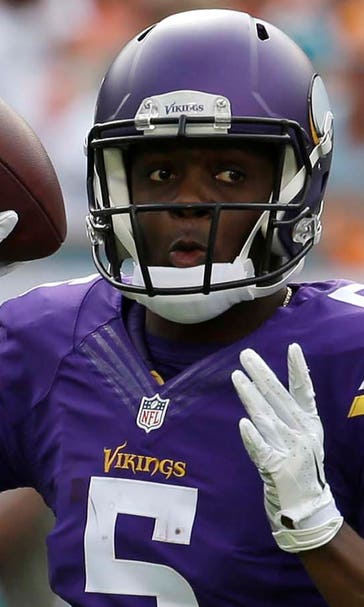 2015 Vikings draft preview: Quarterback
April 15, 2015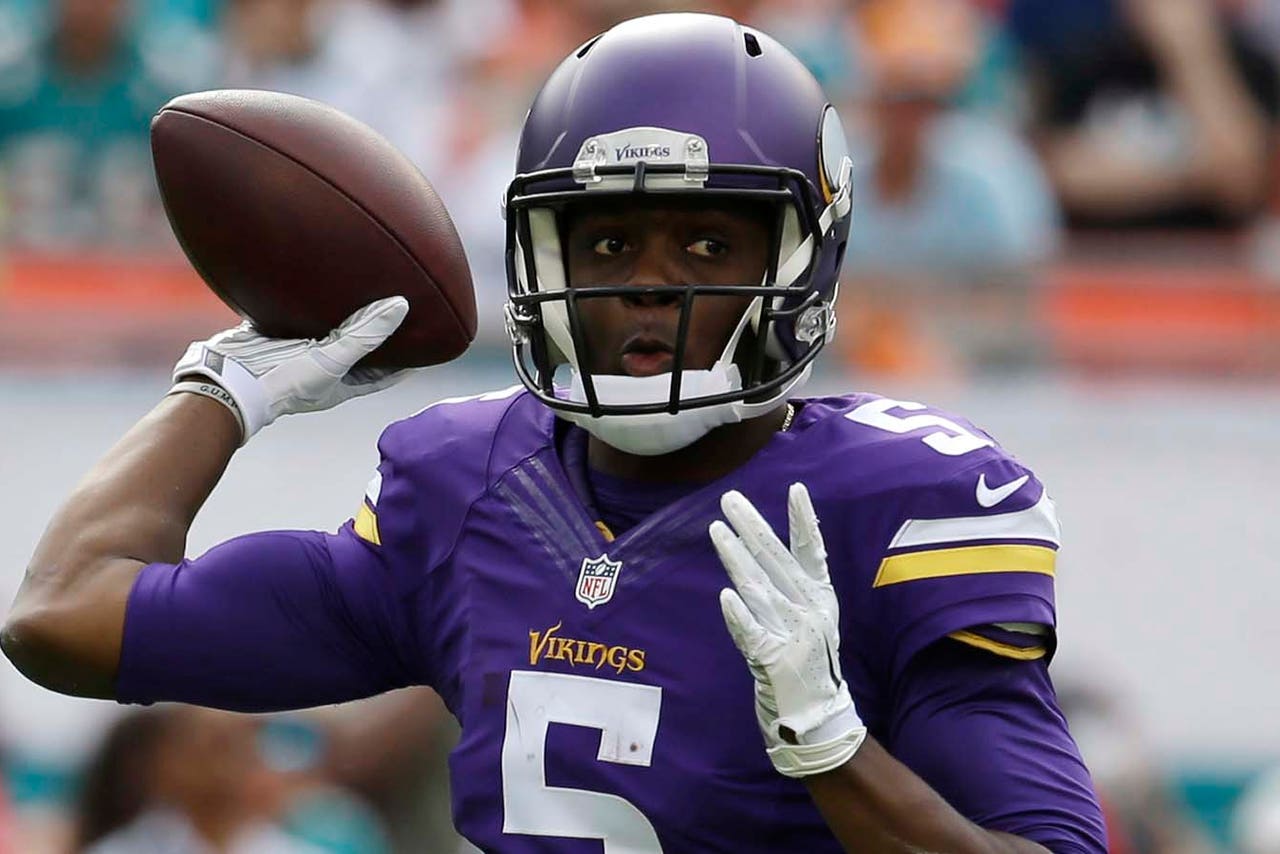 TODAY'S POSITION: Quarterbacks
Importance (1-to-10 scale): 3
On the roster
For the first time since Daunte Culpepper was "getting his roll on" by heaving the ball deep to Randy Moss, the Vikings enter the draft without consternation or questions concerning the most important position on the field. After several retreads, an aged Brett Favre and a first-round failure in Christian Ponder, Minnesota appears set at quarterback for the foreseeable future with Teddy Bridgewater.
With perhaps a little luck, fortunes changed for the Vikings by bringing in the mature, calm -- and talented -- Bridgewater. A year later, it's strange to recall Bridgewater's draft fall. Following his final college season at Louisville, Bridgewater was considered a candidate for the top-overall pick.
There was the issue of his subpar Pro Day and questions about wearing gloves, and perhaps some worry about his size at 6-foot-2 and just 210 pounds.
Minnesota even passed on Bridgewater once to select linebacker Anthony Barr.
The Vikings witnessed the first-round slide and saw an opportunity. They didn't let a second chance at Bridgewater go to waste. Minnesota, for the third straight year, traded back into the first round to select Bridgewater with the final pick of the first round.
All the pre-draft concerns about Bridgewater went out the window. Becoming the team's starter in Week 4 because of a season-ending injury to Matt Cassel, Bridgewater seized control of the job and developed further as the season progressed.
By the time his rookie season was over, Bridgewater had passed for 2,919 yards, 14 touchdowns and 12 interceptions. He finished with the third-highest completion percentage (64.4 percent) for a rookie in NFL history behind only Pittsburgh's Ben Roethlisberger (66.4 percent in 2004) and Washington's Robert Griffin III (65.7 in 2012).
There are no more questions about the starting quarterback for the Vikings.
Ponder's rocky, four-year tenure with Minnesota is over and he signed a free-agent deal with the Oakland Raiders. The Vikings traded Matt Cassel to the Buffalo Bills and replaced him with Shaun Hill in free agency, gaining an extra draft pick and saving money in the process of switching to Hill. Hill is a competent backup who can fill the veteran role behind a young starter.
Mike Kafka, signed as a free agent after he worked out at the NFL's veteran combine, is currently the third quarterback.
Last five quarterbacks drafted
Philosophy at the position
Two quarterbacks -- Jameis Winston and Marcus Mariota -- have drawn the most attention in this draft and could be the top two picks, but the 2015 quarterback class is considered weak, overall. But Minnesota doesn't have to worry about this class. The Vikings hope they won't be worrying about a quarterback in the draft, at least early in drafts, for a long time.
Bridgewater is 22 years old and won't turn 23 until November. He's shown plenty of promise. If he can continue his growth and stay healthy, he'll have a long career in Minnesota. Hill, a 13-year veteran, signed a two-year contract with the Vikings.
Minnesota could potentially look to the third day of the draft to add a prospect which could develop as the No. 3 quarterback without any pressure to come in and contribute. The Vikings could take advantage of a legitimate developmental process for a late-round pick or undrafted free agent. Perhaps after two years, Minnesota could have someone ready to back up Bridgewater after Hill's contract ends.
Day 1 name to remember (Round 1)
Winston, redshirt sophomore, Florida State (6-foot-4, 231 pounds): All eyes will be on Winston. As the draft approaches, the consensus is building for Winston to be the first-overall pick. The Tampa Bay Buccaneers own the top pick and haven't hidden their interest in a quarterback.
Mariota is likely the only other first-day signal-caller. Mariota could go No. 2 if Winston is taken first. Mariota could drop a few picks and is perhaps a trade target for teams. If he isn't picked early, Mariota could endure his own draft-day slide.
Both quarterbacks have their share of supporters and detractors. Off-field concerns are the biggest knocks against Winston. Winston has also had questionable decision-making at times and threw 18 interceptions last season.
But Winston has prototypical size and a strong arm. The Heisman Trophy winner after the 2013 season, Winston's played in a pro-style offense. He can read and diagnose defenses and get through his progressions.
Day 2 name to remember (Rounds 2-3)
Brett Hundley, redshirt junior, UCLA (6-3, 226): Several players are vying to be the third quarterback off the board, likely being drafted on Day 2. The drop off from Winston and Mariota to the next group is considered sizeable and there is no consensus on the next quarterback off the board. Hundley was once considered a first-round talent but he didn't show the improvement expected after he decided to skip the draft last year.
Along with Hundley, Colorado State's Garrett Grayson, Baylor's Bryce Petty and perhaps Oregon State's Sean Mannion could all be in consideration as the third quarterback selected. Hundley's ceiling might be the highest of the group.
Hundley is athletic and ran a 4.63-second, 40-yard dash at the combine. He was a three-year starter at UCLA and finished with 75 touchdowns to 25 interceptions, while completing 67.4 percent of his passes. Hundley has a strong arm, but didn't stretch the field at UCLA.
Day 3 name to remember (Rounds 4-7)
Petty, redshirt senior, Baylor (6-3, 230): Petty could find himself drafted in Round 3 or end up waiting a bit to get a phone call on Day 3. Petty has good size and has big numbers while playing in Baylor's explosive offense. He's thrown for 8,055 yards, 61 touchdowns and 10 interceptions starting the past two seasons.
But NFL teams struggle with projecting players like Petty (and Mariota) who come from quick-read, spread offenses. Petty is athletic at his size. He's accurate and has a decent arm. Transitioning from Baylor, Petty will need time to develop. To succeed, Petty will need to go to a team willing to give him the time and work with his tools.
Follow Brian Hall on Twitter
---
---