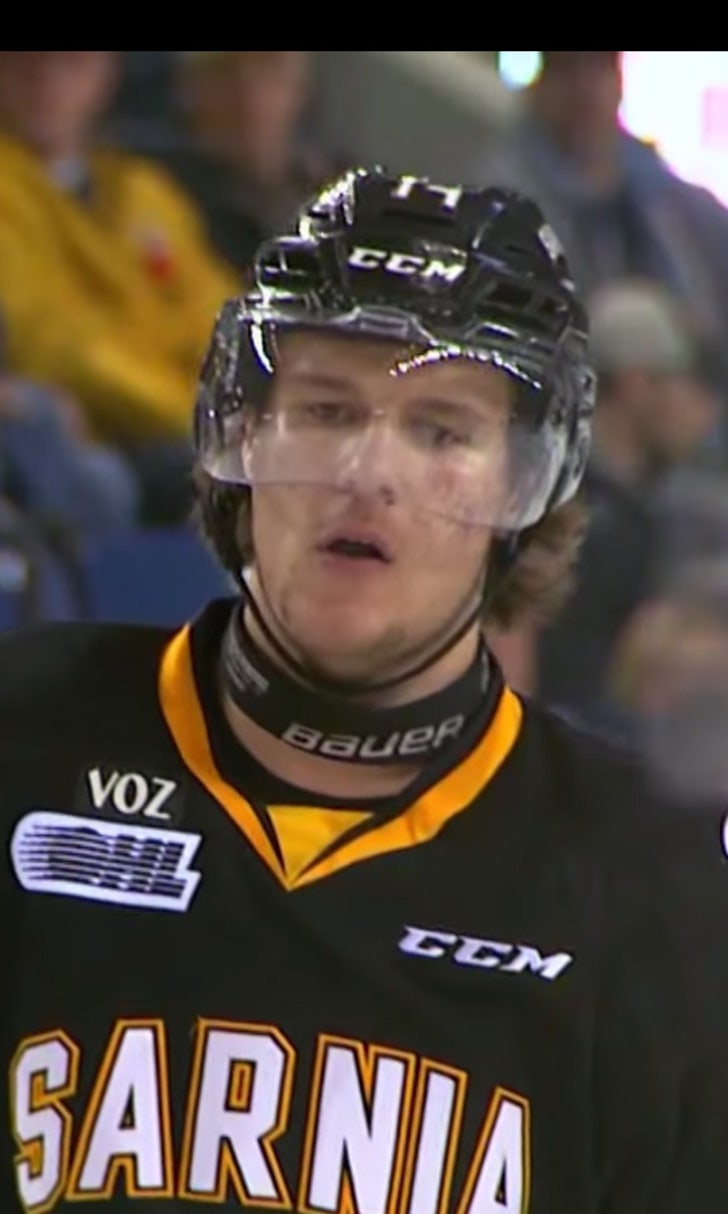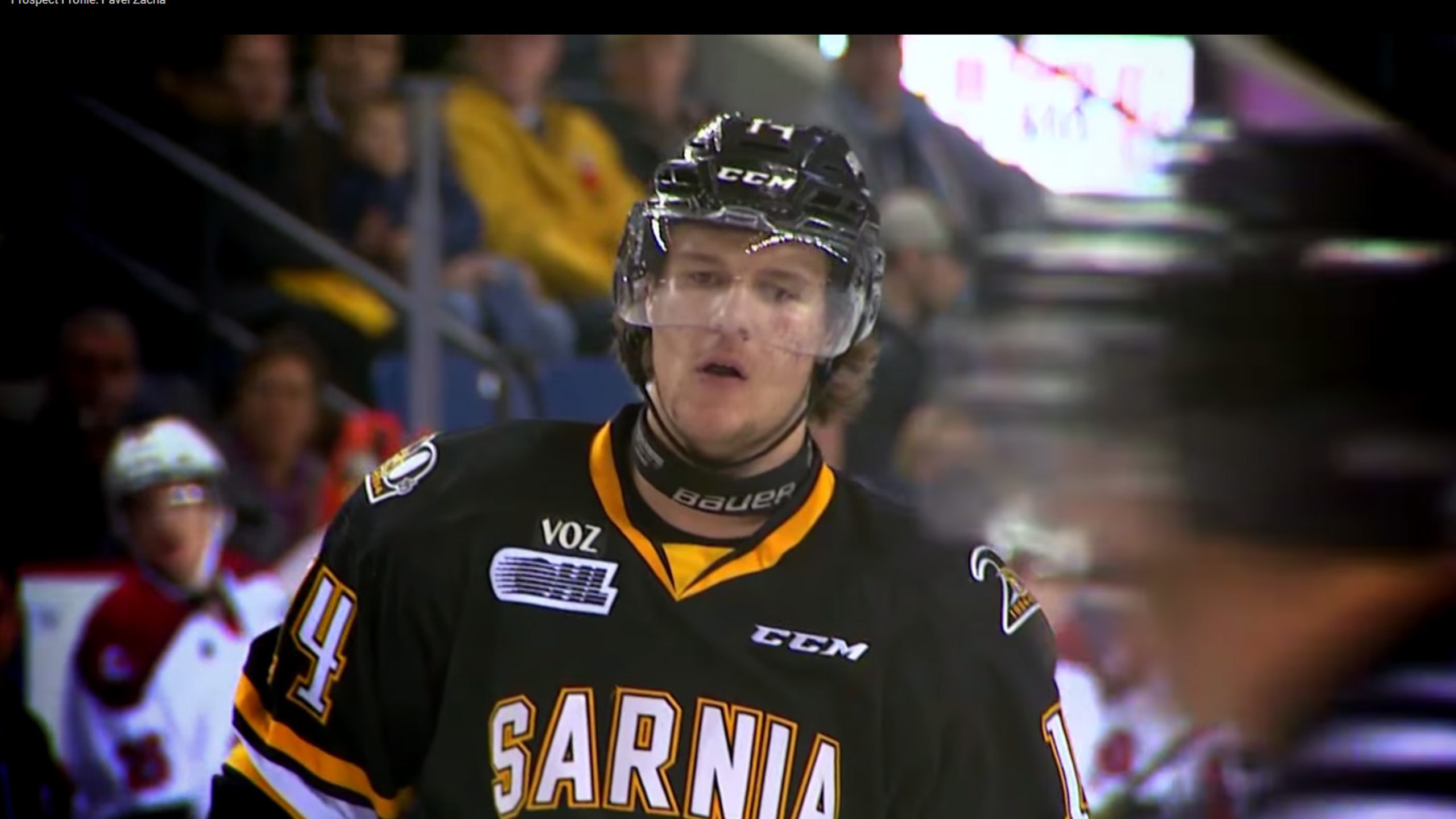 2015 NHL Draft profile: Pavel Zacha
BY foxsports • June 19, 2015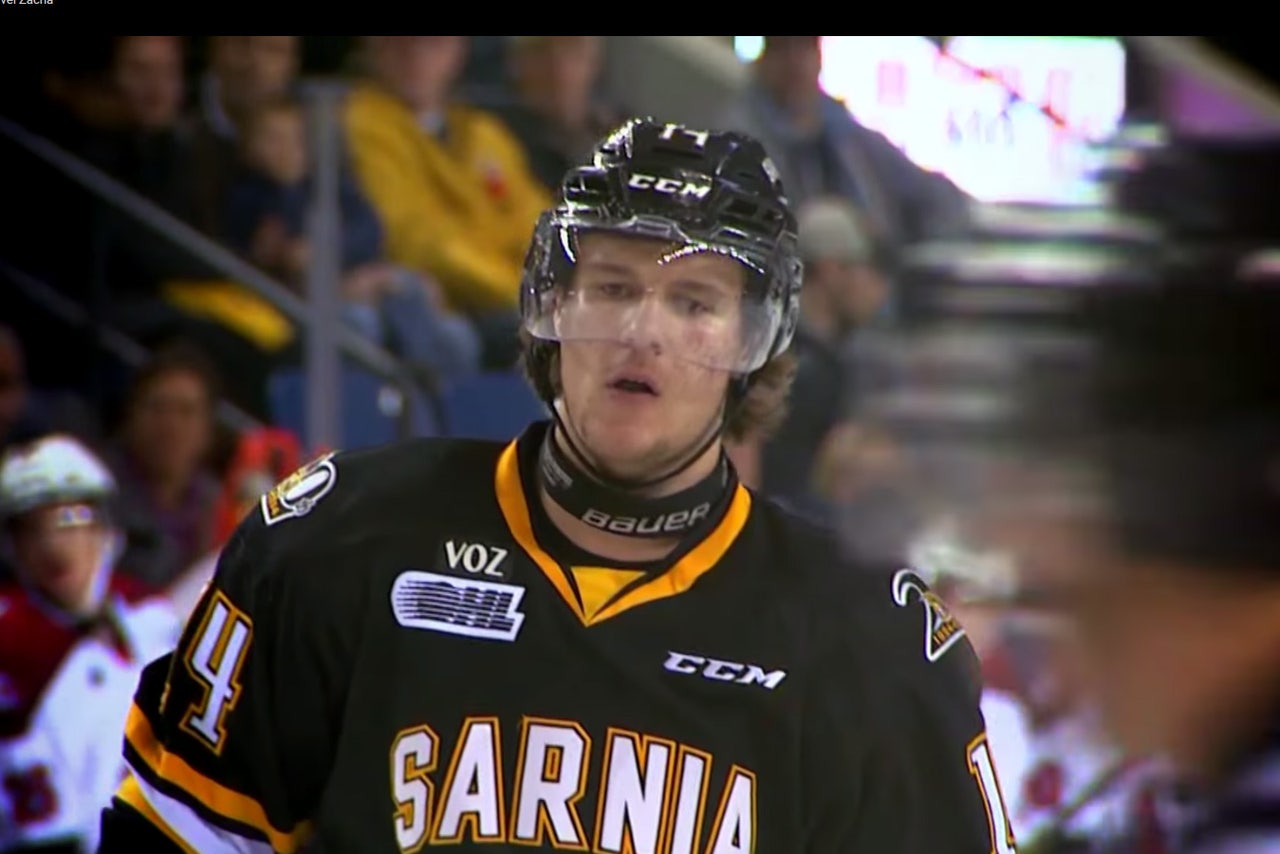 Pavel Zacha has a chance to become hockey's Herman Munster.
A monster of man at just 18 years old, the 6-foot-3, 210-pound power forward possesses a unique blend of size, speed and skill, and has shown on more than one occasion that he has the ability to be a dominant a player in the offensive zone.
The Brno, Czech Republic, native arrived to North America last season, and despite some growing pains, turned heads during his first year in the Ontario Hockey League as a member of the Sarnia Sting. Limited to just 37 regular-season games during his rookie season due to a combination of injury and suspension, he still managed to score 16 goals and 34 points.
While those numbers don't exactly jump off the page, and it's unusual to see such a highly touted junior player not performing at least a point-per-game pace, in order to really get a feel for Zacha you have to watch tape and trust your eyes.
Zacha, who was ranked eighth among North American prospects in Central Scouting's final rankings, is considered by many to have one of the highest offensive ceilings of any prospect in this year's draft. His wrist shot and puck-handling skills have been described as elite by many scouts and his lethal one-timer would immediately upgrade any power-play unit.
While there is undoubtedly a large amount of risk in selecting such a raw talent, Zacha's upside will be far too intriguing for teams to pass up come draft day. He has natural talent that can't be taught and will likely become the first Czech drafted in the top 10 since Jakub Voracek in 2007.
PROS
Unlike many other players in the draft, Zacha already has a fair amount of pro experience under his belt. He competed for HC Bílí Tygři Liberec of the Czech Extraliga -- Europe's third-highest-ranked pro circuit -- in 2013-14, recording four goals and eight points in 38 games. Like his idol, Jaromir Jagr, he has the ability to shield opposing defenders from the puck with his wide frame and can win tough battles along the boards and rarely shies away from playing in the dirty areas.
CONS
A cooler head didn't always prevail for Zacha last season as his physical play occasionally turned reckless. He was suspended twice for illegal hits in 2014-15, including a two-game suspension for a very unnecessary slew foot in a game against the Niagara IceDogs on Nov. 8. While it's not unusual for young players to make these kinds of foolish mistakes, Zacha will need to curb his temper in order to remain on the ice for the sake of his development.
WHAT THE SCOUTS SAY
"Pavel Zacha is an offensively dynamic center with the size, speed, and skill to make a significant impact on the game. He can play physical, but is at his best when using his high-end offensive abilities, such as his shot, stickhandling, and footspeed, to generate numbers in the opposition's end of the ice. All-in-all, Zacha is a lethal weapon that can be depended upon to create, and finish, dangerous scoring chances whenever he is on the ice." -- Curtis Joe of EliteProspects.com
"He's got high-end skill and is an excellent competitor; he plays an excellent two-way game. He's physical and solid on his skates and can separate guys from the puck." -- Chris Edwards of Central Scouting 
"The Czech Republic native is relentless on the puck and creates scoring chances for teammates with his strength and smart decisions. He had 16 goals, 34 points and a plus-5 rating in 37 games. He exhibited good puck control, a strong work ethic and a great shot. He also played for the Czech Republic at the 2015 WJC." -- Mike Morreale of NHL.com
FINAL THOUGHT
There's no denying that Zacha has all the tools necessary to make it in the NHL, but like many prospects, his success will ultimately be determined by his willingness to learn and improve upon every aspect of his game. Although center is his natural position, his scoring ability and itchy trigger finger would transition well to the wing on a team already deep down the middle like the Florida Panthers. While there is a chance that he could fall to Florida at No. 11, it's more than likely that a team within the top 10 will roll the dice Zacha.
You can follow Jameson Olive on Twitter @JamesonCoop or email him at JamesonOlive@gmail.com.
---
---