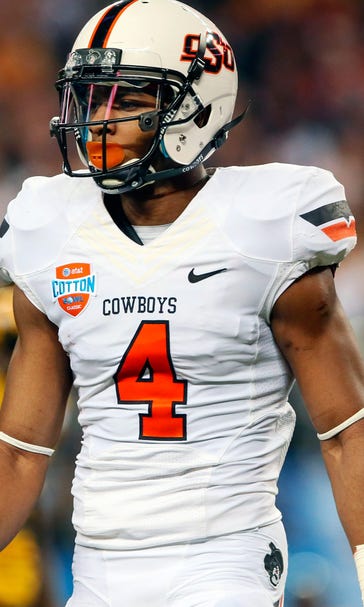 2014 Vikings draft preview: Cornerbacks
BY foxsports • May 5, 2014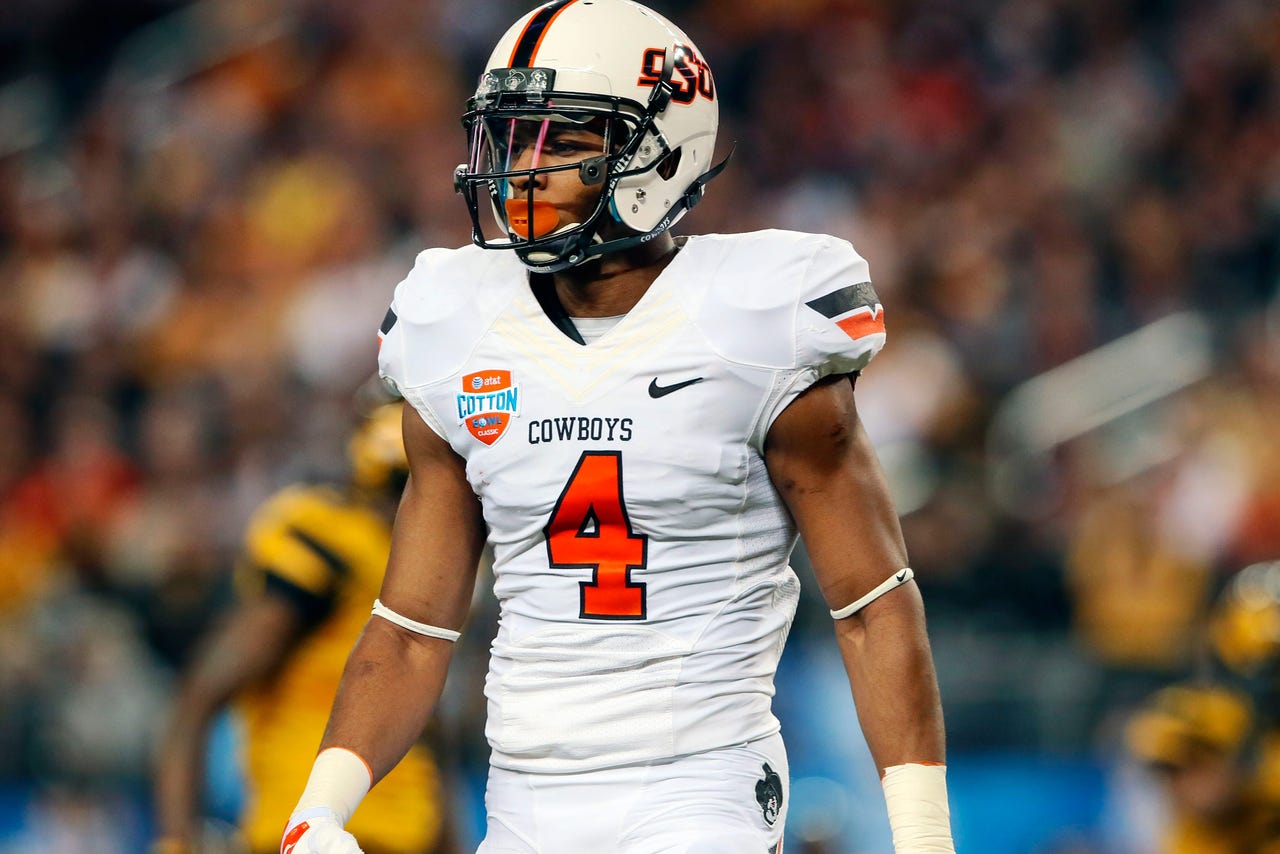 FOX Sports North's Brian Hall provides complete coverage of the Vikings and the 2014 NFL Draft in his 14-part preview. Today is the 10th day of his Vikings draft previews. You can find the entire series here.
TODAY'S POSITION: CORNERBACKS
Importance (1-to-10 scale): 7
On the roster
You may have heard the saying, "you can never have enough good cornerbacks." Minnesota has proven that to be true over the years with the Vikings' porous secondary routinely exposed by quarterbacks and lack of depth hurting when injuries routinely hit. So changes are occurring for the Vikings at a vital position in the NFC North.
The changes started last year as the Vikings decided to release veteran Antoine Winfield and never re-signed him. His absence showed at cornerback as Josh Robinson struggled to replace Winfield both on the outside in the base defense and in the slot in the nickel. In his second NFL season, Robinson was beaten in coverage repeatedly, but the speedy, former third-round pick still holds potential for the Vikings and will be in the mix as the nickel back again this year.
To finally replace Winfield's ability and leadership, Minnesota signed Captain Munnerlyn early in free agency. Munnerlyn will guide the young cornerbacks and was a strong signing after five solid years with the Carolina Panthers. He's likely to start in the base defense and move inside to cover the slot in the nickel.
Xavier Rhodes struggled initially, but started to emerge late in his rookie season last year after being picked in the first round. Rhodes has the ability to handle top receivers with his size and physical play. He's still developing and has the potential to turn into a top cover cornerback.
Shaun Prater had some good moments at the end of last year in a fill-in role and is back. The Vikings signed Derek Cox, a coveted free agent a year ago who had a tough season with San Diego last year. Marcus Sherels seemingly is always counted out, yet continues to make his mark. Minnesota also has young, tall projects in Robert Steeples and Kip Edwards.
Last five cornerbacks drafted
Philosophy at the position
Cornerback is another defensive position which could be seeing a lot of transition under the new coaching for the Vikings. Zimmer has been known for his work with defensive backs over the years and his expertise will be vital for a team that has underachieved in the secondary for years. Adding Jerry Gray, a former Pro Bowl cornerback and former defensive coordinator, as the defensive backs coach was a coup.
Rhodes gives Minnesota a potential top cornerback to build with and Munnerlyn is a solid, capable veteran who brings leadership and playmaking. More depth and quality is needed. A move to add another top-level young cornerback could well come early in the draft for the Vikings, who could look to the top options at No. 8 overall. The position is considered deep with a few strong options into later on Day 2.
Day 1 name to remember (Round 1)
Justin Gilbert, senior, Oklahoma State (6-foot, 202 pounds): Michigan State's Darqueze Dennard had the early buzz after a big senior season with the Spartans in which he won the Thorpe Award as the best defensive back in college football. Virginia Tech's Kyle Fuller is the popular name in the days leading up to the draft. Gilbert has been there throughout. In reality, the Vikings probably can't go wrong with any of the possible cornerbacks in the first round. The belief is at least five cornerbacks could go on Day 1.
Gilbert is likely the consensus top cornerback available. He's the total package, though he's dealt with some inconsistencies. Speed? How about a blazing 4.37 seconds in the 40-yard dash, the best time of any defensive back at the NFL Scouting Combine. Size? Gilbert is 6-foot, with the ability to stand up with most receivers in the NFL and is well put together at 202 pounds, and he likes to play a physical game at the line of scrimmage. Strength? He was third among all cornerbacks at the Combine with 20 repetitions on the bench press.
He also has the production. Gilbert led the Big 12 Conference with seven interceptions last year, returning two for touchdowns. Those were on top of the six return touchdowns he had in his college career. He has strong hands and finished with 12 career interceptions and no fumbles on 18 career kickoff returns.
Said Gilbert on what he's been trying to improve: "My transition coming out of my breaks and backpedalling. I was a terrible backpedaller, especially when I first got there because I was a quarterback in high school. So, defensive back was new to me. Being a good backpedaller and fluid with my hips was a big key."
Day 2 name to remember (Rounds 2-3)
Keith McGill, senior, Utah (6-3, 211): McGill is a big cornerback who enjoys pressing receivers at the line. But his size is somewhat misleading. McGill is a very good athlete, but could stand to get stronger and play a more physical, tough game. At 6-foot-3, he ran a strong 4.51 seconds in the 40-yard dash at the combine and has elite leaping ability.
McGill's 39-inch vertical leap was third among all cornerbacks at the combine and he was second among cornerbacks with a broad jump of 10 feet, 9 inches. However, he needs to develop better footwork, as evidenced by finishing worst among cornerbacks in the 3-cone drill at the Combine.
McGill was a safety before switching to cornerback last season and is a bit raw, even if he will be 25 years old as a rookie. His size and leaping ability allows him to really blanket receivers. He led the Pac 12 Conference with 12 pass deflections last season and was named a third-team All-American. A junior college transfer, he had 12 interceptions in junior college but only one in two seasons at Utah
Day 3 name to remember (Rounds 4-7)
Phillip Gaines, senior, Rice (6-0, 193): Another taller corner, Gaines isn't lacking for speed, either. A former prep track athlete, Gaines was just behind Gilbert in the 40-yard dash at the Combine, crossing the line in 4.38 seconds. He was also among the best in his position in the 3-cone drill and 20-yard shuttle.
Gaines has missed time because of an injury -- a foot injury cut short his 2011 season and led to the NCAA granting him an extra year of eligibility -- and off-field trouble. He was reportedly arrested for misdemeanor possession of marijuana in 2011 and was suspended for the season opener in 2013, reportedly for a violation of team rules.
He set a school record with 38 career pass breakups, though. He was second in the nation with 18 pass breakups in his junior year and followed with nine more last season, when he added four interceptions. He is tall and quick, but needs to develop more in man-to-man coverage play after playing mainly zone. He also could get stronger and needs to improve his tackling and run support.
Follow Brian Hall on Twitter
---