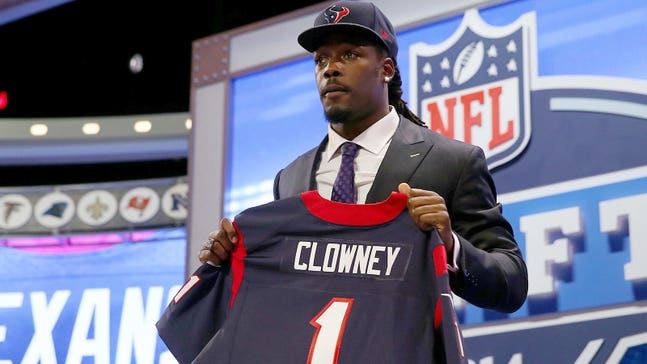 2014 NFL Draft fantasy impact analysis
Updated
Mar. 4, 2020 6:27 p.m. ET

As I expected last April, the first round of the 2013 NFL Draft lacked fantasy football players primed to breakout in their rookie season.  Tavon Austin made noise in two games, but when owners were selling his and the Rams' fantasy stock.  EJ Manuel (no periods) was hobbled by knee injuries.  DeAndre Hopkins showed promise, but only managed one game with more than 80 receiving yards and only found the end zone twice.  Cordarrelle Patterson scored six out of his seven touchdowns in the final weeks of the season boosting his 2014 fantasy outlook.
Eddie Lacy, Le'Veon Bell, Gio Bernard, and Keenan Allen hedged some of the pain in fantasy leagues where their production propelled prospectors into championship opportunities come Week 16 and 17.  The 2014 NFL Draft class is expected to produce fantasy impact players capable of producing similar numbers to the sophomores mentioned above if placed in the right situation with the right opportunity.
Listen to the FOX Sports Team Report on iTunes
1.  Jadeveon Clowney (DE) - Houston Texans
The Houston Texans fantasy DST ranked dead last in fantasy points scored last season (71 FP) with 32 sacks and seven interceptions.  Clowney and J.J. Watt's ability to put pressure on the quarterback naturally boosts their 2014 fantasy point projections.
We will wait and see how they address their need at quarterback.  That is unless you are in love with Case Keenum and/or Ryan Fitzpatrick.
2. Greg Robinson (OL) - St. Louis Rams
Sam Bradford (he's made a lot of money) would love to stay upright after coming off knee surgery last season.  Robinson's fellow offensive lineman, Jake Long, is coming off torn a ACL/MCL, too.  I do believe second-year running back and rising fantasy stud, Zac Stacy, is thrilled with the pick.  Stacy averaged 3.9 yards per carry in 2013.
3. Blake Bortles (QB) - Jacksonville Jaguars
But, but, but the Johnny and the Football.  What happened?  Well, Bortles is 6-foot-4 and 230 pounds of quarterback joining a franchise that whiffed on Missouri's Blaine Gabbert only a few seasons ago.  He will be tutored by seven-year NFL veteran, Chad Henne.  Because the Jaguars played from behind so often, Henne managed to rank among the leading fantasy quarterbacks in scoring the last month of the season. 
4.  Sammy Watkins (WR) - Buffalo Bills (from Cleveland)
I'm a Cleveland Browns fan.  So, I'm typing this while cursing.  Forgive me.  Great pick.  Stevie Johnson probably odd man out with offseason signing of Mike Williams (Tampa Bay) and Robert Woods long-term investments (not to mention speedster Marquise Goodwin).  EJ Manuel has some toys to play with.  The Bills are a scary fantasy team to watch even if C.J. Spiller doesn't throw up.
5. Khalil Mack (LB) - Oakland Raiders
The Raiders spent a good chunk of money on offensive free agents Matt Schaub, Maurice Jones-Drew and James Jones.  They lost a good amount of talent on the defensive side of the ball, but fill a big hole with Mack out of the MAC (Mid-American Conference).  The Raiders finished 23rd in fantasy points scored among DST units.
6. Jake Matthews (OT) - Atlanta Falcons
7. Mike Evans (WR) - Tampa Bay Buccaneers
8. Justin Gilbert (DB) - Cleveland Browns (from Vikings)
9. Anthony Barr (OLB) - Minnesota Vikings (from Cleveland from Buffalo)
10. Eric Ebron (TE) - Detroit Lions
When your body type and style of play is compared to Vernon Davis - a wide receiver in a tight end's body - it's easier to accept why the Lions' selected the big man out of North Carolina.  Let's face facts, Brandon Pettigrew (29) has done some nice things, but never materialized into the consistent offensive option for Matthew Stafford.  Although the Lions' needs on defense outweigh offensive holes, Matthew Stafford, Reggie Bush, Joique Bell, Calvin Johnson, Golden Tate, and Ebron could light up the scoreboard in 2014.  No excuses for Stafford as his fantasy stock price will soar this season.  It's up to him to post at least 5,000 yards with 35+ touchdowns.
12. Odell Beckham Jr. (WR) - New York Giants
Standing 5-foot-11, I would think Beckham Jr. will compete with Jerrel Jernigan (329 rec. yards, 2 TDs in 2013) for the WR3/slot gig in New York.  As awful as Eli was last season, Victor Cruz and Reuben Randle have WR1 and WR2 on lock as of right now.  The addition of Rashad Jennings to Big Blue's backfield would drop Beckham Jr. to fourth or fifth option in the offense if he did win the starting gig.
20. Brandin Cooks (WR) - New Orleans Saints
Darren Sproles is now with the Philadelphia Eagles and Lance Moore is with the Steelers.  Brandin Cooks has the body type and style of play to replace both within the Sean Payton's offense.  Watch Drew Brees swing a pass out to Cooks and let the former Oregon State Beaver toast the defense with his above-average speed.
Fun Fact: has never missed a game at any level!   
22. Johnny Manziel (QB) - Cleveland Browns
Well, this experiment should be interesting.  Manziel had Mike Evans as his deep threat at Texas A&M and now will chuck it deep to 2013 All-Fantasy First Team WR, Josh Gordon.  The Browns still need a WR2 to make me feel comfortable (Greg Little is not Mr. Reliable) in endorsing Manziel as a viable fantasy option.  He's such a wild card in so many areas that I hope Brian Hoyer recovers from knee surgery in time to lead the Browns to start the season before passing the torch to the rookie quarterback.
28. Kelvin Benjamin (WR) - Carolina Panthers
32. Teddy Bridgewater (QB) - Minnesota Vikings (from Seattle)
He's competing against Matt Cassel and Christian Ponder for the starting gig at the moment.  I don't expect Ponder to survive the summer.  My hope is if Bridgewater earns the starting nod, he's well versed in the act of turning and handing the ball off to Adrian Peterson.  The Vikings are wasting the best years of AP's career.  Let him drive the bus.
---
---