11 takeaways from the Cardinals' 11th win
BY foxsports • December 12, 2014
The last time the Cardinals won 11 regular-season games was 1975 when they were the St. Louis Cardinals. It was fitting then that the Cardinals reached that milestone on Thursday night with a 12-6 win over the Rams in St. Louis.
The Cardinals haven't clinched a playoff berth yet, but it's a foregone conclusion. The only way they won't clinch by Sunday is if the Eagles and Cowboys play to a tie.
The Cardinals can clinch the NFC West title and a first-round bye with a win over the Seattle Seahawks on Dec. 21 at University of Phoenix Stadium. Arizona is hoping it won't have to do it without quarterback Drew Stanton, who left the game in third quarter with a right knee injury. The severity was not known, but it didn't look good. 
"Next man up" has been the Cardinals' mantra all season long, and it's carried them to a league-best 11-3 record, but the string of significant injuries this team has endured has long since passed the point of ridiculousness.
"We're kind of running out of men," cornerback Jerraud Powers told Arizona Sports radio, laughing.
The 11 wins match the franchise high set in 1925, 1948 and 1975, and it is fair to say that virtually nobody saw this coming on a short week against an opponent that had pitched two straight shutouts -- and certainly not with Ryan Lindley finishing the game at quarterback.
"I love it when nobody says you're going to have a chance to win," coach Bruce Arians said. "There's an 11-3 team and a team that's always 8-8. You figure it out."
Here are 11 takeaways from the game for each win the Cardinals have posted this season.
1. The defense is back: Arizona's defense had lost its swagger the last four weeks, allowing 490 combined rushing yards and turning in its worst effort of the season Nov. 30 in Atlanta when it gave up 500 yards of offense. That wasn't the case Thursday. Arizona held St. Louis to 69 rushing yards and 280 total yards, and the Rams never reached the end zone. If the Cardinals are to do any damage in the playoffs, that is the type of effort they will need from here on out.
2. Cat's back, too: Rookie Chandler Catanzaro had missed four of his last nine field goal attempts after making 17 straight to open the season. But in a game in which Arizona needed him badly, Catanzaro converted on all four attempts against the Rams, including a 51-yarder in the third quarter and a 46-yarder to push the lead to nine early in the fourth.
3. If Drew Stanton is done, it's trouble: Next man up has been a terrific storyline for the Cardinals this season. They've used it to overcome the losses of Karlos Dansby, Daryl Washington, Darnell Dockett, John Abraham, Matt Shaughnessy (for eight weeks), Andre Ellington and Carson Palmer. It would be nice to believe that if Stanton is gone and the Cardinals have to employ Ryan Lindley or Logan Thomas, they'll be OK in the playoffs, but this is a quarterback-driven league and only a fool would buy into that sale's job.   
4. Bruce Arians is the NFL's coach of the year: It doesn't matter what happens the rest of the way. Take a look at that personnel loss list above and tell us how this team managed to get to 11-3 and the playoffs. The players, the scouts and general manager Steve Keim all deserve tons of credit, but the belief system Arians has instilled in this team is remarkable.
5. Thursday Night football still stinks: When it comes down to it, this was a game that featured six field goals and little else. There weren't many memorable plays. We're glad the NFL made its profit off the sweat of tired, banged-up players.
6. Jonathan Cooper, Kerwynn Williams and what's this, a run game? We've been saying since Stanton took over: The Cardinals needed to establish a run game to help Stanton (and now maybe Lindley or Thomas). We're not saying they deserve all the credit, but since Cooper took over at left guard two games ago, and since Williams took over for Ellington at running back, the Cardinals have rushed for 269 combined yards the past two weeks.
7. Something to Cro about: Not only did cornerback Antonio Cromartie play on a bum ankle that many feared would end his season on Sunday against the Chiefs, he played well, recording four tackles and helping limit the Rams passing game to 211 yards.
8. Old legs: If you figured that younger legs would have to carry the Cardinals in their second game in four days, you figured wrong. Defensive linemen Tommy Kelly, 33, Frostee Rucker, 31, and linebacker Larry Foote, 34, were strong at the point of attack, helping turn the Rams into a one-dimensional (if that) offense. The trio combined for eight tackles, a sack, five TFLs, a pass defensed and two QB hits.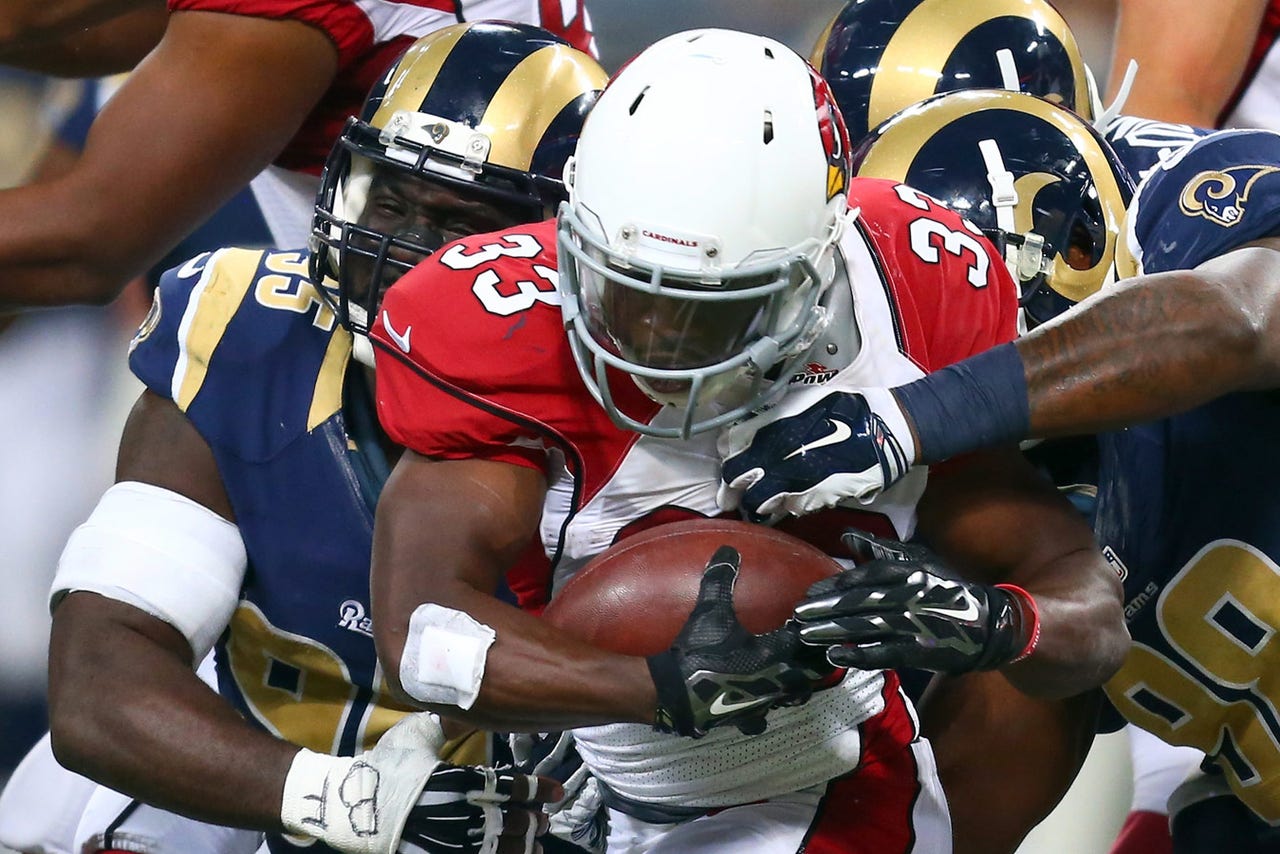 9. Praise for Drew Butler: The Cardinals punter has mostly struggled since taking over for injured starter Dave Zastudil, but he was a big part of the win. Butler had four punts for an average of 45.8 yards; he changed field position with his kicks and he pinned the Rams inside the 20-yard line twice.  
10. Another milestone for Fitz: Larry Fitzgerald became the youngest player in NFL history with 900 catches when he hauled in a second-quarter pass for a first down.
11. The curse of St. Louis: Stanton became the third significant Cardinals injury to occur against the Rams in Arians' two seasons. Safety Tyrann Mathieu suffered a torn ACL and LCL last season, and Palmer suffered a torn ACL in Week 10 this season. Everyone is hoping Stanton didn't suffer a similar fate.
Follow Craig Morgan on Twitter
---