11 for '11: Romo's improv bomb to Witten
BY foxsports • July 15, 2012
The following is the 7th in an 11-part weekly series throughout the summer that will focus on the eleven plays that shaped 2011 for the Dallas Cowboys. Every game, about 130 actual plays happen and over the course of a season that number can exceed 2,000. But, we have selected 11 and will pick one each week and break it down from standpoint of "X's and O's" and see what we can learn looking back. The plays are not ranked, simply presented as the season unfolded. We hope you enjoy.

The final five editions of this 11-part series take us down the stretch drive. The next two will be of the positive variety, and unfortunately, like the season itself, the final three will not turn out so well for the home team.

This week, we need to spend some time on one of the elite players of this team. Jason Witten has been so elite for so long, that the level of appreciation for his week-in, week-out play almost gets lost in all of the noise of a Cowboys season. In fact, Terrell Owens, in his most disgruntled form, tried to use his chemistry and unspoken language with Tony Romo as proof of a clique in the Cowboys locker room that keeps the Cowboys from moving forward. Most informed people had a great laugh at that nonsense, but for the most part, Witten hasn't missed a beat as his Hall of Fame career marches on.

At some point, his elite performance level will diminish as he has now passed his 30th birthday, but there seems very few signs of that right now. He has not missed a single game since his rookie year, when on October 12th, 2003, the Cowboys played the Eagles without Witten. Since then, he has played 143 straight games and has made an impact on plenty of them.

As his career has been recognized, his numbers have continued to grow. In the five years since Jason Garrett has run the Cowboys offense, Witten has been featured over and over again. In fact, there are 10 names in the entire NFL that have more receiving yards than he does over those 80 games: Larry Fitzgerald, Roddy White, Reggie Wayne, Wes Welker, Brandon Marshall, Calvin Johnson, Andre Johnson, Greg Jennings, Steve Smith, and Marques Colston. You will notice that there are no tight ends in that list at all. Yes, other tight ends have had bigger seasons than Jason Witten. But, over the long five year sample, Witten's 5,071 yards and 444 catches are enough to put him atop all tight ends. During that span, Tony Gonzalez has 4,628 and Antonio Gates has 4,405. Witten doesn't get the same praise as those two, but he does get the results.

This game, from Week 11, featured the 5-4 Cowboys trying to get their
win streak to three consecutive wins in a division battle at Washington.
The Redskins felt that they were robbed during the Week 3 battle in
Arlington and now wanted to even the score back at their place. You
might recall that Washington lost that game because Jim Haslett went
off the coaching reservation a bit with three consecutive Cover 0
blitzes that finally got burned late on a Romo improv play to Dez
Bryant. Why, on 3rd and 21, the Redskins blitzed everyone plus
the kitchen sink makes coaches wake up in a cold sweat. But, he did,
and he paid. And surely, he would attempt to right that wrong on this
Sunday if things materialized.

The Redskins started 2011 with a 3-1 record (the only loss to the Cowboys), but by this day in November, the Redskins would be 3-6 and eventually end the season at 5-11 for another sub standard year of football in the nation's capital. They had many talented defensive players and a unit that can cause many issues for their opponent, but the very poor QB play has been an issue for a long stretch in Washington.

I am taking some license here as the writer to suggest that this touchdown to Witten is the pivotal play of the game. Fans will recall that there were more than a handful of plays in this contest, including another long 3rd Down conversion to Dez Bryant in overtime (against who else? DeAngelo Hall) that put this game in the win column. But, given that this play was one of the longest touchdowns of the year and given that it features one of the central figures of this decade of Cowboys football, I elected it for this week's breakdown.

The Play: Cowboys 17, Redskins 17 - 4Q - 9:01 - 3rd Down, 8 to go. Ball at Dallas 41 - Shotgun 12 Personnel - T.Romo pass deep middle to J.Witten for 59 yards, TOUCHDOWN.

To fully appreciate what we are looking at here, one needs to understand the cat and mouse game that Haslett and Garrett have been playing in these two games. There are 3rd Downs and there are high leverage 3rd Downs late in games that are close and hanging in the balance. As we examine both meetings, we see that it comes down to the Cowboys being a bit better both times, but hardly due to Jason Garrett's play-calling. Closer to the truth is the improvisational skills of Tony Romo.

The other element very much at play here is the safety position of the Washington Redskins. Like their counterparts in Dallas, safety has been a bit of a revolving door over the last several seasons in Washington. Proof of that is that all three main players in a story from Game 10 of last season are pretty much out of the mix in Redskins-land for 2012. OJ Atogwe is now in Philadelphia, LaRon Landry is a Jet, and DeJon Gomes is buried well down the Skins roster.

But, on this day, because Landry has been hurt the week before, Gomes was being asked to cover the deep secondary as a 5th round rookie. This would be the only day where he would play an entire game all season long. And on this play, the Cowboys would attack him. Otherwise, Gomes is known for two things: 1) he is the guy who made the hit when Adrian Peterson blew out his ACL and 2) he is often mistaken for Robert Griffin III.

Click on all pictures to enlarge. Here in Picture #1, we can clearly identify the Cowboys S12 lineup, with Witten in the right slot, Laurent Robinson wide right and Dez Bryant wide left. In the backfield beside Romo, John Phillips is to the right and Felix Jones is to the right.

Picture #1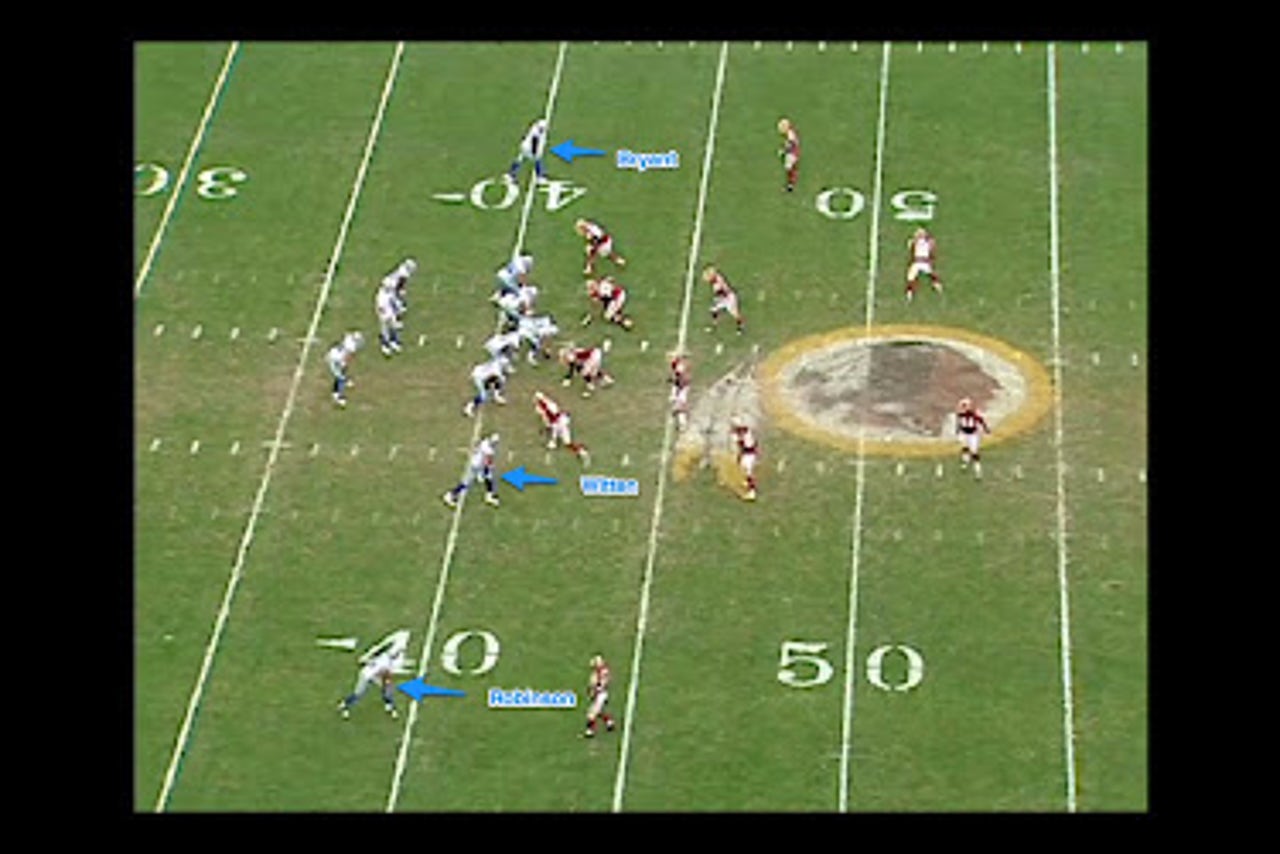 In the 2nd picture, we count that the Redskins are only rushing four and dropping seven. We will see later in the play that this is actually rushing three and dropping eight, because Ryan Kerrigan will peel off and chase John Phillips once Phillips releases into a route.

Picture #2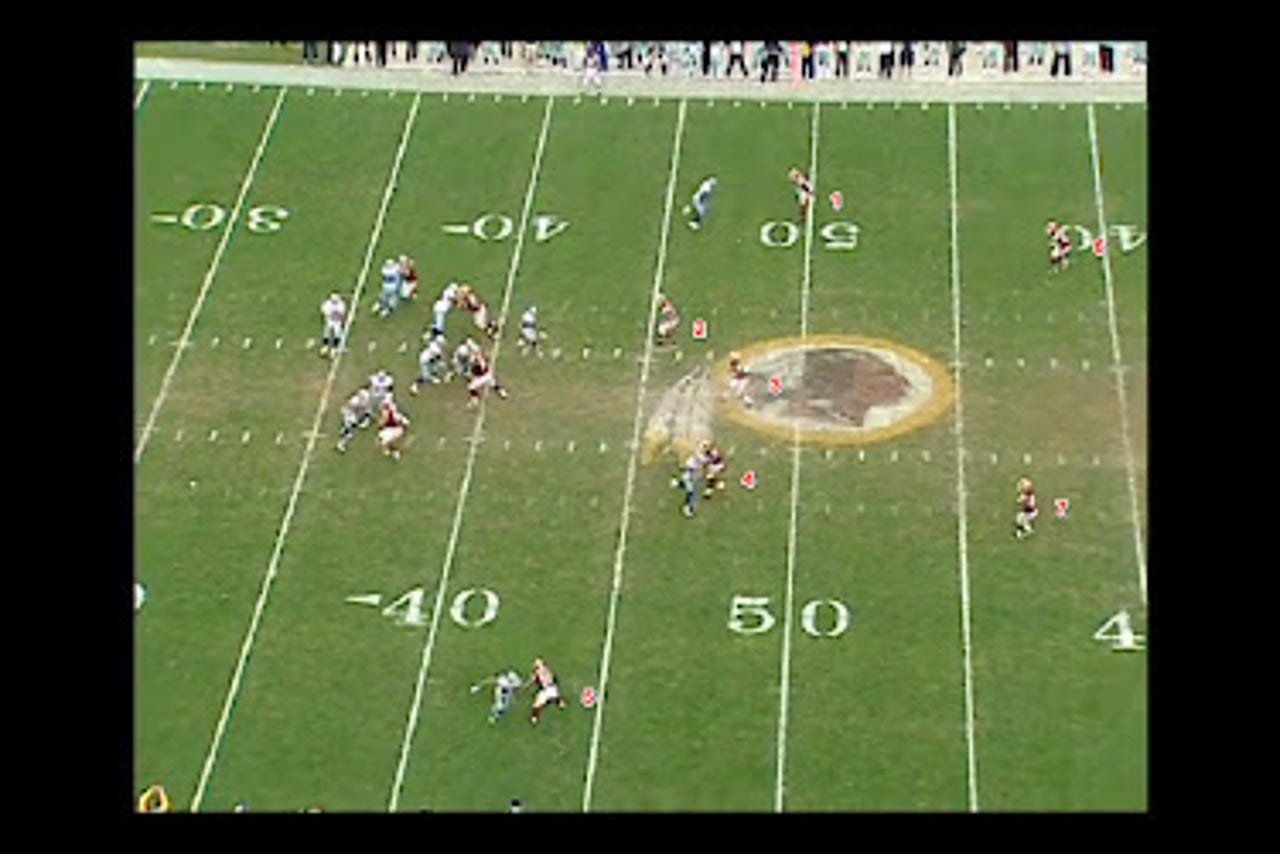 OK, inside the red circle below is the rookie safety, DeJon Gomes, filling in for the injured Landry. His responsibility is to provide over-the-top help to his half of the field. This will require him to read the deeper threat and either help to the inside with Witten or to assist to the outside if Robinson gets behind the corner on that side, which appears to be #34 Bryon Westrbook. Witten's curl route past the sticks (at the Dallas 49 yard line) is covered by several dropped linebackers, but as the play morphs into a sandlot play when Romo escapes the pressure in the pocket, Gomes will need to collapse down to Witten - something that he fails to read in time.

Picture #3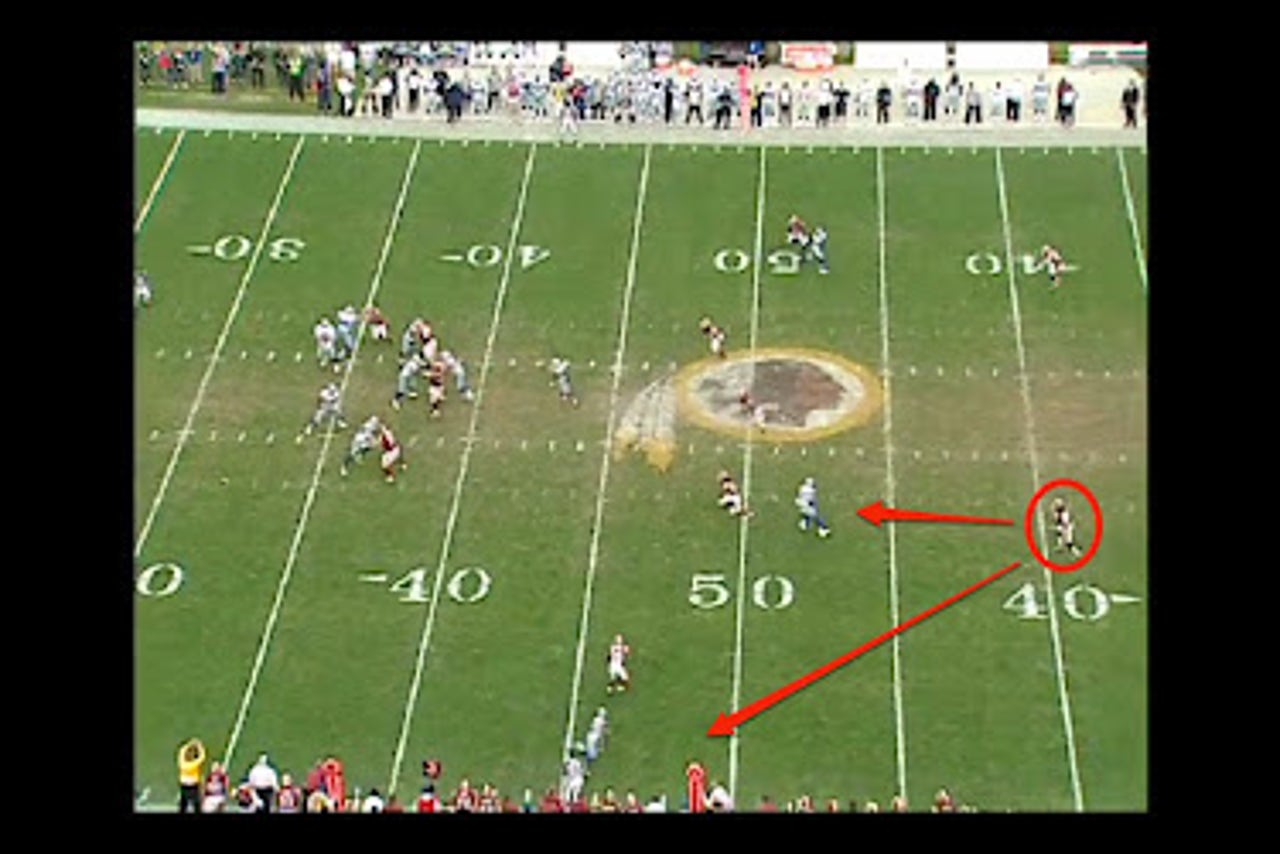 In the frame below, we see the moment Romo has to make his final read. He has spun to the left of the pocket because he could feel Redskins' LB and sack artist Brian Orakpo collapsing down on Doug Free. One of Romo's trademark moves as a Brett Favre cover band is to spin back against a rusher from the left tackle side. It is human instinct to try to run from a pass rush, but as a QB gains experience, he learns how difficult that can be to outrun a edge rusher who is at a full gallop as he turns the corner. Instead, you can buy more time as a QB with the risky move of spinning left when a rusher is coming from your left. The reasons this is risky are obvious - but the worst part is that you must turn your back to your receivers as you spin if you are right-handed. Now, Romo must re-find all of his targets and assess the field as Orakpo is closing down on him. He knows that it is 3rd and 8 so Romo is not considering the underneath options of Jones and Phillips who have both released when they saw the Redskins zone drop.

Picture #4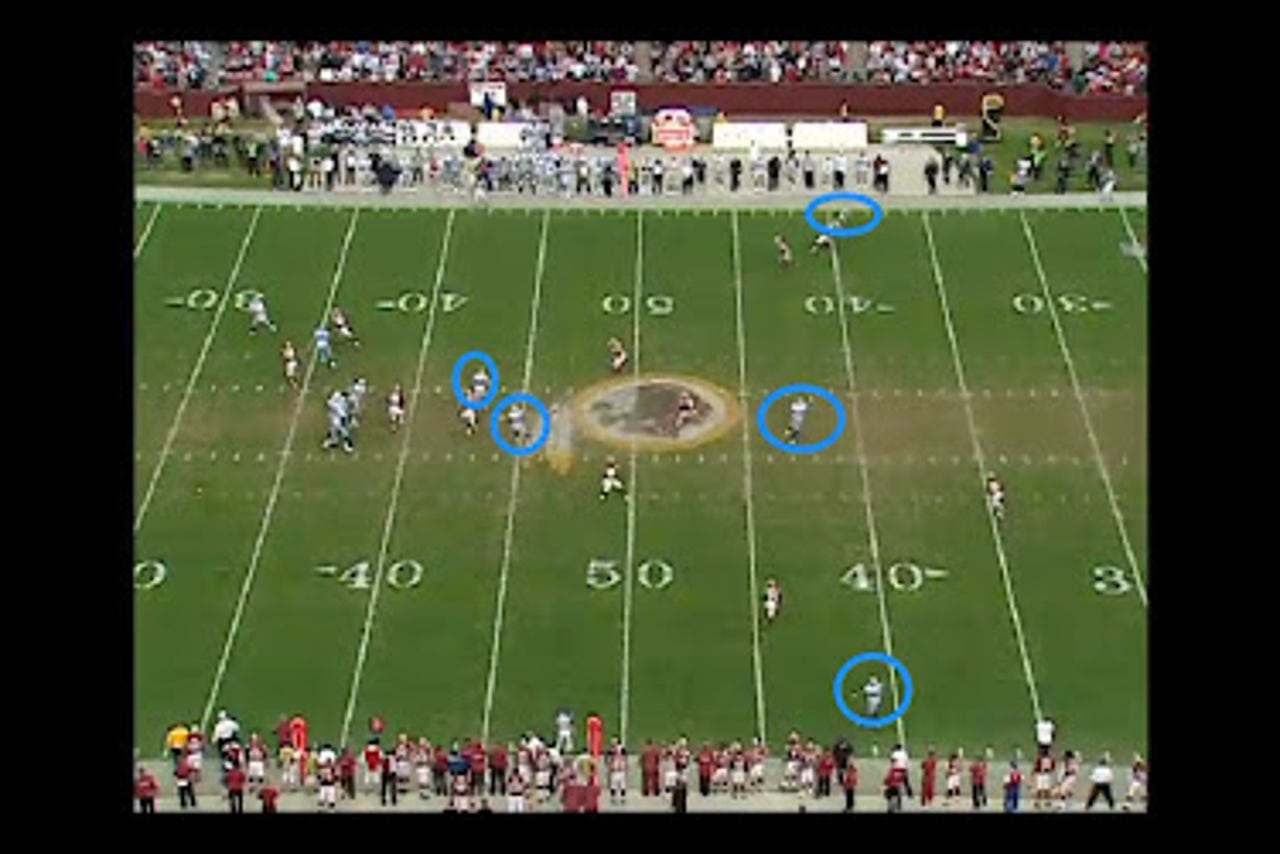 Now, let's go back to the pre snap and look at the play again from the end zone camera that the coaching staff will use to determine the roles of the pass protection group and the quarterback. The two arrows show Felix Jones and John Phillips locking on to their primary blitz pickups, or more specifically, the players that will determine their duties for this play. In the event that the nickel defense of the Redskins on 3rd and 8 turns into a blitz, Jones and Phillips will stay put. This is often called "check - release". They check those two players to see what the plan is, and then release into the flats if there is no protection required. In 2010, Chris Gronkowski was fooled on the play that Romo was injured in because he checked the LB, released, and then the LB came on a delay rush and broke Romo's collarbone. To be clear, those two inside linebackers will not necessarily be the primary responsibility of Jones and Phillips. But, rather, if those two blitz, Jones and Phillips will stay in to be a part of the protection scheme. Phillips will now chip Kerrigan - 91 who is rushing on Tyron Smith, whereas Jones will now head out the "A gap" into the middle flat.

Picture #5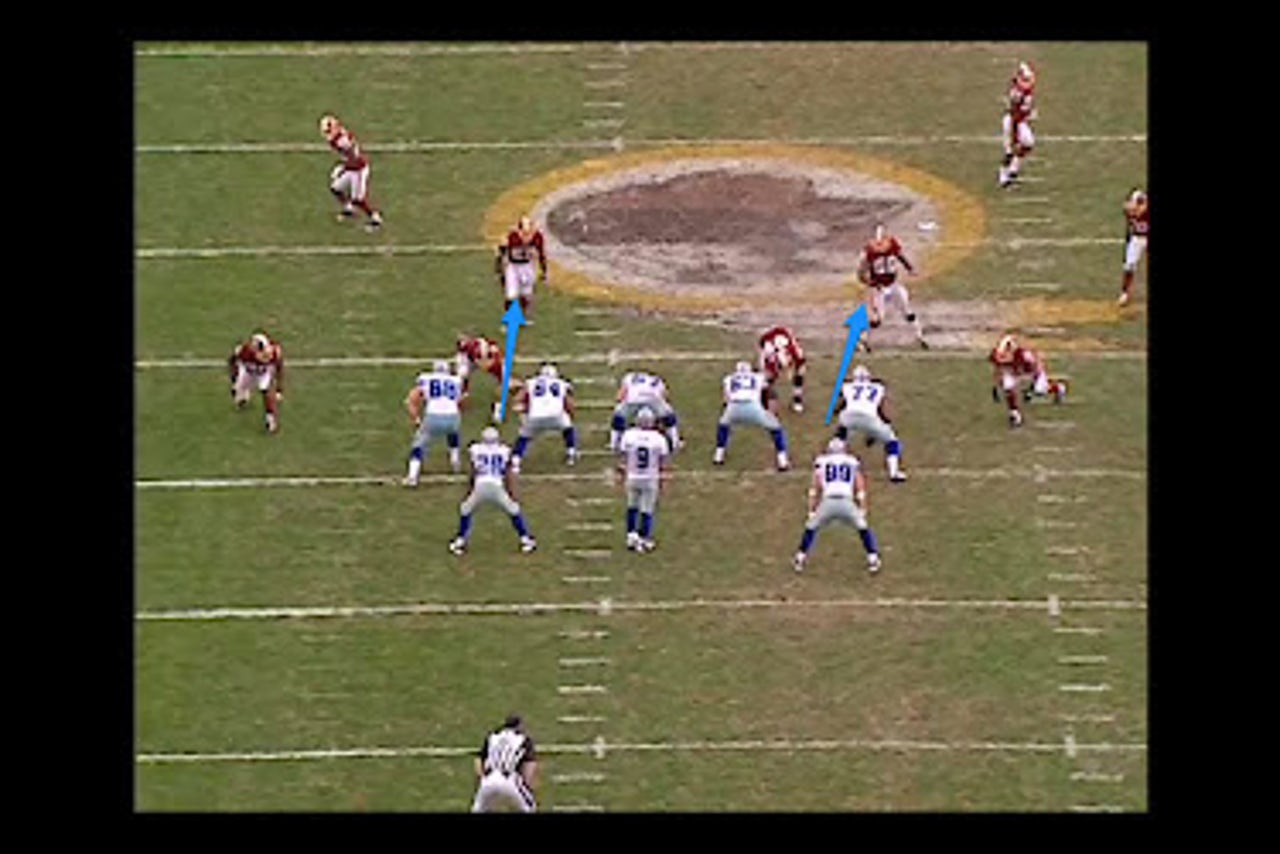 Below, Picture #6 corresponds time-wise with Picture #3, above. At this point of the play, Romo has but one option that is open. That is a quick dump off to Felix Jones (blue circle). But, with the score 17-17 in the 4th Quarter, Romo is not willing to accept a punt right here if he can help it, and a dump off the Jones five yards short of a 1st down with two linebackers ready to get him to the ground. Meanwhile, we put a red arrow on Brian Orakpo, who has Doug Free backing into Romo, and he also has Romo's full attention. Whether he is in actual danger or not, Romo is now spending more time thinking about his left tackle than he is thinking about potential targets downfield.

Picture #6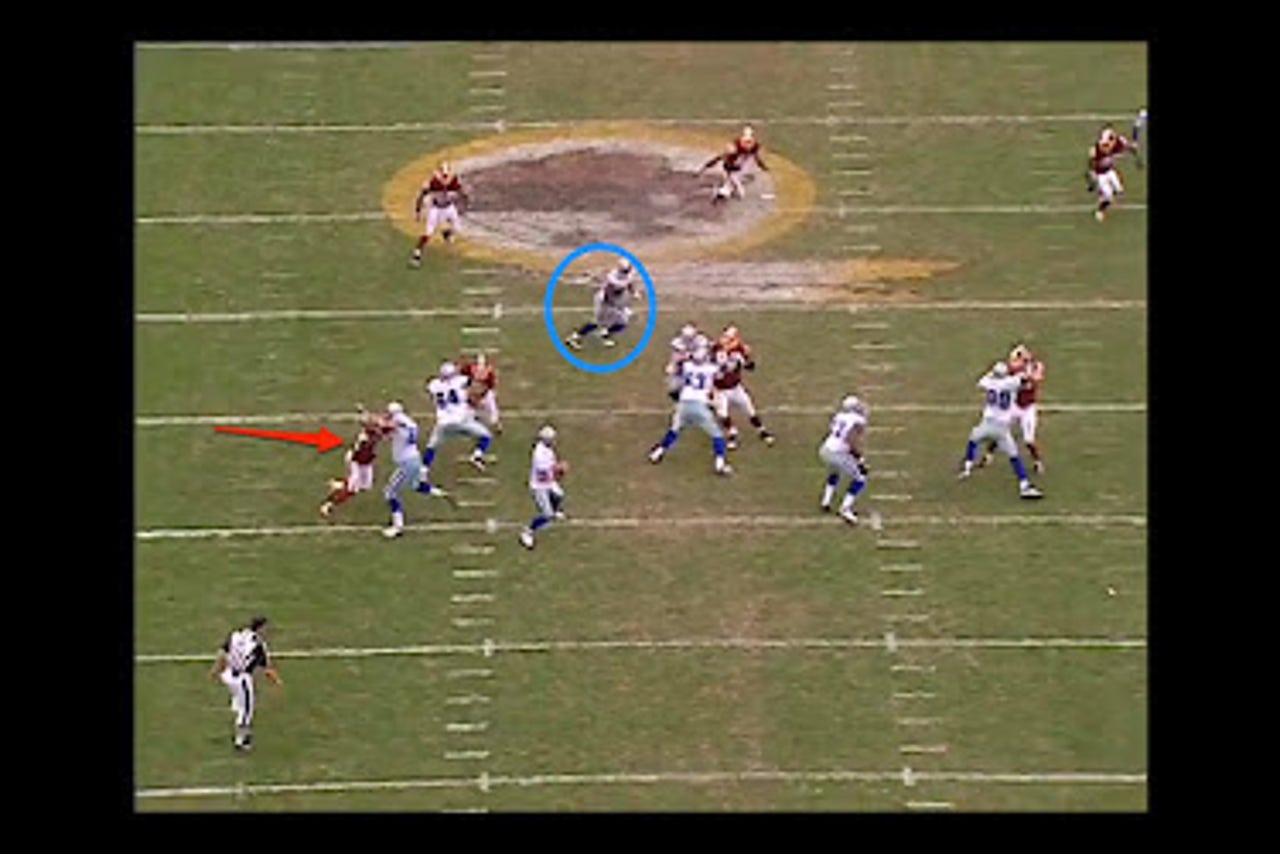 OK, now Picture #7. This is a spot that there is simply no coach of a young QB that will authorize this type of evasive action. I am guessing most coaches would scold his QB for bailing out of the pocket this quickly, because fundamentally, Romo was not in so much trouble here that he had to bail out. But, he did, and because he did, this five yard pass from Jones turned into a 59 yard touchdown to Witten. In this picture, while Witten is using the opportunity to head for green grass that is not being watched by Gomes the safety, Romo has his chest facing the opposite end zone. But, this unconventional maneuver buys him another second, which is what the play calls needed.

Picture #7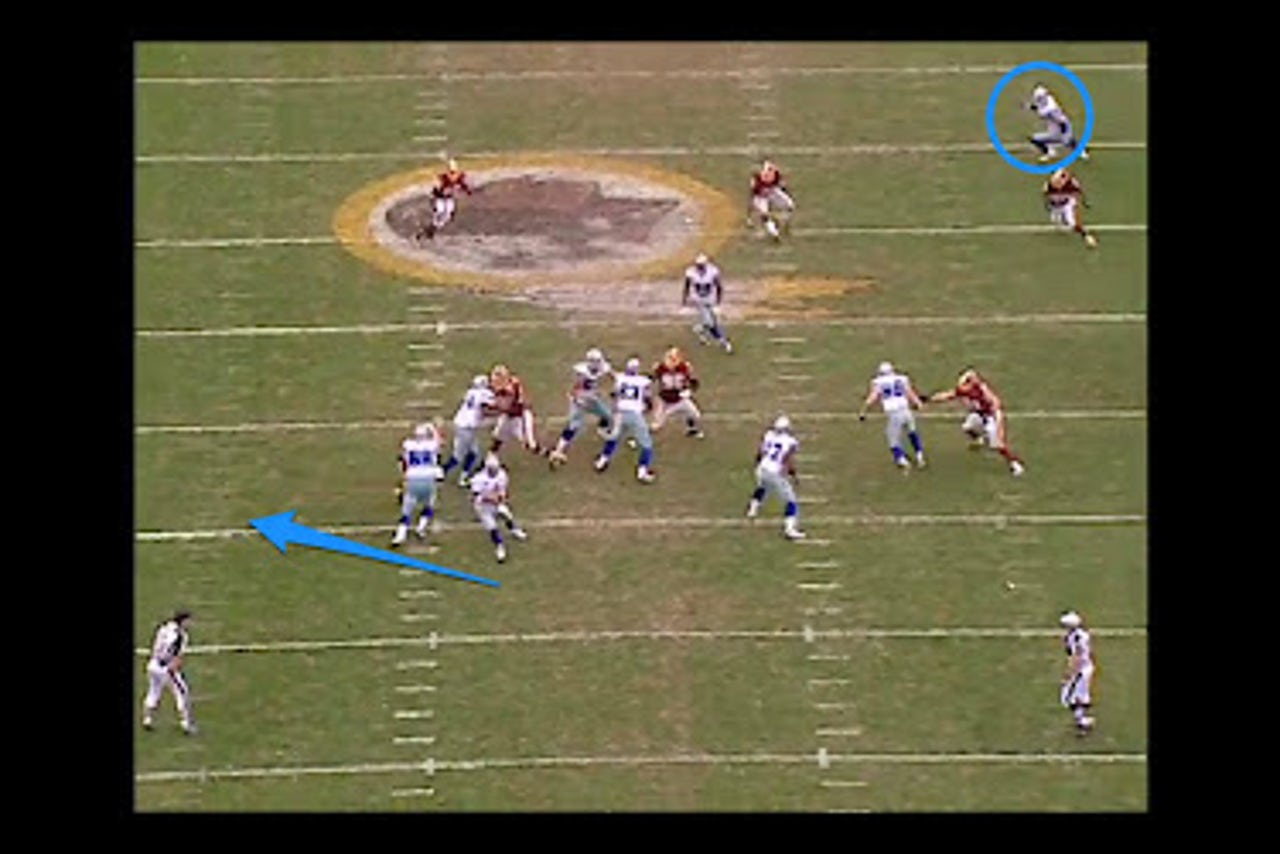 Most right-handed QBs do not throw very well running to their left. The reason is that it is quite difficult to be able to square your body to throw to most of the field. When running or scrambling left, the only throw that is easy to pull off is to the left sideline. Otherwise, you have to square your body and that takes time and space. Romo does so in Picture #8, and this is where we discuss the rookie safety Gomes again. Picture #8 corresponds time-wise with Picture #4 and in that frame, you can see that Gomes does not make a veteran decision. This is his first game of starting in the NFL and it shows. What he should have done is realize that Laurent Robinson is no longer a threat once Romo bails to his left. That would now be classified as an impossible throw from the left flat to the deep right sideline. It either cannot be done or if it can be done, you make them prove it. Gomes had to peek up to see Romo spin left and when that happens he has to dive down on Witten quickly or this is going to be a problem. Once he doesn't, Witten knows where Romo needs him to go. This is where chemistry and unspoken knowledge of what the other is going to do comes in handy. Witten knows to convert his hook route into a deep in that is beyond the middle zone defenders. And Romo is locked on just one guy. Why? Because they know where each other will be. And that should never be described as a bad thing when a play has broken down like this.

Picture #8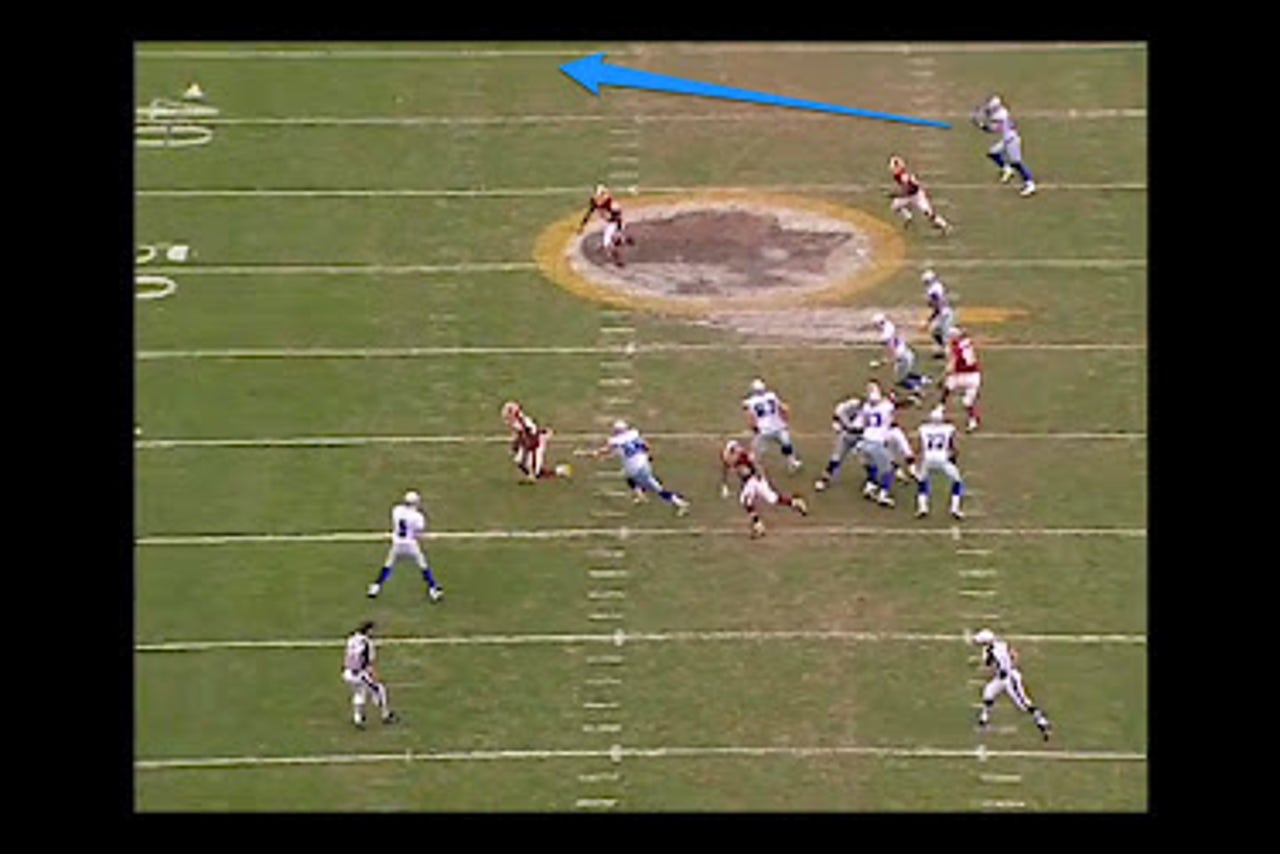 In #8 and #9, you can see what else Romo is dealing with. You can see that Orakpo has now readjusted his sights on Romo and after the spin, no longer has to go through Doug Free to get to him. So, as Romo is setting his feet and squaring his shoulders, he is also seeing an unblocked Orakpo closing in at a rapid rate. The throw looks easy if you consider the blown coverage, but if you consider the fact that this throw is going to include a painful ending, it gets a little more difficult. In picture #9, the ball is gone and if Witten catches it, he will be able to run for a while.

Picture #9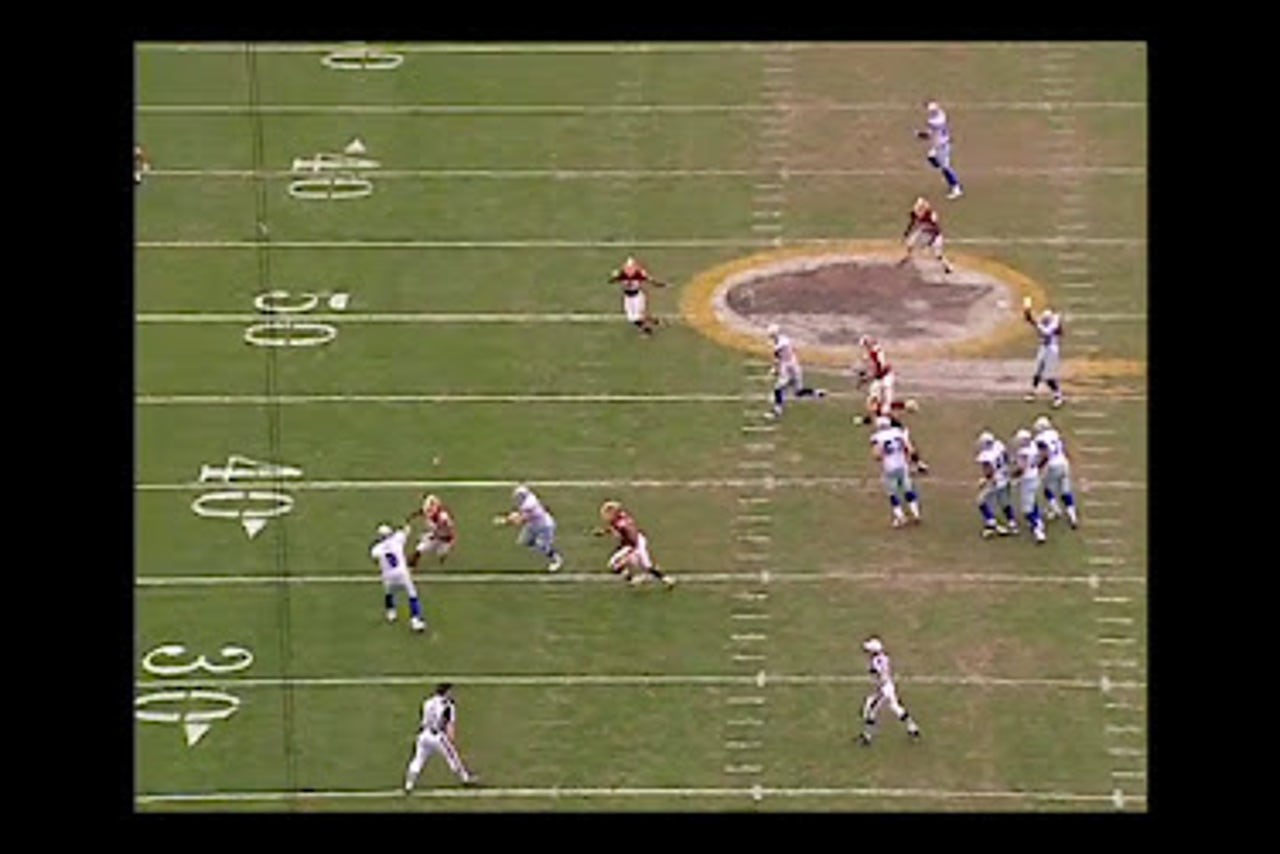 Finally, in Picture #10, we see that Witten can still pick them up and put them down at a rapid rate. His foot speed, which never gets brought up enough, is still such that he can race 3 Redskins defensive backs to the end zone from the 25 yard line, and they can not catch him. Touchdown.

Picture #10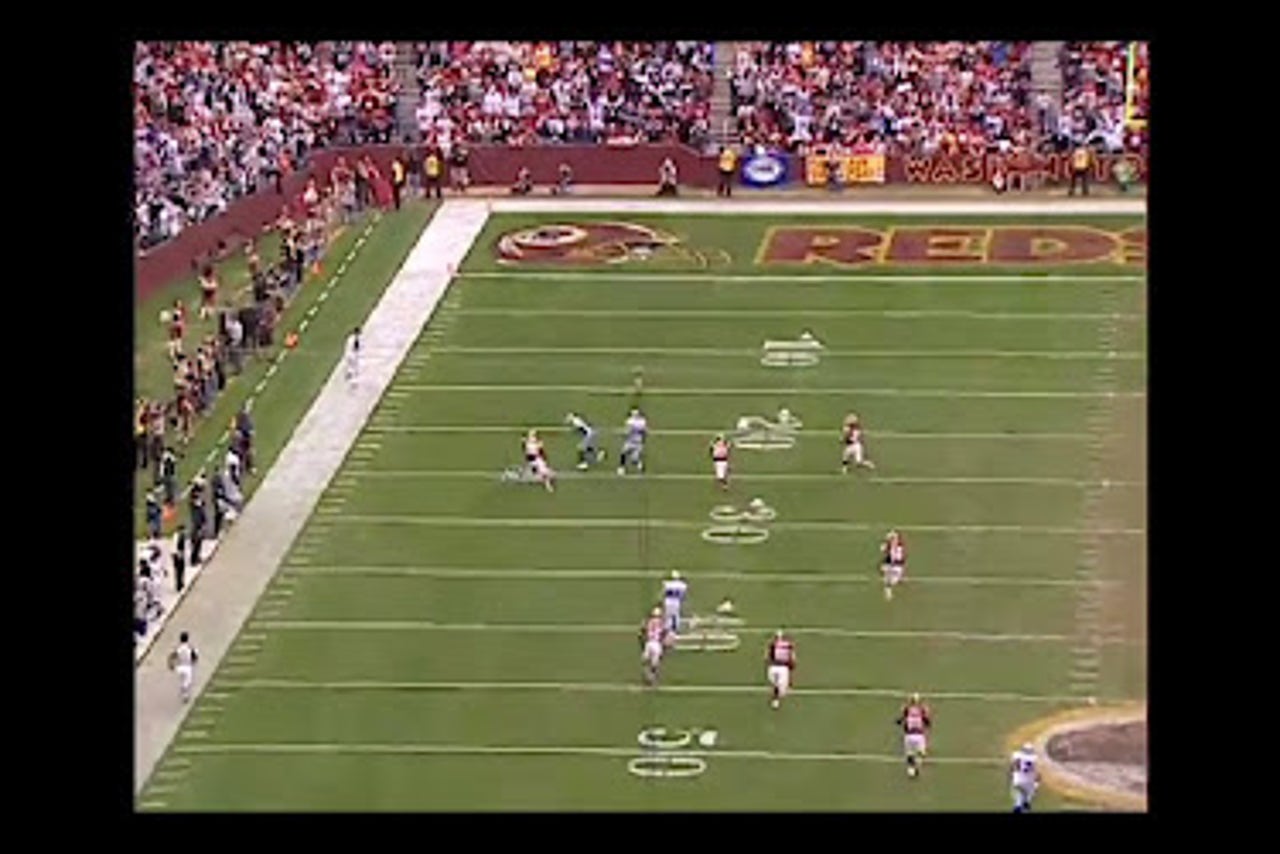 This play, which can be seen on video here is another sign that most of Romo's decisions turned out very well last season. He really played a high level, despite the fact that the network shows will repeatedly rerun those plays where he did not make sound decisions against the Jets and Lions. In fact, his last interception against the Lions in that gutting loss was a situation where he thought Witten was behind the linebackers and the safety had busted, too. But, on that play, he could not plant his feet and make a good throw so it was picked off by Stephen Tulloch.

But, when you look at Romo's best plays of the season, you see that so many of them come off plays where he makes something out of nothing. When the group of people that look forward to a new, young QB to replace Romo speak up, I wonder if they realize that the next guy likely won't have improvisational skills like this guy. I get tired of the endless discussions of his mental makeup and whether he can ever "win the big one", because so much of that is out of his control. But, in the simple talk about whether or not he can defy Xs and Os and make plays to win a game, Romo never gets enough credit for what he can do in plays like this. This was simply a QB who found a TD on a play that called for a five yard dump down to Felix Jones.

And it certainly helps to have a tight end who knows what to do and when to do it to offer a security blanket when things break down. Romo to Witten has been quite a combination around here for quite a while. And, no Terrell, there is nothing wrong with that at all.


Witten from Bob Arnold on Vimeo.
---