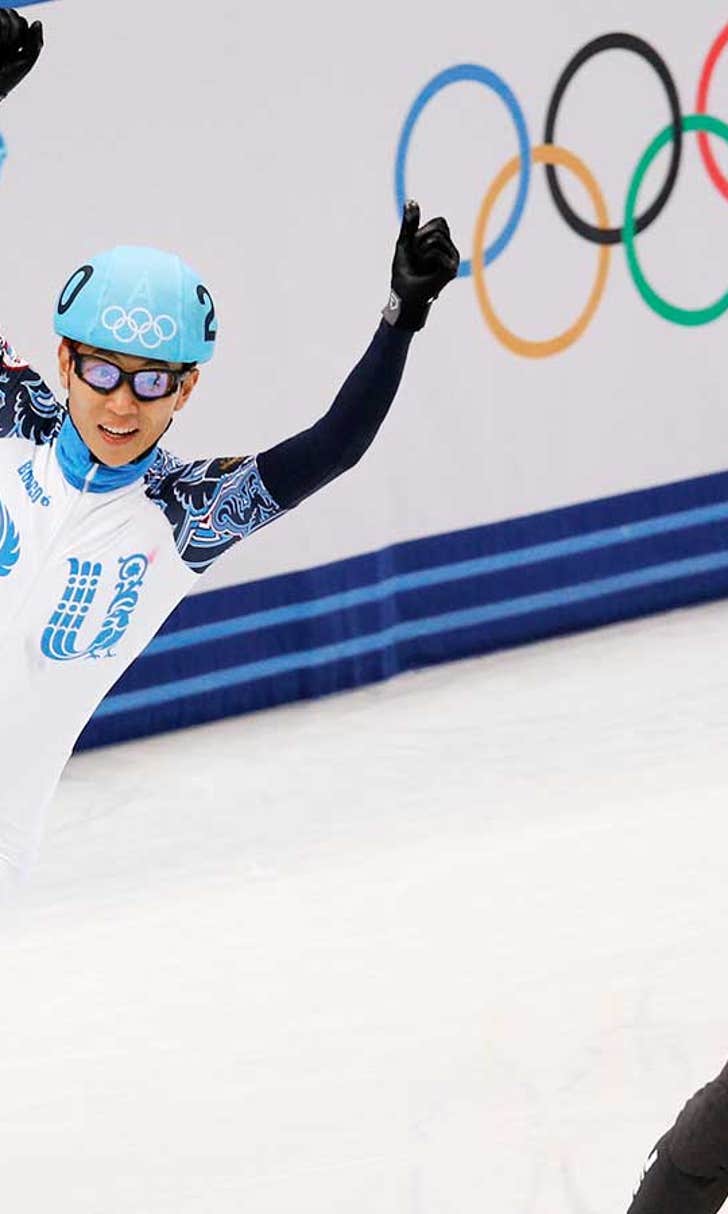 Russia's Ahn ties Ohno's record while US ends speedskating drought
BY foxsports • February 21, 2014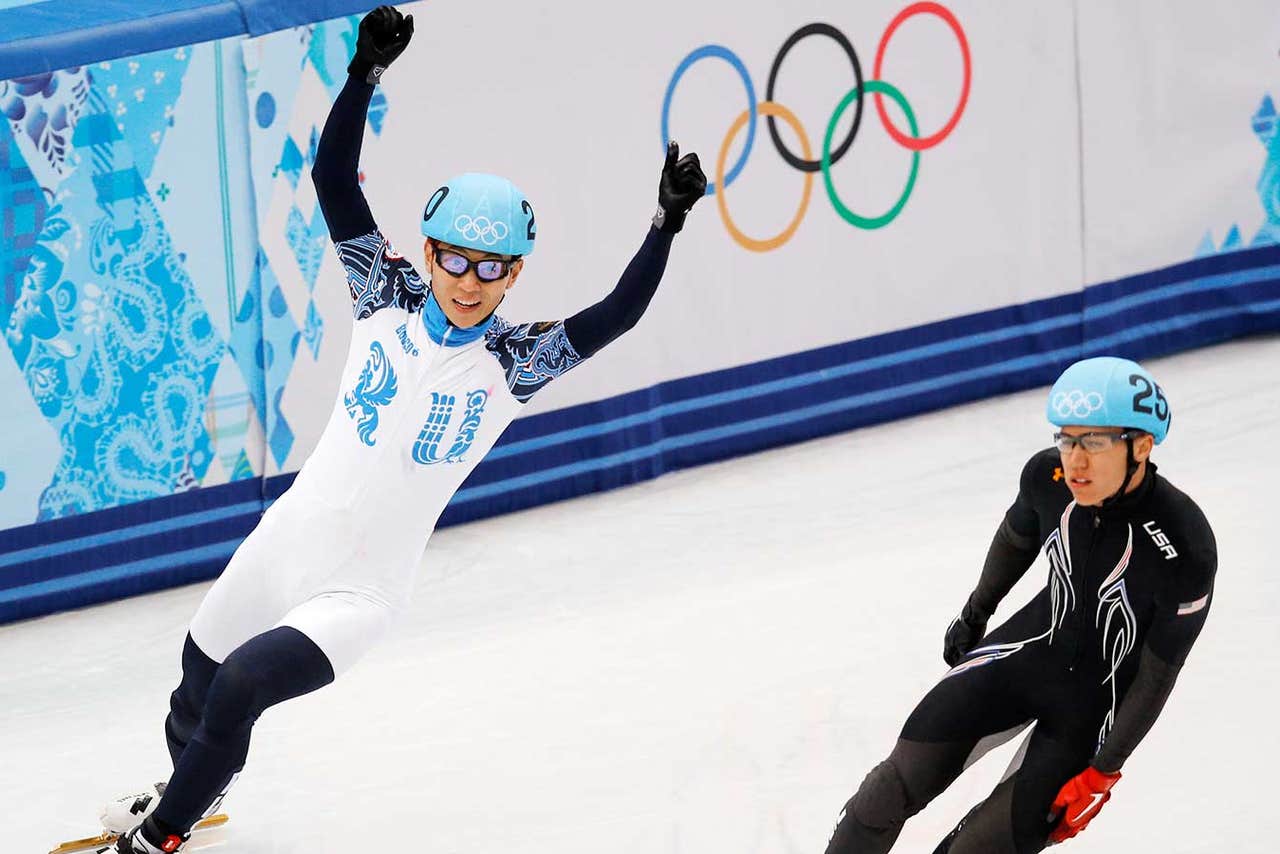 SOCHI, Russia -- Viktor Ahn was already a Russian citizen. At the Sochi Olympics, he was embraced as a national hero by his adopted country.
Ahn clapped as he crossed the finish line after leading Russia to Olympic gold in the 5,000-meter relay. His countrymen applauded right back, cheering the speedy skater who delivered the nation's first medals in short track.
"This will be the best Olympics in my life," he said in Korean. "I will never forget it."
Fittingly, Ahn capped his four-medal performance in Sochi with gold in the relay, a medal he wanted the most as a way to unify the team he joined after forsaking his native South Korea.
"I'm so happy to be able to smile in the end with my teammates," he said.
His former teammates weren't nearly as happy. The South Korean men's team left Sochi without a single medal.
Ahn won two golds on Friday's final night of short track to tie retired star Apolo Anton Ohno for the most career Olympic medals in the rough and tumble sport with eight. Ahn won four golds at the 2006 Turin Games, and added a bronze and three golds in Sochi.
Ahn clinched the relay by taking the lead for good after passing American J.R. Celski with eight laps to go. Earlier in the evening, he won the 500, the only event Ahn had never won in two Olympics.
"He just shows he is the best guy in the world, definitely here," Ohno said. "He's got eight medals, six gold. Perhaps the best ever to put short track speed skates on. Yeah, I would say so."
Ahn held his own news conference in the wee hours of Saturday morning, explaining that he waited until the end of short track to address the long-asked questions about why he left South Korea.
The 28-year-old Seoul-born skater switched nationalities in 2011 after competing for South Korea as Ahn Hyun-soo in Turin. A career-threatening knee injury in 2008 and multiple surgeries kept him from producing results for his skating club and he didn't have enough time to qualify for the 2010 Vancouver Games.
Ahn's team soon disbanded and other teams were already full, leaving him at a loose ends
"I was feeling bad and sad," he said. "My goal was to participate in another Olympics."
The shy redhead eventually found a new home in Russia. South Korea law prevents men from holding dual citizenship, so he had to find a new national identity, too.
"I made a decision and I have no regret," he said. "I would like to thank Russia."
Ahn carefully avoided saying much about his former South Korean teammates during the games out of respect to them. He said he and his father have argued about inaccurate interviews the elder man has given about his son's departure.
"I don't want there to be too much controversy in Korea about me," he said.
Ahn revealed that the thin gold band on his left ring finger was a wedding ring. He said he hasn't yet had a ceremony with his girlfriend, but the couple obtained a marriage certificate in South Korea.
Before leaving him alone with the media, Ahn's teammates credited him for boosting short track's profile in Russia, where it was a little known sport before the Olympics.
"He's pushing us forward and we grow with him," skater Semen Elistratov said.
Added Ruslan Zakharov, "Viktor has a lot to show to us and every competition we learn from him."
Aleksei Kravtsov, president of the Russian speedskating federation, said tickets were sold to short track practice for the first time and the competition was shown live on national television.
"The Olympic Games have given a great boost to short track in Russia because of his brilliant performance," Kravtsov said. "His presence will continue to boost our sport."
The decibel level inside Iceberg Skating Palace was higher for Ahn than it had been a night earlier when Adelina Sotnikova became the country's first gold medalist in women's figure skating in the same building.
"So many people supported me," Ahn said.
The mostly Russian crowd chanted the first name of their adopted star as he mounted the top spot on the medal podium twice in a row at the end of the night.
American J.R. Celski skated head-to-head with Ahn in the relay and came away impressed.
"Everybody in short track should give that guy credit, and they do," he said.
The relay got off to a chaotic start with China and the Netherlands crashing not even halfway through the opening lap. It became a two-nation race between Russia and the U.S. for most of the 45 laps.
Chris Creveling briefly put the U.S. in front with 15 laps left, overtaking Vladimir Grigorev. But Ahn rallied his teammates to victory.
Eddy Alvarez, Celski, Creveling and Jordan Malone took silver for the first U.S. medal in speedskating at the Sochi Games. The U.S. speedskaters were shut out in 12 long track events, and had failed to get on the podium in the first seven short track races.
The medal helped the Americans avoid a shutout for the first time since 1998 in Nagano.
China overcame the early trouble to take bronze.
Earlier, Ahn rallied to win the 500, overtaking Wu on the last lap after Liang Wenhao of China crashed out. It was the only Olympic race Ahn had never captured, and he became the first skater to win a career sweep of all four Olympic short track events.
"It was Ahn's clinic on how to short track speedskate tonight. He wrote a textbook," Ohno said of Ahn's 500 race.
Ohno, now retired and working as a TV commentator at the games, had been confident that Ahn would tie his record set from 2002-2010.
Ahn gave Russia its first medal in the sport by earning bronze in the 1,500 on the opening day of competition in Sochi. He later won the 1,000.
Wu earned silver in the 500 and Charle Cournoyer of Canada took bronze.
---