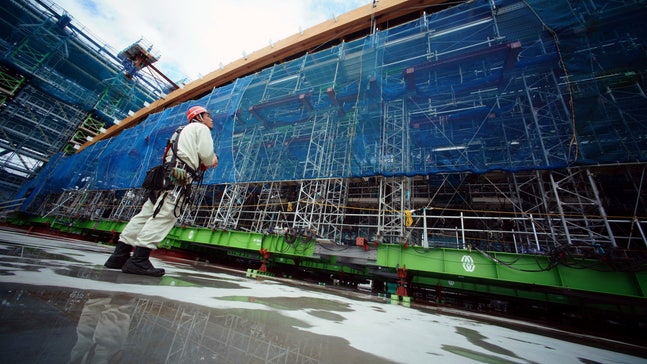 Raising the roof on 2020 Tokyo Olympics gymnastics venue
Updated
Mar. 4, 2020 5:05 p.m. EST
TOKYO (AP) — Attention Simone Biles: They're building a venue in Tokyo where you can add to the four Olympic gold medals you won in Rio de Janeiro.
The 2020 Olympic gymnastics venue is halfway completed and should be finished by this time next year.
On Wednesday, engineers raised a massive timber roof section, one of five curved sections that will top out the 20.5 billion yen ($180 million) building, which designers describe as being shaped like a wooden bowl.
"Japan's wood culture will be communicated through the venue," architect Hidemichi Takahashi said through an interpreter.
Wood has been traditionally used in Japanese housing, and religious shrines and temples.
Each of the five wooden sections weighs 200 metric tons, or 200,000 kilograms (440,000 pounds). Officials said the wood used in the roof is larch, a conifer in the pine family.
The section raised on Wednesday was lifted from the ground at a glacial pace of about 9 centimeters (3.5 inches) per minute, so trying to see the movement was like watching clock hands barely move.
"By using wood instead of steel, the weight of the roof is cut in half," Takahashi said.
The venue will also have timber seating "to give fans the feel of the warmth of wood," Takahashi added.
Officials said all the wood in the venue is Japanese. There has been some controversy about the origin of wood used in the new Olympic Stadium, which is under construction in central Tokyo.
The gymnastics venue will seat about 12,000 and will be used for 10 years after the Olympics as a convention center by the Tokyo metropolitan government. After that, plans call for the building to be razed.
The venue is located in the Tokyo Bay region in an area known as Ariake. The area will also have Olympic venues for tennis, volleyball, BMX and skateboarding.
Located close by in the bay region are also venues for triathlon, marathon swimming, beach volleyball, swimming, water polo, archery, 3x3 basketball, sport climbing, hockey, equestrian, canoeing and rowing.
Olympic organizers and the International Olympic Committee have been criticized for leaving behind empty, unused venues in Rio de Janeiro — where Biles was among the stars of the games — and earlier this year at the Winter Olympics in Pyeongchang, South Korea.
Tokyo organizers are using a mix of new, old and temporary venues, hoping to avoid the stigma of creating white elephants.
---
---