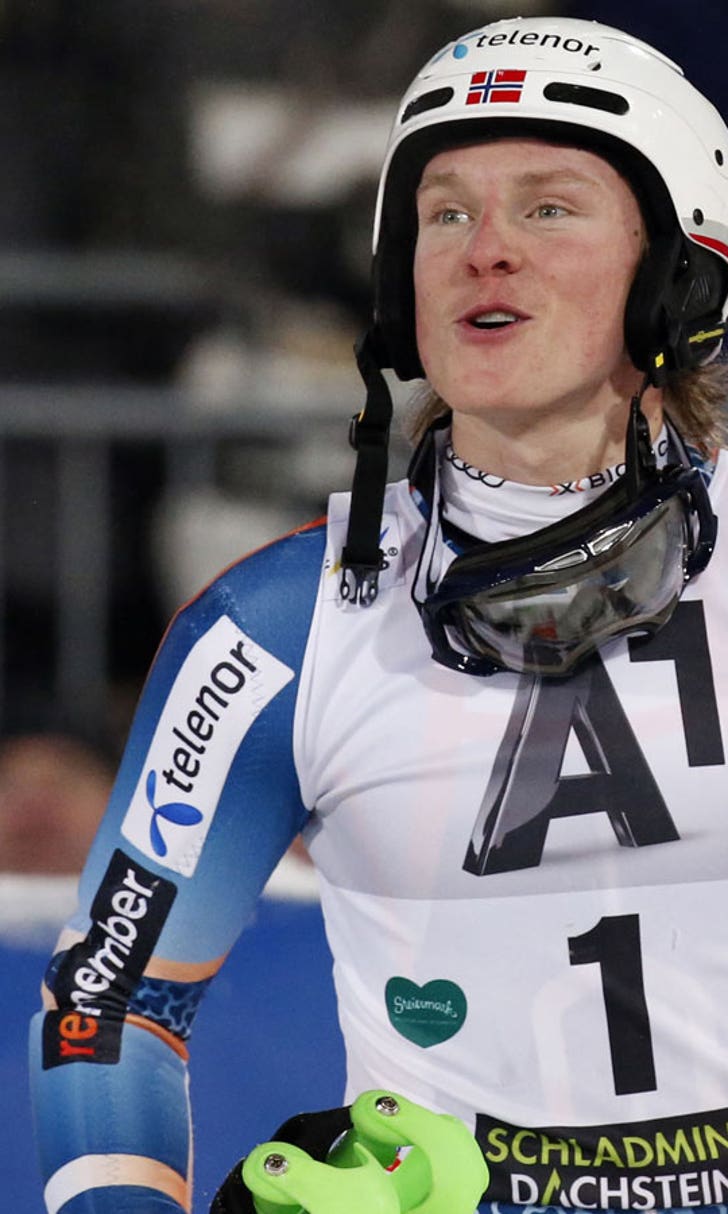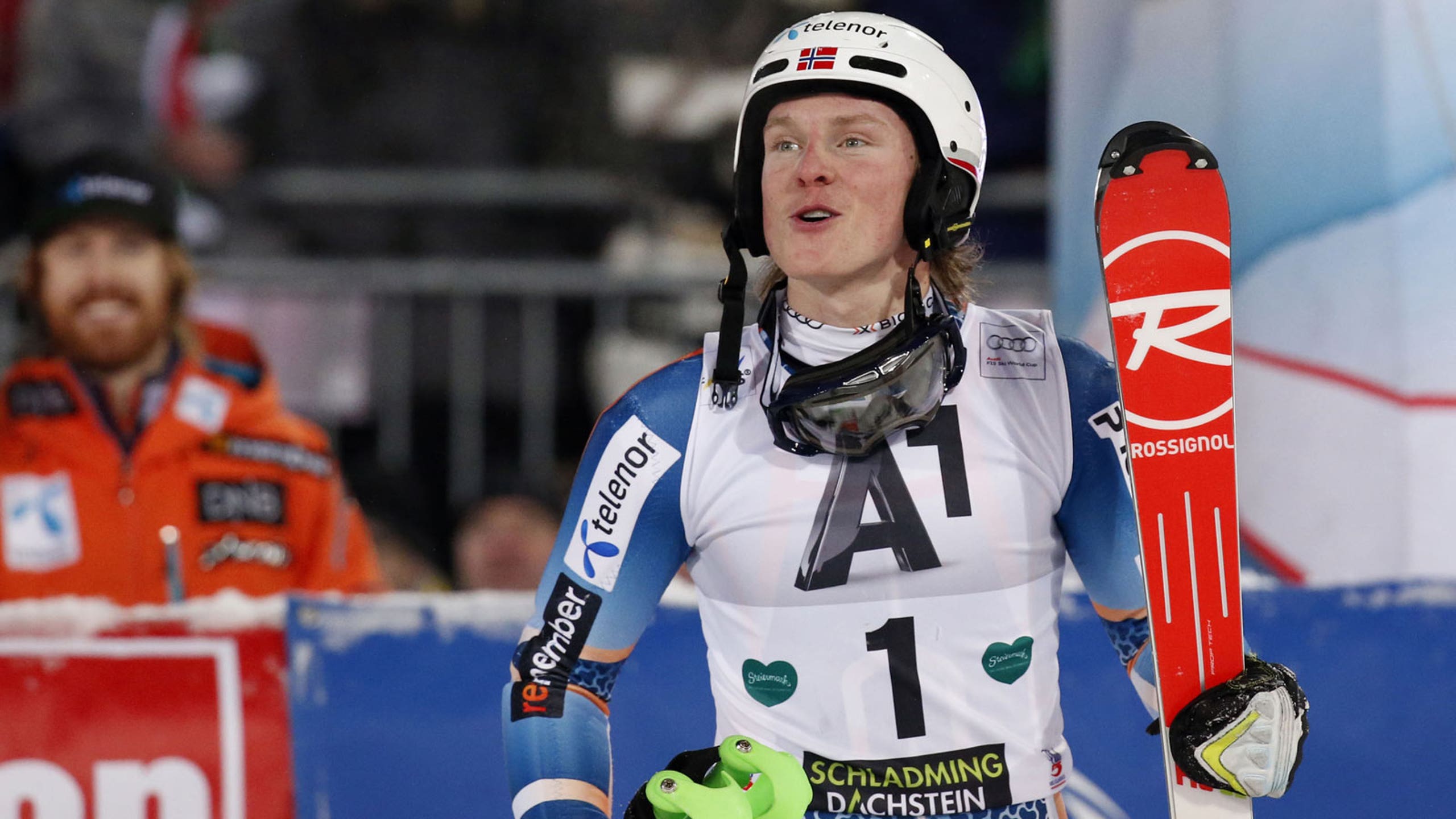 Norway's Kristoffersen wins World Cup night slalom
BY foxsports • January 28, 2014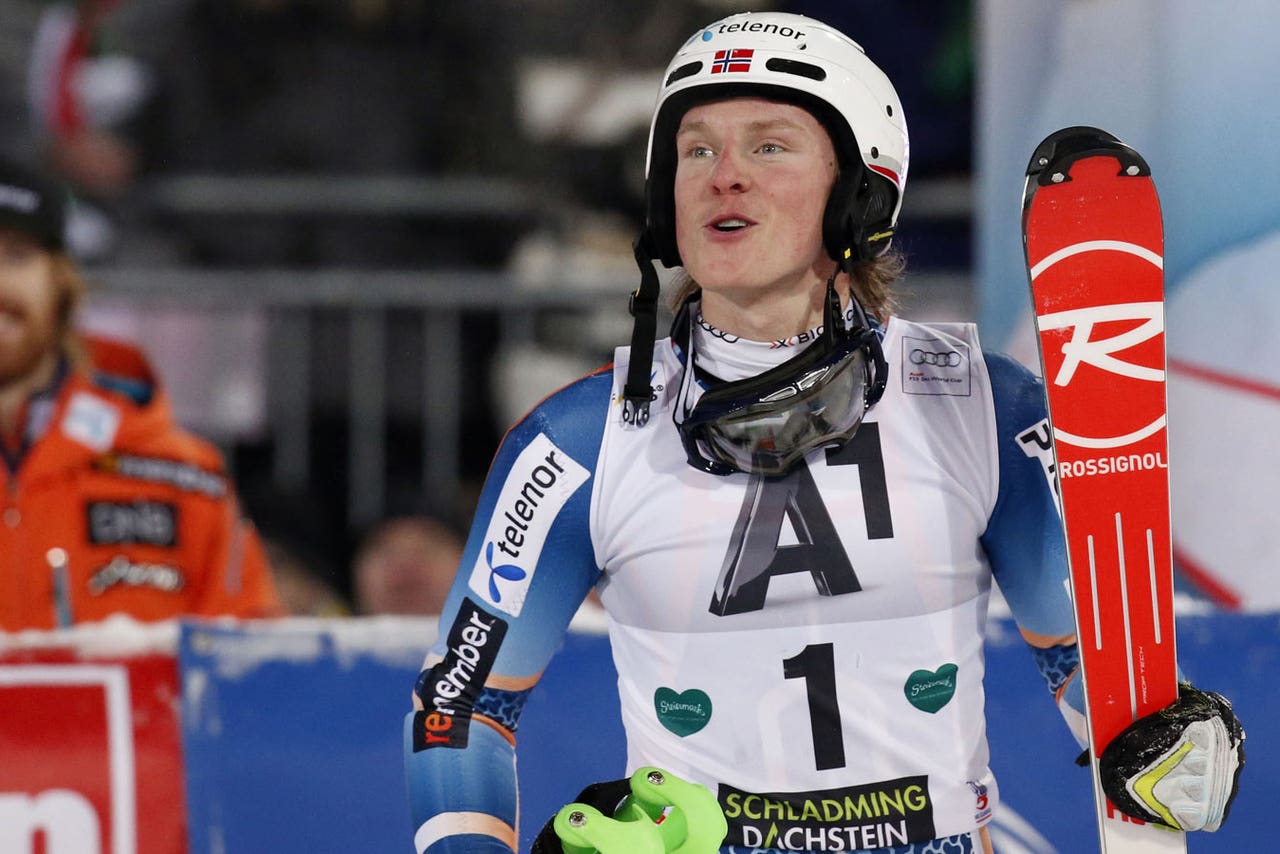 SCHLADMING, Austria -- Norwegian teenager Henrik Kristoffersen upset the Olympic slalom favorites by winning a World Cup night race on Tuesday.
In front of a ski-mad crowd of 45,000, the 19-year-old Kristoffersen beat Marcel Hirscher and Felix Neureuther by putting in a blistering second run for his first career victory.
"Incredible, I am really satisfied," said Kristoffersen, who threw away his poles and fell on his back in celebration after crossing the finish line.
Kristoffersen finished the final World Cup slalom before the Sochi Olympics in 1 minute, 47.43 seconds to beat second-place Hirscher by 0.18 and Neureuther by 0.19.
Kristoffersen, who trailed leader Mario Matt of Austria by 0.09 after the opening leg, was still 0.57 behind Hirscher at the last split time but made up three-quarters of a second in the final gates.
"It was really close, both runs," Kristoffersen said. "First with Mario, then with Marcel and Felix. I have been watching these guys for years. I am a big fan of Marcel and have watched a lot of videos from him."
Matt, who won the event in 2000 and 2008, straddled the third gate of his final run and failed to finish.
Hirscher closed the gap to Aksel Lund Svindal in the overall standings to 22 points, and extended his lead in the slalom standings. The Austrian has 420 points, while Neureuther and Kristoffersen share second with 370 each.
The victory was confirmation of Kristoffersen's rapid progression on the tour this season. Tuesday's event was only the 21st World Cup race for the two-time junior world champion.
The Norwegian made his debut in the last couple of races in the 2011-12 season, earned his first podium in his 15th race by coming third in the Levi slalom last November, and had two more top-three finishes in Adelboden and Kitzbuehel this month.
His recent results saw him enter the elite group of seven slalom racers who get the best start numbers each race.
"Getting into the top-seven helps a lot, and today I got a good start number as well," said Kristoffersen, who opened the race wearing bib No. 1.
Hirscher said he had "a super cool run but I ran out of energy shortly before the end. That's where I had a couple of mistakes. Henrik didn't, that's why he won."
Asked about the 19-year-old winner, Hirscher called him "an awesome ski racer with a brilliant technique."
Clinching his first win just weeks before the Olympic slalom suddenly has Kristoffersen dreaming about an upset in Sochi as well.
"I haven't been thinking about the Olympics too much as the World Cup is more important to me now," Kristoffersen said. "But after winning here and with Sochi coming up, who knows?"
Americans Ted Ligety and Bode Miller both failed to finish their opening runs after straddling a gate early.
Miller, coming off two podium finishes in Kitzbuehel last weekend, hiked back up the hill to complete his run but faulted again at another gate.
Ligety, meanwhile, had a fast start and led Matt by 0.02 at the first split time before his mishap occurred.
"This is aggressive snow and I was going for it. I just started cutting in too soon," said Ligety, who returned to the course where he won three gold medals during last year's world championships.
"It's always a bummer to straddle," he said. "It's unfortunate. At least I was skiing pretty well. I feel like had my setup pretty dialed in now where I can actually start to look for speed in slalom ... Anytime you get a green light, especially in slalom for me, is encouraging. I just want to be able to do it the whole run."
American teammate David Chodounsky was slammed on the nose by a bouncing gate and ended his first run with blood on his face, bib and race suit, but still finished in 14th, 1.73 off the lead.
"The very end of the gate hit my nose," said Chodounsky, who dropped to 22nd after the second run. "Just a bloody nose, nothing hurts. It looks bad, but it isn't."
Wolfgang Hoerl had an awkward crash in the first run when he tumbled over and fell head-first on the next gate, though the Austrian avoided serious injuries.
---