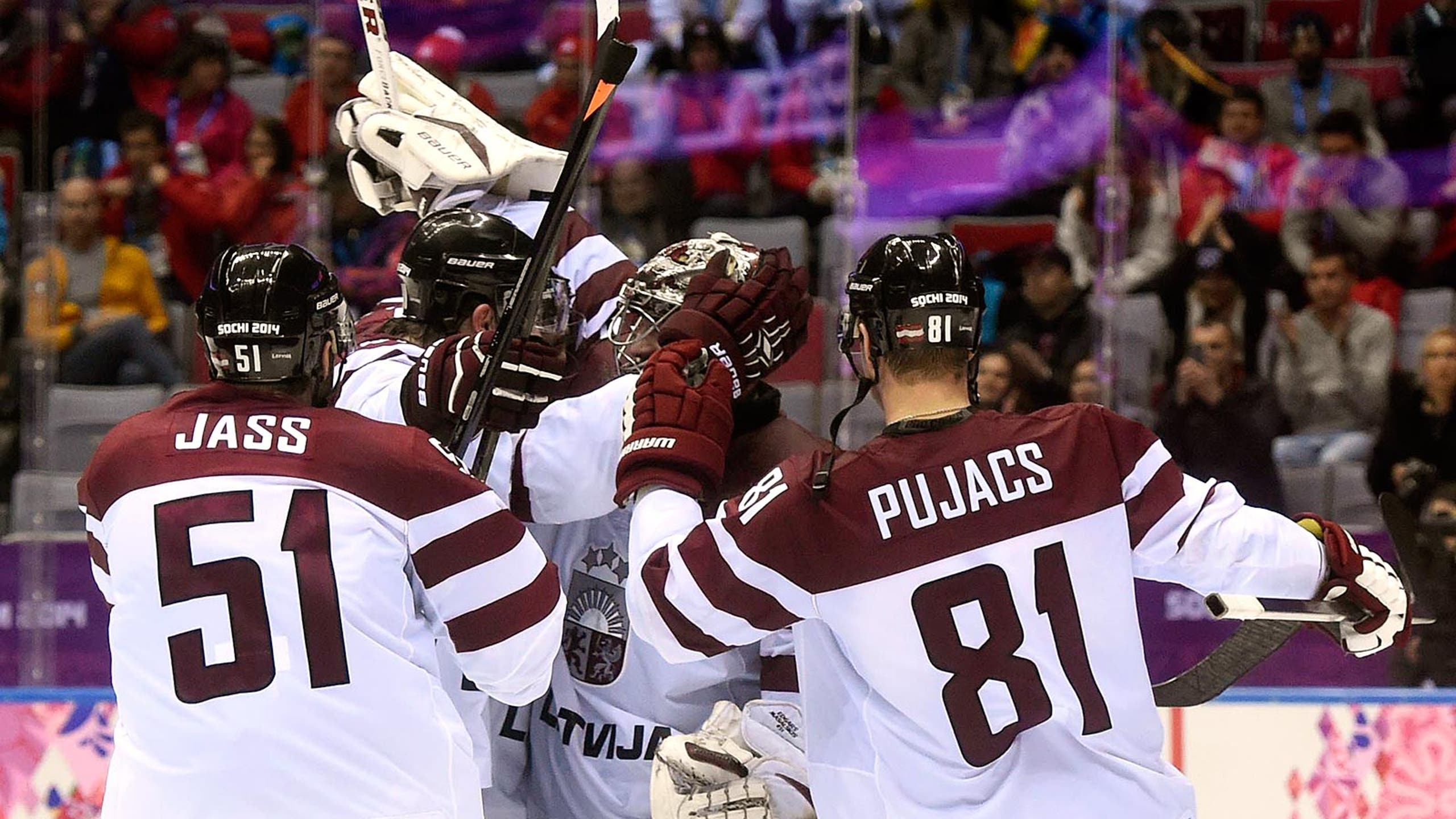 Latvia upsets Swiss, will face Canada in quarters
BY foxsports • February 18, 2014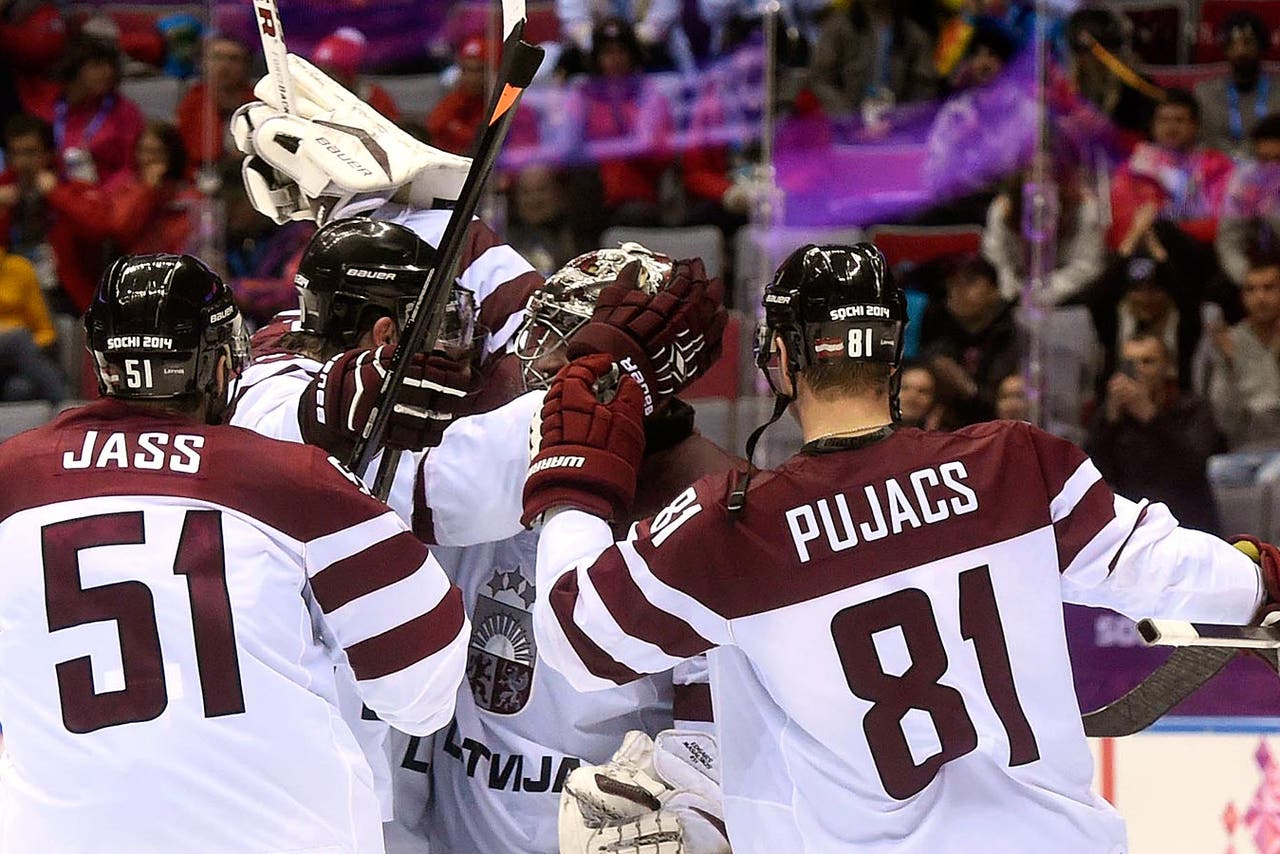 SOCHI, Russia -- Latvia's reward for its first Olympic victory in 12 years is a quarterfinal date with defending champion Canada.
That sobering realization couldn't dampen the thrill for coach Ted Nolan and his underdog players after they made a bit of hockey history in Sochi.
Oskars Bartulis and Lauris Darzins scored in the first period, and Latvia reached the Olympic men's hockey quarterfinals for the first time with a 3-1 victory over Switzerland on Tuesday night.
Edgars Masalskis made 32 saves and Darzins added an empty-net goal in the Latvians' first Olympic victory since 2002, when they returned to the games after a 66-year absence. After the clock ran out on an impressive victory over a rising Swiss team, the Latvians gathered around Masalskis for a joyous group hug.
"It's just awesome to do this for all of the great veteran players that we have," said Buffalo's Zemgus Girgensons, Latvia's only active NHL player. "No one has done it before, so it's unbelievable to be in the quarterfinals and beat the Swiss."
Latvia went winless in preliminary-round play in Sochi, losing 1-0 to the Swiss in its opener. But the Baltic nation of 2 million people posted the second stunner of the qualification round, several hours after Slovenia beat Austria for its own debut trip to the quarterfinals.
Nolan, the Canadian who also coaches the Buffalo Sabres, took a moment to appreciate the breakthrough before focusing on a date with Canada on Wednesday night.
"I just really care about the players and (making) them enjoy this game," Nolan said. "To come to the Olympics and play in this venue, it's a thrill of a lifetime. ... Today was a lucky day for us. We got some good breaks, but it's great for Latvian hockey, for sure."
Masalskis, the Latvians' four-time Olympian, was a 21-year-old backup goalie when Latvia got its previous Olympic victory over Austria in Salt Lake City. He was the difference against the Swiss, repeatedly shutting down their scoring chances in spectacular fashion.
"We knew we could do it, and we had shown we had a chance in the previous three games," Masalskis said. "(Nolan) makes us believe in ourselves. He tells us every day we're a great team. We did it all for him."
With 41-year-old defenseman Sandis Ozolinsh as its captain and a virtual coach on the ice, according to Nolan, Latvia sustained a team defensive effort to shut down a Swiss lineup with nine NHL players. The result is a bitter disappointment for the Swiss, who won twice in the preliminary round while allowing just one goal in three games.
Martin Pluss scored and Jonas Hiller stopped 19 shots for the Swiss, who are out despite some of the tournament's stingiest defense. Switzerland managed just three Olympic goals of its own.
"After they scored, there was enough time to react," New Jersey's Damien Brunner said. "We just couldn't find any offense. We've had trouble in the past, but not like that."
Hiller hadn't allowed a goal in Sochi, posting two shutouts in the preliminary round, until Bartulis beat the Anaheim Ducks goalie through a screen 8:38 in.
Switzerland beat Latvia in both teams' Olympic debuts last week on a last-minute deflection goal by Simon Moser after both teams played cautiously throughout. Latvia demonstrated the rematch would be different just 8:38 in when Bartulis wired a long shot just inside the far post of Hiller, who was completely screened by two players in front.
Darzins then scored on a sharp-angled shot on the power play 2:41 later, and Switzerland faced its first two-goal deficit of the tournament.
Switzerland opened up its attack in the second period, but Masalskis was both solid and spectacular on a glove save against Andres Ambuhl. Hiller was equally sharp for Switzerland, turning away a handful of point-blank chances.
The Swiss finally connected for their third goal of the Olympics late in the second period, with Pluss converting a one-timer from Reto Suri.
Players on both teams' benches stood to watch much of the third period. Suri had an unobstructed chance with 2:12 left, but put it straight into Masalskis' midsection.
"Today's game just shows how close world hockey is," Switzerland coach Sean Simpson said. "Latvia played an outstanding game. They fought for every meter on the ice."
---