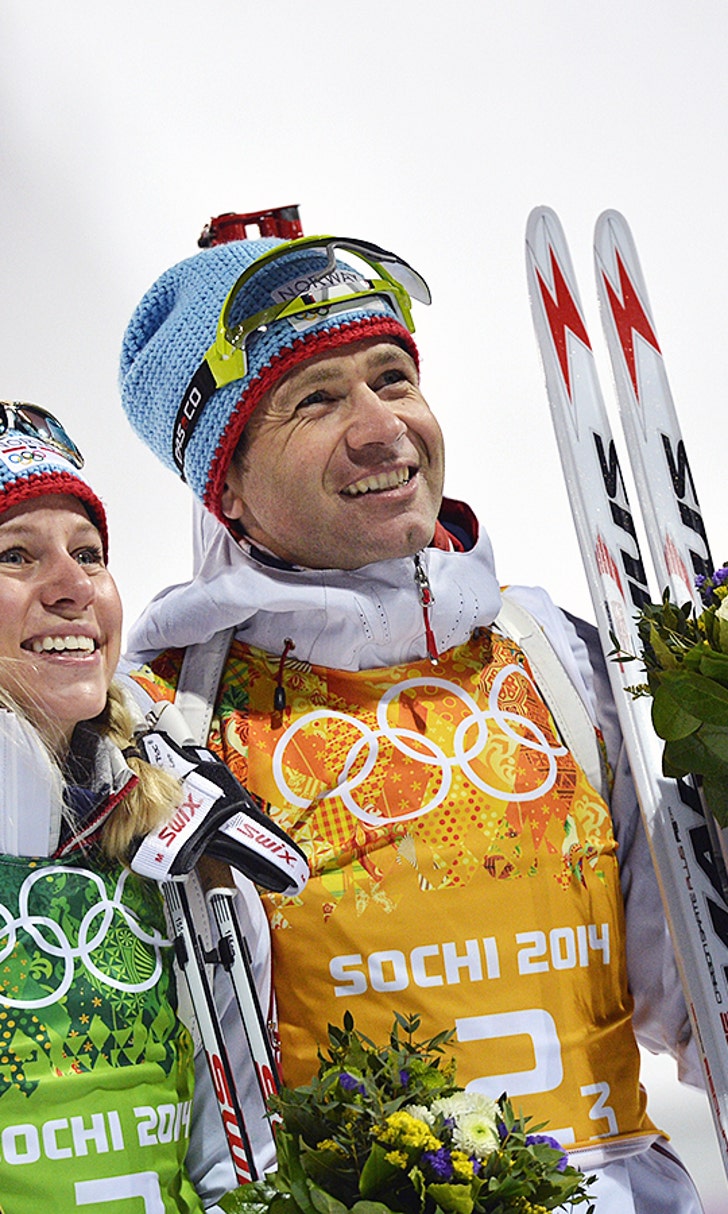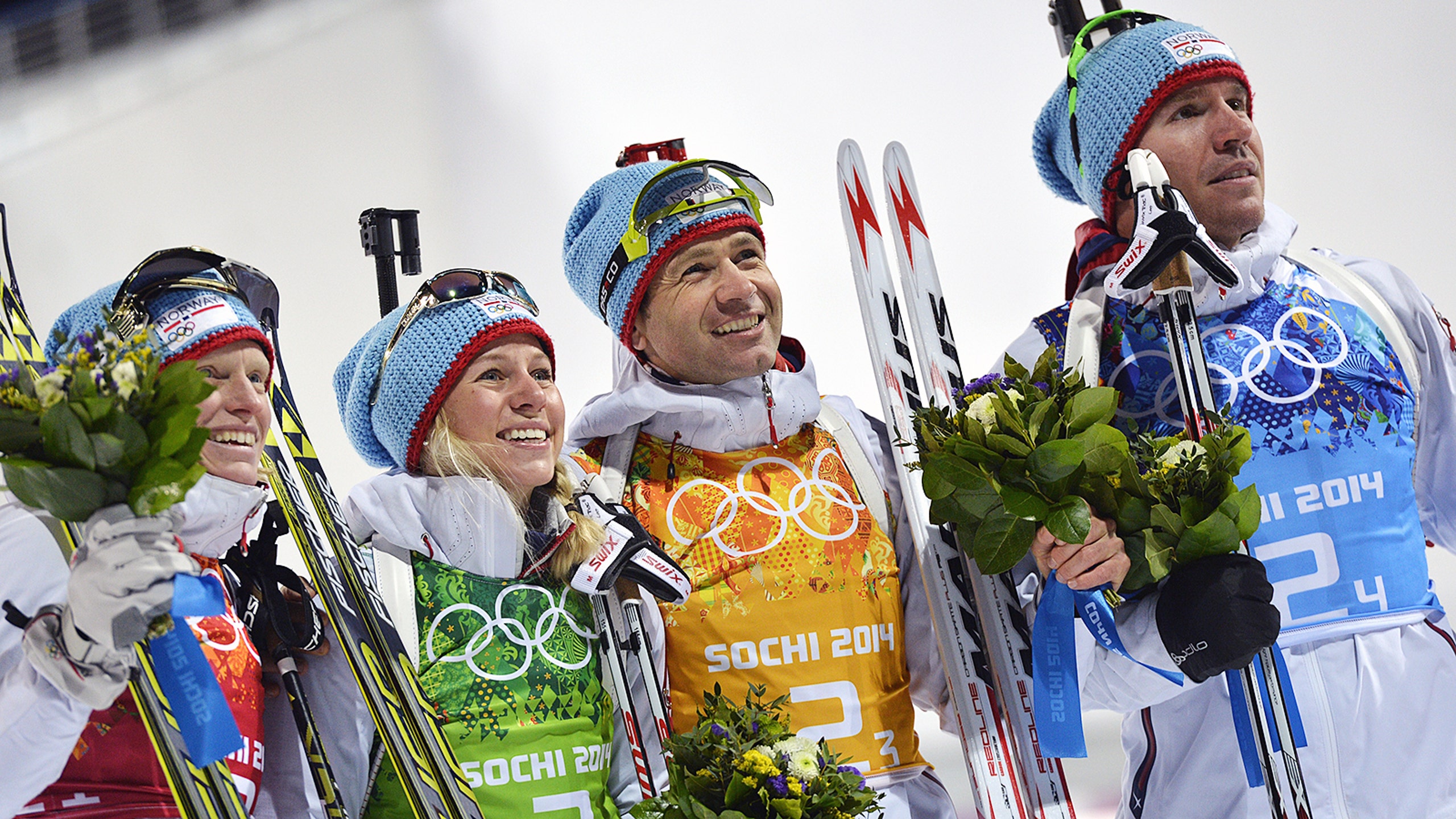 Bjoerndalen wins biathlon relay, becomes most decorated Winter Olympian
BY foxsports • February 19, 2014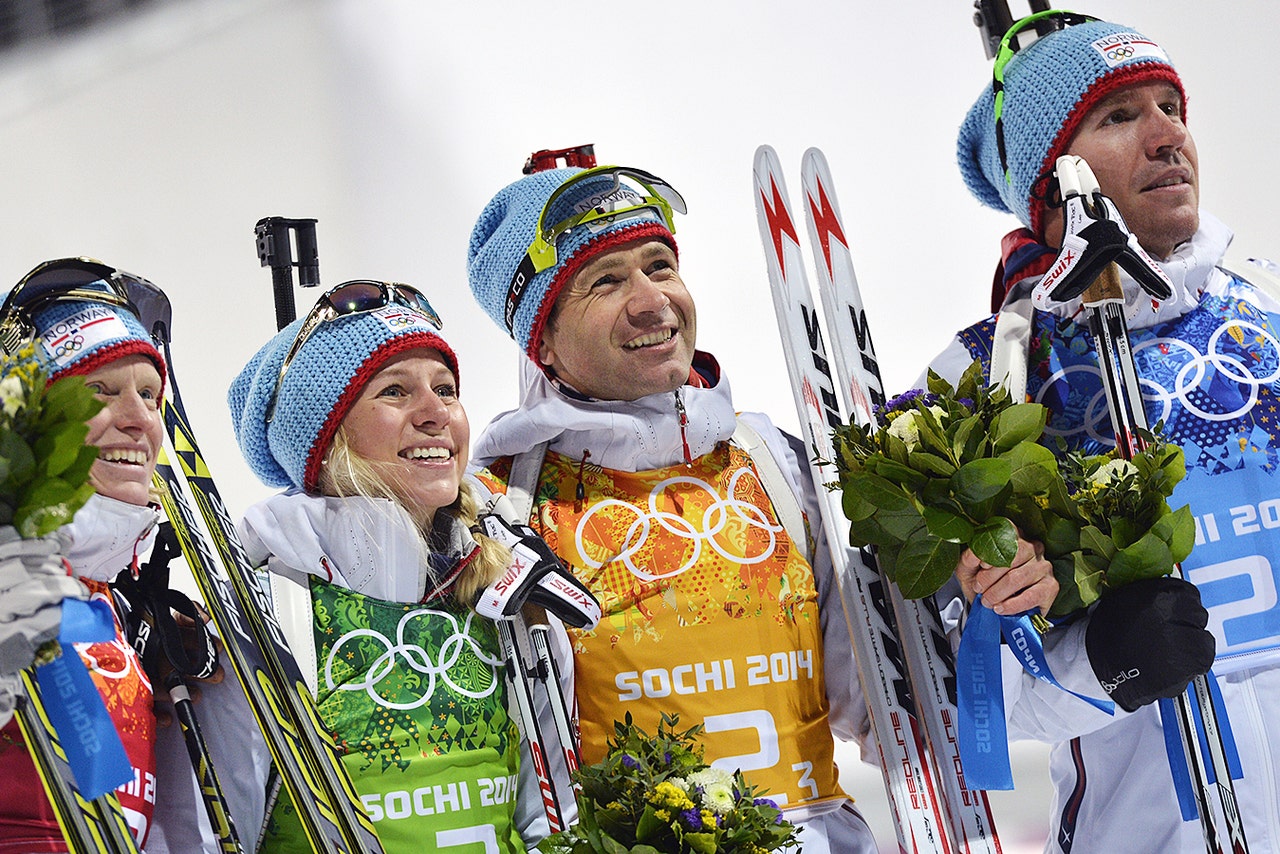 KRASNAYA POLYANA, Russia -- Ole Einar Bjoerndalen couldn't avoid being in the spotlight, certainly not after becoming the most decorated Winter Olympian of all time and receiving personal congratulations from the king.
The softly-spoken Norwegian tends to keep his thoughts and his emotions in check rather than in the public domain, so it was fitting that his 13th Winter Games medal was a gold in a team event.
The 40-year-old Bjoerndalen helped Norway win the first Olympic mixed relay in biathlon on Wednesday, surging back to form after a couple years of apparent decline.
He broke the total medals record he previously shared with retired cross-country skiing great Bjoern Daehlie at the Winter Games, and also matched fellow Norwegian's record mark of eight golds. It was his second victory in Sochi, coming after his gold in the men's sprint biathlon.
''It's fantastic, I never imagined this would happen,'' Bjoerndalen said. ''Bjoern is still my big hero ... He gave me a lot of motivation. Now I have the same gold as him, and that's cool.''
Daehlie won eight gold and four silver medals at the Olympics; Bjoerndalen's haul is now eight gold, four silver ... and one bronze.
And he's got a shot at another medal in Sochi by lining up in the 4x7.5K relay on Saturday.
''It's difficult to realize during the championships what has happened because you try to focus on the races,'' Bjoerndalen said. ''It will only sink in after the Olympics.''
King Harald V of Norway was among the first to congratulate him Wednesday on his record-breaking win.
''He knows our sport so well,'' Bjoerndalen said. ''He knows exactly what we have problems with, in the shooting, on the skiing, and he was really happy with my shooting today. Yeah, he was impressed.''
Norway's victory came one day after Bjoerndalen missed out on a medal chance in the 15K mass start event, when he was in fourth position when missing four targets in his final shooting.
''My shooting was really good,'' said Bjoerndalen after hitting all 10 targets in the mixed team event. ''I was focused better today. I was really nervous before the race because in a relay you don't go for yourself, you go for your team.''
Tora Berger faulted twice, but Tiril Eckhoff and Emil Hegle Svendsen also shot cleanly for Norway. They finished in 1 hour, 9 minutes and 17 seconds.
Czech Republic was 32.6 seconds behind to win silver, and Italy came in 58.2 seconds behind to take bronze - its first Olympic biathlon medal in 16 years.
''First of all today I'm really happy for my team,'' Bjoerndalen said. ''It was an amazing race for everybody. For myself, it's coming back from some years with bad results, and to be in my best shape almost ever in these Olympics is really good.''
Berger praised a veteran teammate: ''He's amazing. He's really big for us. Of course we knew before the race he could get the record today but we tried not to think about it.''
And Eckhoff described Bjoerndalen as ''my idol for my so many years, since I was four years old. So it's amazing to be on the team with him, because he's the king of biathlon.''
Svendsen praised his teammate not only for winning medals, but also for his impact on the biathlon sport in Norway.
''It's amazing to be part of biathlon history,'' Svendsen said. ''We take so many things for granted these days in our training and in our race preparation, but much of that we can only do thanks his experience.''
Berger led the race before missing twice in the standing shooting and dropping to fifth, but she recovered to regain the lead on the final lap.
Eckhoff lost Norway's lead to Gabriela Soukalova, meaning Bjoerndalen started 1.1 second behind Jaroslav Soukup. He stayed in the Czech's slipstream for the first lap and, when Soukup missed once, Bjoerndalen took an 11.7-second lead leaving the shooting range. He extended the margin to 43.1 seconds before handing over to Svendsen.
A day after his gold-medal victory in the 15K mass start, Svendsen lost time on the track to Ondrej Moravec but held onto a decent margin when his Czech chaser missed twice.
The Norwegian anchor started celebrating after his final shooting, certain of winning a second gold medal in two days.
France, led by two-time gold medalist Martin Fourcade, was well off the pace in seventh and the U.S. was ninth.
The mixed relay is new to the Olympic program but has been an established part of the World Cup circuit for many years and was first included in the annual biathlon world championships in 2005, with Norway winning the title for the past three years.
---