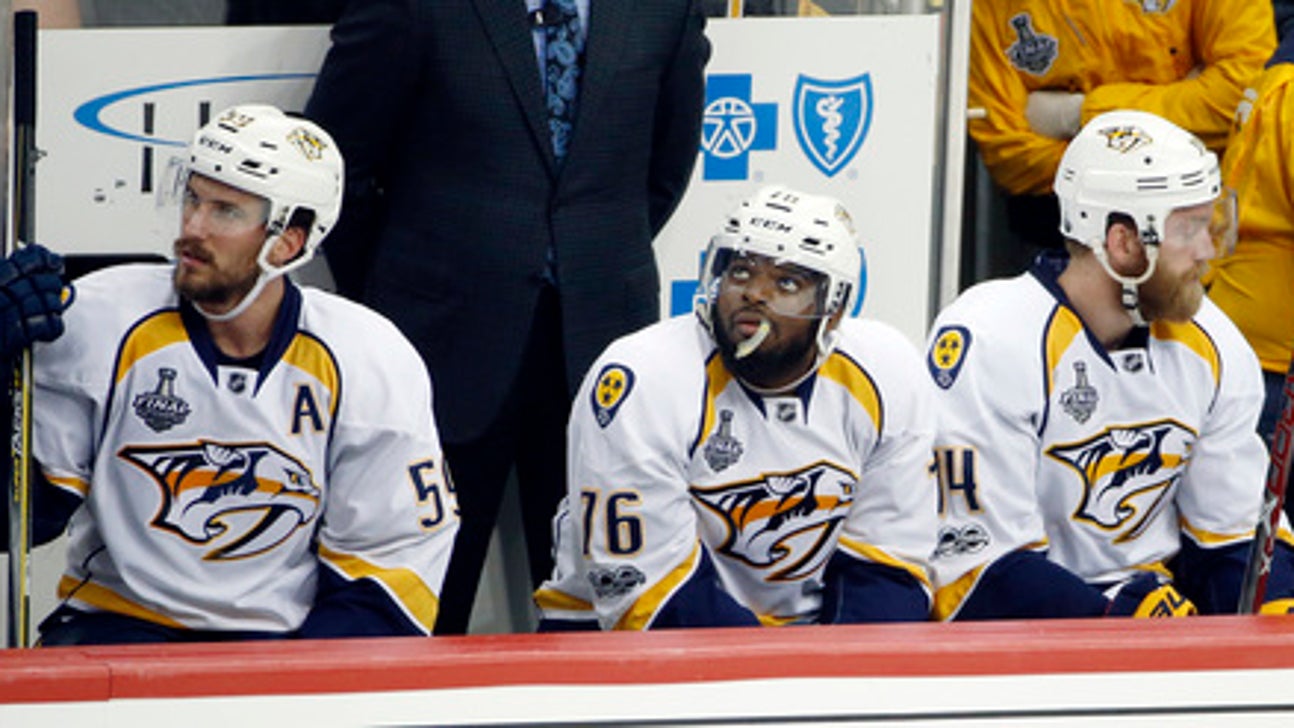 The Latest: Pittsburgh wins 2nd straight Stanley Cup title
Updated
Mar. 5, 2020 1:19 a.m. ET

NASHVILLE, Tenn. (AP) The Latest on Game 6 of the Stanley Cup Final (all times local):
10:15 p.m.
Sid the Kid is now a two-time Stanley Cup MVP.
Pittsburgh Penguins captain Sidney Crosby was awarded the Conn Smythe Trophy for a second consecutive year following a 2-0 win over Nashville in Game 6 of the Stanley Cup Final.
Though held without a point on Sunday night, Crosby finished second on the team with 27 points (eight goals and 19 assists). He entered the game with a three-game point streak, including three assists in a 6-0 win in Game 5 on Thursday.
---
9:58 p.m.
The Stanley Cup is returning to Pittsburgh after Patric Hornqvist scored the go-ahead goal on a bad-angle shot with 95 seconds left in a 2-0 win over the Nashville Predators in Game 6.
Carl Hagelin sealed the win by scoring into an empty net with 14 seconds left in leading the Penguins to become the first NHL team in nearly two decades to win consecutive championships. Penguins goalie Matt Murray stopped 27 shots to register back-to-back shutouts following a 24-save outing in a 6-0 win in Game 5.
The Penguins won their fifth title - all of which have been clinched on the road - to tie the Wayne Gretzky-Mark Messier-era Edmonton Oilers for sixth on the all-time list. The Detroit Red Wings in 1997 and `98 were the last champion to defend their title.
The loss ended the upstart Predators' deepest playoff run in the franchise's 19-year history. Having won just three of 12 playoff series before this year, Nashville opened this postseason by eliminating the top-seeded Chicago Blackhawks in four games. In doing so, the Predators became the first eighth-seeded team to sweep a first-round series since the current playoff format was introduced in 1994.
---
9:39 p.m.
The Nashville Predators' power play keeps coming up empty midway through the third period of a scoreless Game 6 against the Pittsburgh Penguins.
The Predators' power-play unit has gone 0 of 4, including failing to capitalize on a two-man advantage that lasted 32 seconds when Trevor Daley was penalized for roughing with 11:13 left in the third.
Mike Fisher had the best opportunity during a scramble in front with 10:40 left in the third period. Jamming at the puck, he got a weak shot off toward the net, which Matt Murray stopped with his left pad.
The Predators are 0 of 8 in their past two games and 4 of 18 overall in a series they trail 3-2.
The Pittsburgh power play is 2 of 22 this series and has scored once in its past 19 chances.
---
9:16 p.m.
It's been nearly 20 years since someone successfully defended the Stanley Cup.
That's a record, by a huge margin.
Pittsburgh can end that drought by winning either Game 6 or Game 7 of this Stanley Cup Final. The Penguins would become the first back-to-back champion in the NHL since Detroit won the Cup in 1997 and 1998.
There were 24 repeat champions from 1930 through 1998, a span that includes some three-peats, four-peats and even a five-peat by Montreal.
Until now, the longest drought without a repeat Cup winner was from 1937 to 1948. Detroit went back-to-back in 1936 and 1937; Toronto won three straight in 1947, 1948 and 1949.
And if Pittsburgh wins this series, take note: Hockey hasn't had a back-to-back-to-back winner since the Islanders won four straight titles from 1980 through 1983.
---
8:58 p.m.
Big saves and a quick whistle that negated a goal has left the Pittsburgh Penguins and Nashville Predators scoreless after two periods of a tense Game 6 in the Stanley Cup Final.
Though the Penguins have a 21-19 edge in shots, it's the Predators who have had the best opportunities, including two by Colton Sissons. He had a goal disallowed 1:07 into the second period when referee Kevin Pollock blew the play dead before Sissons poked the puck into an open net.
Some 10 minutes later, Sissons was in alone only to be stopped by goalie Matt Murray. Faking left, Sissons shifted right, where Murray got his pad and glove across to make the save.
Nashville has also gone 0-of-2 on the power play.
The Predators trail the series 3-2, and coming off a 6-0 loss at Pittsburgh on Thursday. Nashville's goal drought is now at 103 minutes and 23 seconds since Filip Forsberg scored into an open net in 4-1 win in Game 4.
Murray hasn't allowed a goal in a span of 126:52, since allowing a second-period goal to Viktor Arvidsson.
Nashville goalie Pekka Rinne was sharp in getting his blocker up to stop Sidney Crosby's shot through a screen seven minutes into the second period.
The series has yet to feature a game decided by one goal.
---
8:23 p.m.
The Nashville Predators have had a goal waved off 1:07 into the second period of a scoreless game . Referee Kevin Pollock whistled the play dead before Colton Sissons poked the puck into the open Pittsburgh net.
Goalie Matt Murray made the initial stop by attempting to squeeze the puck under his left arm on Filip Forsberg's snap shot from the left circle. The puck sneaked through and fell into the crease, where Sissons reached out and poked into the open net behind the goalie.
Pollock, however, immediately negated the score by indicating he lost sight of the puck. A whistle could be heard blown before the puck entered the net.
Seconds earlier, Murray also made a big stop on Nashville's Pontus Aberg.
It's familiar territory for Nashville: In Game 1's loss, what would have been the opening goal from defenseman P.K. Subban was wiped out by an offside call that came after a coach's challenge.
---
8:02 p.m.
Despite several chances and a fast-paced style, the Nashville Predators and Pittsburgh Penguins have played the first scoreless first period of this year's Stanley Cup Final.
The Penguins had a 9-8 edge in shots to open Game 6, while the Predators failed to capitalize on the only power-play opportunity with 6:46 left, when Ian Cole was sent off for interference.
Pittsburgh's Matt Murray made the best save with 1:48 left. After getting his pad out to stop Mike Fisher's shot from the slot, Murray got his glove up to foil James Neal attempting to convert the rebound at the right post.
Murray is coming off a 24-save outing in a 6-0 win in Game 5, and extended his shutout streak to 83 minutes and 23 seconds.
The Penguins lead the series 3-2, and seeking to become the NHL's first team to win consecutive Stanley Cup championships since Detroit won in 1997 and `98.
---
7:22 p.m.
Game 6 of the Stanley Cup Final is off to a fast start in Nashville, with both teams with quick scoring chances.
Scoring first hasn't always been a determining factor between the Penguins and Predators.
Nashville scored first in a 4-1 loss in Game 2, while the Pittsburgh opened the scoring in a 5-1 loss in Game 3. The Penguins have the distinct edge in having outscored the Predators 9-2 in the opening period.
Pittsburgh's offensive troubles have come in Nashville, where they've been outscored 9-2.
Coming off a 6-0 loss in Game 5, the Predators haven't scored in 63 minutes and 23 seconds since Filip Forsberg's empty-netter in a 4-1 win in Game 4.
The Penguins have lost three straight road games, dating to their Eastern Conference final series against Ottawa. Pittsburgh hasn't lost four consecutive road games since going 0-2-2 from Jan. 12 to Feb. 5, 2016.
---
7:19 p.m.
The Nashville Predators are counting on Faith to give them a vocal lift for Game 6. Faith Hill, that is.
Hill became the latest country music star to sing the national anthem in Music City, joining the likes of Carrie Underwood, Keith Urban and Lady Antebellum.
Though usually a closely guarded secret, Hill provided a hint about 40 minutes before puck drop against Pittsburgh by posting on her Twitter account the back of a Predators jersey with No. 6 and the name ''Faith'' printed on it.
Predators fans are more accustomed to hearing Hill's husband's music. A portion of Tim McGraw's song ''I Like It I Love It,'' is played after Nashville scores. McGraw trotted out, hugged his wife and then fired up the crowd.
---
7:06 p.m.
Nashville defenseman Ryan Ellis is playing and in the starting lineup for Game 6 of the Stanley Cup Final.
Ellis played only 10:44 of Nashville's 6-0 loss on Thursday night in Pittsburgh. He tested himself all alone on the ice Sunday morning and was in pregame warm-ups Sunday night before being listed in the lineup.
The defenseman has 13 points for Nashville this postseason and was the first defenseman in the NHL with a seven-game point streak in the postseason since 1998 when both Chris Pronger and Jason Woolley put together such a streak.
Ellis plays with Roman Josi as Nashville's top defensive pair.
---
6:15 p.m.
Pucks and guitar picks.
Thousands of country music and hockey fans have packed into downtown Nashville as two of the city's biggest events converged - the CMA Music Festival and the Stanley Cup Final.
City officials are expecting 100,000 people , and some are here for both the music and hockey with some even coming from the Bonnaroo Music and Arts Festival about 60 miles southeast of Nashville to join the party.
Jillian and Trey Thomas, who live about 30 miles outside Nashville in White Bluff, Tennessee, had tickets to the CMA festival but are also die-hard Predators fans. Being packed shoulder to shoulder didn't deter them from coming to town.
Jillian Thomas says she didn't care how big the crowds get that she still would come because Nashville has waited too long for the Stanley Cup.
Soaring temperatures in the upper 80s did not dampen the party either.
Cayley Foxworthy, an 18-year-old from Murfreesboro, had tickets to the CMA festival and is a devoted hockey fan. He says the packed streets are just part of the fun coming to Nashville.
----
5:30 p.m.
Gordie Howe, not etched for all eternity on the Stanley Cup?
It's about to happen.
Howe's last Stanley Cup championship - with Detroit in 1955 - will never be erased from history. But it will soon be removed from the Cup, along with 11 other teams when hockey's silver chalice gets another band of winners' names retired this summer.
When the Cup has no more space for a new team, as will be the case this year when Pittsburgh or Nashville takes the lone available space on the trophy , a filled band comes off so it can be replaced by another. It happens every 12 years or so; the removed bands go into the Hockey Hall of Fame in Toronto.
That means every Cup winning team from 1954 through 1965 will be retired because space is needed this year. That's six Montreal teams, three from Toronto, two from Detroit and one from Chicago.
----
4:55 p.m.
Country music star Luke Bryan says he would've rearranged everything for the opportunity to kick off NBC's broadcast of Game 6 in the Stanley Cup Final.
Bryan also will be singing a four-song set that will be shown inside Nashville's Bridgestone Arena and at three outdoor watch parties Sunday night.
The two-time Country Music Association entertainer of the year will be performing on the top of honky-tonk Tootsie's World Famous Orchid Lounge with NHL officials estimating more than 100,000 people around the arena.
Bryan says it's surreal that he will be at the epicenter of all that trying to fire up Nashville and will be a moment he'll never forget.
This will be an easier singing gig than when Bryan performed the national anthem earlier this postseason for the Nashville Predators. He says he was more nervous for that gig than when he sang the national anthem at the Super Bowl as an Atlanta Falcons' fan.
---
4 p.m.
Sidney Crosby and the Pittsburgh Penguins are a win from becoming the NHL's first team to win consecutive Stanley Cup titles in nearly two decades.
To do so, they'll need to beat the Predators at Nashville in Game 6 of a series in which the home team has yet to lose. The Penguins were outscored a combined 9-2 in losing Games 3 and 4 at Nashville before rebounding with a 6-0 win at Pittsburgh on Thursday.
The Detroit Red Wings are the most recent team to win consecutive Stanley Cups in 1997 and `98.
Crosby and the Penguins are seeking their third title since 2009, and the franchise's fifth overall.
The Predators are 9-1 in their ''Smashville'' country-music home in the midst of making the deepest playoff run in their 19 years of existence.
---
11:45 a.m.
Predators defenseman Ryan Ellis' status for Game 6 of the Stanley Cup Final against Pittsburgh remains in question after he tested himself by skating alone .
But Ellis, who played less than 11 minutes of Thursday night's 6-0 loss to Pittsburgh, did not join his teammates Sunday morning in an optional skate.
Ellis not only plays on the top defensive pair with Roman Josi, he also has 13 points this postseason, including a seven-game points streak.
Coach Peter Laviolette could replace Ellis by moving Matt Irwin up from the third pair to keep P.K. Subban and Mattias Ekholm together. Irwin has played with Josi, Ekholm and Subban. Filling the sixth defensive spot could be Anthony Bitetto, with 14 career playoff games but none this postseason.
Pittsburgh leads the series 3-2.
---
More AP NHL: https://apnews.com/tag/NHLhockey
---
---