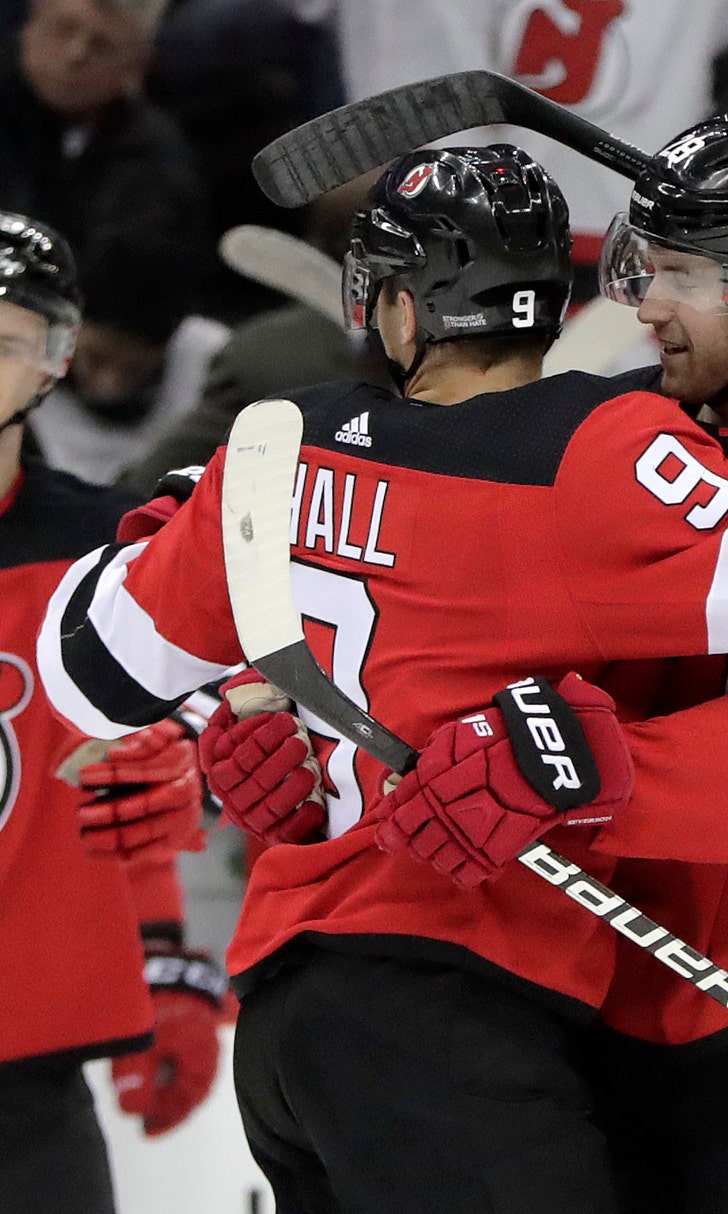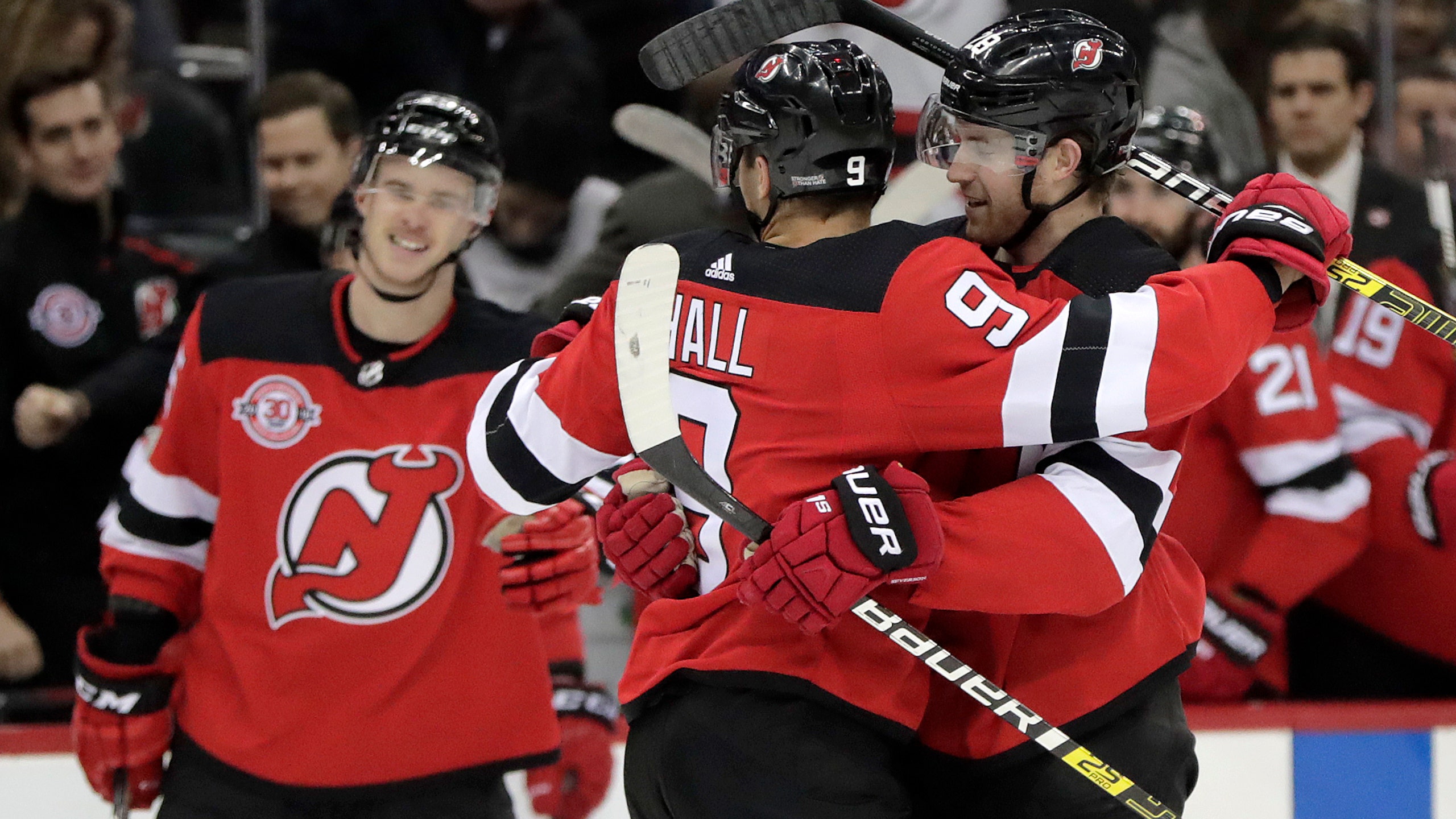 Taylor Hall has 2 goals, 2 assists as Devils beat Penguins
November 13, 2018
NEWARK, N.J. (AP) — Taylor Hall gave the New Jersey Devils just what they needed after a dismal seven-game trip — an MVP-type performance.
Hall scored the game-winning goal on a breakaway at 8:07 of the third period added an empty-net tally to cap a four-point night and lead the Devils to a 4-2 victory over the struggling Pittsburgh Penguins on Tuesday night.
Travis Zajac and Damon Severson each had a goal and an assist as the Devils snapped a three-game losing streak by beating the Penguins for the second time in just over a week. Keith Kinkaid had 29 saves for New Jersey, which was returning home after a 1-6 trip.
"Not just a win but an effort we can be proud of," said Hall, last season's MVP. "It's not an effort where we solely relied on our goaltender to steal a game. We did a good job of eliminating chances against a high-powered team. Our game has to continue to grow that way and when we play strong in our end, it allows us to just play more free up the ice and create more, have the puck more. It was solid night for us."
Phil Kessel and Jake Guentzel scored for the Penguins, who have one win in seven games (1-5-1). Casey DeSmith had 31 saves in his third straight start.
"It's frustrating because we are trying to find wins right now and we can't seem to find them with any level of consistency," Penguins coach Mike Sulllivan said. "I thought we had spurts in the game where we were good, then some of the goals they scored, we didn't force them to work hard enough for them. That for me is discouraging."
Hall's game-winner came a little less than four minutes after Guentzel tied the game. It came on a quick counterattack. Kyle Palmieri sent a pass from the Devils' defensive end to Zajac at the Penguins' blue line. Zajac sent a pass to Hall coming down the middle, and last year's MVP made one move and slid a soft shot between DeSmith's legs.
"He called for it," Zajac said of the pass to Hall. "I kind of saw him, but he called for it and I just had to kind of whack it over to him and he made a great play."
DeSmith was clearly frustrated after the play. He seemed to read Hall's move and felt he got a piece of the puck.
"We had worked hard to tie it up and like I said, the team needed a save and I didn't make it in that situation. I feel responsible for that," DeSmith said.
The Devils, who are 6-1-1 at home, took leads of 1-0 and 2-1 only to see the Penguins tie it.
Guentzel's sixth goal of the season tied the game at 2 after withstanding a challenge by New Jersey coach John Hynes, who claimed Sidney Crosby interfered with Kinkaid.
Kinkaid had stopped Crosby's semi-breakaway, but the skate of the Penguins' star knocked the goaltender to the ice, leaving Guentzel an open net to shoot at with the rebound.
After reviewing the goal, the referees ruled Devils forward Blake Coleman caused the problem by pushing Crosby in the back.
Zajac scored just 28 seconds into the game after DeSmith had trouble covering a Severson rebound.
The Penguins tied the score 1-all with Kessel's power-play goal at 13:19. Crosby held the puck in the right circle and fired a pass to Kessel stationed at the left edge of the net for a slam dunk.
New Jersey grabbed the lead again in the second period. After DeSmith stopped Hall in close, New Jersey kept the puck in the zone and Severson scored from between the circles after taking a pass from Hall.
New Jersey thought it had a 3-1 lead at 14:20 when Jesper Bratt scored on a breakaway, but the officials had blown the play dead because Kessel and Brett Seney were fighting in the Pittsburgh end.
The Penguins nearly tied it on the ensuing Devils power play, but Bryan Rust's short-handed shot was kept out by a combination of Kinkaid and the goalpost.
NOTES: Goaltender Martin Brodeur, who was inducted into the Hockey Hall of Fame Monday, dropped a puck in a ceremonial opening faceoff before the game. ... Devils center Nico Hischier, the No. 1 pick overall in last year's draft, missed his first game with an upper-body injury. He is day to day. Zajac took his place on the top line with Hall and Palmieri. ... Penguins F Evgeni Malkin played in his 800th NHL game. Coincidentally, his first was against New Jersey on Oct. 18, 2006, and he scored a goal. ... Devils F Brian Boyle was placed on injured reserve with an upper-body problem. C Pavel Zacha was recalled from Binghamton of the American Hockey League.
UP NEXT
Penguins: Return home to face Tampa Bay on Thursday night.
Devils: At Philadelphia on Thursday night.
---
---