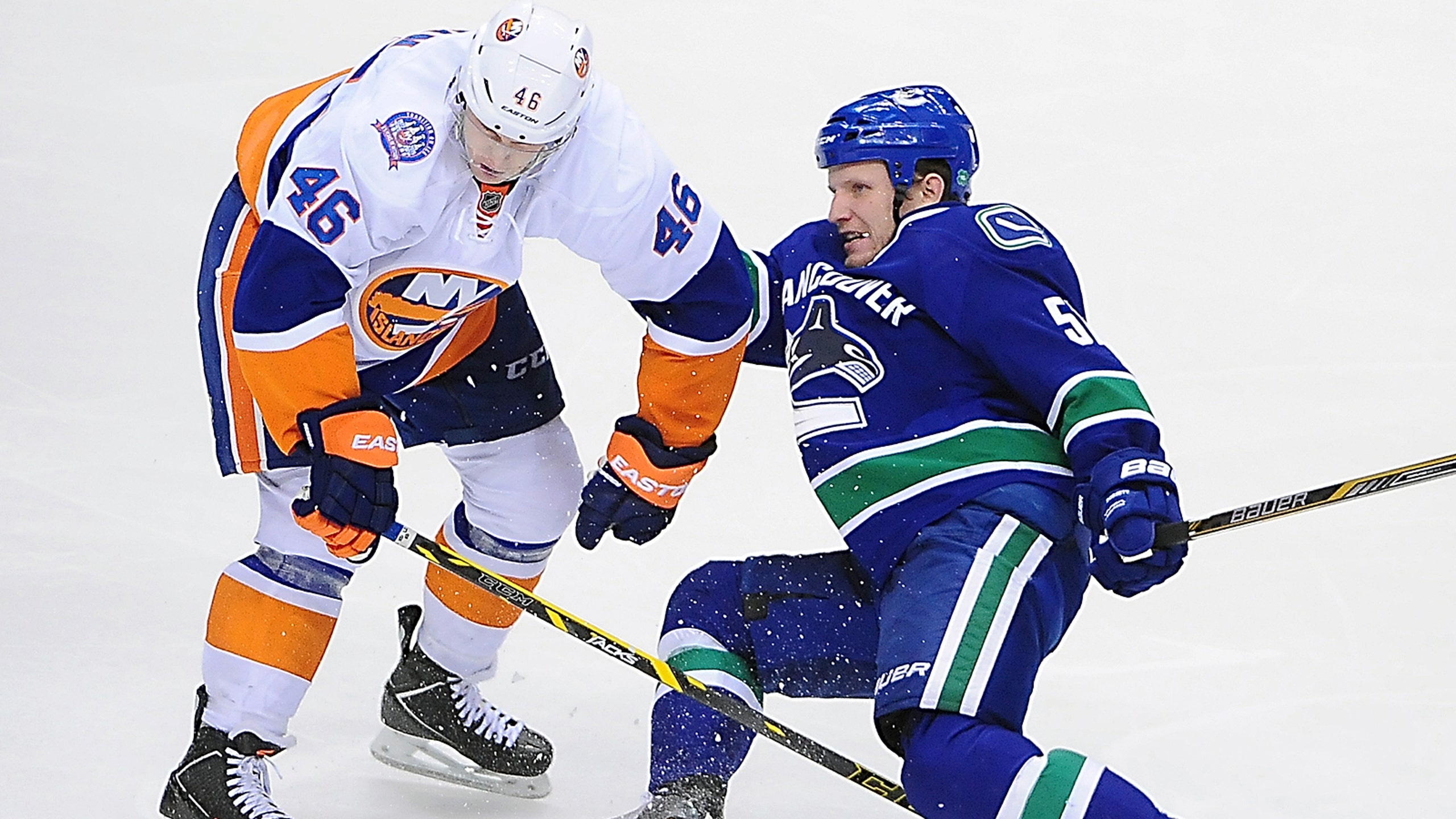 Surging Canucks hand Islanders second straight road loss
BY foxsports • January 7, 2015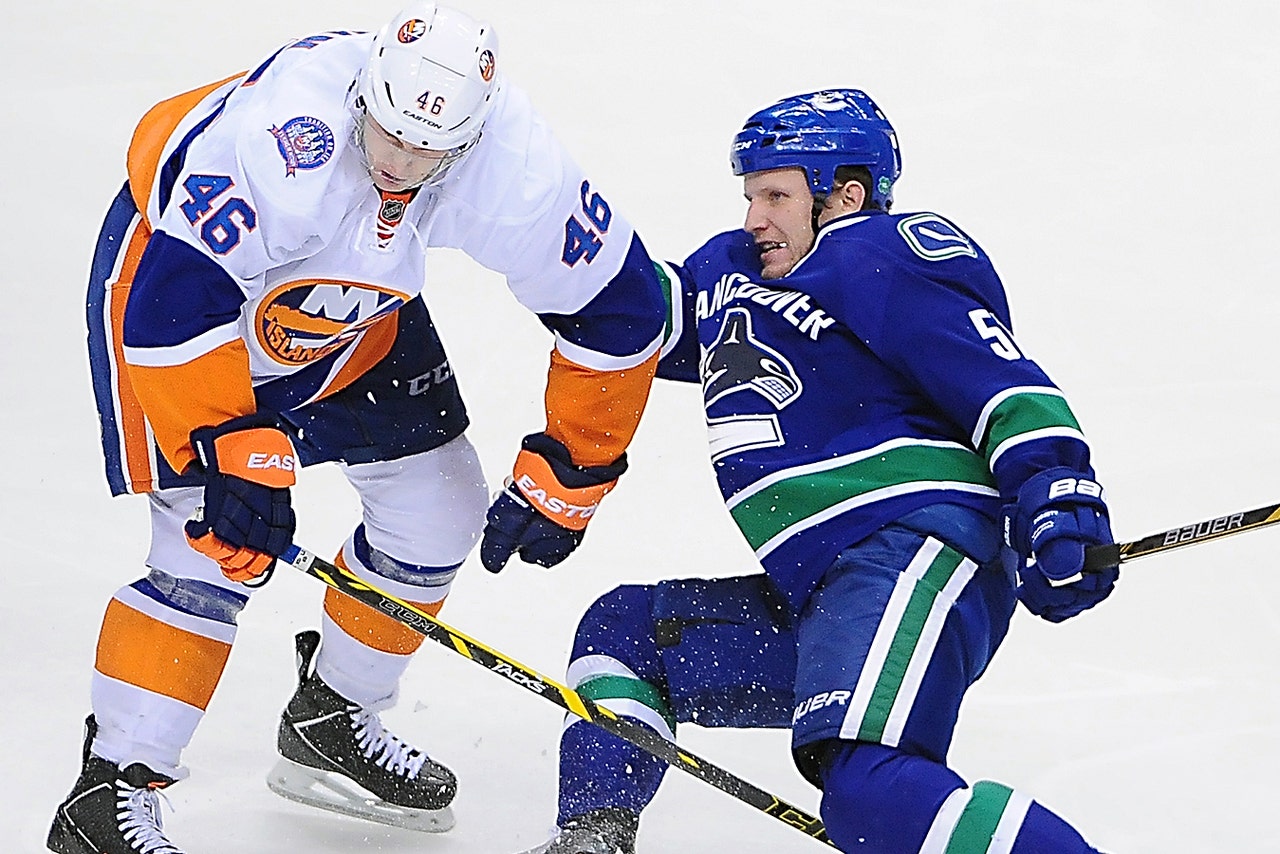 With leading goal scorer Radim Vrbata sidelined because of the flu, the Vancouver Canucks turned to some unlikely offensive sources.
Ryan Stanton scored his first goal in more than a year and Nick Bonino and Linden Vey also broke long droughts as Vancouver beat the New York Islanders 3-2 on Tuesday night.
"I think every team that's good in this league and wins has some secondary scoring," Stanton said. "I think we got it tonight. Bonino got out of a slump there, Vey got one, and probably the least likely guy to get one -- me -- got one."
Stanton's goal was the rugged defenseman's first in 84 games, dating to Oct. 17, 2013. Bonino scored his first in eight games, and Vey netted his first in 13.
"It hasn't been fun. I think I'm doing well in other areas of the ice," said Bonino, who has two goals in 24 games. "I feel like I'm playing good hockey, the puck just wouldn't go in."
Vey was inserted into the lineup after Vrbata -- who his 16 goals and 13 assists this season -- fell ill earlier Tuesday. Vey found out he would suit up after he arrived at the arena about 2 1/2 hours before the opening faceoff.
"You need guys to step up. Obviously (Bonino) has been snake-bitten for a while, and he's had lots of chances," Vey said. "It's good to see him find one."
Canucks coach Willie Desjardins reunited Henrik and Daniel Sedin with Alexandre Burrows on the first line. He had planned to put Bonino and Chris Higgins with Vrbata before Vey was pressed into action.
"I think it's always nice to capitalize on an opportunity," said Vey, a healthy scratch Saturday. "I just wanted to bring a little more energy and create a little bit more, and I got to play with Bonino and Higgins. Those guys are two great players and it makes the game a lot easier."
Eddie Lack started over No. 1 goalie Ryan Miller and made 21 saves for the Canucks (23-12-3) in his first start since Dec. 17. Vancouver is 5-1-1 in its last seven games.
"I really felt like we played a good team game. I feel like they made me see the puck all night," Lack said. "I kind of felt it took me five, 10 minutes to get into the groove a little bit. I felt like I was chasing the game a little bit, maybe like training camp again. After that I felt normal."
Matt Martin and Mikhail Grabovski scored for New York (26-13-1), which got 17 saves from Jarolsav Halak. The Islanders were coming off a 5-2 loss at Edmonton on Sunday night.
"I didn't think we were sharp. We didn't execute," Islanders forward Kyle Okposo said. "The last couple games, even three games, we haven't been ourselves, haven't had that same pop. We just have to find a way to get that back.
"It's not time to panic, but we just need to be better."
Vancouver grabbed a 2-1 lead at 8:01 of the second period after New York defenseman Thomas Hickey tried to clear the puck up the middle.
It was intercepted by Kevin Bieksa at the blue line and he fired a shot that Bonino redirected in front of Halak. He shoveled in the rebound for his ninth goal.
Vey made it 3-1 at 17:36 after another mistake by Hickey, who turned over the puck at the Vancouver blue line. Derek Dorsett fed a streaking Vey, who moved in alone and fired a shot through Halak's pads for his sixth of the season.
"We played a pretty good hockey game, but you can't manage the puck like that and expect to win," Islanders coach Jack Capuano said. "The whole thing about this game is being able to execute your breakouts, and for whatever reason our defense didn't move the puck.
"Before you know it, it's in the back of our net."
The Canucks held the Islanders to two shots through the first 10 minutes of the third. Lack was rarely threatened until Grabovski scored his sixth goal and first in 11 games off a pass from Okposo after Bieksa's turnover at 14:33.
Lack and the Canucks were embarrassed by the Islanders at home last March in a game in which Vancouver blew a 3-0 lead in the third period and lost 7-4.
There was no repeat in this one.
"I was kind of thinking of it a little bit before the third period," Lack said. "Once we started playing, I was feeling normal again."
The Islanders opened the scoring at 9:38 of the first period after defenseman Travis Hamonic moved down the right side. He threw the puck in front to Martin, who fought off a check from Bieksa and directed in his fifth goal.
The Canucks tied it less than three minutes later. Brad Richardson jumped on a New York turnover behind the Islanders net and came out in front.
Halak made the first save, but the rebound squirted to Stanton for the unlikely goal.
"It definitely felt nice," Stanton said. "I'm not a huge goal scorer, but when you go 80-some games without scoring a goal it definitely starts to creep in the back of your mind."
NOTES: The Canucks lost Richardson to a lower-body injury in the second period. Desjardins said he expects him to be OK. ... Grabovski's goal was his second in 22 games. 
---
---