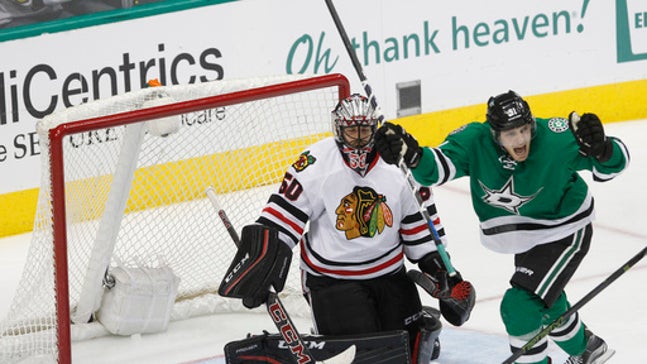 Spezza scores in 5th straight, Stars beat Blackhawks 5-2
Published
Mar. 12, 2016 1:10 a.m. ET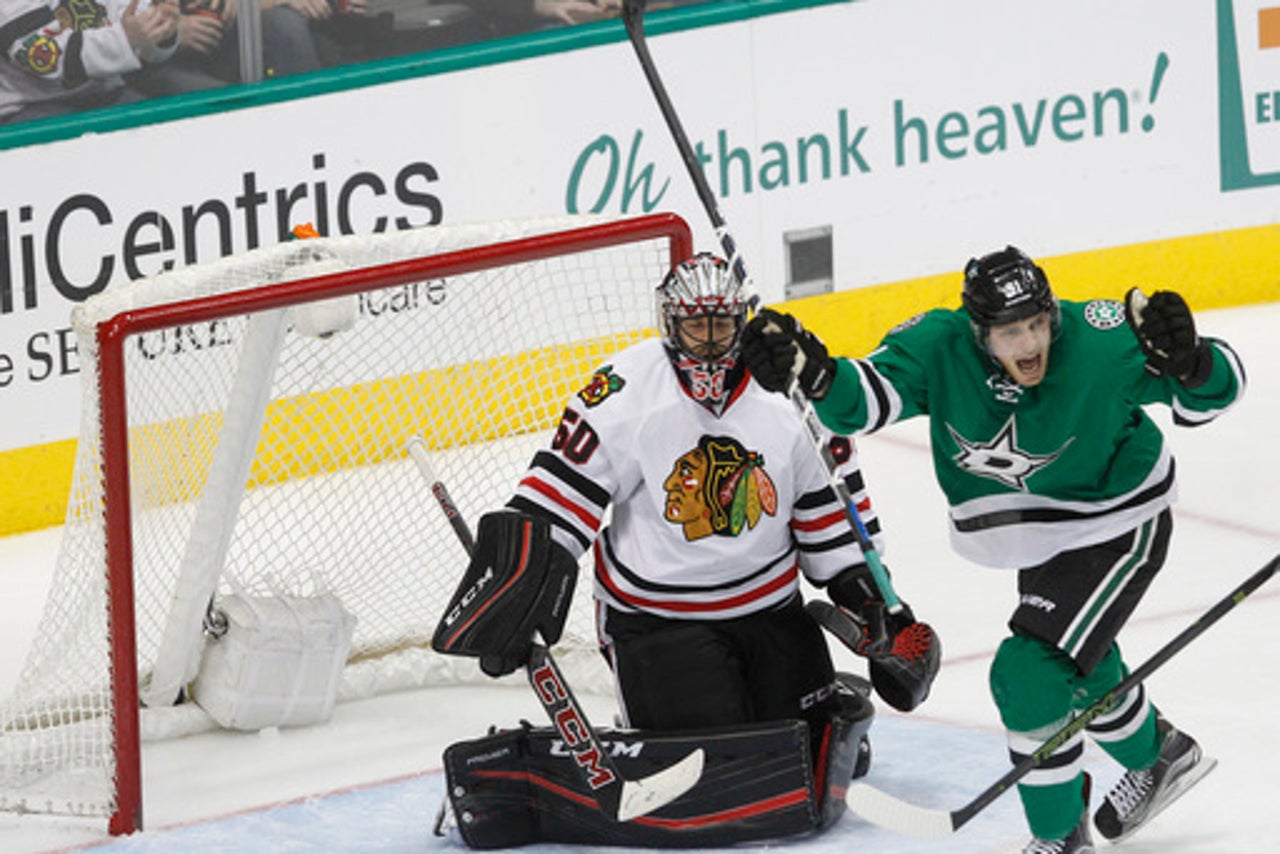 DALLAS (AP) Jason Spezza has been carrying some extra weight recently while Dallas Stars teammates Tyler Seguin and Jamie Benn went through uncharacteristic goal droughts - six games for Seguin and seven for Benn.
All three helped the Stars move atop the Western Conference standings Friday night.
Spezza scored in his fifth straight game, Seguin and Benn ended their scoring slumps and the Stars beat the Chicago Blackhawks 5-2.
''Everything he shoots goes in,'' Stars coach Lindy Ruff said of Spezza. ''He's had some around the net front, he's had some great shots.''
Dallas improved to 41-20-8 with 90 points, one more than St. Louis and two more than Chicago. Each team has 13 games remaining.
The Stars will host the Blues on Saturday night with first place again on the line.
''St. Louis might be the best team in the league right now,'' Ruff said. ''It's going to be, `Put this one away and get ready for (Saturday),' because (Saturday's) task is going to be even a little more daunting.''
Chicago will return home to play Los Angeles on Monday.
Kari Lehtonen made 21 saves for the Stars, who are 3-0-1 in their last four games. Antoine Roussel and Ales Hemsky also scored.
Teuvo Teravainen and Tomas Fleischmann scored for Chicago.
The conditions were right for Spezza to open the scoring at 11:08 of the first period with a wrist shot from just inside the blue line. It was his fourth power-play goal in five games, and six of his eight goals in the last nine games have come on the power play.
Spezza also has 15 points (4 goals, 11 assists) in 14 career games against Chicago, and the Blackhawks have allowed 16 power-play goals in their last 13 games.
''Right off the bat they score, right away,'' Chicago coach Joel Quenneville said. ''You don't even get a chance to get your feet under you to see how it's going to look. That one was on a platter and the next one was on a platter.''
The next power-play goal was by Benn at 10:42 of the second for a 4-0 lead. Patrick Eaves deflected Seguin's shot, which landed at Benn's feet to the right of the net for a tap-in goal.
Benn and Seguin each have 33 goals this season.
''It was nice,'' Benn said. ''I think I was more excited when (Seguin) scored and when the other guys scored than when I did. They're not pretty all the time, and I'll take what I can get. Even if it's kicking it in, I'll take it.''
Quenneville then removed Corey Crawford, who had 16 saves. Scott Darling finished with 10 saves. He was pulled for an extra skater with 8:10 to play and returned after Hemsky's empty-net goal with 4:31 left.
Spezza, Benn and Hemsky each had a goal and an assist. Chicago's Fleischmann also had a goal and an assist.
Dallas defenseman Stephen Johns made his NHL debut because of injuries to John Klingberg, Jordie Benn and Jason Demers. During the offseason, Chicago traded Johns and forward Patrick Sharp to the Stars. Sharp also missed this game because of injury.
''It was a little weird,'' Johns said. ''For five years, I watched those guys and thought one day I'd be playing for them. I have a lot of respect for that organization, but I'm happy to be here.''
NOTES: Spezza reached 800 career points (294 goals, 506 assists). ... Sharp and Johns were traded for F Ryan Garbutt and D Trevor Daley. The Blackhawks traded Garbutt and Daley during this season, and even the players received for them (Jiri Sekac and Rob Scuderi) are no longer with Chicago. ... Hossa returned after missing nine games because of a lower-body injury. ... Benn's seven-game scoring slump was his longest since an 11-game drought that ended last March 13. Seguin's six games without a goal were his most since he went 12 games in January of 2014. ... Blackhawks rookie D Erik Gustafsson had his first NHL penalty in his 32nd game when he went off for delay of game at 8:20 of the third period. ... The Stars are 3-1 in the season series.
---
---