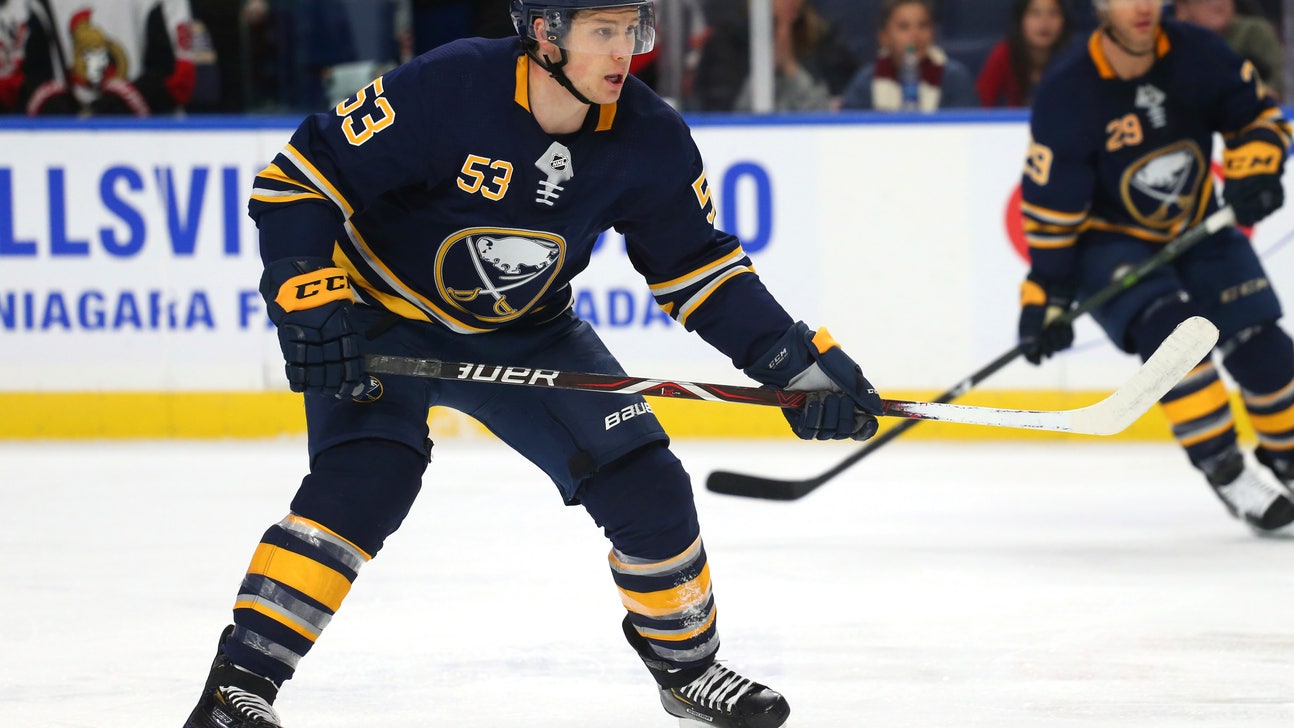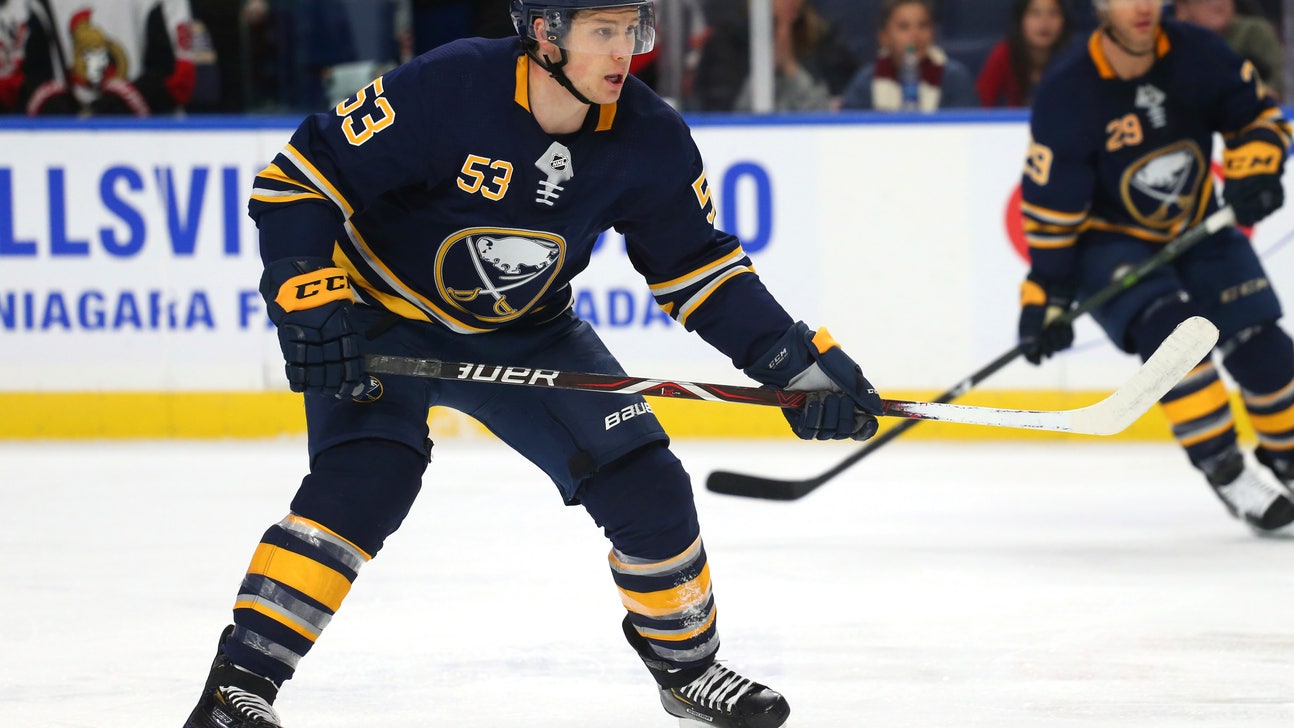 Skinner, Pominville lead Sabres to 9-2 win over Senators
Updated
Mar. 4, 2020 1:11 p.m. ET
BUFFALO, N.Y. (AP) — An emotional tribute to Jason Pominville inspired the Buffalo Sabres to their biggest home win in a decade.
After being honored on the ice in a pregame ceremony for playing his 1,000 NHL game earlier this week, Pominville had two goals and an assist to lead the Sabres in a 9-2 victory over the Ottawa Senators on Saturday.
"I feel very fortunate to call this home and have the support of the fans that I have," said Pominville, who has played 674 of his 1,001 career games during two stints with the Sabres. "From top to bottom, it was a great day."
Sabres owners Terry and Kim Pegula presented Pominville with a silver saber before the game and fans were given commemorative placards that read "Welcome to Pominville, Population: 1000." Video tributes from current and former teammates, as well as Pominville's wife and two young children, were played throughout the game.
"Kind of fortunate we had a lead and I was able to look up and hear most of them," Pominville said. "Just a lot of people that meant a lot to me throughout my career and a lot of great players and a lot of great memories with all of them. Yeah, it was pretty emotional at times."
Jeff Skinner also had two goals and and assist for the Sabres, who carried over the momentum from a two-goal third period in Thursday night's 4-2 loss at Ottawa to snap a three-game losing streak.
Conor Sheary, Casey Mittlestadt, Patrik Berglund and Zemgus Girgensons added a goal and an assist apiece, Kyle Okposo also scored, Jack Eichel had three assists and Linus Ullmark made 27 saves.
Buffalo scored nine goals in a game for the first time since a 10-2 win over at Edmonton on Jan. 27, 2009. The last time they scored nine goals at home was a 10-1 win over Atlanta on Jan. 18, 2008.
"Just the environment, with Pommer, the whole ceremony, I think it capped off a really good night, a special night for him and our team," said Eichel, the Sabres' captain.
Pominville extended his point streak to seven games, his longest since 2014, when he played for the Minnesota Wild.
Max McCormick and Thomas Chabot scored for Ottawa and Mike McKenna stopped 25 shots after replacing Craig Anderson in goal late in the first period.
The Senators have lost five of their last six and have allowed 30 goals during that stretch.
"I think collectively, we weren't ready for the emotional level that they had," Senators coach Guy Boucher said. "They came out as strong as we've seen all year and most probably because the players wanted to have a great night for Pominville."
The Sabres took a 2-0 lead in the first 6:28 of a three-goal third period.
Okposo opened the scoring a little over five minutes in on rising slap shot from outside the right circle.
Skinner knocked in the rebound off Eichel's shot from the point less than two minutes later.
Pominville made it 3-0 when he batted a bouncing puck after Skinner's shot, chasing Anderson with 5:35 left in the first period.
Buffalo scored four more goals in the first eight minutes of the second period. The first two came in a span of 13 seconds.
Mittelstadt's backhand pass set up Skinner in the slot for his team-leading ninth goal on a power play 3:55 into the period.
Berglund then set up Girgensons from behind the net to put the Sabres up 5-0.
After McCormick put the Senators on the board with his first goal of the season, Pominville netted his second of the game and eighth of the year on an assist from Eichel.
Sheary scored Buffalo's seventh goal on a breakaway 7:48 into the second period. Berglund added the eighth goal 5:41 into the third period and Sheary dropped the puck off to Mittelstadt for the final goal with 6:47 left to play.
NOTES: Sabres rookie D Rasmus Dahlin, the No. 1 overall pick in the 2018 draft, was struck by a puck late in the second period and stayed in the dressing room for the third. Coach Phil Housley said Dahlin will be evaluated Sunday and is expected to make the trip for Sunday's game against the New York Rangers. ... Buffalo is in the midst of playing three of 12 games at home after opening the season with a four-game homestand. ... Senators rookie F Brady Tkachuk skated Friday for the first time since injuring his leg on Oct. 15. ... Anderson allowed three goals on 10 shots after stopping 46 of 48 shots in the Senators' 4-2 win over the Sabres on Thursday. ... Sabres F Sam Reinhart had two assists and now has eight points in Buffalo's seven wins and none in seven losses.
UP NEXT
Senators: Host Tampa Bay on Sunday.
Sabres: Start two-game road trip Sunday at New York Rangers.
---
---