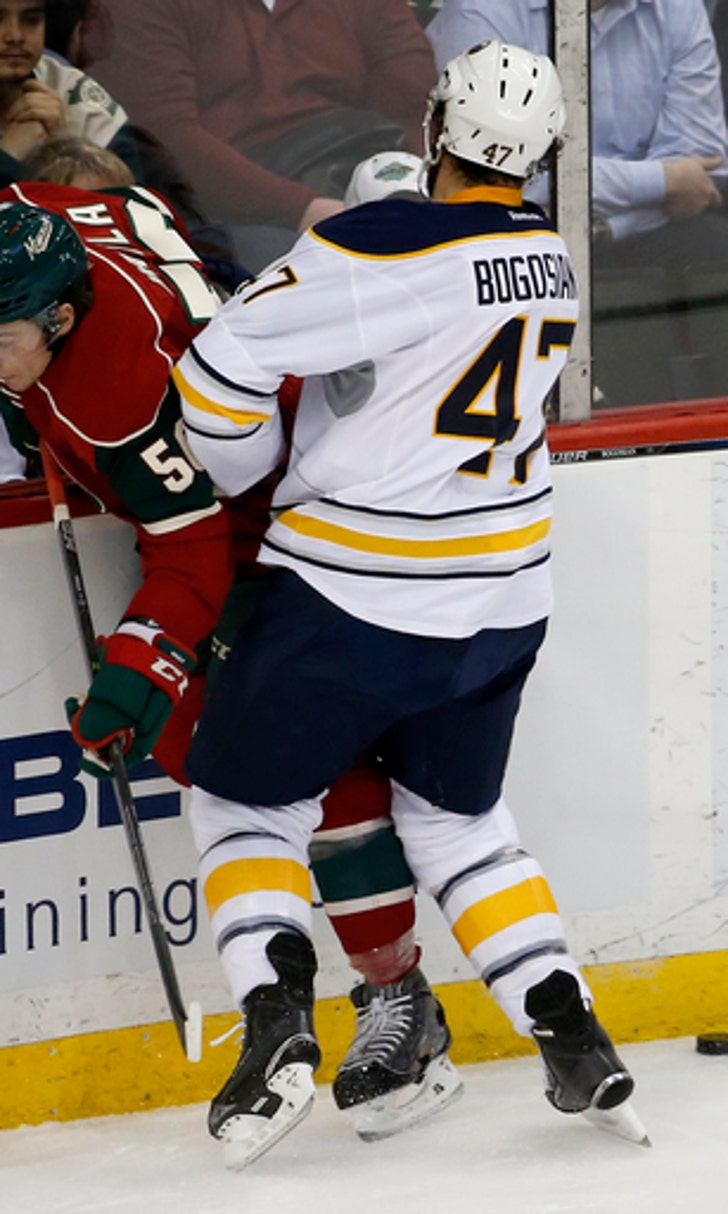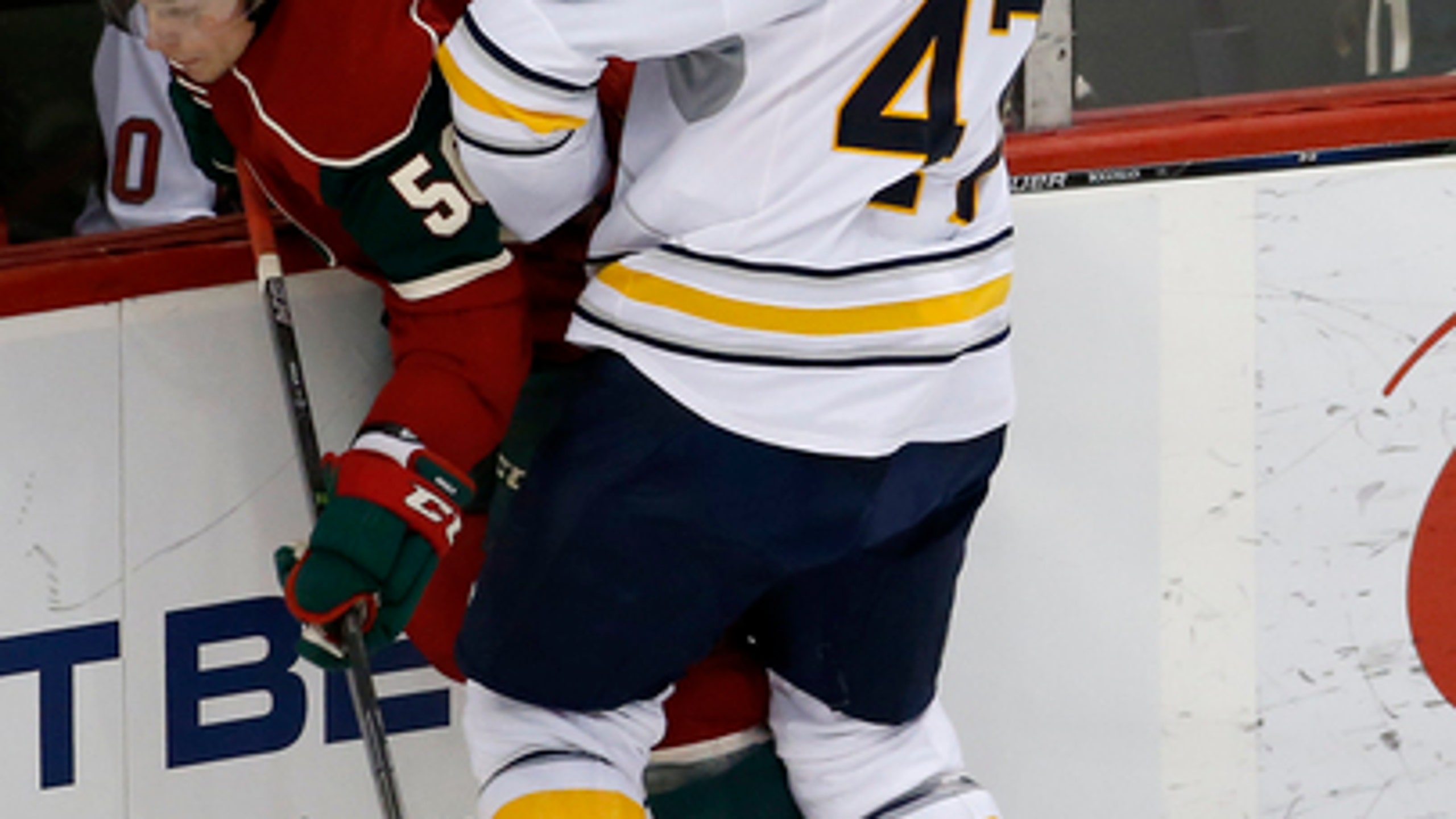 Sabres score 3 in first, hang on to beat Minnesota 3-2
BY foxsports • January 13, 2016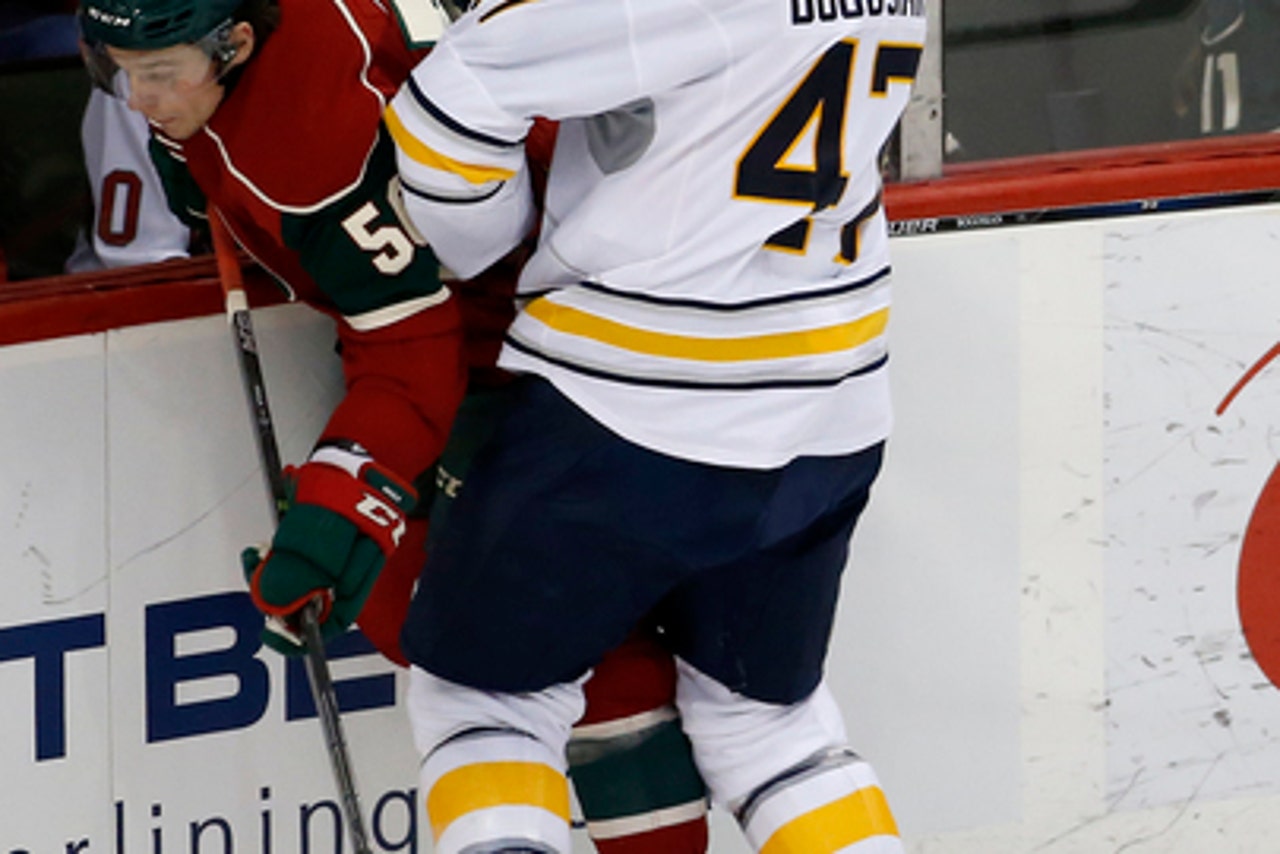 ST. PAUL, Minn. (AP) The Buffalo Sabres were having trouble scoring in the first period all season - until Tuesday night.
Brian Gionta had a goal and an assist and the Sabres scored three times in the opening period and hung on to beat the Minnesota Wild 3-2.
Jamie McGinn and Rasmus Ristolainen also scored for Buffalo, which won its second straight after losing six in a row. Linus Ullmark made 28 saves.
''You jump out to an early lead like that in the first, you can settle into your game and really kind of grind them down,'' Gionta said.
Buffalo has been outscored 32-20 this season in the game's first 20 minutes, but five of those goals have come in the last two games, including two in Sunday's 4-2 win in Winnipeg.
Coach Dan Bylsma hasn't been disappointed by the perceived slow starts.
''We've probably played our best in the first period and not got the goals, not got the scoring chances to go in,'' he said. ''In the last two games, it's been the opposite. We've played well in the first, but we've gotten the goals to go in, we've gotten the pucks to get by the goalie.''
Ryan Suter and Thomas Vanek scored for Minnesota, which has dropped its last three home games to Philadelphia, New Jersey and Buffalo, yet won 2-1 Saturday at division-leading Dallas.
''That's three games in a row now at home, and it's unacceptable. It's quite embarrassing,'' said Erik Haula, who had an assist.
McGinn gave the Sabres a 1-0 lead midway through the first period, poking a rebound behind Devan Dubnyk. The play started with Evander Kane fighting off Jared Spurgeon in the left corner and cycling out to the slot where he put a backhand on net. Suter was a step late in clearing McGinn from beside the net.
A long wrist shot from Ristolainen beat Dubnyk at 17:30. Gionta scored 20 seconds later when he tipped a shot from Josh Gorges into the Minnesota net for the Sabres third goal of the period.
''If you're down 3-0, it's obvious that we weren't ready to play the game,'' said Wild captain Mikko Koivu.
For the first time in a nine-game span, a Buffalo goaltender made consecutive starts.
But it also could be Ullmark's final start. Robin Lehner, out since the season opener with a high ankle sprain, is expected to rejoin the team later this week after a conditioning stint with AHL Rochester.
Ullmark has tried to make that decision of who gets sent down tougher with his second straight strong outing after a career-high tying 42-save performance Sunday. In his last seven starts, Ullmark has allowed only 15 goals - four were in one start.
''I can't really think about the future or the past. Just live in the present and just enjoy the moment,'' said Ullmark, who is 7-10-2. The other current Buffalo netminder, Chad Johnson, is 10-12-2.
Ullmark was at his best in the second period when Minnesota had 11 of the period's first 12 shots.
The Wild finally broke through on Suter's fluky short-handed goal at 12:57.
His high backhand attempt from the right circle was stopped by Ullmark. However, the puck popped up in the air, off the crossbar and off the goaltender's back before bouncing across the line to make it 3-1.
Ullmark later stopped Jason Zucker twice at the end of a 4-on-2 rush to keep the two-goal Buffalo lead.
''I think you're going to look at four outstanding saves from him in the second period and making that big save that we needed,'' Bylsma said.
With Minnesota's goalie pulled, Vanek scored with 51.8 seconds left in the game, and Ullmark stopped Zach Parise on the doorstep before the period expired.
NOTES: Buffalo is 9-9-2 on the road. It was 8-30-3 and 9-29-3 away from home the last two seasons. . This is the third straight season Minnesota has played Buffalo in its 43rd game. Last year's contest was Dubnyk's first with the Wild: a 7-0 win that began a 28-9-3 finish to the season. ... Wild C Ryan Carter missed the game with a right hand injury. ... Buffalo D Mark Pysyk, recalled Monday from a three-game minor league rehab stint, sat out. Out since Nov. 17 with broken bone in his foot, he's expected to return Friday when the Sabres are home against Boston.
---
---