Rangers look to stay sharp against Sabres (Jan 18, 2018)
BY AP • January 18, 2018
On Tuesday, the New York Rangers produced one of their most complete efforts in a while. Now, the key is following it up with another similar showing.
The Rangers get their opportunity for another win Thursday night when they host the Buffalo Sabres.
New York is looking to get consecutive wins for the first time since winning three straight Dec. 15-19. The Rangers are 4-5-2 in their last 11 games since then but are coming off a 5-1 win over the Philadelphia Flyers on Tuesday.
It was the first time the Rangers reached five goals since Dec. 9 against the New Jersey Devils and the first instance they won by more than three goals since beating the Carolina Hurricanes on Dec. 1.
"I think when you walked in the locker room today, you could tell everyone had a little chip on their shoulder and we had something to prove," Rangers defenseman Brady Skjei said. "We really wanted to focus on our defense and eliminating their odd-man rushes and I think we did that. We ended up scoring five goals and playing good team defense."
Tuesday's win occurred after a lost weekend that saw the Rangers get outscored 12-4 in a back-to-back set against the New York Islanders and Pittsburgh Penguins after the bye week.
Those games made it 14 straight allowing at least 30 shots on goal, but the Rangers limited the Flyers to 26 on Tuesday.
"You have to play a 200-foot game," New York coach Alain Vigneault said. "We talk about it. Tonight, we executed and hopefully we'll be able to do the same thing against Buffalo on Thursday."
Besides the defense, Rick Nash scored twice. He ended his 12-game drought 6:30 into the first period and added a second goal late in the second period.
The only time Nash scored goals in consecutive games this season occurred Nov. 8-15 when he had four in three games.
"It's only one game," Nash said. "It's not that big of a deal to me. It's what I'm supposed to do, so I'm going to keep working on my game and try to come back even better against Buffalo."
Henrik Lundqvist made 25 saves to become the first goaltender in NHL history with at least 20 wins in 13 straight seasons. He will make his career-high 16th straight start.
The Rangers will face the Sabres slightly short-handed. Defenseman Marc Staal will sit with a hip injury and Kevin Hayes may miss his second straight game with a leg injury.
The Sabres are making their second trip to face the Rangers in New York in two weeks but first as the road team.
J.T. Miller scored a power-play goal in overtime to lift the Rangers to a 3-2 win at Citi Field on Jan. 1 when Buffalo was considered the home team.
Buffalo's 31 points are the second fewest in the NHL and three more than Arizona's total. The Sabres are coming off their bye week and seeking consecutive wins for the first time since beating Boston and Detroit on Oct. 21-24 after beating Columbus last Thursday
Since those games, Buffalo is 8-19-7 in its last 34 games. The loss to the Rangers started a five-game skid that saw the Sabres allow 24 goals but Benoit Pouliot, Kyle Okposo and Jack Eichel scored in the 3-1 win.
"It was great that we won that game before the break because you could see the energy in our practice, really good life out there," Housley said after the team practiced Wednesday. "I think guys are feeling good about themselves."
Eichel has three goals in his last two games and Okposo has 15 points in his last 17 games.
"You've always got to find motivation somewhere," Okposo told reporters after practice Wednesday. "I don't think it's that hard. You come to work, and you want to be at your best and prove to yourself and prove to everybody that you still have it, that you're a good player.
"I think we all should take that into consideration."
Linus Ullmark made a career-high 44 saves for his first win in nearly two years last week. Robin Lehner will likely return to the net after getting pulled from a 7-4 loss to Winnipeg when he allowed three goals on 17 shots.
Lehner owns a 3.92 goals-against average in his last six starts. He faced 42 shots in the last meeting with the Rangers.
The Rangers are 11-3 in the last 14 games against the Sabres since April 19, 2013.
---
---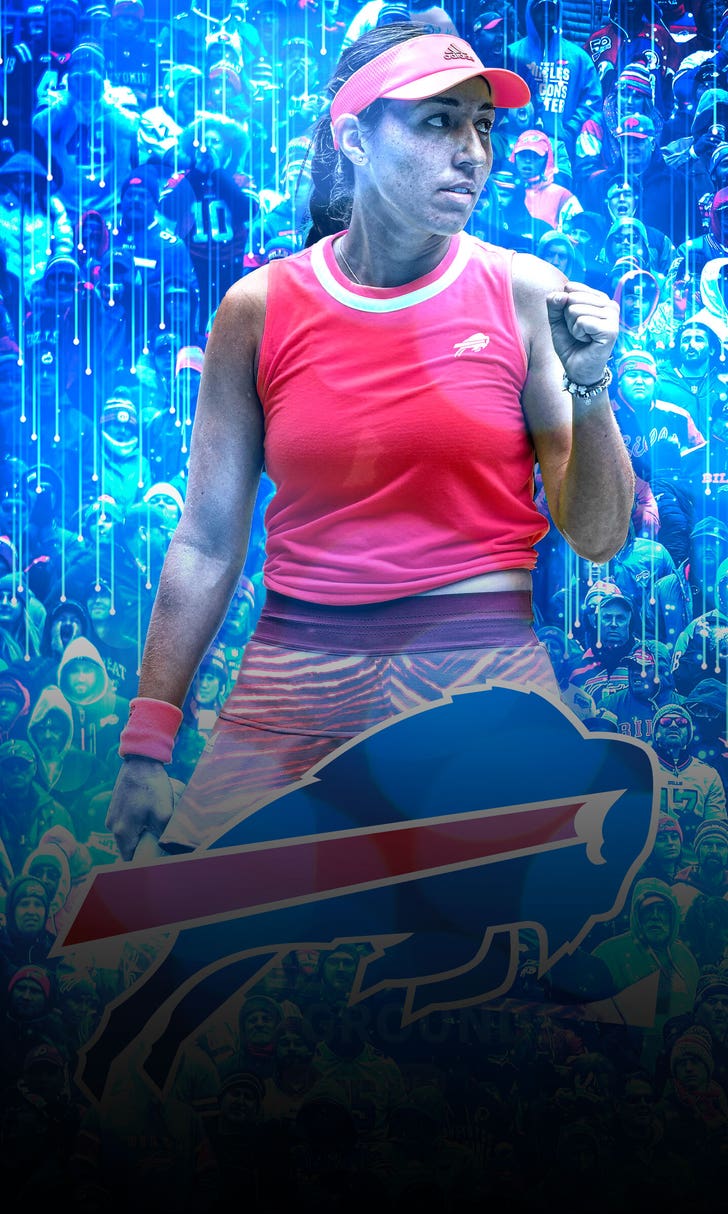 Bills Mafia In Australia
Bills Mafia In Australia
Jessica Pegula, the daughter of the Buffalo Bills' and Sabres' owners, is on a career-best run at the 2021 Australian Open.