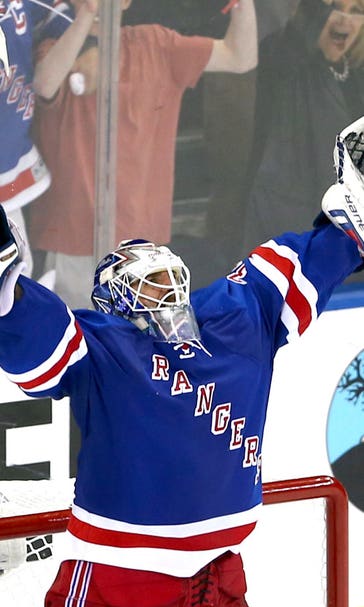 Rangers fan buys Stanley Cup Final tickets for $1, then StubHub nixes purchase
June 5, 2014

One New York Rangers fan might dislike StubHub even more than he does the Los Angeles Kings right now.
With tickets for the Rangers-Kings Stanley Cup Final skyrocketing on the secondary market, Kavi Arora was absolutely thrilled when he stumbled upon four tickets in Section 111 for Game 6 at Madison Square Garden for just $1 each on StubHub, the Star-Ledger reported.
Sure, the sweet deal came with an $8.20 service fee, but Arora, a diehard Blueshirts fan, was more than happy to fork that over for the chance to see the potential Cup-clinching game for about the cost of a beer at MSG.
But his dreams were crushed when he received an email from the ultmate buzzkill, StubHub, the next morning telling him that his order had been cancelled. This isn't an unprecedented situation by any means, as one Boston Red Sox fan bought a $6 ticket to Game 1 of the World Series at Fenway Park, only to discover that it was fake.
StubHub comped him a replacement ticket, anyway, but it doesn't appear Arora will be as lucky this time around. StubHub offered to refund him his whopping $12 and give him a $300 voucher, but because there aren't any comparable seats, the company said they can't do anything more.
"It basically looks like the tickets were listed in error, that the seller meant to list them for $1,000 and instead listed them for a dollar," said Alison Salcedo, the head of U.S. communications for the company. "The FanProtect Guarantee protects the buyer and the seller."
Arora probably shouldn't be punished because someone out there was tripped up over decimal places, but if StubHub doesn't reconsider like he hopes they will, his Rangers avoiding a Game 6 altogether by beating the Kings in five games should make him feel a little better about this debacle.
MORE FROM NESN
Stanley Cup Final tickets are absurdly expensive
Rangers Stanley Cup Final ticket prices reach Super Bowl levels
California governor makes super lame Stanley Cup Final bet
---
---