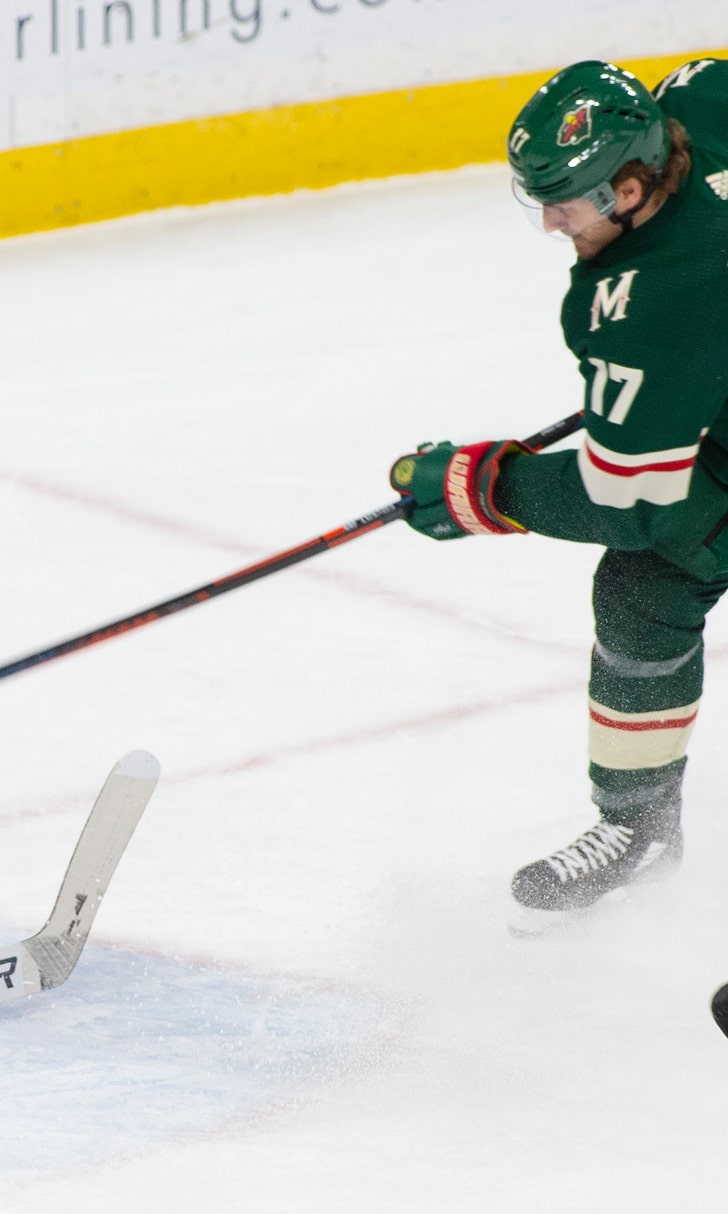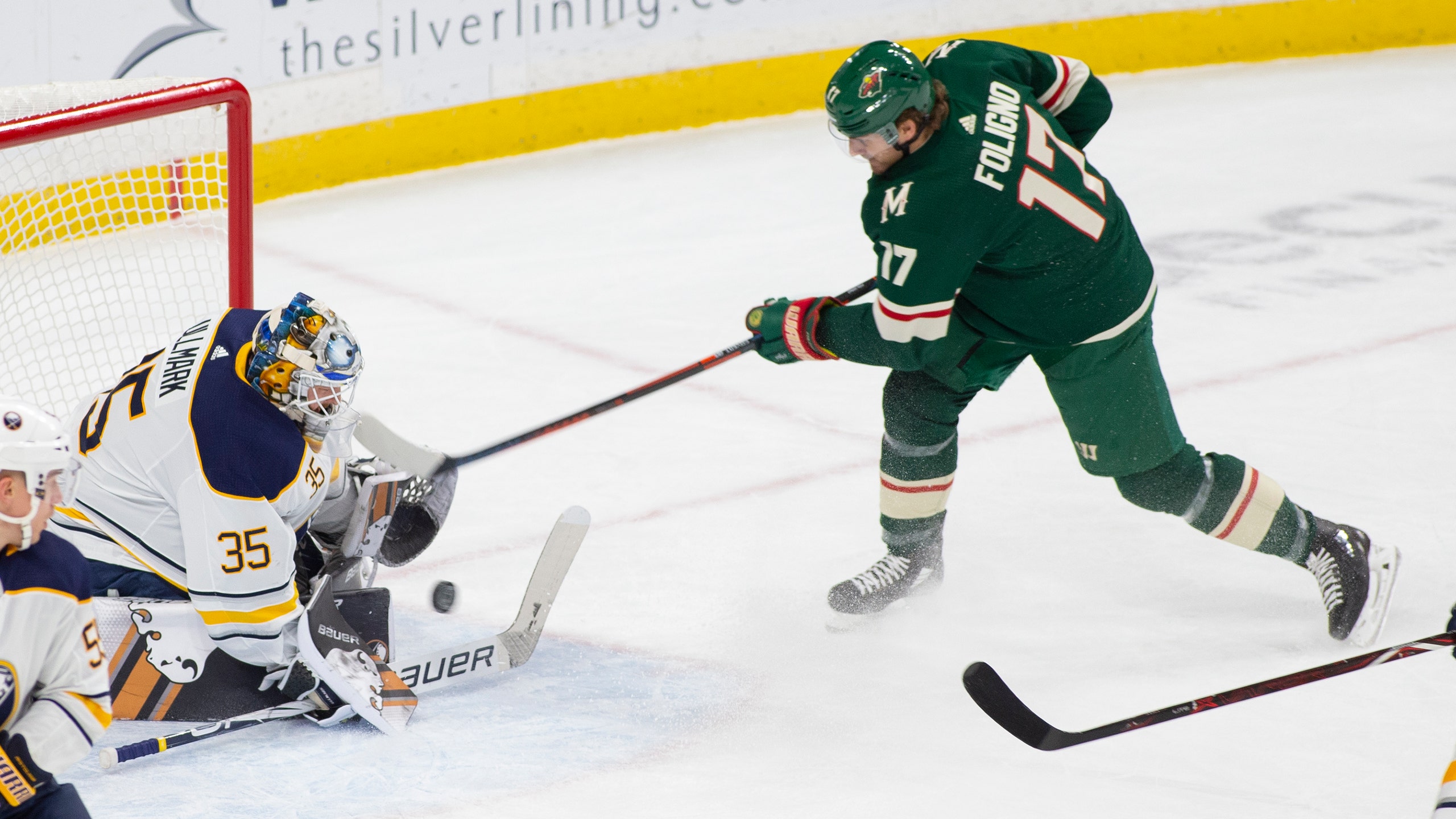 Pominville's goal completes comeback as Sabers beat Wild 3-2
November 17, 2018
ST. PAUL, Minn. (AP) — A year after finishing with the worst record in the NHL, the Buffalo Sabres are making a habit of rallying in their second year under coach Phil Housley.
Jason Pominville scored with 1:30 remaining and Buffalo extended its winning streak to five games with a 3-2 come-from-behind victory over the Minnesota Wild on Saturday.
Rookie defenseman Rasmus Dahlin had his second career goal and added an assist for the Sabres, who rallied from a two-goal deficit to post their longest winning streak since 2012.
"I think it just goes to show we have a different group, different mindset and different attitude," Pominville said after his ninth goal of the season. "We stuck with it, found a way, and again it just shows a lot about our group. We had a tough, tough schedule.
"Playing in Winnipeg last night, going through customs, flying here, 5 o'clock game, they didn't play. So, it shows a lot about our team."
Jake McCabe also scored and Linus Ullmark made 37 saves for Buffalo. The Sabres recovered from a 1-0 deficit on Friday in a shootout win in Winnipeg. They've won four times in 11 games when trailing after two periods.
"Coming into training camp, our conditioning, our checking detail, I think they're getting rewarded right now for that hard work," Housley said. "It's tough going into Winnipeg and getting two points there, and then getting two points in Minnesota, where they've only lost one game, they're pretty deadly in this building."
Matt Dumba scored for the third straight game and Devan Dubnyk stopped 26 shots for the Wild. Zach Parise added another goal, becoming the highest-scoring Minnesotan in NHL history. The Wild lost for just the fourth time in their last 15 games and the second time in regulation in 10 home games.
"The back-to-back games, if you could have made it 3-nothing, 4-nothing, then they would have said, 'Let's go home,'" Minnesota coach Bruce Boudreau said. "You're exhausted, you're tired, you're back-to-back and then you come in. But if you let them hang around, fatigue leaves you. You become more into the game and wanting to win it."
Dahlin scored with 7:02 remaining in the third, poking a loose puck past Dubnyk after the goaltender couldn't get a handle on it.
Pominville capitalized after Buffalo's Jack Eichel tried to grab a loose puck in the offensive zone following a dump-in. The puck trickled out to Pominville, who quickly spun and sent a shot past an unsuspecting Dubnyk.
"I think we probably could have stepped on their throats a little bit, the way the first period was going," Dubnyk said. "It's always disappointing to give up a lead and especially when it's late."
Parise scored the 341st goal of his 14-year career, surpassing Dave Christian's 340 goals and previous top mark in league history for a player born in Minnesota.
Dumba, who signed a five-year, $30 million contract in the offseason, scored his eighth goal of the season. The total is second among defenseman in goals and just six away from the career-high 14 he scored last season.
McCabe scored his second goal of the season to start the comeback after Dahlin, the first-overall pick in this year's draft, cut through the Wild defense to spot a wide-open McCabe on the backside.
"It's so easy to play on this team because we always know, if we're down two goals, we know we're going to get back," Dahlin said. "I love to have that feeling. I love to play on this team."
NOTES: It's Buffalo's first five-game winning streak since March 19-27, 2012. It's the first time since the 2009-10 season that Buffalo has had 26 points through the first 20 games. ... Minnesota is 11-3-2 in its last 16 games against the Sabres, outscoring them 54-31 in the process. ... Wild F Joel Eriksson Ek was a healthy scratch for the first time this season. Eriksson Ek had missed six games earlier with a lower-body injury. ... D Casey Nelson returned to the lineup for Buffalo after being a healthy scratch for four straight games. ... The Sabres scratched D Nathan Beaulieu.
UP NEXT
Sabres: Finish their road trip on Monday at Pittsburgh.
Wild: Play the second game of their back-to-back on Sunday at Chicago.
---
---