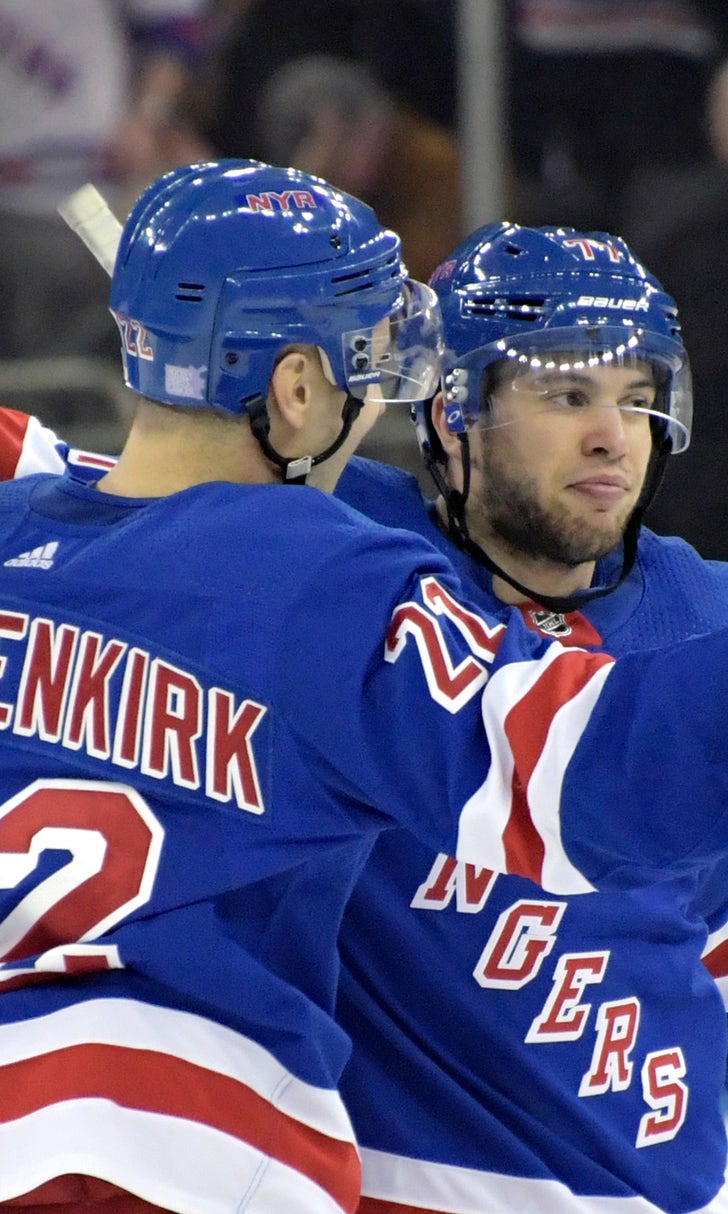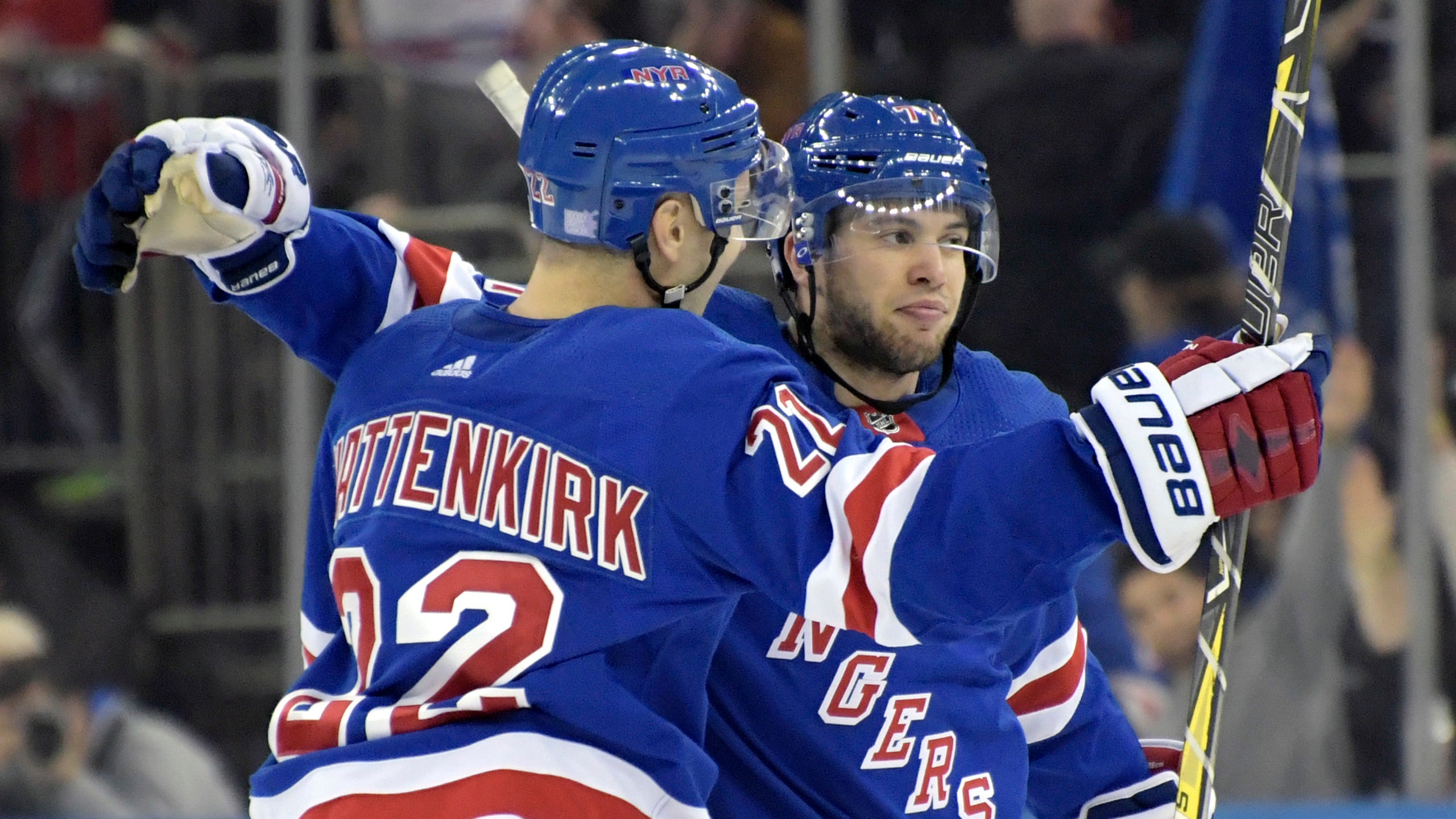 Pionk, Zibanejad rally Rangers to 5-3 win over Canadiens
November 7, 2018
NEW YORK (AP) — Neal Pionk couldn't ever remember scoring on an end-to-end rush before.
The 23-year-old defenseman got the tiebreaking goal on a sensational individual effort late in the third period, and the New York Rangers rallied to beat the Montreal Canadiens 5-3 Tuesday night for their fourth straight victory.
"That was a good one," Pionk said.
He brought the puck from behind the Rangers net, spun around one Montreal player, skated up the left side, cut in toward the front of the Canadiens net and put it past goalie Carey Price while falling to the ice with 2:44 left.
"I couldn't believe it," teammate Mika Zibanejad said. "I told him he doesn't need us out there. He's such a good skater, it's incredible to see."
Zibanejad and Chris Kreider each had a goal and an assist, Tony DeAngelo and Pavel Buchnevich also scored, and Kevin Hayes had three assists for the Rangers. Henrik Lundqvist made 31 saves.
New York trailed 3-1 early in the second period before scoring the last four goals — three in the third.
"Real gutsy win," Zibanejad said. "We weren't real happy going into the third but felt we had a little bit of momentum and we just wanted to keep that going. We did a lot of good things, and a good feeling to win."
Zibanejad capped the scoring after he brought the puck up the left side and tried to send a pass across in front. The puck defected back to him off Jeff Petry's skate and Zibanejad put it past Price with 1:48 to go.
Tomas Tatar had two goals and Max Domi also scored for Montreal, which was 7-3-1 in its last 11 games — including a shootout win across town against the Islanders the previous night. Brendan Gallagher and Petry each had two assists, and Price stopped 27 shots.
"We made a lot of mistakes," Canadiens coach Claude Julien said. "As a group, we weren't very good. We couldn't have been that tired. We had a 3-1 lead. This happens to every team."
The Rangers began their comeback late in the middle period. Just after New York's power play expired, DeAngelo tipped a shot by Hayes for his second goal with 2:15 left to make it 3-2.
"I thought that gave us a little bit of a lift," Rangers coach David Quinn said. "To play the way we did in the third ... it makes you feel pretty good."
New York tied the score near midway through the third. Hayes brought the puck down the right side and passed to his left to Marc Staal, who fired a shot that Price knocked down with his glove. With the puck laying on the ice, Buchnevich skated in and put it in before Price could smother it at 8:25.
The teams combined for 44 minutes of penalties, including a 10-minute misconduct on the Rangers' Cody McLeod in the second period. Montreal finished 1 for 7 on the power play, and New York was 0 for 6.
With the score tied 1-all after one period, Tatar put the Canadiens back ahead with his fifth of the season and second of the game as he tipped a pass from Philip Danault through the legs of a sprawled Lundqvist at 4:40.
Montreal then made it 3-1 on a power play less than two minutes later. Domi was standing in front when he got a pass from Gallagher from the left side of the goal line and put in a backhand from the right side for his ninth at 6:27.
Tatar got the Canadiens on the scoreboard 23 seconds in as he beat Lundqvist from the left circle on the first shot of the game.
New York tied the score with 4:10 left in the opening period as Kreider got a pass across the crease from Hayes and beat Price from the right side before the goalie could slide back over. It was Kreider's seventh goal, and third in four games.
NOTES: Domi scored against the Rangers for the first time in six career games against them. His goal gave him nine tallies and 13 points in his last 11 games. ... Tatar had his second two-goal game of the season. He also scored twice as part of a three-point game against Pittsburgh on Oct. 13. ... The teams play two more times this season, at Montreal on Dec. 1 and back in New York on March 1. ... Lundqvist is one win behind Jacques Plante (437) for seventh place on the NHL's career list. ... Kreider has five goals and three assists in his last 10 games. ... Pionk has two goals and eight points in his last nine games.
UP NEXT
Canadiens: Host Buffalo on Thursday night.
Rangers: At Detroit on Friday night to open a back-to-back on the road.
---
---