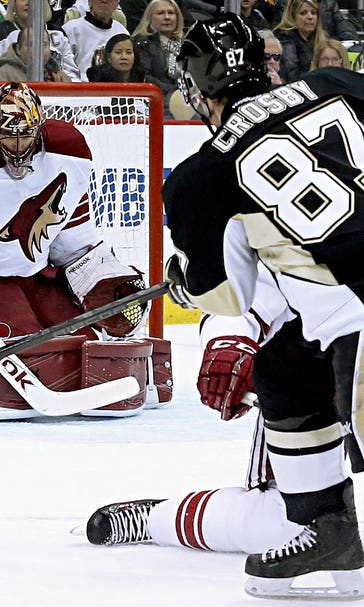 Penguins rally to beat Coyotes; Letang hospitalized after scary hit
March 28, 2015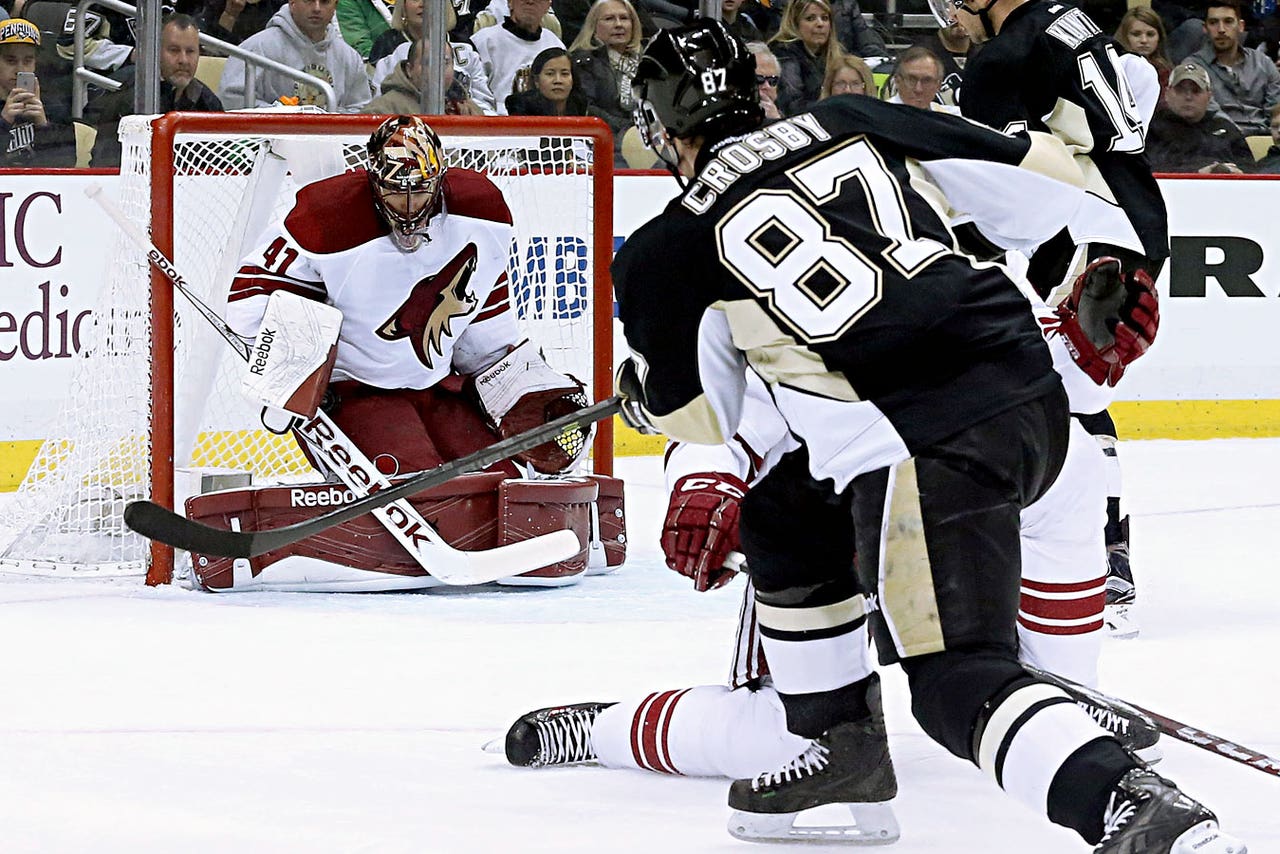 The Pittsburgh Penguins struggled the past two weeks while playing without two of their leading scorers.
The Penguins took a step in the right direction on Saturday, welcoming Evgeni Malkin and Patric Hornqvist back to the lineup, but they later lost star defenseman Kris Letang on a scary hit that required a trip to the hospital.
Then, they needed a rally to win as Daniel Winnik, Steve Downie and Sidney Crosby scored in a 4-minute, 8-second stretch of the third period, leading the Penguins to a 3-2 victory against the Arizona Coyotes.
''With (Arizona) scoring first, it would've been easy to get a little frustrated, but we stuck with it,'' Crosby said.
Crosby's 25th goal stood as the game-winner and he also had two assists to increase his league-leading scoring total to 78 points.
Malkin tallied two assists and Thomas Greiss stopped 22 shots against his former team to help the Penguins end a two-game skid overall, and a three-game winless stretch at home. The Penguins, 1-5-1 in their previous seven games, moved into a tie with the New York Islanders for second place in the crowded Metropolitan Division.
Things took a scary turn for the Penguins late in the second period.
Letang, third among NHL defensemen in scoring with 54 points, left with 4:45 to play in the period after a hit from Coyotes captain Shane Doan. Letang, in the corner behind his net, was shoved backward by Doan after flipping the puck out of the zone.
''I just went to make sure I got a piece of him so he couldn't jump by me and he obviously went into the boards awkward,'' Doan said. ''You never ever want to see anyone like that, especially a guy with his caliber and everything he's went through in the past couple years.
''You feel awful as a player when something like that happens.''
Penguins' coach Mike Johnston said Letang was evaluated at a local hospital.
''We'll get an evaluation as to where everybody thinks he's at in the morning,'' Johnston said. ''Kris Letang is a premier player in the league and he's had a phenomenal season for us.
''I saw Kris lying on the ice and when I saw him come off, it didn't look good.''
Letang, who has a history of concussions and suffered a stroke last year, fell awkwardly with the back of his head hitting the end boards. He remained on the ice for several minutes with the trainer and team doctor before he left the ice with help from teammates Downie and Rob Scuderi. Downie stuck up for his downed teammate when he and Doan fought soon after.
''I have nothing but respect for (Doan),'' Downie said. ''That's hockey right there.
''(Doan) is not like that. I don't think that was dirty. I think (Letang) fell the wrong way and the distance from the boards and everything. We talked about it and I said `hey, it's kind of got to be done,' and he's not going to shy away from that.''
Downie provided perhaps the biggest lift in the third period, teaming with Crosby for power-play goals 2:05 apart to give the Penguins the lead for good.
''A lot of adversity, but it's a good thing and we got the win,'' Downie said.
Malkin missed six games with a lower-body injury and Hornqvist five with an undisclosed ailment before returning on Saturday.
The Penguins struggled without the former NHL MVP and Hornqvist, dropping five of six games and producing just nine goals in those six contests. The lone win during that span came last Saturday at Arizona.
Malkin, second on the team in scoring and Hornqvist, the Penguins' third-leading goal scorer, have combined for 51 goals and 64 assists points, as Pittsburgh is 33-13-6 with both in the lineup.
Now, they may be without another star player in Letang.
''It's tough because we finally get two key players back and we lose another,'' Downie said.
Tye McGinn scored his second and Tobias Rieder provided a late goal - his 13th - for the Coyotes, and Mike Smith made 43 saves.
''We hung around, but unfortunately we couldn't do enough to get the win,'' Coyotes coach Dave Tippett said.
The Coyotes opened their three-game road trip with wins against Detroit and Buffalo after dropping 18 of 19, and 20 of their previous 22 games.
The overtime win against Buffalo on Thursday kept Arizona ahead of the league-worst Sabres for the lowest point total in the league. Arizona returns home Monday to face Buffalo for the second time in four days.
NOTES: Penguins' F Blake Comeau was assessed a 5-minute major and a game misconduct for boarding Coyotes D Andrew Campbell in the first period. Campbell returned in the second period. ... Penguins D Christian Ehrhoff sat out his second straight game with an upper body injury. He has missed 26 games this season. ... Penguins F David Perron missed the game because of an illness. ... Arizona scratched F Lauri Korpikoski and D Brandon Gormley.
---
---