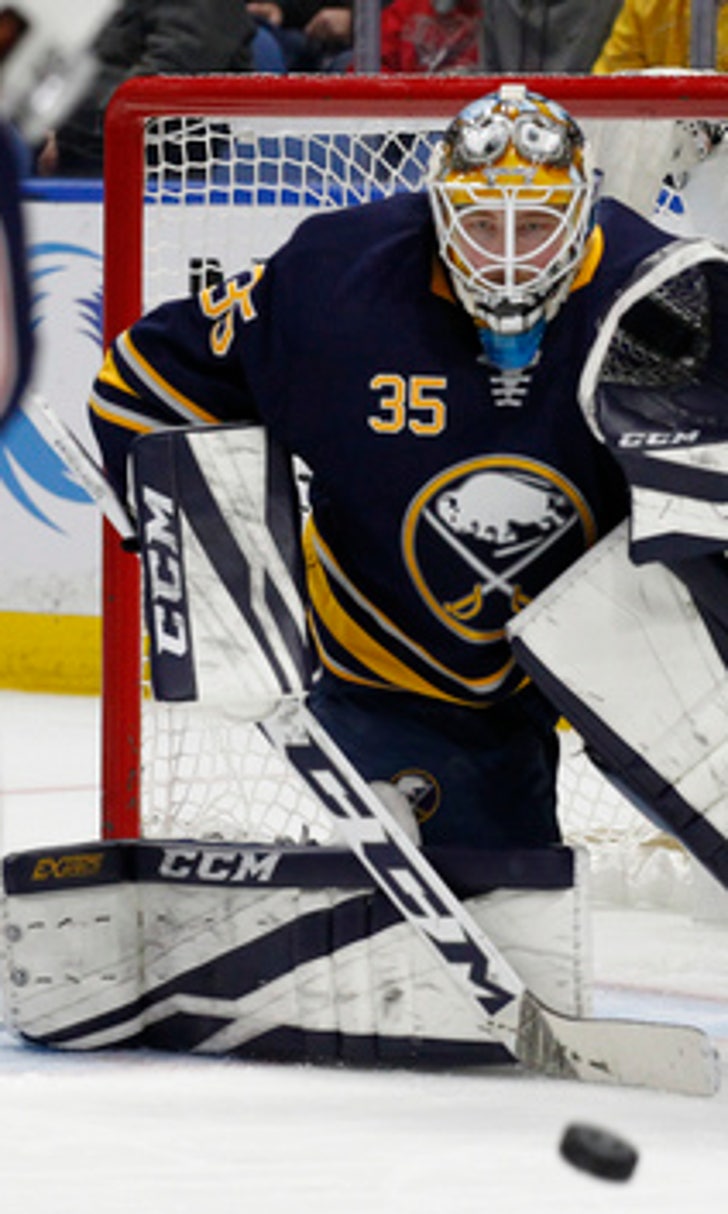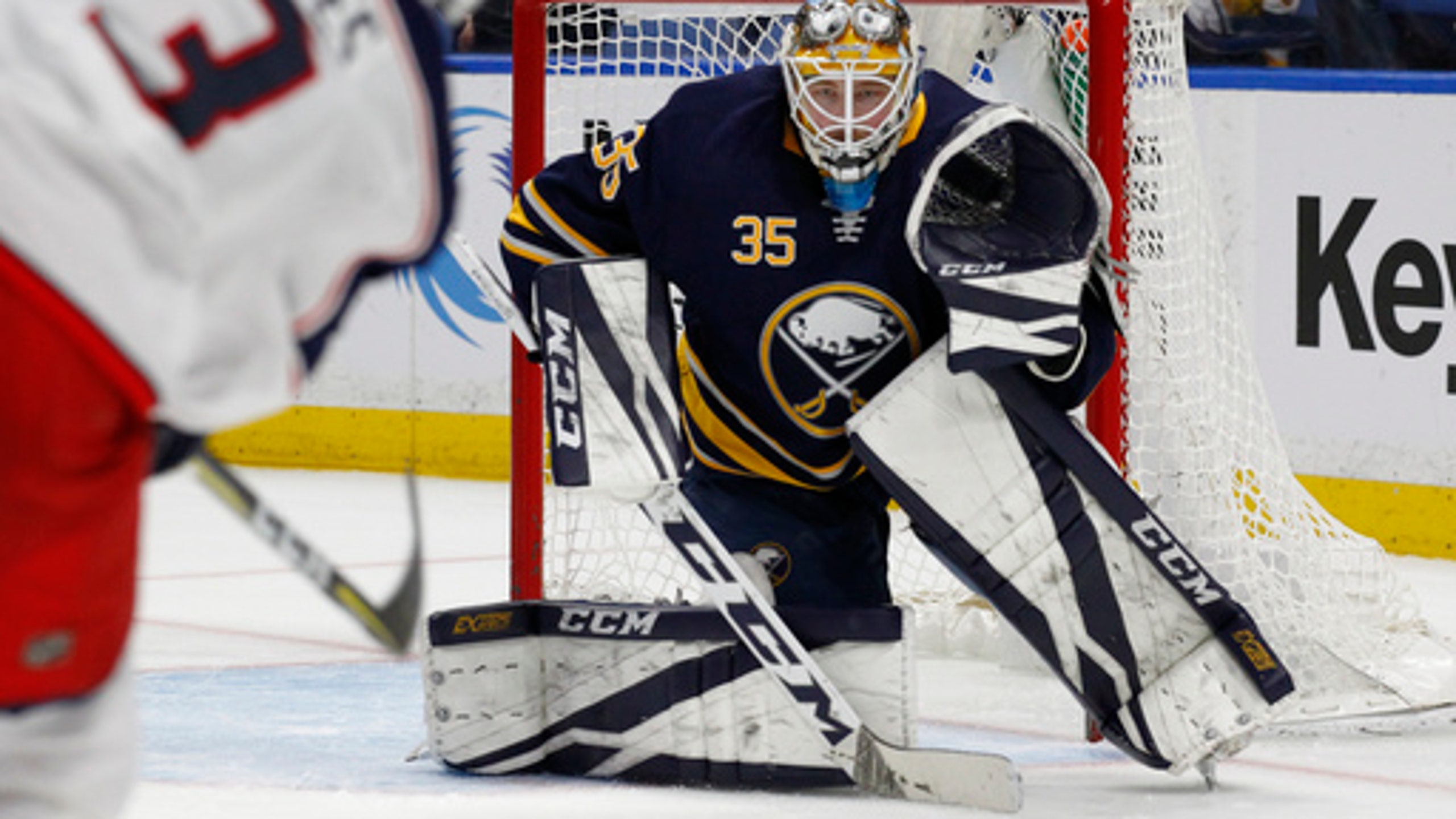 Okposo has goal, assist in Sabres' 3-1 win over Blue Jackets (Jan 11, 2018)
BY AP • January 11, 2018
BUFFALO, N.Y. (AP) Kyle Okposo welcomed the opportunity to capitalize on a fortunate bounce in a season during which very little has gone right for the offensively challenged Buffalo Sabres.
''Yeah, hopefully that's a little gift from the hockey gods tonight for me and for the team,'' Okposo said after Buffalo snapped an 0-4-1 skid in beating the Columbus Blue Jackets 3-1 on Thursday night.
Okposo added an assist and scored the eventual game-winner by sweeping a loose puck into an unattended net 7:18 into the third period.
Buffalo forward Evander Kane started the play with an innocent-looking dump-in up the right boards. The puck hit a crease along the boards and caromed directly to Okposo rather than to goalie Sergei Bobrovksy, who was waiting for the puck behind the Columbus net.
''When you work, you seem to get those bounces,'' Okposo said. ''There's times you're not going to get them, so you've got to take them when they're there.''
Benoit Pouliot and Jack Eichel, with an empty-netter, also scored for Buffalo (11-24-9), which sits last in the Eastern Conference standings while generating an NHL-low 99 goals.
Linus Ullmark stopped 44 shots in his first NHL game of the season. He stopped the first 39 shots he faced before having his shutout bid foiled on Artemi Panarin's power-play goal with 6:15 remaining.
Bobrovsky stopped 26 shots and could only shake his head in describing how helpless he felt watching Okposo score.
''Nothing I've got to add,'' he said. ''There is a bad bounce and we couldn't do anything.''
It didn't help that Columbus defenseman Seth Jones was caught out of position when he glanced back at Okposo at the exact moment the puck bounced off the boards.''
''I saw Jones look over his shoulder,'' Okposo said. ''I was just hoping that he didn't see it. And he didn't see it in time.''
Unlike the Sabres, the Blue Jackets didn't get the bounces.
Panarin also had a shot hit off the inside of the post and bounce through the crease in the first period, and also hit the crossbar late in the third.
Columbus has had trouble generating offense even though the Blue Jackets were coming off a 3-2 overtime win at Toronto in which they scored twice in the final 4:35.
Columbus has now managed just six goals in regulation and been shut out twice in its past six.
Defenseman Zach Werenski said the Blue Jackets didn't get enough traffic in front of Ullmark.
''It's all from the outside. We had no second chances,'' Werenski said. ''(Ullmark's) a big goalie. He saved everything he saw.''
Ullmark got the start with Robin Lehner still sore after being struck in the neck by a shot in a 4-1 loss at Philadelphia on Sunday.
It was Ullmark's 22nd career NHL game. He was called up from AHL Rochester, where he has a 17-5-1 record.
He stopped 15 shots in the second period alone, with his best save coming midway through the frame. Columbus cycled the puck through the zone, eventually getting it to Jones alone in the high slot. Jones snapped a shot through a crowd only to have Ullmark get his glove down to snag it.
''I just think the confidence he has, I think he's carried that forward from Rochester,'' coach Phil Housley said of Ullmark. ''He's very calm, doesn't overplay things.''
NOTES: Blue Jackets C Alexander Wennberg returned after missing eight games with a back injury. ... Sabres D Zach Bogosian will miss between four and six weeks after hurting his lower left leg in practice Wednesday. ... The Blue Jackets recalled backup G Joonas Korpisalo from AHL Cleveland, two days after he was demoted and stopped 29 shots in the Monsters' 1-0 loss at Milwaukee.
UP NEXT
Blue Jackets: Host Vancouver Canucks on Friday.
Sabres: Enter NHL-mandated five-day break, and are off until playing at New York Rangers on Jan. 18
---
For more NHL coverage: https://apnews.com/tag/NHLhockey
---
---