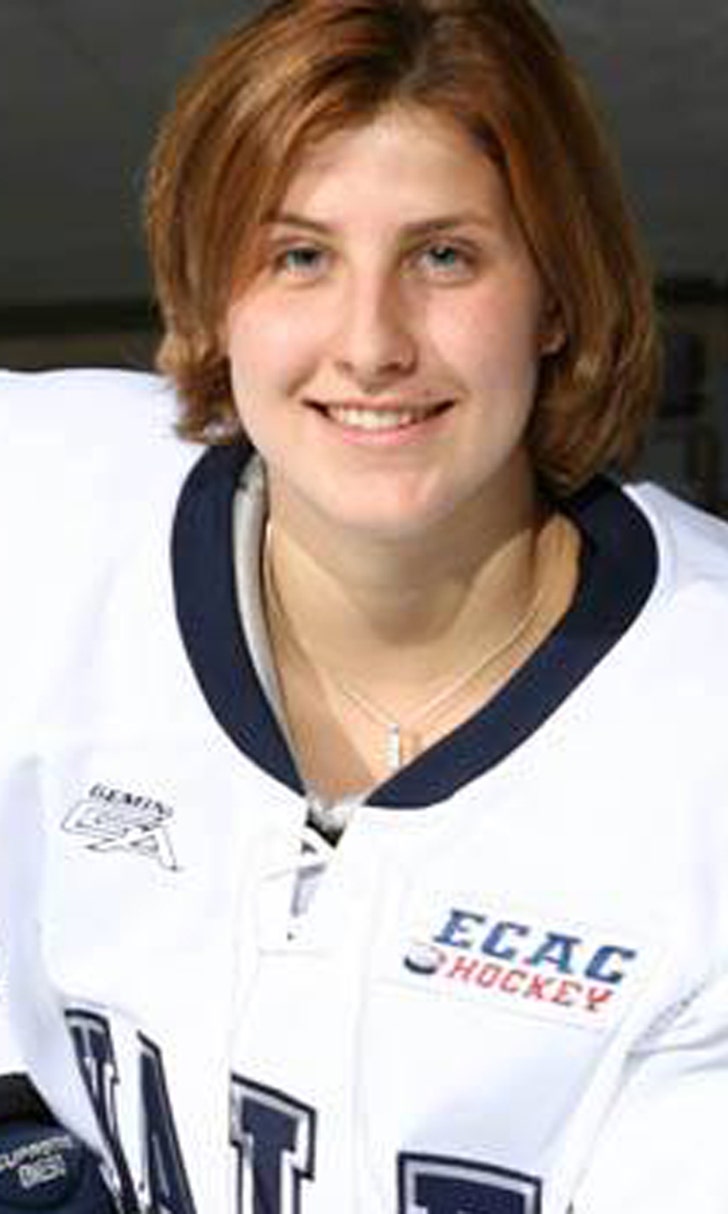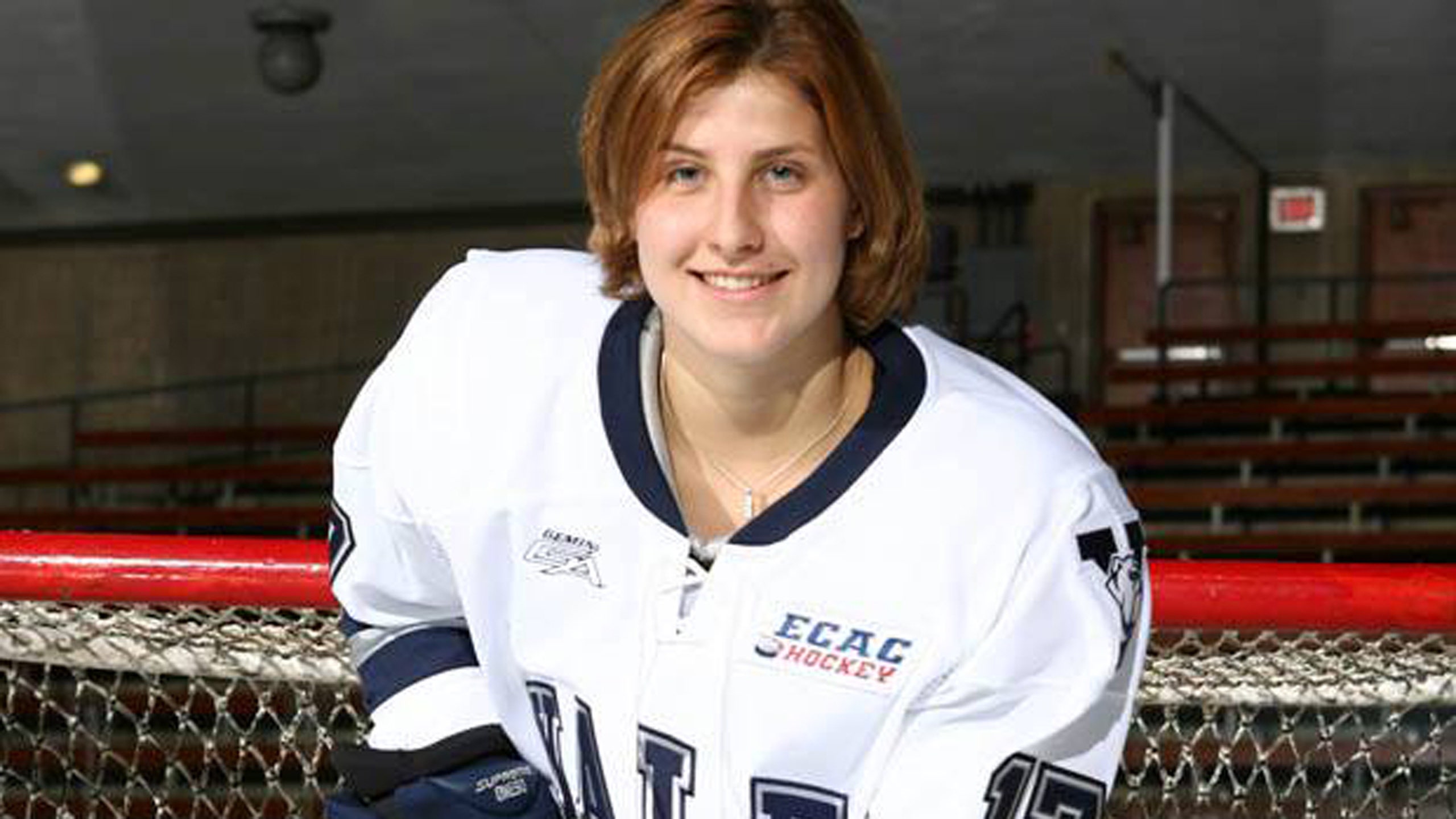 NHL team's special tribute honors memory of Mandi Schwartz
BY foxsports • January 21, 2014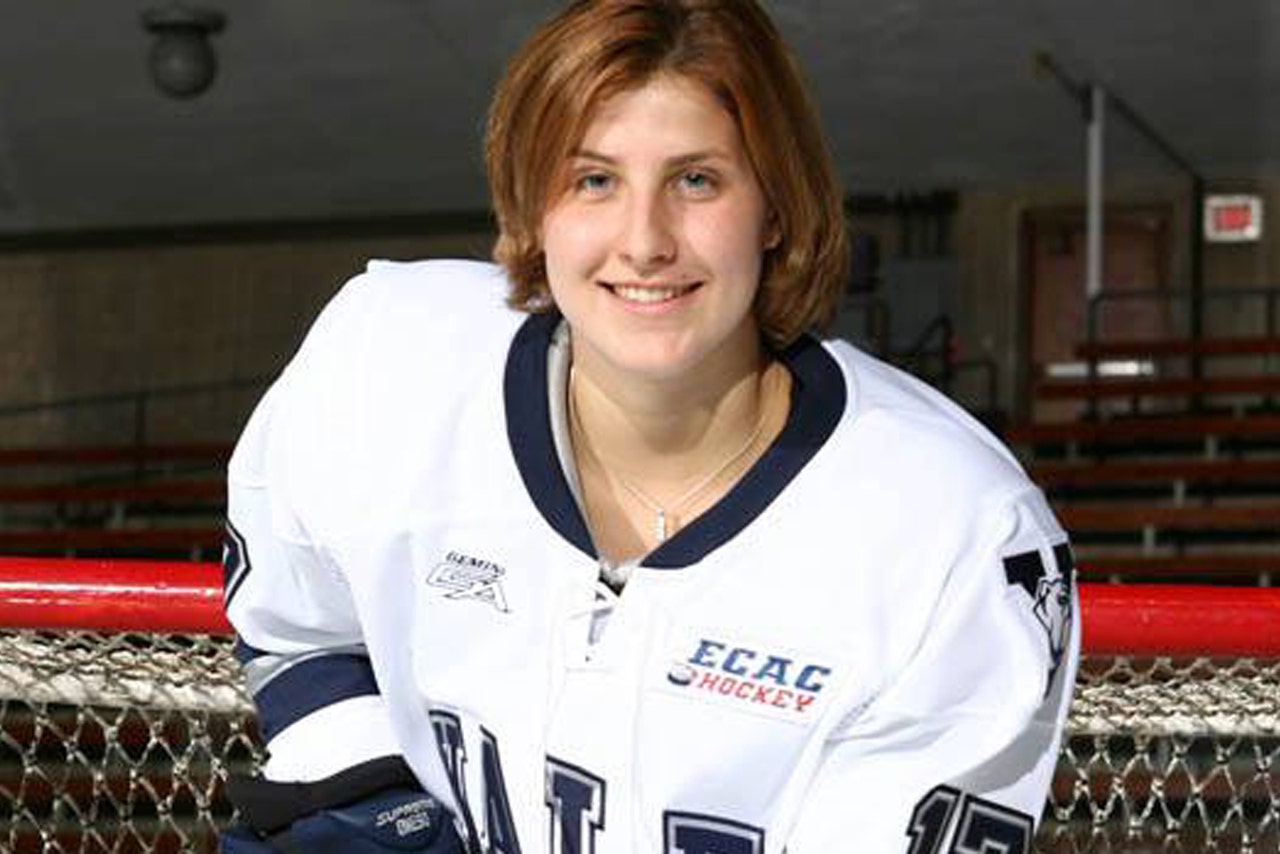 The St. Louis Blues could be spending their off-day in New York City on Friday. It's not as if there's nothing to do around there.
Instead, they'll board a bus and make a 160-mile round trip to New Haven, Conn. It's for a woman they'll never meet and a teammate who never thought he'd have so much company.
"I was pretty shocked," Jaden Schwartz said.
He's a 21-year-old left wing with a great future and a lasting ache in his heart. Schwartz's sister, Mandi, died of leukemia three years ago. She was a hockey player at Yale, where it's safe to say she lives on in ways she never imagined.
There's a foundation in her name and an Upper Deck trading card with her face on it. About 20 people probably wouldn't be alive today if not for her. And on Friday, there's the annual "White Out For Mandi."
The Bulldogs' goal is to beat Brown and raise awareness for an old teammate's cause. Yale has been staging White Outs since Mandi died. The games have been relatively successful, but the 3,500 seats at Ingalls Rink have never been filled.
"Girls hockey doesn't have a big fan base," said Carol Schwartz, Mandi's mother. "When we're planning (the game), we're always wondering how to get more people involved and what we can do better."
Enter the Blues.
They play the Rangers Thursday night and the Islanders on Saturday. Friday would normally be a practice day, then players would be free to relax and enjoy the city.
Jaden noticed the dates and asked if he could make a side trip to Yale. The Blues were amenable, though the thought of Jaden making the trip alone bothered his mother.
"We were going to invite one of his friends to help him through the day," Carol said. "It's not easy for him. It might stir emotions, so we wanted a buddy to come with him."
Their son has that classic hockey stoicism and didn't want to be a disruption. He mentioned his plans to a couple of teammates. They mentioned it to a few more.
General Manager Doug Armstrong figured why not send everybody? He bounced the idea off a couple of team leaders.
"That's an automatic," they told him.
Now the Blues will bus to New Haven and hold a 3 p.m. practice that will be open to the public. They'll go out for a team dinner, then return to Ingalls for the first part of the White Out before heading back to New York City.
"It's such a wholesome, family thing to do," said Aleca Hughes, a former Yale captain who started the Mandi Schwartz Foundation. "In pro sports, that isn't always the first thing people think about. We're all just wowed."
The goal is to help the cause, though the experience might also help the Blues.
"We lead, I don't want to say sheltered lives, but the life of a pro athlete is different," Armstrong said. "We go around in chartered planes and stay at Ritz-Carltons. This just reinforces how fortunate we all are. What the Schwartz family had to go through is unthinkable."
When St. Louis drafted Schwartz in the first round of the 2010 draft, it should have been one of the happiest days of his life. He was four years younger than Mandi, which made her the family's best hockey player for longer than he'd like to admit.
They were usually joined by the middle kid, Rylan, who now plays for Worcester in the American Hockey League. They'd fire shots at each other on the ice behind their home in Wilcox, Saskatchewan, a speck of a town on the Canadian Plains.
Mandi was as good at academics as she was at hockey. Yale was 2,000 miles away, but it was Yale.
"Everybody knows that Yale is pretty prestigious school," Jaden said. "She spent a lot of time doing homework and had her ups and downs, but she loved it. She loved hockey and was always excited to play there."
She was two years older than Hughes, who became one of her line-mates and best friends. Hughes had a couple of brothers who played high school hockey.
Mandi mentioned her brothers did the same, but she didn't go into great detail. Hughes didn't know how good Jaden and Rylan were until she stumbled across their names in a hockey scouting magazine.
"Holy crap!" she said.
Mandi wasn't much for bragging. She was good at being the first player in the weight room in the morning and the last off the ice in the afternoon.
She became unusually fatigued a couple of months into her junior year. One test led to another, and she was diagnosed with acute myeloid leukemia.
She had to leave school for treatment. Her teammates gathered in her dorm room to help her pack.
"She was the one smiling and confident," Hughes said. "She was always so positive and had such conviction."
Mandi spent 130 days in various hospitals, and they thought the cancer was licked. She returned to Yale too weak to play, but she would still beat everybody into the weight room and cheer louder than anyone.
Then the cancer returned. Her best chance of survival was a stem-cell transplant. Failing with that, doctors hoped to find suitable stem cells from umbilical-cord donors.
Mandi's German/Russian/Ukrainian bloodline made a match difficult. The search became a crusade at Yale and the hockey community. Students organized donor drives. Thousands of people got their cheeks swabbed for DNA samples and put into the donor registry. If they didn't match Mandi, maybe they'd match somebody else.
"I never thought I was all that popular," she said of all the hubbub.
A direct stem-cell match was never found. Doctors eventually transplanted the cells from a donor cord in September of 2010.
After months of hope and suspense in a Seattle hospital, the cancer flared again. There was nothing to do except drive back to Wilcox and hope for a miracle.
Meanwhile, Jaden's career was blossoming, but the good times were never as happy as they should have been. He played for the Canadian team in the World Junior Championship until he broke his ankle. That's one reason the Canadians finished second to the U.S.
Jaden flew home and draped his silver medal around Mandi's neck. Whatever pain he felt was usually kept inside.
"They're a very stoic family," Armstrong said. "They're prairie people. They put their heads down and forge ahead. Life shows them something good and something bad and they deal with them the same."
Mandi died April 3, 2011. As trite as it is to say she lives on, that's obvious at Yale. Now, her brother will experience that firsthand.
"It'll be mixed emotions," Jaden said. "It'll be hard, to be honest. But I'm excited to see Yale and the rink where she spent a lot of time."
He's never been to Yale, which was founded in 1701. One permanent feature was added a couple of years ago in the women's hockey locker room. It's Mandi's locker, with her No. 17 jersey still hanging there.
Jaden will get a look at that. He'll see the public unveiling of her trading card. It's part of Upper Deck's "Heroic Inspirations" series, and some feature a swatch from one of her game-worn uniforms.
"People loved her and cared so much," Carol said. "The card people said when they were looking for an inspirational female, her name just kept coming up. It's amazing."
What's amazing is the Mandi Ripple Effect. Somewhere in Europe, there's a 42-year-old man who has probably never heard of Mandi Schwartz or White Outs or even Yale University. But three years ago, a field hockey player named Lexi Adams had a conversation with a freshman football player named John Oppenheimer.
She'd registered as a donor during the previous year's Mandi drive. A match was found, and she donated her stem cells.
Adams talked Oppenheimer into getting his cheek swabbed. Last year, a match was found and Oppenheimer twice donated stem cells.
Due to privacy laws, all Oppenheimer knows is the man lives in Europe and had leukemia. The reason he's alive today is easy enough to trace.
Yale officials said 21 such matches have been found since the drives began. All because of a girl who never knew she was so popular. Keeping that alive is why people around New Haven will put on white shirts this Friday and head to Ingalls Rink.
It's why Mandi's brother will drive up from New York to help put on a show. And it's why his hockey brothers will be at his side.
Said Jaden: "It means more to me than they'll ever know."
---
---