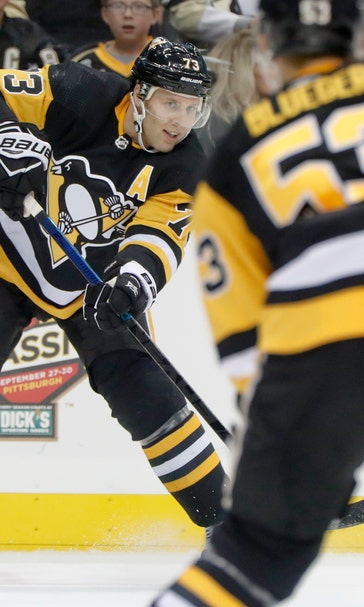 New Jack Swing? Penguins newcomer Johnson happy to fit in
October 3, 2018
PITTSBURGH (AP) — Jack Johnson has spent nearly half his life tangling with Evgeni Malkin in front of the net in rinks all over the world. Bruising affairs that often left one or the other — and occasionally both — skating away in aggravation.
The truce finally came this summer when Johnson joined Malkin and the rest of the Pittsburgh Penguins after signing a five-year, $16.25 million deal. The move allowed Johnson to breathe a sigh of relief on many levels, not the least of which was the knowledge the 31-year-old defenseman wouldn't have to crash into Malkin multiple times a year.
When Johnson approached Malkin as training camp began, he discovered the feeling was mutual.
"We gave each other a half hug and said 'Alright, no more fighting, now we finally get to play with each other,'" Johnson said with a laugh on Wednesday as the Penguins prepared for their opener against Stanley Cup champion Washington on Thursday. "I said 'Don't worry, I'll just pass you the puck.'"
Don't get Johnson wrong. He understands his job responsibilities extend far beyond finding a teammate on Pittsburgh's star-laden roster streaking up the ice. The Penguins allowed the most goals of any playoff team last season, and their bid to win a third consecutive title ended in the second round of the playoffs against the Capitals.
Johnson is well aware his top priority is to shore things up in front of the Pittsburgh goal before jumping in on the fun at the other end of the ice. He also is intent on not merely being a tag along for longtime friend Sidney Crosby — a former classmate at Shattuck-St. Mary's boarding school in Minnesota — and company as the Penguins pursue their fourth Cup in a decade.
"I want to be a contributor, I definitely don't want to be a passenger," Johnson said. "That's definitely the biggest thing that's in my head. I want to help these guys win another one."
The Penguins believe Johnson can do it in multiple ways. Though he has never been labeled a "defensive" defenseman, at 6-foot-1 and 227 pounds, he's capable of clearing goaltender Matt Murray's line of vision. Yet that's not all he can do. While he's never scored more than 42 points in a season or been named to the All-Star team during his 11-year career, he's developed a reputation as a pro's pro who can play all 200 feet.
"I think he's a pretty complete player," Penguins star defenseman Kris Letang said. "He's got good speed, good size and he doesn't get enough credit for his skill. He's really skilled guy. He sees the ice really well."
The beauty of Johnson's new gig is that he might not have to. Given the talent in front of him, he know there's going to be plenty of chances to pick up a cheap assist by flipping the puck 20 feet to Crosby, Malkin or some other guy in black and gold and let them do the rest of the work.
"That's one of the exciting things and fun things about playing with guys of this caliber," Johnson said. "I'm sure there'll be a point here or there I may get where I pretty much had nothing to do with play."
Johnson's optimism plays in stark contrast to the end of his seven-year run in Columbus, when he asked for a trade in January then watched from the press box as a healthy scratch as the Blue Jackets lost to Washington in the opening round of the playoffs.
That's all behind him now. And there are worse places than Pittsburgh to kick start your career. The proof is a few stalls down in the Penguins dressing room. Justin Schultz arrived in Pittsburgh in 2016 after three-plus underwhelming seasons in Edmonton and played a vital role on consecutive Cup winners. Jamie Oleksiak flourished after the Stars sent him to the Penguins last December.
"It's a great place to play," defenseman Brian Dumoulin said. "Obviously playing in the playoffs and winning helps so I think guys get some confidence coming here and it gets their game back on track."
Pittsburgh coach Mike Sullivan doesn't expect Johnson's transition to be seamless but also knows there's no rush. The Penguins believe they have solid depth at the blue line. Johnson isn't being called upon to be some sort of savior or give his game some sort of radical makeover to fit in.
"I don't think they're trying to reinvent me in any way," Johnson said. "They just ask me to be myself, come here and do what I do best."
He's well aware the length of his contract raised some eyebrows. But he's all in. His family bought a house not too far from the team's training facility. He happily joined Crosby and others in some of the formally informal skates before training camp officially started. After more than a half decade clashing with Crosby, Malkin and company, he prefers his current view.
"Pittsburgh was tough to play against, they have the championships to prove it," he said. It's nice to play with these guys instead of against him."
---
---