Nashville Predators
Nashville Predators
Neither Penguins nor Predators happy heading into Game 2 (May 31, 2017)
Published
May. 30, 2017 6:19 p.m. ET

PITTSBURGH -- It's normal for a playoff series to gain context over the first game or two or three.
You can probably throw that out the window with the Stanley Cup Final between the Pittsburgh Penguins and Nashville Predators, who meet Wednesday in Game 2 at PPG Paints Arena. After what happened in the series opener, it's anyone's guess in what direction things might be heading.
Pittsburgh coach Mike Sullivan called his team's 5-3 win Monday in Game 1 "bizarre."
Nashville coach Peter Laviolette found himself juxtaposing praise for the way his team played with this: "We hate the result. Right now we are 100 percent in a result-orientated business. I would rather be in their shoes. I would rather have that Game 1 win because you need four out of seven. Now it's down to six to try to grab the four."
The Penguins won, but weren't wholly happy because they blew a three-goal lead and went 37 minutes without a shot on goal. The Predators lost but seemed genuinely satisfied with the effort if not the outcome.
A lot of times, the team coming off of a loss will practice while a winning club will stay off the ice. The opposite happened Tuesday, with Pittsburgh holding a fairly well-attended optional skate.
Sullivan even was asked Tuesday if he believed in divine intervention or his team being some sort of team of destiny for winning games like that and overcoming a series of injuries this postseason.
"No, I don't think so," he said. "I think our team has an ability to win games different ways. One of the strengths of this team is the quick-strike ability. We can be opportunistic, and when we get high-quality chances we have some people that can finish."
That's a general description of the Penguins through Sullivan's eyes. Analyzing Game 1 specifically is more difficult.
"It's hard to kind of put a finger on why it turned out the way it did," said Pittsburgh goaltender Matt Murray, who made 23 saves. "I think we were just glad to get the win at the end of the night. ... I think it just came down to big plays at big times. Not a dominant performance, of course, by any means, but we got it done."
So both teams found reason to be optimistic, the Penguins because they are coming off a win, and the Predators because even in a loss they didn't stray far from their blueprint and believe they can bounce back to split the two games in Pittsburgh before the series shifts to Bridgestone Arena in Nashville.
"I think our team has been tested many times this season, whether we've had guys out of the lineup or we've gone through rough patches," Nashville defenseman P.K. Subban said. "We've always responded the right way."
In Game 1, it came down to Pittsburgh being able to beat Nashville goaltender Pekka Rinne four times on 11 shots (the Penguins also had an empty-net goal).
Rinne is an elite goalie, a three-time Vezina Trophy finalist and the team's longest-tenured player. He carried a postseason-best 1.70 goals-against average into the series.
But the Penguins have given him problems in the limited sample of nine games he has faced them. During the regular season in his career, he is 1-5-2 against them in eight starts, and his .880 save percentage and 3.57 goals-against average are his worst against any club.
"I expect him to bounce back," Predators defenseman Ryan Ellis said. "He's a terrific goalie. He's been our MVP all year."
Then again, the way Game 1 went, there's no telling what might happen in Game 2.
---
---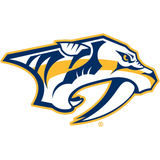 Get more from Nashville Predators
Follow your favorites to get information about games, news and more
---