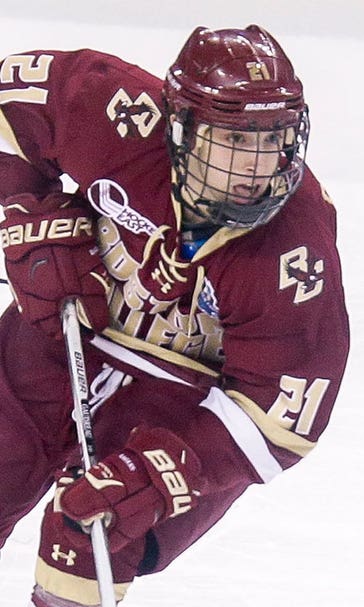 Matty Gaudreau blazing his own trail at Boston College
BY Sports Illustrated and Alex Prewitt/Sports Illustrated • December 15, 2016
CHESTNUT HILL, Mass. — To best explain the flip-flopped dynamic between her two fleet-footed sons, Jane Gaudreau has a story she likes to tell. It starts around when the family built its home in southern New Jersey, as Matty was entering kindergarten and John second grade. (Quick note: It's Matty among family and close friends, not Matt or Matthew; and John, not Johnny or Johnny Hockey.) This being the late '90s, the school had a limited number of computers, so each student was budgeted half-hour blocks in the lab. As the new kid, John had been mistakenly left off the rotational roster. He was upset, but too nervous to say anything.
"One day, Matty was dropping off the attendance in the front office," Jane remembers. "He asked the woman at the desk, 'How come you don't have my brother on the computer list? I have to listen to him talk about it every night at dinner.' That was the first time we realized he's the more protective brother. Looks like Matty's going to be the one taking care of John."
Matty laughs at the memory, or at least the bits his mother has shared. He's sitting in the stands at Conte Forum, where he skates for Boston College, after practice on a Thursday afternoon in December. He's wearing an Eagles beanie and flip-flops that say 21 GAUDREAU on the tongue, sporting some decent chin stubble that John would struggle to grow. 
It's Matty's senior season now, almost three years after John left campus to sign with Calgary and became so popular that he once autographed a baby's pacifier. From the rink's ceiling, JOHNNY GAUDREAU hangs on a banner of former Eagles who won the Hobey Baker Award; the actual trophy from 2014, honoring the best NCAA men's player, sits in the glass display case that rims the concourse. "I see that all the time," Matty says, motioning up at the banner. "I'm happy for him, but I want to also have that as motivation that I get when I look at it."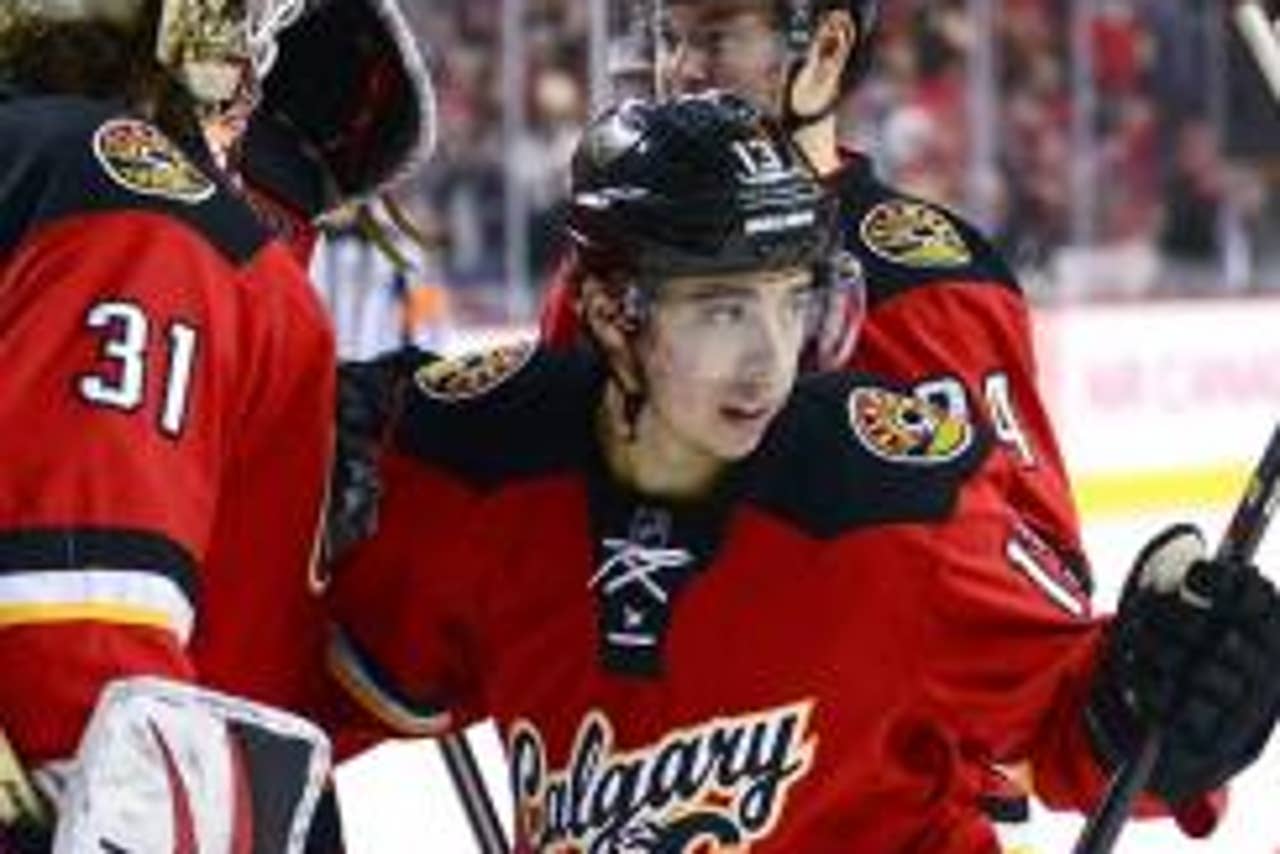 To the uninformed, it might seem like Matty hopped onto his older brother's size-small coattails and coasted into D-I hockey. After all, they committed to Boston College together in Aug. 2011, a package deal when the Flames had already taken John in the fourth round but Matty hadn't even appeared in major juniors yet. It sure doesn't help that they look similar—each stands 5-foot-9, weighs less than 160 pounds, plays wing, shoots left-handed—and show the same slippery flashes when handling the puck. "Having the same name as him isn't easy either," Matty says. "Gaudreau's not exactly common."
Reality is much different. Like, surprise-the-secretary-by-piping-up-so-big-bro-can-play-Oregon-Trail different. The reason they wound up at Boston College? John asked Matty to choose for them both, so Matty picked the place he knew John liked best. When John was weighing whether to turn pro after his sophomore season in 2013, hearing that Matty planned to leave the USHL's Omaha Lancers and enroll at B.C. the next fall cinched it. "If you come, I'll definitely stay," John told him. "I won't even think about it." Without Matty's dorm room here in Chestnut Hill, where would John have slept two summers ago while completing classes towards his communications degree? "If you asked John who's the most important person in his life right now," their mother says, "it'd definitely be Matty."
And now, on a roster stocked with nine NHL draft picks, the undrafted younger Gaudreau improbably leads the fifth-ranked Eagles (13-6-1) with 22 points and 16 assists in 20 games, boosting the program to its best-ever start in Hockey East competition. "I know I have to make a name for myself," he says, when asked how he approached his last season in college. "There's not an NHL team that has my rights. You pretty much have to make a name for yourself, get someone to see you and notice you. I just knew I had to come into this, give it all I've got. It was a do-or-die thing for me."
***
Another story, this time from high school. They're attending midday church services, mandatory at Gloucester Catholic. With his classmates in the pews, John, then a junior, managed to wedge some toothpicks into the cracks between seats, mostly hidden but sticking out enough to hurt.
"One of his friends on the hockey team sat down and screamed," Matty recalls. "The teacher came over and yelled at another one of John's friends, while John sat there quietly." The friend protested, pointing to the real culprit, but the teacher wouldn't buy it. No chance John would be up to mischief like that. Matty wasn't actually there, but the experience rang true. "I definitely was the kid who always took the fall for him," he says. "The more outspoken you are, the more you get in trouble."
Even today, this is accurate. Listed as the smallest B.C. player by 25 pounds, Matty also leads the team with 38 penalty minutes, including back-to-back 10-minute misconducts against Merrimack and Providence in late October. This led legendary Eagles coach Jerry York to have a talk. "He said, 'You're going to get called on those things because the refs don't like you because you talk too much," Gaudreau recalls. "It was definitely the same thing as in grade school. You don't want to be known as the bad guy who talks."
"Just a more outgoing personality," York says. "He's got to be more disciplined with any referee situation. It's something we're working on."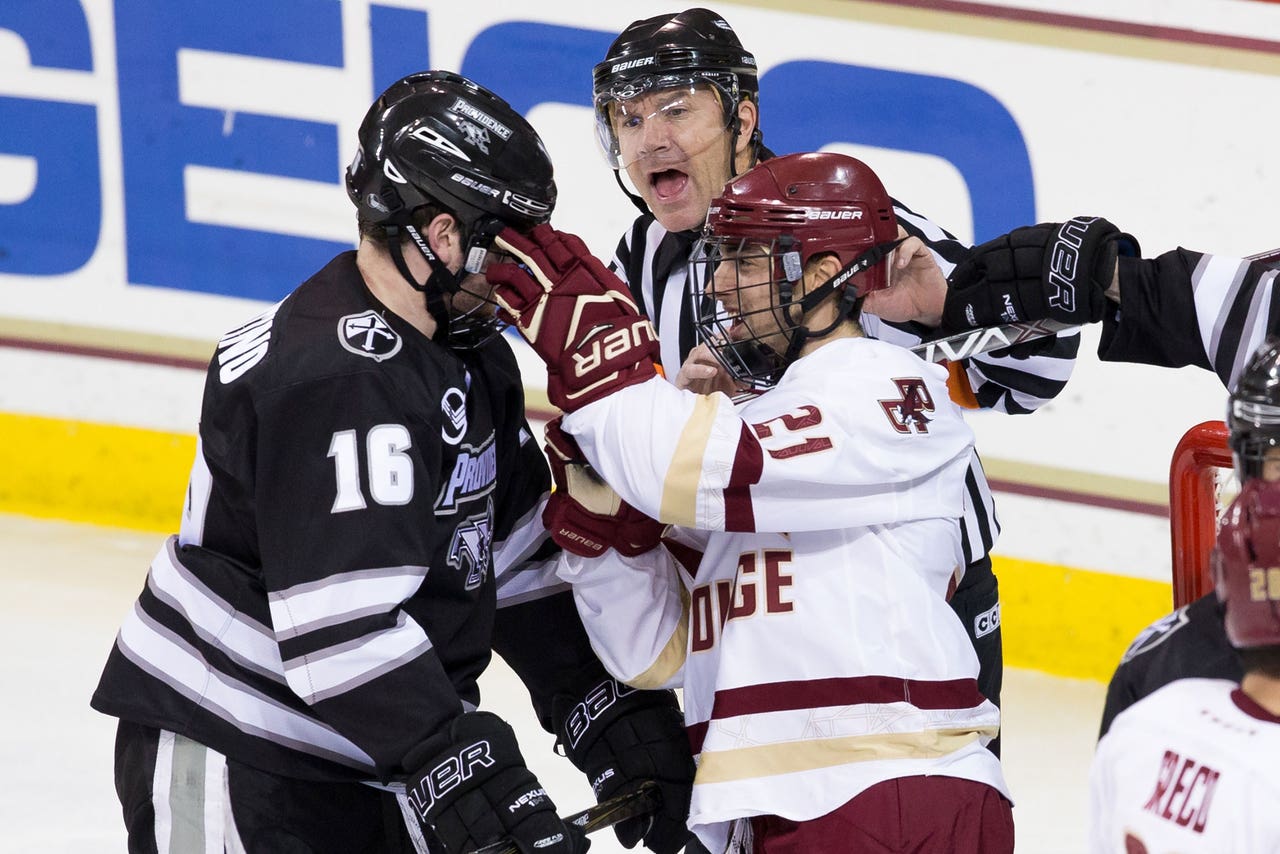 Whereas John quickly turned into a campus celebrity for his dazzling spin-o-ramas and how-the-hell-did-he-do-that passes, Matty's career has traced a more…ordinary path. He appeared in eight games as a freshman during is brother's Hobey Baker season, notching one goal, and had more penalty minutes (eight) than points (six) as a fourth-line sophomore. "We thought he could play, but we weren't quite sure how much," York says. "Would he lead our team in scoring as a senior? That'd be a reach for me to say back then. But it actually happened."
Matty attended his first NHL development camp in 2015 with the New Jersey Devils (GM Ray Shero's son, Chris, plays forward at B.C.), but didn't push hard for an invite anywhere last summer. Instead, he focused on improving his strength and conditioning at Hollydell Ice Arena, the rink where his father works back home. His junior year had gotten off to a scorching start, with an eight-game point streak carried into mid-December, but Matty felt himself slowing down after Christmas break. So he'd worked out in the morning, pushing sleds and running 50-yard shuttle sprints, before hitting the ice in the afternoon.
So far, so good. His speed plays well in York's aggressive penalty-killing scheme. His vision works wonders as the power play distributor. At even strength, he's spent the entire season to date in the top-six, helping steer a young locker room that lost seven players who signed pro deals last summer. "He's a reason Boston College is going to have a good season," says Dave Starman, a CBS Sports Network college hockey analyst who also scouts for the Canadiens. "He is not there because of his name. He's not there to fill out a jersey. He deserves a role…His skill level will carry him to places that maybe his size would keep him out of."
No, Matty won't have an NHL entry-level deal awaiting him after graduation. Nor does he necessarily expect to ever sign for six years and $40.5 million, like John did with Calgary in October. (Owing to her sons' relationship, Jane laughs that it took great restraint from Matty not to leap to John's defense as rumors of the latter's contractual demands flew around Twitter.) A two-way, AHL-ECHL deal appears more realistic, or maybe something abroad in Europe. "It's going to be a job after college," Matty says. "Right now it's fun. This whole year I'm thinking about it as an internship. I'm not getting paid right now. But if I do well this year, next year is going to be a better opportunity." And besides, unless John hustles to complete online classes on Flames road trips, Matty will earn his bachelor's degree first. "That's one thing I'll get before he did," he says. "I will hold that against him."
Ever since Matty marched into the front office at elementary school, the Gaudreaus have known that he can handle life by himself, independent of the familial trailblazer two years older. But will the outside world catch on? They believe it's happening in baby steps. On Boston College telecasts, for instance, broadcasters no longer introduce No. 21 as "Matthew Gaudreau, brother of Johnny," followed by two minutes of breathless banter about someone absent from the game.
"I guess everybody forgot about me now," John recently began joking. "Matty makes a name for himself, and nobody remembers who I am."
---
---