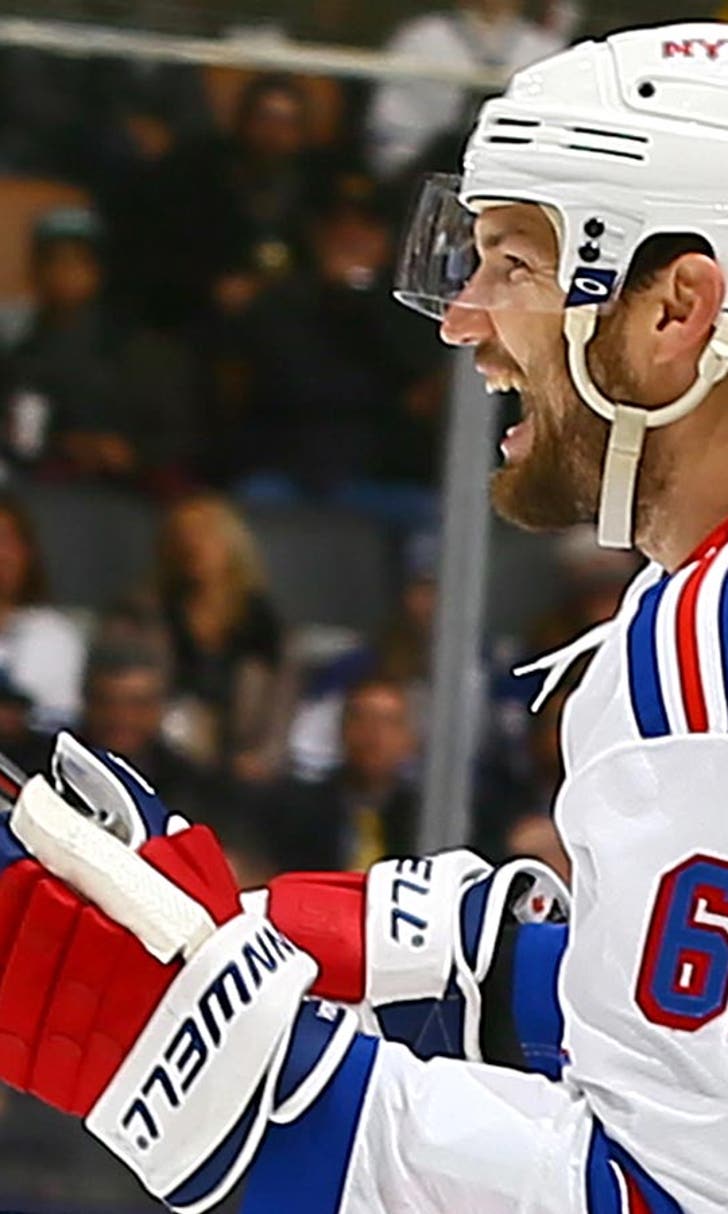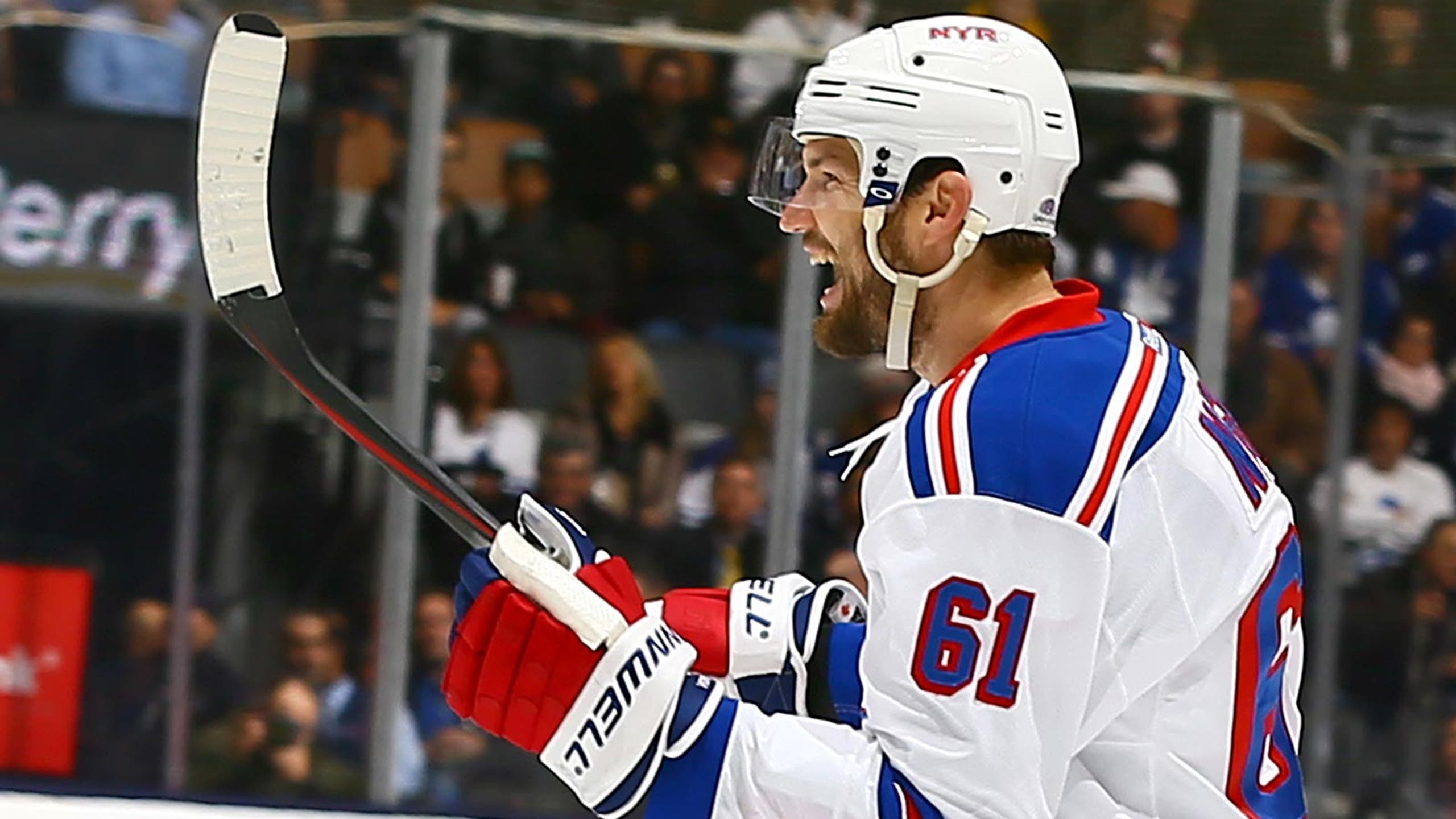 Mats Zuccarello's 2nd goal puts Rangers in front of Leafs
BY foxsports • February 10, 2015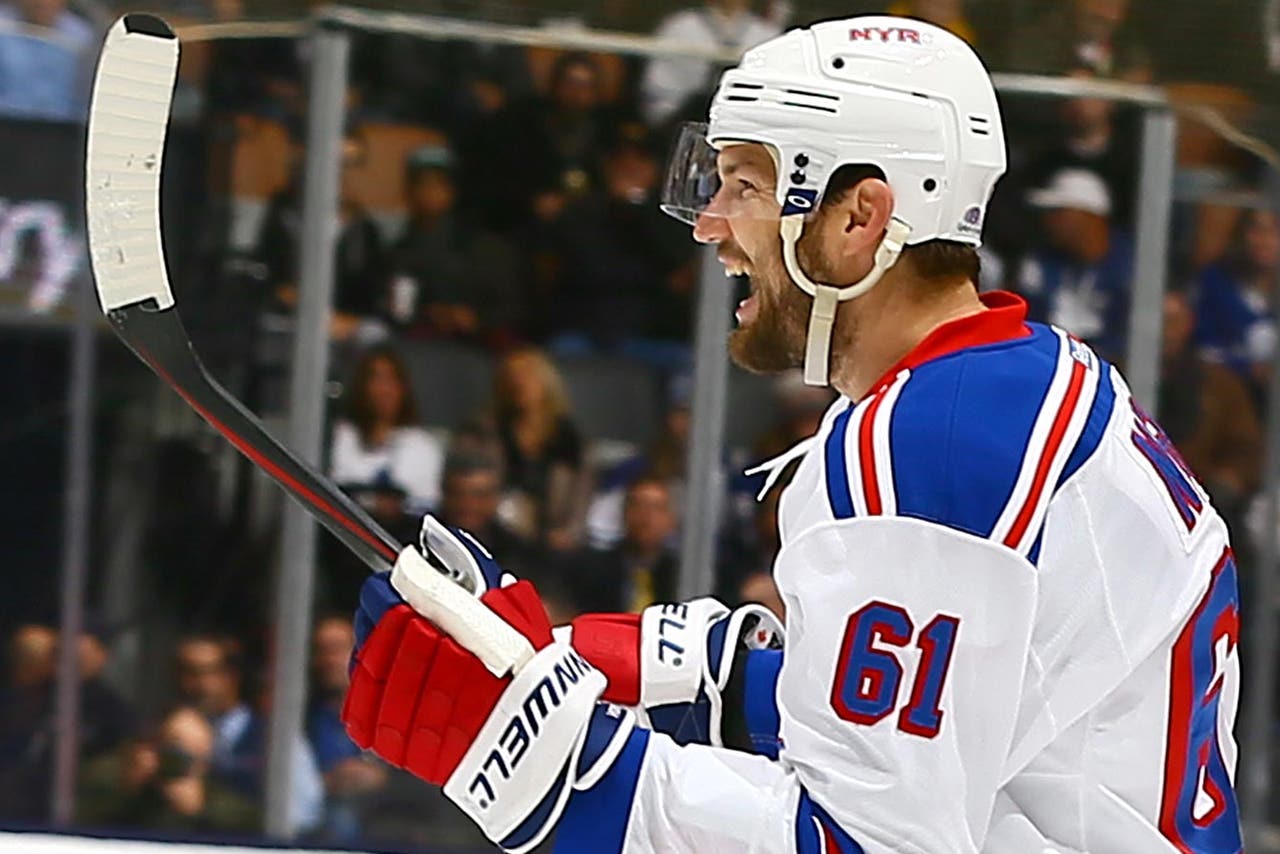 Rick Nash has been scoring goals all season. This time, he was the guy setting up his teammates.
Mats Zuccarello netted his second goal of the game with 5:56 left, snapping a tie and sending the New York Rangers to a 5-4 victory over the skidding Toronto Maple Leafs on Tuesday night.
Nash had three assists, including a nice pass that set up Zuccarello's game-winner after the Rangers squandered a two-goal lead early in the third period.
"It was kind of a different night playing playmaker," said Nash, tied for the NHL lead with 33 goals. "But it opens up room, guys were open, they worked to get to their positions, and I thought Zuccarello had a great game of doing that."
Dominic Moore added a short-handed goal and an assist for New York, and Cam Talbot made 30 saves in his fourth straight start for injured goalie Henrik Lundqvist.
"Give the guys a lot of credit in front of me, they did a great job of staying focused and battling back and getting us the two points tonight," Talbot said.
Dan Boyle and Kevin Hayes also scored for the Rangers in the opener of a four-game road trip. New York (31-16-5) had lost two in a row.
"In the third there we got on our heels a little bit," Rangers coach Alain Vigneault said. "They had a real strong push, but at the end of the night it's about finding ways to win and that's what we did."
Maple Leafs defenseman Morgan Rielly scored twice, and Daniel Winnik and Stephane Robidas each had a goal. James Reimer stopped 34 shots in his third consecutive start for Toronto.
"It was one of those nights where I was good but just not good enough," Reimer said.
It was the 12th loss in 13 games for the Maple Leafs (23-28-4), who have three points during that span.
Interim coach Peter Horachek cut Phil Kessel's ice time and demoted him to the fourth line. Kessel was on for four goals against and played just 12:57, his second-lowest total of the season.
"We were awful," Horachek said of his team's play through two periods. "We've got to expect more out of his line, out of him, out of the rest of the players."
The top line of James van Riemsdyk, Tyler Bozak and Kessel was on the ice for three goals against, including one short-handed, before Horachek mixed things up in the third period. Kessel was on the fourth line with David Booth and Trevor Smith -- and on the ice -- when Zuccarello scored the decisive goal.
In replacing him on the top line with Richard Panik, Horachek said he was trying to get Kessel away from New York's top defensive pairing of Ryan McDonagh and Dan Girardi, not sending a message to the star forward.
"I don't think that many guys played well," Horachek said. "You're just trying to mix it and make them make decisions to change their matchups."
Kessel, who leads the Maple Leafs in points with 47 and averages 18:48 in ice time, was not made available to reporters after the loss. Along with Kessel, winger Joffrey Lupul had his ice time cut to 12:06, down from an average of 15:41.
Horachek was visibly frustrated as Toronto dropped to 2-12-1 since he took over.
"It was lethargic. There was no effort," he said.
"We got totally outplayed the first two periods, dominated I think every situation," Horachek added. "We didn't deserve tonight."
Last week, Horachek took Kessel, Bozak and van Riemsdyk out of their traditional white practice jerseys that denoted the first line and put them in red to take them out of their comfort zone.
At the end of two periods, Bozak had played the least of any Maple Leafs player, but by the midway point of the third Panik was on the first line in Kessel's spot. Kessel got a couple of other chances with Toronto trying to tie it, but to no avail.
NOTES: Maple Leafs captain Dion Phaneuf missed his seventh straight game with a hand injury. David Clarkson was a healthy scratch for the second straight game. ... Rielly's two-goal game was the first of his career.  
---
---