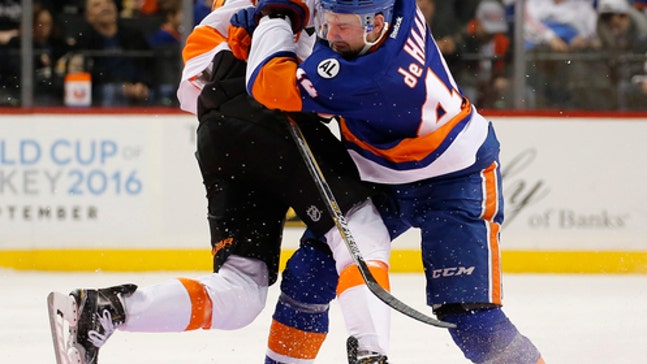 Manning's first NHL goal leads Flyers over Islanders, 4-1
Published
Mar. 22, 2016 1:04 a.m. ET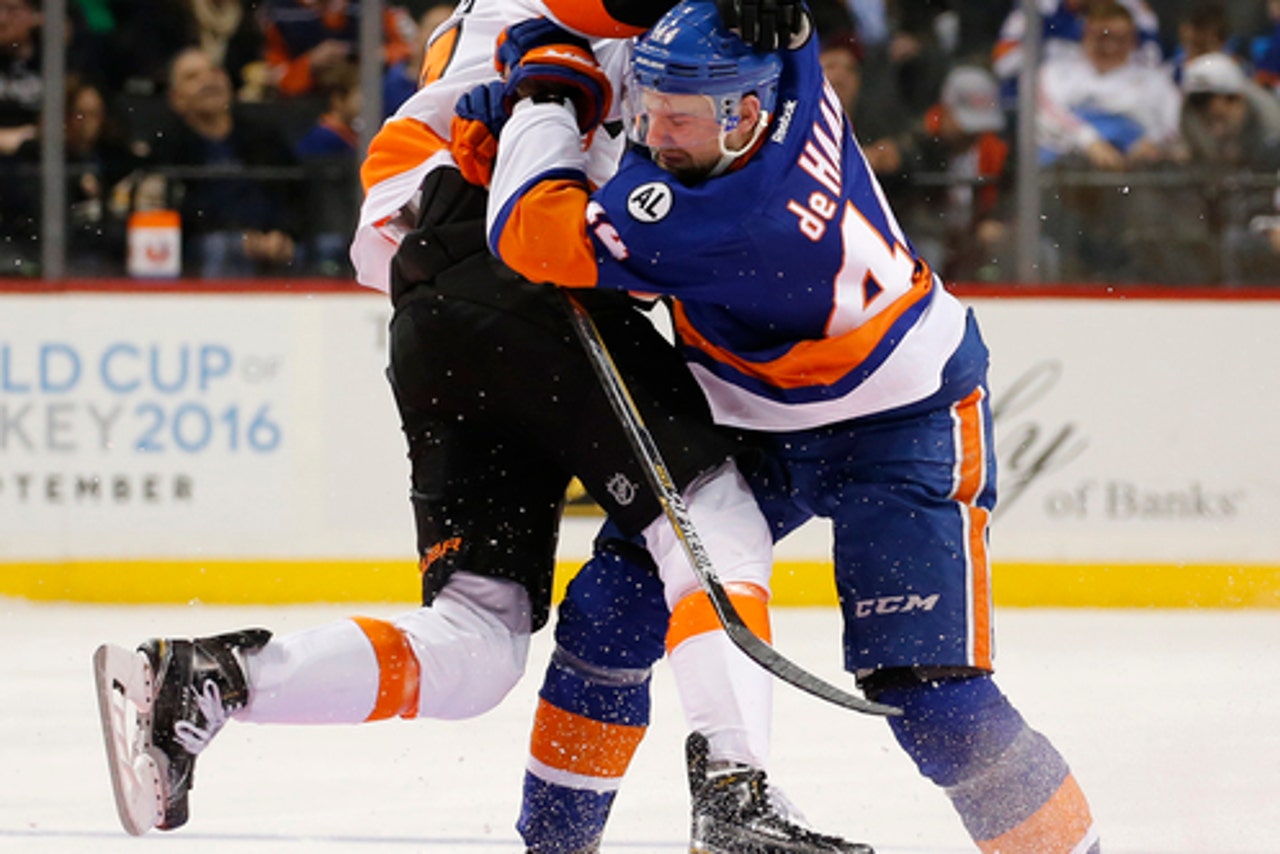 NEW YORK (AP) To a man, the Philadelphia Flyers were feeling good about themselves and the brand of hockey they've been playing nearly every night.
Down the hallway, the New York Islanders were searching for a solution to halt their late-season tailspin.
Brandon Manning's first NHL goal midway through the second period snapped a tie and powered the Flyers to a 4-1 win over the Islanders on Monday night.
Nick Cousins, Sam Gagner and Claude Giroux also scored for Philadelphia, which won for the 10th time in 13 games. The surging Flyers closed within one point of Detroit for the final playoff spot in the Eastern Conference.
''Our team has played well the last 30 games,'' coach Dave Hakstol said.
Philadelphia trails the Islanders by three points for the first wild card. The Flyers are 2-1-0 against New York this season, with one game remaining.
''(We) control our own fate,'' said Steve Mason, who made 23 saves.
The Islanders have lost five of six at a most inopportune time. They fell to 21-9-4 in their first season at Barclays Center, after spending the franchise's first 43 years at Nassau Veterans Memorial Coliseum on Long Island.
New York finishes the regular season by playing seven of its final 11 games in Brooklyn.
''Obviously, it hasn't gone well the last couple of games,'' captain John Tavares said. ''It's obviously been a tough stretch. It starts with myself. I have to elevate my game where we need it.''
Kyle Okposo scored for New York, and Thomas Greiss stopped 21 shots.
Cousins opened the scoring at 2:24 of the second period with his sixth of the season. He outdueled Thomas Hickey in front before tapping the rebound of Jake Voracek's shot into a half-empty net.
Okposo tied it 90 seconds later with his 20th of the season. The pending unrestricted free agent jammed a loose puck under Mason to reach 20 goals for the third time in his NHL career.
But that was all the offense the Islanders could muster.
''(Tavares) is trying to lead our game. He's doing the best he can, but the supporting staff and a few other guys, it's non-existent right now,'' coach Jack Capuano said. ''You're going to need the secondary guys to pick up some of our leaders.
''You're hoping eventually some of the guys can get out of the funk they are in, but there's limited time to do that.''
Philadelphia regained the lead when Manning beat Greiss high to the glove side, moments after the Flyers had successfully killed his 2-minute minor for cross-checking Johnny Boychuk.
Manning's first goal came in his 66th NHL game.
''Been a long time coming,'' he said. ''Got a lucky bounce.''
Mason's stop on Nikolay Kulemin at the doorstep with 2:31 left in the period kept Philadelphia ahead.
''Three or four times he kept us in the game or in the lead,'' Manning said.
Gagner scored his eighth goal at 4:22 of the third to make it 3-1.
Mason had to make two stops on Josh Bailey before Ryan Strome's attempt hit the post with less than 10 minutes left. Giroux added an empty-net goal with 26.9 seconds remaining.
''We stayed with our game,'' Cousins said. ''We stayed composed (and) played our game for a full 60 minutes. ... This was a big test for us, a big challenge.''
NOTES: Both teams were scoreless on the power play. ... Tavares played in his 500th NHL game. New York selected him with the first pick in the 2009 draft. ... Philadelphia goalie Michal Neuvirth missed his second straight game with a lower-body injury. ... The Flyers scratched Evgeny Medvedev, R.J. Umberger, Chris Vandevelde and Jordan Weal. ... New York did not have Mikhail Grabovski and Jaroslav Halak due to injuries. Halak sat out his seventh straight with a lower-body injury, while Grabovski missed his third game even though he is considered day to day. ... Steve Bernier, Eric Boulton, Ryan Pulock and Marek Zidlicky were the Islanders' scratches. ... Miss USA, Olivia Jordan, was among the 14,329 in attendance.
---
---