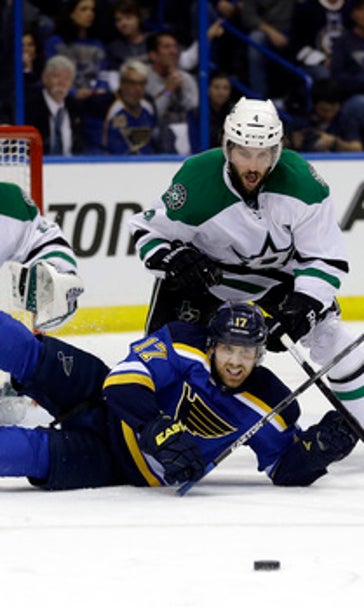 Lehtonen makes 35 saves, Stars force Game 7 with 3-2 win
May 10, 2016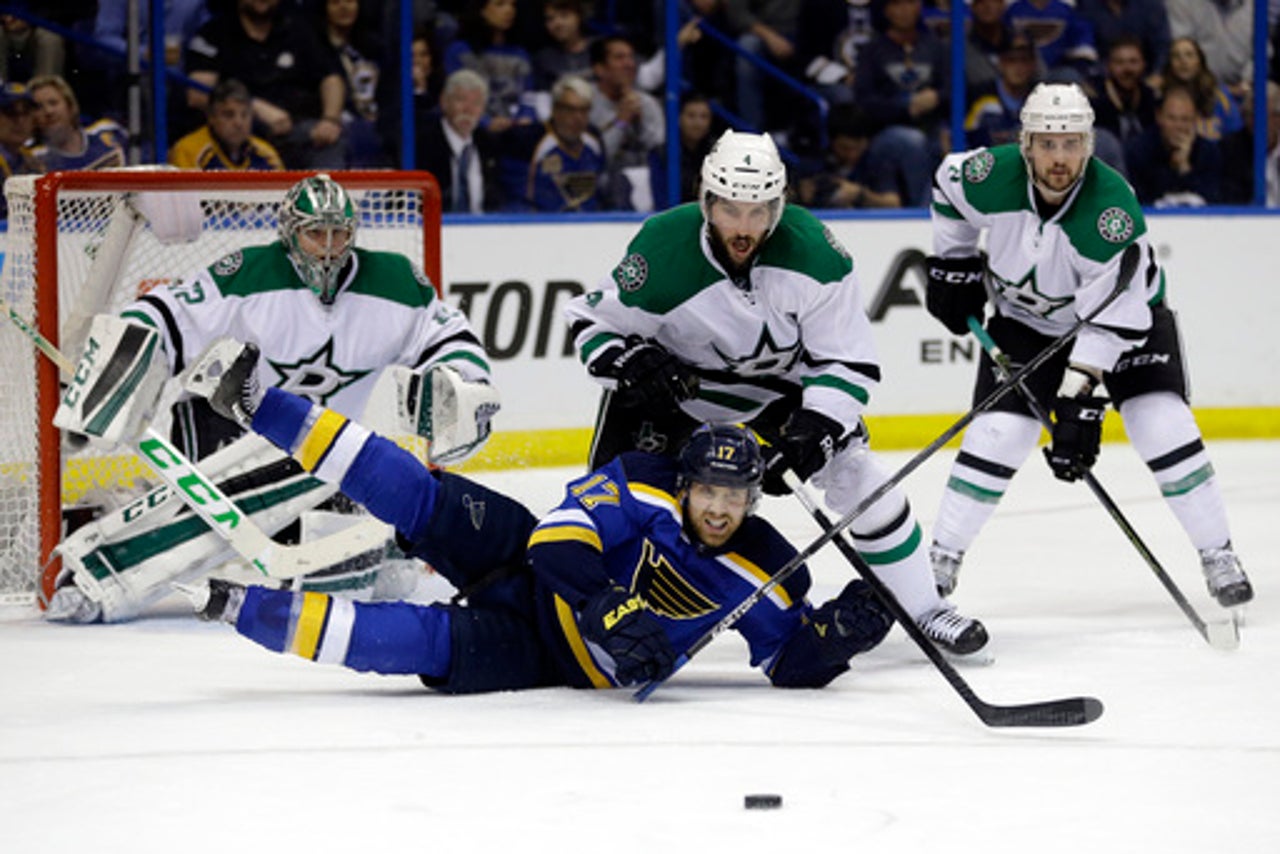 ST. LOUIS (AP) This time it was Dallas goalie Kari Lehtonen's turn to shine.
Lehtonen made 35 saves to bring the series home to Dallas for Game 7 with a 3-2 victory over St. Louis on Monday night.
Brian Elliott, a standout throughout the postseason, was pulled in the first period.
''We can just flip the script and say how well Elliott played, and just change the name to Lehtonen now,'' Stars coach Lindy Ruff said.
Rookie Mattias Janmark ignited a three-goal first period and Lehtonen made key saves the rest of the way, the biggest on Jaden Schwartz with about 20 seconds left.
''I just try to stay as relaxed as I can and just follow the puck and not try to play it any other way than I've done last 59 and a half minutes,'' Lehtonen said. ''It's easy to say but today it worked.''
Vernon Fiddler and Jason Spezza also scored for Dallas, which reclaimed home ice for the deciding game.
''We still have to win two in a row, which we have not been able to do in this series,'' Lehtonen said. ''It's still alive, so we just need to relax now and get ready for the next one.''
Alexander Steen and Patrik Berglund scored for St. Louis.
Home ice has meant little, given the road team has won three in a row and four of six in the series.
''We've won twice in their building already,'' Blues coach Ken Hitchcock said. ''I don't think it matters where you play a Game 7. I know one thing: We're going to come after them, big-time.''
Elliott entered with a 1.92 goals-against average in the series, but was replaced with the Stars leading 3-0 on just seven shots at 16:49 of the first.
Teammates accepted responsibility for the deficit.
''I just think we weren't ready to play somehow,'' Berglund said. ''We were sloppy and obviously they took advantage of it.''
Hitchcock wouldn't commit to Elliott for Game 7, however.
''I want to sleep on what I'm going to do,'' Hitchcock said. ''I'll let you know on game day.''
Jake Allen finished in his first appearance of this postseason, facing just seven more shots in the final two-plus periods.
St. Louis will be seeking its first trip to the Western Conference final since 2001 and Dallas, which finished first overall in the West, previously made it that far in 2008.
''We were playing for our lives,'' Spezza said. ''We were assertive. We didn't want to go home today.''
The Stars were ahead 3-0 after the first, their first two- and three-goal leads of the series. That early show of strength muzzled another standing room crowd of 19,808 at the Scottrade Center with the first two goals coming in a span of 20 seconds.
Janmark blocked Colton Parayko's dump-in from just inside the blue line and skated in alone on Elliott, scoring on a high shot. Fiddler made it 2-0 on a deflection at 5:13 not long after Elliott couldn't clear the puck.
Elliott was pulled after the Stars made it three goals on seven shots, with Spezza scoring on a power play from the slot at 16:49. Blues defenseman Jay Bouwmeester fell down seconds before Spezza's first of the series and fifth of the playoffs.
The Blues had several good chances in the first, but often missed the net.
Steen's goal on a rebound of Robert Bortuzzo's shot gave the Blues life in the second period. The Blues had a 14-5 shots advantage in the period, including another good opportunity for Steen on a one-timer off Lehtonen's pads in the final minute.
Berglund cut the deficit to one at 8:59 of the third, tapping it in from close range off a nice setup from Jori Lehtera. Lehtonen stopped Schwartz on a one-timer with about 20 seconds left.
NOTES: Spezza has a point in four consecutive games. Janmark had been scoreless three straight games. Fiddler scored his first of the playoffs. ... F Patrick Eaves returned for the Stars from a leg injury, and hit the crossbar with about two minutes left with a chance to extend the lead to two. ... Bortuzzo played his fourth game of the playoffs for St. Louis in place of rookie Joel Edmundson on defense. .. Only three penalties were called, all minors. ... Blues D Alex Pietrangelo led all skaters with 28:25 of ice time. He entered averaging 30:05, most among remaining players.
---
---