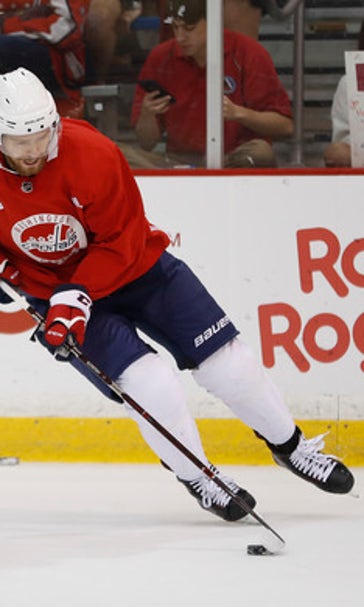 Kuznetsov game-time decision for Game 3 of Stanley Cup Final
June 2, 2018
WASHINGTON (AP) The Washington Capitals put Evgeny Kuznetsov in the lineup for Game 3 of the Stanley Cup Final against the Vegas Golden Knights on Saturday night and he didn't miss a beat.
The Russian star scored and added an assist in the Capitals' 3-1 win that put Washington two wins away from the championship.
''You play a little bit better when you're hurt,'' Kuznetsov said
The leading scorer in the playoffs left Wednesday's Game 2 clutching his left arm after a big hit from Brayden McNabb and did not return.
Kuznetsov took part in an optional practice Friday and the morning skate Saturday and said the undisclosed upper-body injury ''feels better every day.'' Coming into the game, Kuznetsov's 25 points are the most of any player this postseason and he's a weapon at even strength and on the power play even if he's not 100 percent.
''Kuzy's a surprisingly tough kid,'' Capitals defenseman Matt Niskanen said. ''He's kind of a slender guy, wiry strong, but guys play through stuff all the time throughout the year and then especially this time of year.''
Washington defenseman Michal Kempny was also in the lineup after a scare during pregame warmups. Kempny stepped on a puck, crashed into the boards and went off the ice for repairs before returning.
Kempny and Kuznetsov were the last two players on the ice. The 26-year-old Russian center spent all the time allotted to him stickhandling and shooting to test the injury.
''In these type of games you always want to play, but you have to do better for your team and you have to understand it doesn't matter who you are, what kind of player, you have to understand can you help the team or no,'' Kuznetsov said earlier in the day. ''That's the biggest part. You have to understand it and you have to communicate with the coaches, doctors and everybody, can you help the team?''
---
More Stanley Cup coverage: https://apnews.com/tag/StanleyCupFinals
---
Follow Hockey Writer Stephen Whyno on Twitter at http://twitter.com/SWhyno
---
---