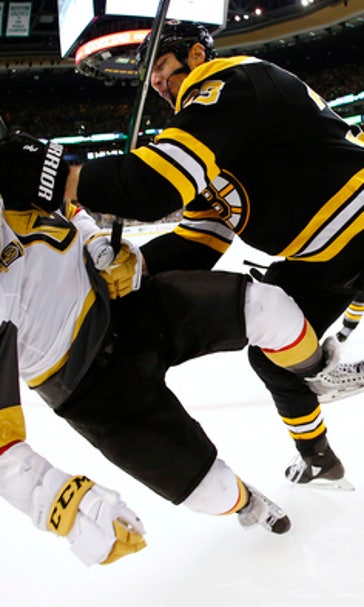 Kuraly's 1st NHL goal lifts Bruins over Golden Knights 2-1 (Nov 02, 2017)
November 3, 2017

BOSTON (AP) In a game with limited offensive opportunities, two unexpected sources created all the scoring chances the Boston Bruins needed.
Sean Kuraly scored his first regular-season goal to snap a tie midway through the third period, sending Boston to a 2-1 victory over the Vegas Golden Knights on Thursday night.
Kuraly and Riley Nash both scored on rebounds, setting up in front of the Vegas net to put them in position when the puck finally bounced Boston's way.
''When you're not scoring pretty goals, you need to go to that area and give yourself the best odds of scoring,'' Nash said. ''The game is funny sometimes. You get a lot of chances and nothing seems to go your way. Then you get a couple bang-bang and you feel like anything can go in.''
Kuraly got to a rebound during a scrum in front of the Vegas net after a shot by Torey Krug with 10:07 left, restoring Boston's lead and helping the Bruins to avoid being swept by the expansion Golden Knights in their inaugural season.
It was the second assist of the night for Krug, who helped set up Nash's goal early in the second for Boston, which was coming off consecutive losses in overtime and a shootout.
''I was lucky enough to find one on the doorstep,'' said Kuraly, who scored twice in a playoff game against Ottawa but had no goals in 18 previous regular-season games. ''I think you just keep working and doing the right things and treating the game with respect, it kind of respects you.''
Cody Eakin scored for Vegas, which fell to 0-3 on a six-game road trip out East.
Losing 2-1 was actually a sign of improvement for the Golden Knights in the midst of their first losing streak. The trip started ominously with losses to the New York Islanders and New York Rangers, who both scored six goals against the NHL newcomers.
''You're not going to win on the road or anywhere when you give up six goals, so I thought our team played a smart game, a strong game tonight on the road and we just fell short,'' Vegas coach Gerard Gallant said.
Maxime Lagace, making his second NHL start, had 26 saves for the Golden Knights, who beat Boston 3-1 on Oct. 15 in the first meeting between the expansion club and the Original Six franchise.
''They got two lucky bounces,'' Lagace said. ''It's too bad, but we'll have to be back for next game in Ottawa. We have a long road trip and we can't take breaks.''
Tuukka Rask stopped 27 shots for the Bruins. Rask faced just eight shots in the first period, which was three more than Boston managed in the opening 20 minutes.
Nash broke the scoreless tie when he poked a rebound past Lagace 3:24 into the second period. Nash got a shot off a few seconds earlier that hit the far post and bounced to Austin Czarnik, who put it right back on Lagace and the rebound went right back to Nash for his first goal of the season.
''It was not the prettiest goal I ever scored, but when you haven't scored in 10 games, you'll take it any way it comes,'' Nash said.
Eakin evened the score 9:34 into the second on a one-timer off a pass from Nate Schmidt, who intercepted a clearing attempt in the Boston zone and set up Eakin at the right circle.
NOTES: The Bruins held a moment of silence before the national anthem in memory of the victims of Tuesday's attack on a bike path in New York City. ... Boston placed forward David Backes on injured reserve and he was scheduled for surgery to remove a portion of his colon. Backes, picked up from St. Louis in the offseason, has been bothered by diverticulitis and has played only five games for Boston so far. ... The Bruins recalled Czarnik from Providence of the AHL to fill Backes' roster spot. ... G Zane McIntyre, recalled from Providence on Wednesday because of a lower-body injury to Anton Khudobin, was Rask's backup.
UP NEXT
Golden Knights: Visit the Ottawa Senators on Saturday afternoon.
Bruins: Host the Washington Capitals on Saturday night.
---
More AP NHL coverage: https://www.apnews.com/tag/NHLhockey
---
---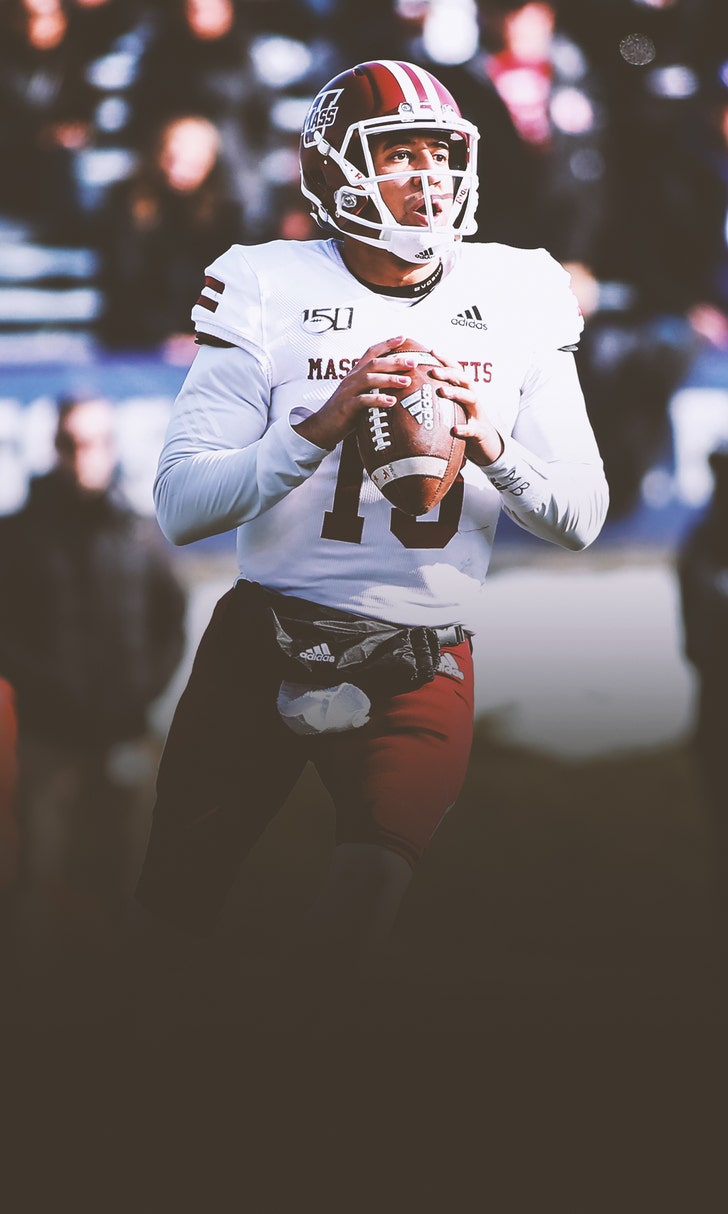 UMass Cancels Fall Football