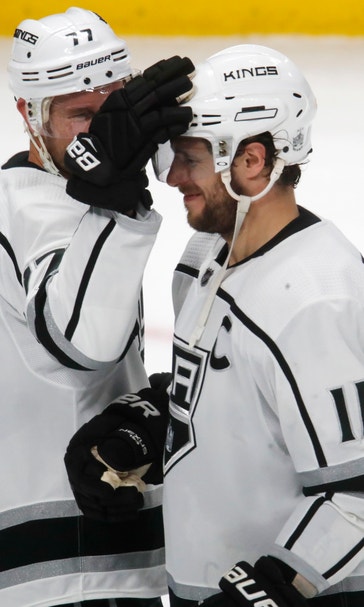 Kings hope to get over 1st-round playoff hump with Kovalchuk
September 25, 2018
LOS ANGELES (AP) — The Los Angeles Kings made one significant addition during the offseason, but the question is whether it was enough to help them advance past the first round of the playoffs for the first time since 2014.
While the top teams in the Pacific Division were busy, the Kings mostly stood pat. Their only major move was signing Ilya Kovalchuk, who returns to the NHL after five seasons playing in Russia.
The 35-year old left winger fits a familiar blueprint for the Kings — he's over 30, has a big body and can control the puck but lacks quickness in getting up ice. Kovalchuk joins what is one of the oldest rosters in the league with nine players who are 30 or older. He will be paired on the top line with Anze Kopitar and Dustin Brown.
Kovalchuk's addition should add some punch to an offense that has struggled to score goals. The Kings averaged 2.89 goals per game last season, which was 16th out of 30 teams, and their 155 goals in 5-on-5 situations was the third lowest of a team that made the playoffs. They had only four skaters score 16 goals or more. Only Arizona and Edmonton had fewer skaters with three apiece.
Coach John Stevens said at the start of training camp that he was happy with some of the improvements made last year, which included creating more in the middle of the ice and scoring off the rush, but that more progress needs to be made.
"I don't know if I want to say we want to do a whole lot of things different, but we want to do some things a whole lot better," he said.
With the addition of Kovalchuk, Kopitar thinks the Kings can continue to build on some of the progress they made last season. He said early in training camp that last season was the best hockey they've played in the regular season since winning their second Stanley Cup in three years in 2014.
"I thought we showed more positives than negatives," he said. "We're trying to look forward, draw on the positives and go about our business."
Here are some other things to watch as Stevens begins his second season in charge:
KOPITAR'S ENCORE: Kopitar finished third in the Hart Trophy voting last season with a career-best 35 goals, 57 assists and 92 points. It is unlikely that he will repeat those numbers, but he shouldn't revert to the form of 2016-17, where he struggled and had 52 points, which was the second-lowest of his 12-year NHL career.
SCORING BEYOND THE FIRST LINE: The Kings are hoping some of that comes from center Jeff Carter, who missed 55 games last season due to a lacerated ankle tendon.
Forwards Alex Iafallo (six goals, 11 assists) and Tyler Toffoli are expected to take another step. Toffoli (24 goals, 23 assists) was the only player not on the top line who had more than 16 goals.
COUNTING ON QUICK: Jonathan Quick was one of the league's top goaltenders down the stretch last season with two shutouts and a 1.99 goals-against average in his last 11 regular-season starts. Managing Quick's workload will be more of a priority this season as he usually ranks in the top 10 in minutes played.
Jack Campbell has emerged as Quick's backup. He earned at least a point in all four of his starts last season and had a 2.47 goals-against average.
THE SCHEDULE: The Kings begin the season with home games against San Jose and Detroit before heading on the road for six of their next nine. They face Southern California rival Anaheim only once before March 9.
---
---