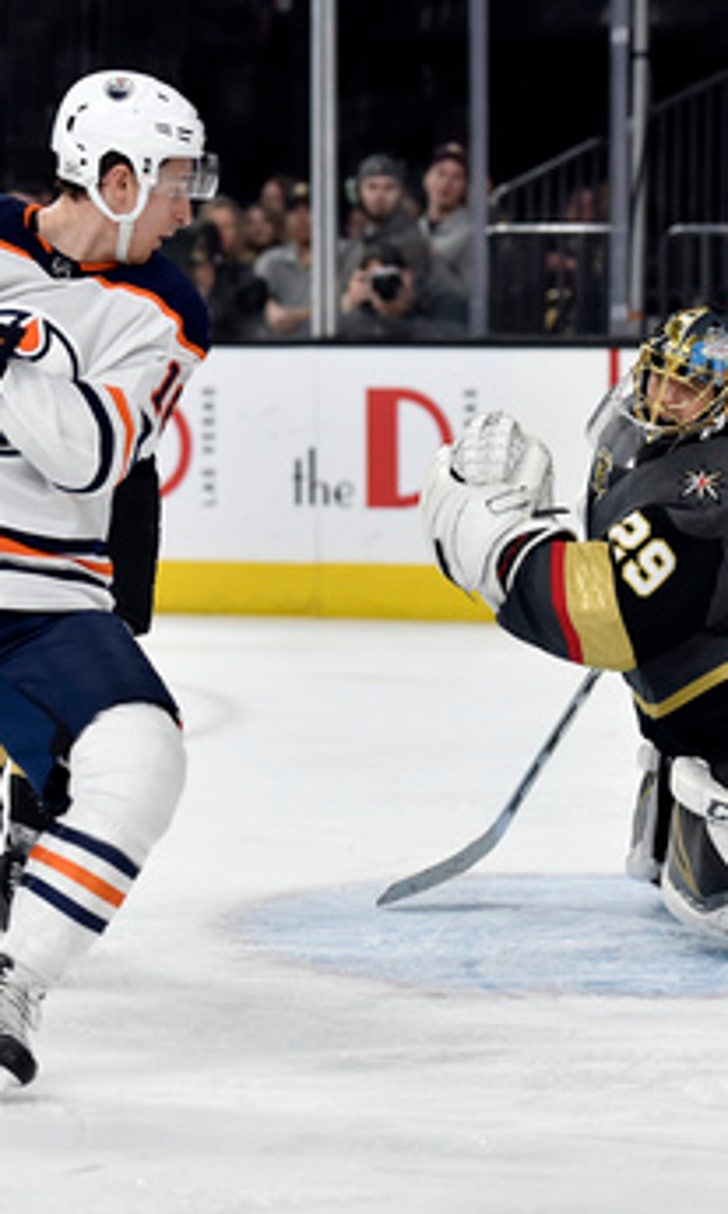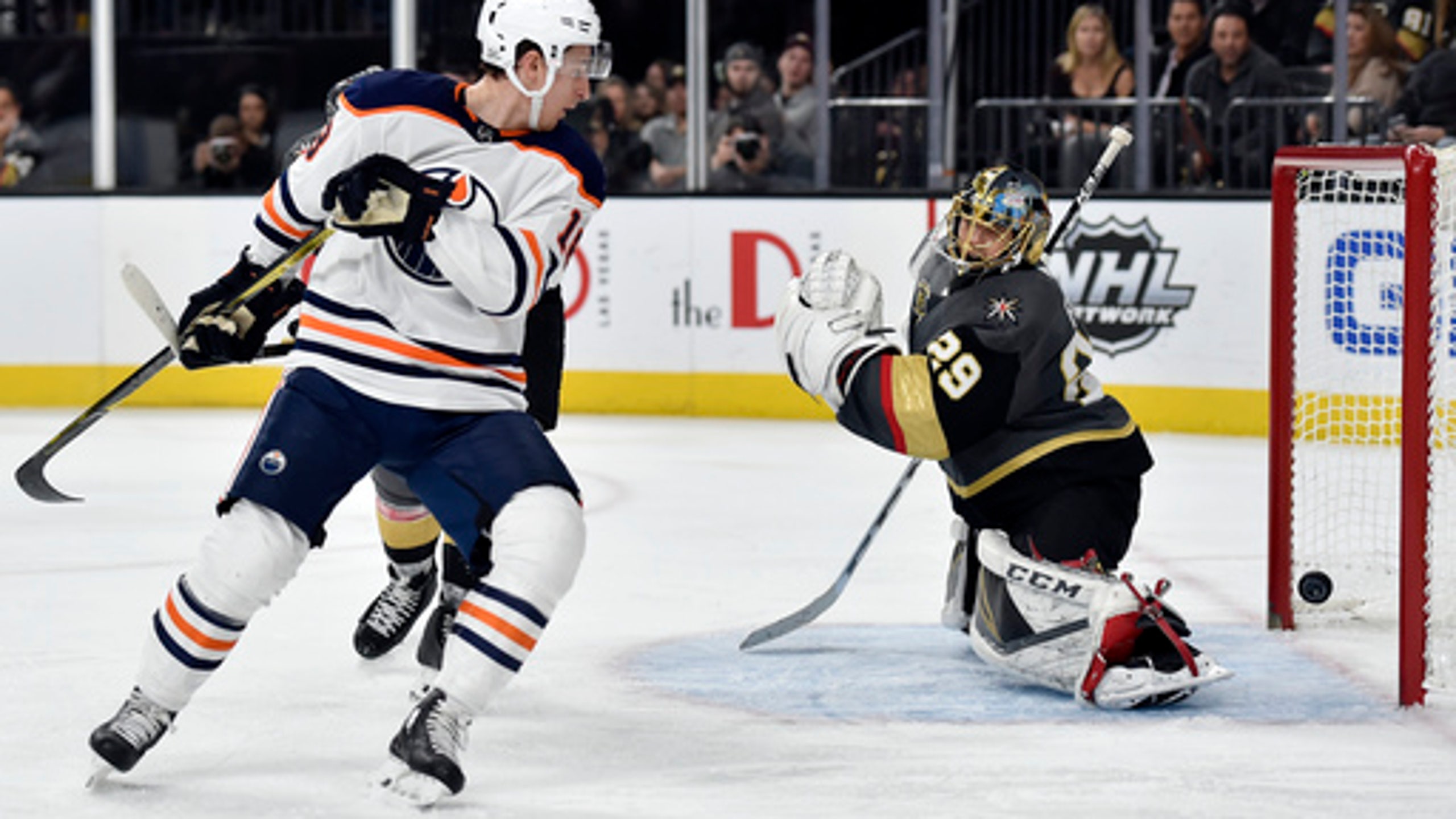 Karlsson gets 30th goal of season, Vegas tops Oilers, 4-1
February 16, 2018
LAS VEGAS (AP) For the Western Conference-leading Vegas Golden Knights, the third time was indeed a charm against the Edmonton Oilers.
William Karlsson got the 100th point of his career with his 30th goal of the season as the Golden Knights beat the Oilers 4-1 Thursday night.
Vegas improved to 14-1-1 against Pacific Division teams in its inaugural season, while avenging its two losses, which both came against the Oilers. The 8-2 loss at Edmonton on Nov. 14 still ranks as the worst loss in Vegas' 57-game history.
''They owned us pretty well, they dominated us the first game in Edmonton, and then they beat us in overtime back here the last time, and you want to beat the team,'' Vegas coach Gerard Gallant said. ''It was a big game, it's a divisional game for us again tonight. It's a team we haven't beaten yet, so the guys wanted to come out and play hard tonight.''
Ryan Carpenter, Jonathan Marchessault and Erik Haula also scored for Vegas, while Marc-Andre Fleury stopped 28 shots to improve to 18-6-2 and move seven wins shy of 400 for his career.
''That was a good one, from start to finish,'' Fleury said. ''The guys played great, we were able to get some goals by different guys. A lot of guys chipped in and everybody played well defensively in the zone. A lot of blocked shots, and we didn't give them too much, so it was nice.''
Leon Draisaitl scored Edmonton's lone goal, his 17th of the season, and Cam Talbot finished with 24 saves.
After totaling five points in the first two meetings, Edmonton All-Star Connor McDavid was limited to just two shots, as the Golden Knights eliminated the league's fastest player's speed in the neutral zone, where he's most effective.
''Obviously he's one of the best players in the world, so it's a pretty cool thing to keep him to two shots,'' Vegas defenseman Brad Hunt said. ''It's a tribute to the guys who played against him all night.''
The Oilers, who are have been rumored to be sellers as the Feb. 26 trade deadline approaches, have now lost five straight and continue to descend in the Western Conference standings.
''I think it's clear we have to create (better) habits and those details have to become a habit for us,'' Oilers forward Mike Cammalleri said. ''We need a real effort from us. Our coaches do a great job preparing us.''
The Golden Knights scored a power-play goal for the 11th time in 12 games, going 1-for-2 with a man advantage. Edmonton, which ranks 30th in the league with its power play, was 0 for 1 in its lone attempt with an extra skater.
Carpenter opened the scoring when he tapped home a rebound with just under seven minutes remaining in the first period.
A little more than four minutes into the second, Marchessault was in perfect position in front of the net to redirect Nate Schmidt's wrist shot from the point, past Talbot stick side.
Karlsson picked up his milestone point when he beat Talbot with a sneaky backhand that slipped under his arm with 7:13 to go in the middle period.
Haula, who was a late scratch from Tuesday's game versus Chicago due to the flu, scored his 22nd goal of the season after standing in front and one-timing James Neal's pass from behind the net at 4:15 of the third to make it 4-0.
''I don't want to give us too much credit, I think we can be a lot better, that's why I kind of take a step back,'' Haula said. ''I like to be critical. As a line I think we can do a better job in getting to the net and creating some more shot opportunities.''
Draisaitl spoiled Fleury's shutout bid when his wrist shot from the side sneaked through top shelf with 7 1/2 minutes to go.
''It's too bad, we really wanted Flower to get that shutout, I think he deserves that, he's played a lot of games and he's played really well obviously, so that was a bummer,'' Haula added. ''Other than that, two points great, now we move on.''
NOTES: The Golden Knights are now 23-3-0 when scoring first and their .884 win percentage when recording the opening goal leads the NHL. ... Deryk Engelland, who was born in Edmonton, set a new career-high in points for a season with 18 after his assist. ... Draisaitl now has points in 11 of his last 13 games, with six goals and 11 assists. ... Vegas improved to 21-4-2 at home, one win from matching the NHL record for the most by an expansion team in its first season.
UP NEXT
Oilers: At Arizona on Saturday.
Golden Knights: Host Montreal on Saturday.
---
---