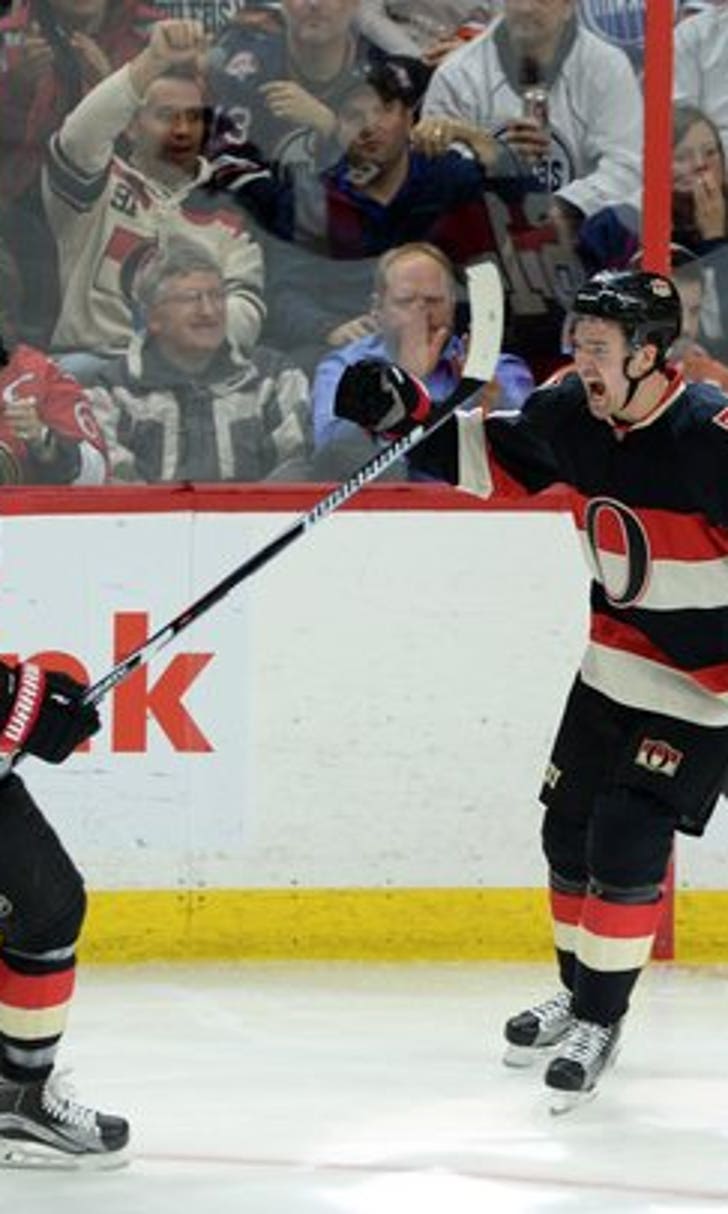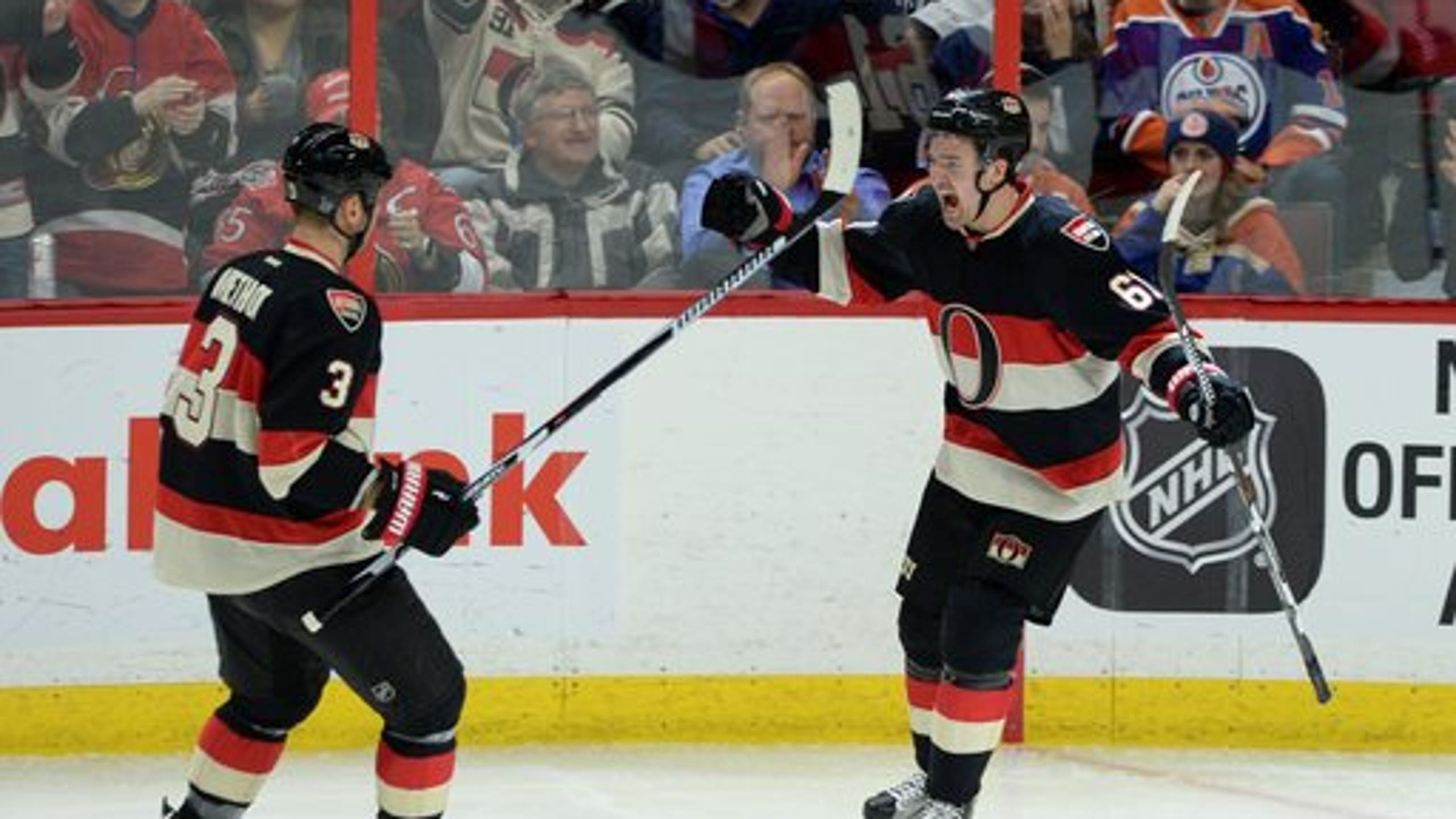 Jordan Eberle's 2 goals lead Oilers in 7-2 rout of Senators
BY foxsports • February 5, 2016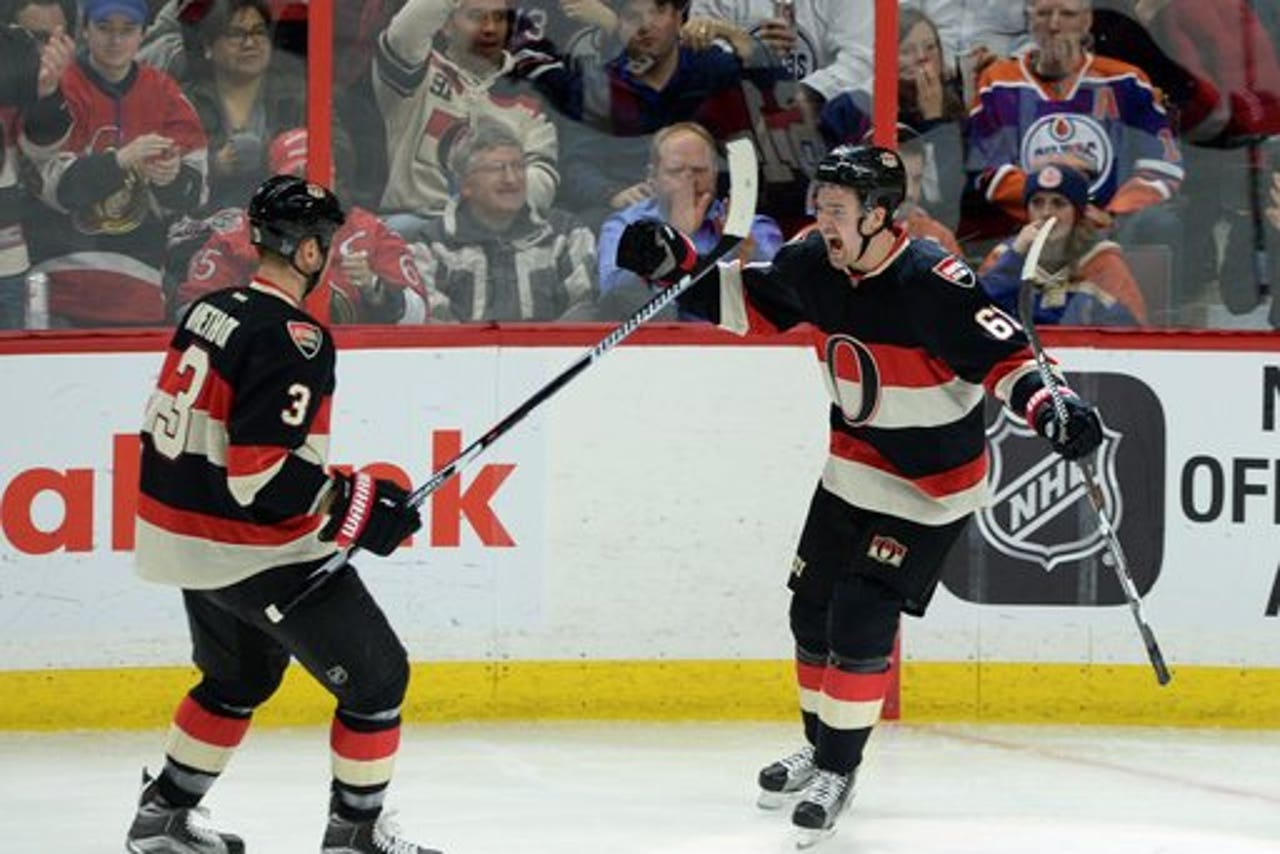 OTTAWA, Ontario (AP) The Ottawa Senators held a closed-door meeting following their 7-2 loss to the Edmonton Oilers Thursday night in front of the home crowd.
They were trying to decipher why things are falling apart as they have lost three straight and seven of their last 10 for a 23-23-6 record.
''We definitely expected a little more than that (Thursday),'' said Ottawa's Zack Smith. ''They're playing with confidence over there and we knew that. I think they're playing better than their record, for sure, but we were playing from behind all night and I think we're struggling with that and changing our game.''
Jordan Eberle scored twice and added an assist for the Oilers, who started their four-game road trip with the win to run their record to 21-26-5.
Mark Fayne, Zack Kassian, Andrej Sekera, Leon Draisaitl and Brandon Davidson also scored for the Oilers. Rookie sensation Connor McDavid, playing just his second game since returning from a broken clavicle, had two assists.
Cam Talbot made 26 saves for the win.
It was much of the same for struggling Ottawa. Craig Anderson allowed three goals on 10 shots before Andrew Hammond came in and allowed four goals on 18 shots.
Mike Hoffman and Mark Stone were the only Senators to beat Talbot.
Ottawa gave up three early goals and never recovered from that dreadful start. The Senators have allowed the first goal in 35 of 52 games this season.
After the performance, coach Dave Cameron resisted getting upset at his team.
''Am I going to go in there and embarrass them - no,'' said Cameron. ''I'm going to give them some solutions. I'll suggest on what we work on and we'll work on it. I'm not going to yell and scream. Those days are gone.
''Am I close to losing my patience? No, not at all. They need me now.''
Fayne opened the scoring at the four-minute mark. His shot from inside the blue line beat Anderson after it was deflected by Ottawa's Max McCormick.
Just 41 seconds later, Eberle made it 2-0 as he used McDavid as a decoy on a two-on-one to beat Anderson. McDavid then got in on the action making a great pass to Eberle on the power play to make it 3-0.
Eberle and McDavid were put on a line together Tuesday night for the first time and so far it's paid off for the Oilers.
''The thing that impresses me most about (McDavid's) game is he always makes the simple play,'' said Eberle. ''I know he's got all this skill and speed, but if he doesn't feel comfortable in beating guys, he'll make the safe play.''
McDavid felt good about the performance.
''It was a better team game than anything else,'' he said. ''Any time you can put up seven in the NHL it's a good night for the team.''
Shortly after Anderson's night came to an end and Hammond came in. Ottawa got out of the period with a goal as Hoffman scored on the power play.
Trailing 3-1, the Senators had a better start to the second as Stone picked up his second in as many games as he squeezed a shot between the post and Talbot and the puck trickled across the goal line.
The Oilers regained their two-goal lead late in the period as Kassian beat Hammond through the legs.
Leading 4-2 to start the third, the Oilers put the game out of reach with a power-play goal by Sekera and a goal from Draisaitl. Davidson rounded out the scoring late in the third.
Notes: Ottawa D Marc Methot returned to the Senators lineup after missing the last six games with a lower body injury. ... D Jared Cowen was a healthy scratch. ... C Kyle Turris missed his sixth straight game.
---
---